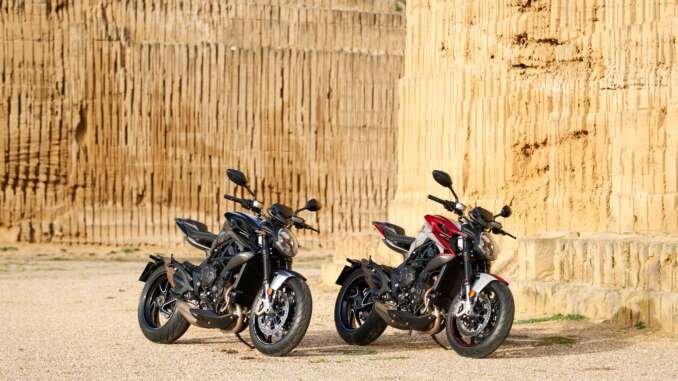 2021 MV Agusta Brutale RR: POWER. MORE IS BETTER.
Introducing the 2021 MV Agusta Brutale RR…
The latest milestone on a journey that began with the original Brutale, sharing the looks of the market's most comprehensive sports naked.
A MORE ADVANCED BRUTALE THAN EVER BEFORE
A refined engine, a revolutionary electronics package and a more effective chassis architecture. These few words sum up the new Brutale RR MY21. The upgrades address every aspect of the bike, from the engine, to the chassis architecture and even the entirely revamped electronics section. The result is a Brutale that is still razor-sharp, but even easier to manage, thanks to state-of-the-art electronics.
2021 MV Agusta Brutale RR Totalmotorcycle.com Key Features
3 Cylinders
140HP Engine max Power @ 12.300 R.P.M
244KM/H Max speed
798CC Engine displacement
175KG Dry weight
13.3:1 Compression ratio
2021 MV Agusta Brutale RR Totalmotorcycle.com Features and Benefits
ENGINE, RELENTLESS IMPROVEMENT
The in-line three-cylinder engine with counter rotating crankshaft (still unique in the segment), received numerous upgrades which improve its character and power output. Obviously, Euro 5 compliant, maintaining 140 peak HP, it has gained character and sophistication.
The new DLC-coated tappets and the new valve guide materials help further reduce internal friction, thereby improving engine efficiency at any rpm. Added to this are a redesigned exhaust system and new-generation injectors that raise injection pressure from 3.5 to 4 bar. The new ECU provides even more precise throttle management. The clutch was also revised to improve reliability and launch precision, with a more robust clutch basket.
At the same time, the EAS 3.0 electronic gearbox, now in its third generation, features a new sensor and offers faster and more precise gear changes with smoother shifting.
ELECTRONICS, STATE OF THE ART
The electronics compartment of the new Brutale 800 is undoubtedly the area where the benefits of the generational leap are clearest. The arrival of the IMU inertial platform developed by Milan-based e-Novia exclusively for MV Agusta brought the level of electronic controls to the state of the art.
The management of Traction Control and ABS (with cornering function) is now precise and accurate. The FLC "Front Lift Control" is also based on MV Agusta's philosophy, seeking to avoid compromising the excitement of sports riding while maintaining the high safety standards required of a modern sportbikes. There fore, the current front lift control does not prevent a wheelie, but manages and controls it offering the maximum  acceleration and emotion. But it isn't just "concealed" electronics that have made a generational leap – the ones right under the rider's nose have also evolved radically. The new, 5.5" TFT dashboard makes a big impact. It is highly comprehensive and capable of communicating with the MV Ride App, which lets you personalise every aspect of the bike directly from your Smartphone, as well as offering the more "classic" features, like recording and sharing routes. The mirroring function also allows the dashboard to be used as a satnav unit with corner by corner directions. Every function can be accessed and navigated quickly via the new joystick control on the left-hand block.
FRAME, MORE COMFORTABLE AND EFFICIENT
Now universally recognised as one of the best in the segment, the Brutale's frame has been further upgraded in a continuous search for efficiency and control. Updates were made to all areas of the bike, starting with the frame, which benefits from new side plates that improve its torsional and longitudinal rigidity. All the Brutale 800 MY21 family models also receive new rear suspension linkage. Featuring a different progression, it now works with a single shock absorber with revised spring and calibration to offer better efficiency and comfort so that you end the day still wanting to ride. The fork setting has been revised to match the new calibrations and offer the best front/rear balance.
SUPERSTRUCTURE, ATTENTION TO DETAIL
The saddle was also redesigned with an eye to comfort, and features a new type of foam. The headlight is full LED and, thanks to the presence of the IMU, has a "cornering" function, lighting up the inside of the turn when the bike tilts, thus increasing active safety. A small flyscreen protects the instrument panel and deflects airflow away from the rider's torso. Its profile has been modified to increase its effectiveness.
DESIGN. INSTANT CLASSIC
Designed for top performance, with improvements to the chassis, electronics and engine. A dual seat with a new improved-comfort design and a simple, lightweight sub-frame represent the latest technical innovations, for an even better riding experience. Not to mention a design that has always refused to compromise.
FEEL THE POWER OF SOUND
RR means power and torque: with 140 HP and 86 Nm, fun is guaranteed. Improvements to distribution have also allowed a reduction in friction. Also new is the increased-efficiency exhaust system, while the injectors have been redesigned to guarantee better fuel atomisation.
LATEST GENERATION ELECTRONICS
The new IMU inertial platform, developed exclusively for MV Agusta, has redefined the standards of quality for electronic controls: traction control is more precise than ever, while FLC wheelie control heightens the thrill of riding without sacrificing any safety. The new EAS 3.0 electronic gearbox offers improved precision and speed.
CHASSIS ARCHITECTURE AT ITS BEST
Even excellence can be improved upon: with this in mind, the frame features new side plates which increase lateral and longitudinal rigidity.
The new rear linkage boosts progressiveness and works in harmony with the re-calibrated fork. Efficiency, comfort and a sporting thrill are the results of constant evolution.
TECHNOLOGY
TECHNOLOGY MEANS SAFETY
The new Continental ABS MK100 with RLM means that even the sharpest and most sudden weight transfers can be managed safely.
It includes a cornering function which enables safe breaking even on corners, as well as interfacing with the inertial platform designed specifically for the Brutale range.
2021 MV Agusta Brutale RR – Totalmotorcycle.com Specifications/Technical Details
US MSRP Price: $ See Dealer for Pricing  USD
Canada MSRP Price: $ See Dealer for Pricing CDN
Europe/UK MSRP Price: €17000 Euro
Type
Three cylinder, 4 stroke, 12 valve
Timing system
"D.O.H.C" with mechanical chain tensioner and DLC tappet
Total displacement
798 cm3 (48.68 cu. in.)
Compression ratio
13.3:1
Starting
Electric
Bore x stroke
79 mm x 54.3 mm (3.1 in. x 2.1 in.)
Max. power – r.p.m. (at the crankshaft)
103 kW (140 hp) at 12.300 r.p.m.
Max. torque – r.p.m.
87 Nm (8.87 kgm) at 10.250 r.p.m.
Cooling system
Cooling with separated liquid and oil radiators
Engine management system
Integrated ignition – injection system MVICS 2.1 (Motor & Vehicle Integrated Control System) with six injectors. Engine control unit Eldor Nemo 2.1, throttle body full ride by wire Mikuni, pencil-coil with ion-sensing technology, control of detonation and misfire. Torque control with four maps. Traction Control with eight levels of intervention
Electronic quick-shift
MV EAS 3.0 (Electronically Assisted Shift up & down)
Clutch
Multi-disc wet clutch with hydraulic actuation and back torque limiting device
Transmission
Cassette style; six speed, constant mesh
Primary drive
22/41
First gear: Speed
13/37
Second gear: Speed
16/34
Third gear: Speed
18/32
Fourth gear: Speed
19/30
Fifth gear: Speed
21/30
Sixth gear: Speed
22/29
Final drive ratio
16/41
Maximum speed*
244.0 km/h (151.6 mph)
Voltage
12 V
Alternator
350 W at 5000 r.p.m.
Battery
12 V – 8.5 Ah
Frame type
ALS Steel tubular trellis
Rear swing arm pivot plates material
Aluminium alloy
Front suspension type
Marzocchi "UPSIDE DOWN" aluminium telescopic hydraulic fork with DLC treatment, with anodized fork legs and having rebound-compression damping and spring preload external and separate adjustment
Fork dia.
43 mm (1.69 in.)
Fork travel
125 mm (4.92 in.)
Rear suspension type
Progressive Sachs, single shock absorber with rebound and compression damping and spring preload adjustment
Single sided swing arm material
Aluminium alloy
Wheel travel
130 mm (5.12 in.)
Front brake
Double floating disc with Ø 320 mm (Ø 12.6 in.) diameter, with steel braking disc and flange
Front brake caliper
Brembo radial-type, with 4 pistons Ø 32 mm (Ø 1.26 in.)
Rear brake
Single steel disc with Ø 220 mm (Ø 8.66 in.) dia
Rear brake caliper
Brembo with 2 pistons — Ø 34 mm (Ø 1.34 in.)
ABS System
Continental MK100 with RLM (Rear Wheel Lift-up Mitigation) and with cornering function
Front wheel: Material/size
Aluminium alloy 3.50 " x 17 "
Rear wheel: Material/size
Aluminium alloy 5.50 " x 17 "
Front tyre
120/70 – ZR 17 M/C (58 W)
Rear tyre
180/55 – ZR 17 M/C (73 W)
Fairing material
Thermoplastic
Steering damper
Steering damper manually adjustable with 8 settings
Wheelbase
1400 mm (55.12 in.)
Overall length
2045 mm (80.51 in.)
Overall width
875 mm (34.45 in.)
Saddle height
830 mm (32.68 in.)
Min. ground clearance
135 mm (5.31 in.)
Trail
103.5 mm (4.07 in.)
Dry weight
175 kg (385,80 lbs.)
Fuel tank capacity
16.5 l (4.36 U.S. gal.)
Environmental Standard
Euro 5
Combined fuel consumption
5.9 l/100 km
CO2 Emissions
138 g/km
Exclusive features
MV Ride App – GPS sensor – Bluetooth Mobisat tracker – Cruise control – Launch control
Optional
The full Special Parts range is available on the MV Agusta Special Parts website
Reference
* Top speed attained on closed course.
Every country could have a price variation due to local import duties and taxes.
MV Agusta is committed to the constant improvement of our products. Therefore the information and technical characteristics of the vehicles are subject to change without notice.
Manufacturer Specifications and appearance are subject to change without prior notice on Total Motorcycle (TMW).