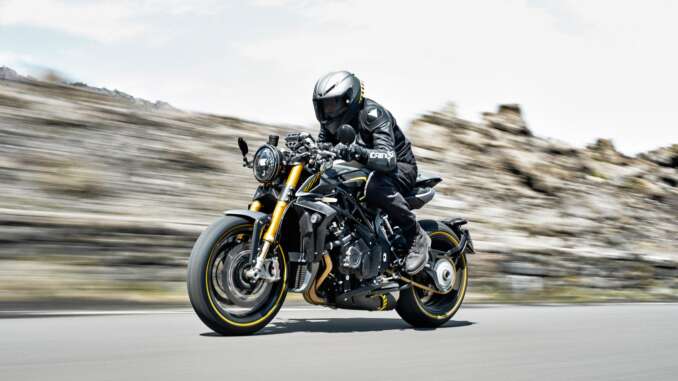 2021 MV Agusta Rush: BEAST MODE.
Introducing the 2021 MV Agusta Rush…
Designed for heart-stopping, tarmac-burning take-offs. Its untamed beastly power and its arrogant, irreverent appeal, make it totally irresistible.
The history of MV Agusta has its roots in the pioneering aviation of the first decades of the last century. The world of aeronautics has inspired its stylistic choices on many occasions, as well as giving life to some memorable models. The F4 Veltro, a tribute to a WWII fighter of the Italian Air Force is an example, as is the Brutale Starfighter and another F4, the Frecce Tricolori dedicated to the Italian Air Force Aerobatic Team, and emblem of Italian spirit.
The inspiring principles of military fighters – power, manoeuvrability, extreme performance – come to life in the new MV Agusta Rush 2021.
Its military colouring recalls the typical colours of fighter jets, while air intakes and vents report the warning yellow messages placed in proximity of the turbines.
As much as one may be enchanted by observing their aerodynamic shapes, engineering solution and cutting-edge mechanics, fighter aircraft remain devoted to maximum fighting efficiency. This time, however, we can imagine that they are not dropping bombs but emotions. Like the MV Agusta Rush 2021, a catalyst of unique sensations, which transcends the physical to cross over into a dreamlike imagery whose boundaries appear blurred – ephemeral even.
The extreme scenery of the slopes of Etna, with its surreal colour contrasts, represent the ideal setting for portraying the Rush, whose material consistency is enhanced by the contrasts with the changing colours of the volcanic dust.
MV AGUSTA RUSH MY 21. THE MOST EXTREME NAKED OF ALL TIME
MV Agusta takes the ultra naked concept to an extreme with Rush. Created as a limited edition of just 300, this unique and exclusive bike raises the bar in terms of design and performance. Never has a naked boasted such an elevated style and finish. For 2021, Rush gets a number of updates that make it even sportier but also safer to use on the road. This bike is unrivalled on the market and comes with an equally exclusive kit to further heighten its performance and aesthetics.
FIT FOR THE STRIP
The design choices highlight the uniqueness of the idea behind the Rush, a bike meant for those who are not afraid to stand-out of the crowd with out-of-the-ordinary details, such as she lenticular rear-wheel, typical of acceleration races.
FEEL THE POWER OF SOUND
The inline-four-cylinder engine of the Brutale 1000RR, the result of an accurate development process, offers record power of 208 hp (153 kW) at 13000 rpm, that further increases to 212 hp (156 kW) in racetrack configuration. Torque stands at 116.5 Nm. The combustion chamber has been completely redesigned, drawing on Formula 1 technology.
CONCEPT OF RUSH
Rush 1000 represents the ultimate evolution in the world of the hyper naked. Designed for heart-stopping, tarmac-burning take offs, it possesses the irreverent appeal of drag racing.
It's arrogant, untamed character offers unfiltered riding emotions yet with maximum safety provided by the most advanced electronics.
RUSH INSIGHTS
Featuring a 1000cc 4 cylinder engine, the Rush 1000 offers true Replica MotoGP performance with speeds of up to and beyond 300 km/h. Sharing the engine, chassis and electronics of the Brutale 1000 models, it has unique distinctive traits such as the signature tail pipes, the lights clusters, the rear frame and the passenger's seat, which were specially designed for the Rush 1000.
4 Cylinders 208HP
Engine max Power @ 13.000 R.P.M
300KM/H Max speed
998CC Engine displacement
186KG Dry weight
13.4:1 Compression ratio
MEANEST STRIP RACER LOOK
LENTICULAR WHEEL
1000 DISPLACEMENT
4-CYLINDER ENGINE
208 HP TO 212 HP (WITH RACING KIT) FOR OVER 300 KM/H TOP SPEED
LAUNCH-CONTROL SYSTEM FOR BEASTLY TAKE-OFFS
4 ENGINE MAPS
FULL RIDE BY WIRE
2021 MV Agusta Rush Totalmotorcycle.com Features and Benefits
STATE OF THE ART FOUR-CYLINDER ENGINE
An inline-four with radial valves and titanium connecting rods. The Rush engine a state-of-the-art homologated motorcycle engine.
Having undergone continual technological development, it takes another step in 2021, with new components that reduce internal friction. The extremely high-performance engine uses sophisticated materials and flaunts record-breaking power for a 1000 cc naked, delivering 208 HP at 13,000 rpm. Timing is updated, with the introduction of new cam phasing designed to offer more favourable torque at low/medium revs without detracting from the intense drive and acceleration that has always distinguished this engine. The use of a DLC (Diamond Like Carbon) coating for the surfaces of the valve buckets cuts down on friction and improves reliability.
The addition of new primary drive gearing helps reduce friction between the gears, while the clutch system has been strengthened to improve reliability, especially during the extreme starts guaranteed by Launch Control, while the third generation EAS 3.0 electronic gearbox has a new sensor
for more precise shifting and more comfortable insertion.
The four-exit exhaust, an unmistakeable MV Agusta trademark, is more eye-catching than ever on the Rush, its main collector boasting an updated structure that emphasises the unique sound of the four-cylinder, despite what is now a Euro 5 compliant engine.
MORE COMPLETE ELECTRONICS
The 2021 MV Agusta Rush electronics package continues to reach new evolutionary heights. The new IMU inertial platform allows for the real-time identification of the bike's position in space, supplying very precise data to the ECU to swiftly manage every command.
Thanks to this new platfor m, the traction and FLC wheelie controls allow the rider to take advantage of every ounce of the bike's power while staying extremely safe. MV Agusta has developed minimally invasive, high-performance commands that showcase the bike's acceleration ability, with an FLC that doesn't 'cut off' the wheelie but controls it. The ABS boasts a new Continental MK100 module complete with cornering function to ensure ultimate braking control even at an angle. The 5.5" TFT display offers all kinds of information and is able to communicate with the MV Ride app, a real command centre that lets the user customise every aspect of the bike directly from their smartphone while also offering more 'traditional' functions, such as recording and sharing itineraries. Thanks to its mirroring function, the dashboard can be used as a navigator with turn-by-turn directions. Every function can be quickly accessed and navigated via the joystick on the left block.
A MORE COMFORTABLE, EFFICIENT FRAME
Extreme, compact, very lightweight and featuring an unmistakeable forged rear wheel with lenticular disc, the chassis of the MV Agusta Rush has always topped the hypernaked segment. Now, a few targeted structural updates make it even more drivable.
The electronically-controlled Öhlins EC suspension is fully adjustable to maximise rider feeling and comfort and improves load transfer control and the ability to dampen any unevenness, making the 2021 Rush an even more efficient bike. The full Brembo braking system with radial master cylinder and Stylema callipers is simply state of the art.
SECOND-TO-NONE SUPERSTRUCTURES
Absolutely unique, the Rush fully reflects the MV Agusta vision of building one-ofa-kind bikes. Every element of the superstructures is crafted in precious carbon, with unparalleled attention to detail. For 2021, the Rush stands out for its new and more ergonomic leather and Alcantara seat.
CHASSIS
• ÖHLINS FRONT AND REAR ELECTRONIC SUSPENSION WITH NEW SETTINGS TO IMPROVE RIDING PRECISION
• ÖHLINS ELECTRONIC STEERING DAMPER
• SPOKED FRONT WHEEL
• FORGED REAR WHEEL WITH CARBON FIBER COVER
• NEW LEATHER AND ALCANTARA SEAT
ENGINE
• NEW SINTERED VALVE GUIDES AND DLC COATED TAPPETS TO REDUCE FRICTION
• TITANIUM CONNECTING RODS
• 16 RADIAL TITANIUM VALVES
• NEW CAM PROFILES TIMING TO OPTIMISE TORQUE CURVE
• MODIFIED EXHAUST COLLECTOR TO IMPROVE ENGINE TUNING
ADVANTAGES:
BETTER OPERATION AND RELIABILITY, IN FULL COMPLIANCE WITH EURO 5 REGULATIONS
ELECTRONICS
• NEW ABS MK100 CONTINENTAL MODULE WITH CORNERING FUNCTION FOR CONSTANT SAFETY EVEN IN CURVES
• NEW INERTIAL PLATFORM
• NEW COLOUR 5.5" TFT DASHBOARD
• MOBISAT TRACKER
• GPS AND BLUETOOTH
• MV RIDE APP
• NAVIGATOR INTEGRATED IN THE DASHBOARD
• FULL LED LIGHTING
• FRONT LIFT CONTROL
• LAUNCH CONTROL
• CRUISE CONTROL
• NEW EAS 3.0 ELECTRONIC GEAR SENSOR
ADVANTAGES:
A BETTER FEELING RIDE. THE ADVANCED ELECTRONICS MAKES RIDING EASIER, MORE INTUITIVE AND SAFER
2021 MV Agusta Rush – Totalmotorcycle.com Specifications/Technical Details
US MSRP Price: $ See Dealer for Pricing in USD
Canada MSRP Price: $ See Dealer for Pricing in CDN
Europe/UK MSRP Price: € Euro
ENGINE
Type Four cylinder, 4 stroke, 16 valve
Timing system "D.O.H.C", radial valve and DLC tappet
Total displacement 998 cm3 (60.9 cu. in.)
Compression ratio 13.4:1
Starting Electric
Bore x stroke 79 mm x 50.9 mm (3.1 in. x 2.0 in.)
Max. power – r.p.m. (at the crankshaft) 153,0 kW (208 hp) at 13.000 r.p.m.
156,0 kW (212 hp) at 13.600 r.p.m.
Max. torque – r.p.m. 116,5 Nm (11,9 kgm) at 11.000 r.p.m.
Cooling system Cooling with separated liquid and oil radiators
Engine management system Integrated ignition – injection system MVICS 2.1 (Motor & Vehicle Integrated Control System) with eight injectors (4 lower fuel injectors by Mikuni + 4 upper fuel injectors by Magneti Marelli with increased fuel flow). Engine control unit Eldor Nemo 2.1, throttle body bore 50 mm diameters full ride by wire Mikuni, pencil-coil with ion-sensing technology, control of detonation and misfire – Torque control with four maps – Traction control with 8 levels + off and wheelie control with inertial platform
Electronic quick-shift MV EAS 3.0 (Electronically Assisted Shift Up & Down)
Clutch Wet, multi-disc with back torque limiting device and Brembo radial pump/lever assembly
Transmission Cassette style; six speed, constant mesh
Primary drive 48/82
Gear ratio
First gear: Speed 14/37
Second gear: Speed 16/33
Third gear: Speed 18/31
Fourth gear: Speed 20/30
Fifth gear: Speed 22/29
Sixth gear: Speed 21/25
Final drive ratio 15/41
ELECTRICAL EQUIPMENT
Voltage 12 V
Alternator 350 W at 5.000 r.p.m.
Battery Li-ion 12 V – 4.0 Ah
DIMENSIONS AND WEIGHT
Wheelbase 1.415 mm (55.71 in.)
Overall length 2.080 mm (81.89 in.)
Overall width 805 mm (31.69 in.)
Saddle height 845 mm (33.27 in.)
Min. ground clearance 141 mm (5.55 in.)
Trail 97 mm (3.82 in.)
Dry weight 186 kg (410.06 lbs.) – 184 kg (405.65 lbs.)**
Fuel tank capacity 16 l (4.23 U.S. gal.)
PERFORMANCE
Maximum speed* over 300 km/h (186 mph)
FRAME
Type CrMo Steel tubular trellis
Rear swing arm pivot plates material Aluminium alloy – Adjustable swingarm
pivot height
FRONT SUSPENSION
Type Öhlins Nix EC hydraulic "upside down" front forks with TiN superficial treatment.Completely adjustable with electronically controlled compression and rebound damping with manually controlled spring preload.
Fork dia. 43 mm (1.69 in.)
Fork travel 120 mm (4.72 in.)
REAR SUSPENSION
Type Progressive, single shock absorber Öhlins EC
TTX completely adjustable with electronically controlled compression and rebound damping and spring preload
Single sided swing arm material Aluminium alloy
Wheel travel 120 mm (4.72 in.)
BRAKES
Front brake Double floating disc with Ø 320 mm (Ø 12.6 in.) diameter, with steel braking disc and aluminium flange – Brembo radial pump/level assembly
Front brake caliper Brembo Stylema radial-type, single-piece with 4 pistons Ø 30 mm (Ø 1.18 in.)
Rear brake Single steel disc with Ø 220 mm (Ø 8.66 in.) dia.
Brembo PS13 brake pump
Rear brake caliper Brembo with 2 pistons Ø 34 mm (Ø 1.34 in.)
ABS System Continental MK100 with RLM (Rear Wheel Lift-up
Mitigation) and with cornering function
WHEELS
Front: Material/size With aluminium alloy spokes 3,50 " x 17 "
Rear: Material/size Forged alluminium alloy 6,00 " x 17 " with carbon fiber cover
TYRES
Front 120/70 – ZR 17 M/C (58 W)
Rear 200/55 – ZR 17 M/C (78 W)
FAIRING
Material Carbon fiber and thermoplastic material
CONTENTS
Steering damper Öhlins EC with electronic manual and automatic adjustment modes
Carbon components Air box – Air-box cover – Dashboard harness cover RH/LH central panel for fuel tank – RH/
LH side panel for fuel tank – Clutch and gearbox covers – RH/LH external air intake. Under seat cover – Rear Wheel cover – Radiator covers
Exclusive features Light crankshaft – New combustion chamber
Titanium connecting rods – Dashboard TFT 5.5" color display – Cruise control – Bluetooth GPS –
MV Ride App for navigation mirroring, appcontrolled engine, suspension and rider aids setup – Launch Control – FLC Front lift control
Mobisat tracker – CNC Rider's footpegs with adjustable height – Sprocket Z1
RACING KIT
Customized Racing Kit box containing: SC racing exhaust silencer and dedicated control unit
Carbon exhaust cover – Passenger seat cover
CNC fuel tank cap – CNC brake/clutch levers –
Brake/clutch lever protections – Auxiliary side lights
Customized front brake discs – Customized motor cycle cover – Certificate of origin – Limited Edition
EMISSIONS
Environmental Standard Euro 5
Combined fuel consumption 6.8 l/100 km
CO2 Emissions 158 g/km
Manufacturer Specifications and appearance are subject to change without prior notice on Total Motorcycle (TMW).