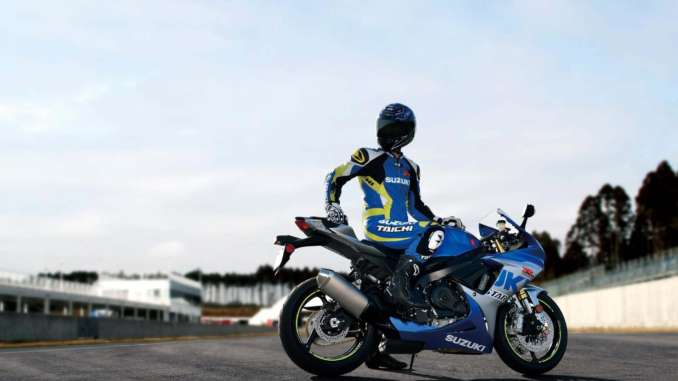 2021 Suzuki GSX-R750 : OWN THE RACETRACK.
Introducing the 2021 Suzuki GSX-R750…
It wasn't by accident that the original GSX-R750 redefined the high-performance Supersport and shocked the motorcycle world when it was introduced in 1985. It was a product of integrated design, a talented group of Suzuki chassis, engine and electrical engineers making history by working together to build a more compact and lighter 750cm³ Supersport
With an unmatched combination of excellent throttle response, linear power delivery, strong braking, confident handling and class-leading power-to-weight ratio, it was the closest a mass-production four-stroke, four-cylinder street bike had ever come to being a race bike with lights.
2021 Suzuki GSX-R750 Totalmotorcycle.com Features and Benefits
EFFICIENCY BY DESIGN
Combustion efficiency is a measure of how completely an engine burns its fuel. Better combustion efficiency can increase power and torque output across the rpm range; improve throttle response, acceleration and fuel mileage; and reduce emissions. Mechanical efficiency is a measure of how much of the power and torque produced by an engine actually reaches the rear wheel.
Reducing mechanical losses by minimizing internal engine friction, reducing the weight of reciprocating internal parts and relieving crankcase pressure can increase mechanical efficiency, putting more of an engine's output to use actually moving and accelerating the motorcycle and also improving fuel mileage and reducing emissions.
A LIGHTER, MORE COMPACT CHASSIS
The GSX-R750 features a complete chassis design based on a more compact, lighter twin-spar aluminum frame with a 15 mm shorter wheelbase totaling 1,390 mm.
The shorter wheelbase better centers the combined machine/rider mass between the wheels, improving racetrack cornering and also shortening the reach between the seat and the handlebars. The shorter reach and slightly wider handlebar angle make it easier for the rider to re-position their weight while on the racetrack and also improve comfort on longer highway rides.
ENGINE DESIGN
The four-into-one stainless-steel exhaust system features four individual head pipes and a single collector. The mid-pipe located between the collector and the under-engine exhaust chamber carries a Suzuki Exhaust Tuning (SET) servo-controlled butterfly valve to match exhaust system back-pressure to engine rpm, throttle position and gear position, maximizing torque and improving throttle response, especially in the low-to-mid rpm range. The exhaust chamber leads to stainless-steel S-bend pipe and a titanium muffler shaped and positioned to enhance cornering clearance and improve aerodynamics. A reduction in pipe wall thickness and a smaller, more efficient exhaust chamber and muffler combine to make the GSX-R750 system 1,100 grams lighter.
A slightly larger-diameter radiator fan mounted on the efficient, trapezoidal, curved radiator turns on and off based on coolant temperature and improves cooling performance.
2021 Suzuki GSX-R750 – Totalmotorcycle.com USA Specifications/Technical Details
US MSRP Price: $ USD
Canada MSRP Price: $ 13299 CDN
Europe/UK MSRP Price: £ GBP (On The Road inc 20% Vat)
2021 Suzuki GSX-R750 – Totalmotorcycle.com Canada Specifications/Technical Details
ENGINE
Type 4-stroke, 4-cylinder, liquid-cooled, DOHC
Displacement 750cc
Bore x Stroke 70.0 mm x 48.7 mm
Compression Ratio 12.5 : 1
Fuel System Electronic Fuel Injection
Starter Electric
Lubrication Wet sump
Ignition Electronic ignition (Transistorized)
DRIVE TRAIN
Transmission 6-speed, constant mesh
Final Drive RK525ROZ5Y, 116 links, Chain
CHASSIS
Length 2030 mm (79.9 in)
Width 710 mm (28.0 in)
Height 1135 mm (44.7 in)
Wheelbase 1390 mm (54.7 in)
Seat Height 810 mm (31.9 in)
Curb Mass 190 kg (419 lbs )
Suspension Front Inverted Telescopic, coil spring, oil damped
Suspension Rear Link type, coil spring, oil damped
Brakes Front Brembo, Disc, Twin
Brakes Rear Disc
Tires Front 120/70ZR17M/C (58W), tubeless
Tires Rear 180/55ZR17M/C (73W), tubeless
Fuel Tank 17.0 L (4.5 US gal )
WARRANTY
12 Month unlimited mileage limited warranty
2021 Suzuki GSX-R750 – Totalmotorcycle.com European Specifications/Technical Details
Manufacturer Specifications and appearance are subject to change without prior notice on Total Motorcycle (TMW).