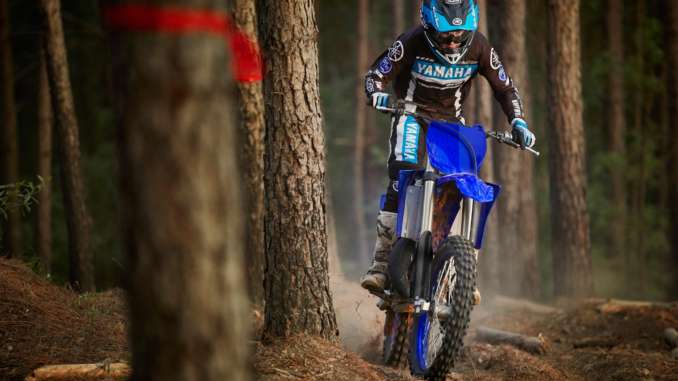 2021 Yamaha YZ125X : LEVEL UP YOUR PERFORMANCE.
2021 Yamaha YZ125X:
The perfect step up to a full‑size Cross Country machine, this lightweight 2‑stroke is the pinnacle of performance on the race course.
Level up your performance. Designed to be the perfect stepping stone toward a full size cross-country machine, the YZ125X is the pinnacle of lightweight, two-stroke performance on the race course.
KEY FEATURES
YZ125 two-stroke engine with Yamaha Power Valve System (YPVS)
Model-specific CDI unit
Racing intake system
Ultra-lightweight YZ125-spec frame
Industry-leading, XC-specific adjustable KYB suspension
Smooth shifting, 6-speed, close ratio transmission
Two-Stroke Agility: Tuned for Cross Country and Hare Scrambles Racing
The YZ125X™ is optimized for the unique demands of Hare Scrambles and GNCC® racing. The YPVS™-equipped 125cc two-stroke engine is combined with a six-speed transmission for the ultimate cross country power plant.
Lightweight Aluminum Frame
Ultra-lightweight YZ125™-spec frame features carefully engineered combination of aluminum castings, forgings and extrusions for the perfect balance of rigidity and flex. The industry-leading fully adjustable, the KYB® speed sensitive spring-type suspension is tested and tuned specifically for the needs of cross country racers.
GNCC®-Specific Features
18-inch rear wheel, sealed O-ring chain, off-road focused tires and suspension settings, a standard side stand and fuel tank petcock with reserve position are perfect for GNCC racing.
Industry-Leading Suspension
Yamaha's renowned spring-type KYB® fork is matched with a long-travel shock, both fully adjustable and tuned for the demands of cross country racing.
Racing Style and Ergonomics
The YZ125X carries the racing heritage of the YZ motocrosser with its aggressive styling from the front fender to the rear brake protector. Complete with an aluminum tapered handlebar, YZ-F-style foot pegs, gripper seat, and Dunlop® tires, the YZ125X is ready to race out of the crate.
Yamaha Announces 2021 YZ Cross Country Motorcycles
Yamaha's Redesigned YZ450FX Features Engine, Frame and Suspension Updates
Yamaha Motor Corporation, USA, is announcing its 2021 YZ cross country models including a redesigned 2021 YZ450FX. Designed to beat the competition in Hare Scrambles and Grand National Cross Country (GNCC®) races, the newest YZ450FX features a refined, more efficient engine, a redesigned frame with all-new flex characteristics, updated suspension settings, and more.
"Yamaha's cross country lineup builds on the unmatched success of our motocross designs, using industry-leading technology to provide uncompromised performance for cross country competition," said Derek Brooks, Yamaha Motorsports Motorcycle Product Line Manager. "The newly redesigned YZ450FX provides a lighter, more powerful, and better handling off-road experience for both cross country racers and recreational riders alike."
The return of the two-stroke YZ125X and YZ250X models and four-stroke YZ250FX completes the 2021 YZ cross country lineup. All models will feature a next-generation Team Yamaha Blue color and graphic scheme to further accentuate the advances of the YZ series.
Welcome to the victorYZone
Yamaha's off-road competition bikes offer the very latest in technology with performance features designed to help racing enthusiasts reach their maximum potential, win races, and stand on top of the podium.
New 2021 YZ450FX: Cross Country Domination
The 2021 YZ450FX is designed to beat the cross country competition. The new 449cc, liquid-cooled, four-stroke, electric start engine features an all-new compact cylinder head with redesigned combustion chamber shape, and steeper valve angles. The rearward-slanted cylinder houses a higher compression piston with low friction rings attached to a longer connecting rod. The wide ratio, 5-speed transmission has been refined to provide smoother shifting, and a more efficient crankcase breather system has been adopted to decrease pumping losses. In all, the lighter, more compact engine produces increased power across the entire RPM range for stronger and more linear pulling power.
The latest evolution of Yamaha's lightweight aluminum bilateral beam frame has been redesigned with all-new flex characteristics that provide improved cornering performance, traction and bump reaction to give the rider more confidence to push harder in any off-road condition. Other chassis components such as engine mounts, top triple clamp and front axle, as well as the class-leading KYB® suspension with enhanced compression and rebound characteristics were carefully refined to reduce weight while improving handling and performance. To bring the new package to a stop, the 2021 YZ450FX features a newly designed front brake caliper, brake pads and front and rear disc. The combined changes to the new 2021 YZ450FX deliver increased power output with more controllable, linear acceleration and lightweight handling characteristics that mimic the YZ250FX.
To further showcase the YZ450FX's cross country edge, electric start, a lightweight lithium battery, and advanced fuel injection are all standard features. The front-positioned intake and rear-positioned exhaust layout deliver the widest spread of reliable power while balancing the weight for excellent mass centralization. This cross country machine also continues to feature Yamaha's advanced racing technology. The dual-mode switchable engine mapping and wireless connectivity is handled through the industry's only free-of-charge complete tuning system, highlighted by the Yamaha Power Tuner App, which allows racers to adjust their engine performance right from their phone. With new next-generation Team Yamaha Blue colors and graphics, the 2021 YZ450FX showcases Yamaha's cross country competitive edge.
2021 YZ250FX: Your Power, Your Way
Yamaha's winning design returns with the 2021 YZ250FX. With its revolutionary front-intake, rear-exhaust, liquid-cooled, DOHC 4-stroke power plant, added sixth gear, and wide ratio transmission, this is the weapon of choice for cross country racing. The aluminum bilateral beam frame, and industry leading KYB suspension of the 2021 YZ250FX provide the ultimate balance of race-winning performance, rideability and comfort.
With electric start, a 2.16-gallon fuel tank, rugged plastic skid plate, sealed O-ring chain and 18-inch rear wheel, the YZ250FX is ready to win right out of the box. The bike also feature's Yamaha's free-of-charge complete tuning system, highlighted by the Yamaha Power Tuner App. With the ability to make fueling and ignition timing changes and choose between two user-defined ECU maps through the handlebar-mounted dual-mode switch, the YZ250FX is equipped for on-track, wireless performance adjustments.
2021 YZ125X and YZ250X
The two-stroke YZ125X and YZ250X are back for 2021. Optimized for the unique demands of cross country racing, the YZ125X and YZ250X feature the Yamaha Power Valve System with six-speed and wide ratio five-speed transmissions, respectively, for the ultimate cross country power plant. Their lightweight aluminum frame hosts the industry-leading fully adjustable, KYB speed sensitive spring-type suspension that is tuned specifically for cross country races. The 18-inch rear wheel, sealed O-ring chain, and off-road focused tires, coupled with the aggressive styling, ready the YZ125X and YZ250X for GNCC racing.
Yamaha bLU cRU Off-Road Racing Contingency Program
All 2021 YZ models are eligible for Yamaha's current 2020 bLU cRU Off-Road Racing Contingency Program, which features nearly $5 million for Yamaha bLU cRU riders competing in off-road motorcycle racing. YZ riders can earn contingency payouts via a bLU cRU debit card, receive a 10 percent rebate on GYTR parts and accessory purchases of up to $1,000, and receive an instant $45 credit
2021 Yamaha YZ125X Totalmotorcycle.com Features and Benefits
GNCC®-Tuned YZ125 Power
Based on the legendary 125cc liquid-cooled, reed-valve-inducted YZ two-stroke engine, the YZ125X utilizes a revised compression ratio, Yamaha Power Valve System (YPVS) timing and a model-specific CDI unit—all focused on creating broad power delivery that suits off-road terrain and a wide range of rider skill levels.
Revised Power Valve
The YZ125X features the patented Yamaha Power Valve System—with broader opening timing compared to the motocross version for smoother power—to create a smooth balance of power across the rev range.
Narrow Exhaust Pipe
The compact exhaust expansion chamber provides both horizontal and vertical clearance on tight, technical trails while still providing excellent exhaust efficiency.
Racing Intake System
Specially designed carbon fiber reed-valve petals improve throttle response and engine performance across the entire rpm range.
Six-Speed Transmission
Smooth-shifting six-speed transmission ensures proper gearing from tight woods to wide-open fire roads to maximize the power delivery from the two-stroke powerplant.
YZ125 Cooling System
Large-capacity radiator features a large cooling core with protective louvers for maximum cooling efficiency and durability in racing conditions.
Digital Ignition
Specifically tuned for the needs of the YZ125X, the digital CDI ignition system delivers precise spark for faster, stronger response anywhere in the powerband.
Industry-Leading KYB® Fork
The industry-leading, fully adjustable KYB® spring-type fork with speed-sensitive damping uses piston speed to control the damping force for super-precise handling and a smooth ride. With minimal wasted stroke or abrupt shocks for the rider, this bike is tuned for the demands of cross country racing.
Smooth KYB® Shock
Rear, fully adjustable KYB® shock features 12.4 inches of travel, separate adjusters for high- and low-speed compression damping and a full lock oil rebound system for increased comfort, control and fantastic rear wheel traction in off-road conditions.
YZ-Based Frame
A carefully engineered aluminum frame and swingarm give the YZ125X the famous handling that's proven by the championship-winning YZ motocrosser on tracks around the world.
Lightweight Subframe
Removable aluminum rear subframe is constructed of square-section tubing for reduced weight.
270mm Front Brake
Large 270mm front disc brake coupled with high-performance pad material offer outstanding machine control and performance, with exceptional stopping power and controllability.
Enduro-Specific Wheels and Tires
Cross country-spec Dunlop® Geomax® AT81 front and rear tires are ready to head straight to the races while the 18-inch rear tire has a taller sidewall to improve comfort and reduce pinch flats.
Cross Country Ergonomics
A racy "gripper"-type seat and narrow fuel tank combined with a tapered aluminum handlebar and adjustable mounts create greater freedom of movement and more comfortable ergonomics for riders.
Cross Country Features
The YZ125X comes equipped with off-road focused tires with the 18" rear wheel, larger rear sprocket, a side stand, sealed O-ring chain and a reserve fuel petcock.
2021 Yamaha YZ125X – Totalmotorcycle.com USA Specifications/Technical Details
US MSRP Price: $6699 USD
Canada MSRP Price: Starting at $7,799 CDN
Europe/UK MSRP Price: £ See Dealer GBP (On The Road inc 20% Vat)
Engine Type 125cc liquid-cooled 2-stroke; reed-valve inducted
Bore x Stroke 54.0 mm x 54.5 mm
Compression Ratio 7.4~8.8:1
Fuel Delivery Carburetor
Transmission 6-speed; multiplate wet clutch
Final Drive Chain
Suspension / Front KYB® spring-type fork with speed sensitive
damping; fully adjustable, 11.8-in travel
Suspension / Rear KYB® single shock; fully adjustable, 12.4-in
travel
Brakes / Front Hydraulic disc, 270mm
Brakes / Rear Hydraulic disc, 245mm
Tires / Front 90/90-21 Dunlop® AT81F
Tires / Rear 110/90-18 Dunlop® AT81
L x W x H 84.3 in x 32.5 in x 50.6 in
Seat Height 37.6 in
Wheelbase 57.3 in
Rake (Caster Angle) 26.8°
Trail 4.6 in
Maximum Ground
Clearance
13.8 in
Fuel Capacity 2.1 gal
Wet Weight 209 lb
Warranty 30 Day (Limited Factory Warranty)
Color Team Yamaha Blue
2021 Yamaha YZ125X – Totalmotorcycle.com Canada Specifications/Technical Details
ENGINE
| | |
| --- | --- |
| ENGINE | 2-stroke, liquid-cooled, reed-valve, single |
| DISPLACEMENT | 125 cc |
| BORE AND STROKE | 54.0 x 54.5 mm |
| COMPRESSION RATIO | 7.4~8.8:1 |
| FUEL DELIVERY | Mikuni TMX x 38 |
| IGNITION / STARTING | CDI / Kick |
| TRANSMISSION | Constant mesh, 6-speed |
| FINAL DRIVE | Chain |
CHASSIS
| | |
| --- | --- |
| SUSPENSION (FRONT) | Fully adjustable 48 mm KYB inverted fork / 300 mm (11.8″) travel |
| SUSPENSION (REAR) | Fully adjustable KYB link Monocross / 315 mm (12.4″) travel |
| BRAKES (FRONT) | 270 mm floating disc / twin piston caliper |
| BRAKES (REAR) | 245 mm disc / single piston caliper |
| TIRES (FRONT) | 90/90-21 |
| TIRES (REAR) | 110/90-18 |
CRITICAL DATA
| | |
| --- | --- |
| LENGTH | 2,140 mm (84.3″) |
| WIDTH | 825 mm (32.5″) |
| HEIGHT | 1,285 mm (50.6″) |
| WHEELBASE | 1,455 mm (57.3″) |
| GROUND CLEARANCE | 351 mm (13.8″) |
| SEAT HEIGHT | 955 mm (37.6″) |
| FUEL CAPACITY | 8 litres (1.8 imp. gallons) |
| WET WEIGHT | 94 kg (209 lb) |
| COLOUR(S) | Yamaha Racing Blue |
2021 Yamaha YZ125X – Totalmotorcycle.com European Specifications/Technical Details
NA
Manufacturer Specifications and appearance are subject to change without prior notice on Total Motorcycle (TMW).