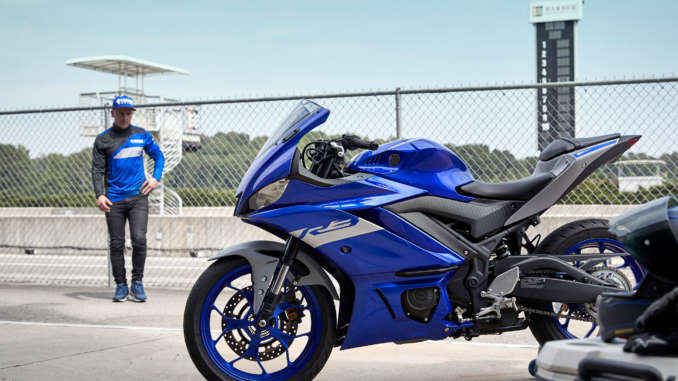 2021 Yamaha YZF-R3 : RIDER FRIENDLY AND SPORTY.
Introducing the new 2021 Yamaha YZF-R3…
R World is calling with the YZF-R3, boasting next-generation R-series styling and updated handling to bring it more in line with its supersport stablemates. Whether you're tackling crosstown traffic or a twisty road, the R3 is perfect for new riders who want a sporty machine that's also rider-friendly.
Because the high specification R3 comes fully equipped with a wide range of high-end features that give you outstanding performance alongside class-leading quality and head turning style
Legendary Yamaha superbike styling, advanced twin cylinder engine and ultra‑light chassis make it the bike of choice.
R-World is calling.
This lightweight supersport comes with a radical MotoGP® inspired look that makes it the most desirable 300 on the street or track. Its sleek bodywork with a central air intake, mirrors the look of Yamaha's YZR-M1 MotoGP® machine – and the aggressive dual LED headlights underline its pure R-series DNA.
High-specification 37mm inverted front forks give you precise suspension feel and feedback – and a great deal of development has gone into ensuring that the ergonomics give you plenty of comfort together with precise control. Answer the call and enter R-World.
Ultimate lightweight supersport.
Every model in the Yamaha R-Series is designed and manufactured to give you a thrilling ride every time. Quite simply, these supersport bikes are built without compromise, so that you can enjoy pure riding excitement.
Inspired by both the YZR-M1 MotoGP® bike and our class-leading R1, the R3 combines a forceful race-bred look with sleek cross-layered bodywork, giving it the presence of a bike twice its size. And the best bit is that you can ride it with an A2 license.
But it doesn't just look cool – it's also built to deliver high-revving supersport performance. Its 37mm inverted forks work in harmony with the light chassis – while the 50/50 weight distribution ensures superb agility. And with its highly efficient aerodynamics, it's the fastest R3 ever.
​Lightweight, compact, 321 cc, liquid-cooled, DOHC, 8-valve (4-valves/cyl), fuel injected, inline-twin cylinder engine. The engine has been designed to provide solid performance right across the rev range, with very linear throttle response, low vibration & excellent fuel economy.
Downdraft style, compact combustion chamber
The YZF-R3 uses regular 87 octane gas.
Valves are 26 mm (intake) and 22.5 mm (exhaust) in diameter.
Valve adjustment interval is every 42,000 km.
Automatic cam chain tensioner.
Helmet holder
Lightweight aluminum footrests & mounts
Threaded mounts on swingarm for rear race stand
Excessive lean angle sensor… if unit is on its side the engine will shut down
Lockable steering
Folding mirrors with chrome plating
Stylish rear fender extension helps reduce splash in wet conditions
Lightweight, low-maintenance sealed battery (batteries should be charged during winter storage)
Yamaha Diagnostic Tool coupler is located under the passenger seat. This system can significantly reduce diagnostic time in the event of a problem.
Sleek R-Series Styling
Featuring flowing bodywork and ergonomics inspired by the MotoGP® YZR-M1®, complemented by new colors and graphics, the YZF-R3® is sleek, aerodynamic and refined.
High-Revving Supersport Engine
Yamaha's championship-winning technology gives the YZF-R3 a broad spread of power with exciting high-rpm performance.
Advanced Suspension
The R3's inverted fork works with a Monocross® rear shock to provide exceptional handling, with balanced chassis rigidity, a near 50/50 weight balance, and damping and spring settings designed for a wide range of road conditions.
Compact Chassis
With a fully-fueled weight starting at only 375 pounds and a seat height of only 30.7 inches, the YZF-R3 is ultra-light, nimble, and confidence-inspiring on everything from tight city streets to wide-open racetracks.
Practical Performance
A range of exclusive technologies ensures the YZF-R3 combines Yamaha's legendary refinement and reliability with thrilling performance, all while sipping fuel at an efficient 56 mpg.
Radical YZR-M1 MotoGP® inspired look
Featuring radical bodywork and effective ergonomics inspired by the MotoGP® YZR-M1, this is the sleekest and most aerodynamic R3 ever built. The central M1-style air duct gives this compact supersport a pure race-bred look and with a high overall specification and idealised 50/50 weight distribution, the R3 is ready to thrill you on the street and track.
Aggressive R1 inspired face
With its glaring face, this bike is pure R-series, and features an aggressive front fairing and a race-type screen inspired by the iconic R1. Dual LED headlights and a central air duct work with the cross-layered fairing panels to maximize cooling airflow for the engine, making this the most outstanding supersport in the 300cc A2 license class.
High revving 321cc engine
With a compression ratio of 11.2:1, double overhead cams (DOHC) and 4-valve cylinder heads, the R3 motor is designed for quick-revving performance and high-rpm efficiency. With a maximum power output of 30.9kW/42PS at 10,750 rpm, this potent engine delivers thrilling acceleration with an exciting ride and a broad spread of power.
Lightweight A2-license supersport bike
Whether you're an A2 license rider or someone who is looking for the ultimate lightweight supersport, the R3 has the technology, performance and style that you're looking for. Developed using the same no-compromise philosophy that goes in to every R-series model, this bike's race-bred DNA is built to thrill.
Slim and lightweight sports chassis
The compact and lightweight chassis is manufactured from high tensile steel tubing that gives an optimum balance of strength and rigidity. For sporty and agile handling characteristics the R3's short wheelbase gives outstanding agility – while the near 50/50 front/rear weight distribution and accessible seat height deliver a balanced ride.
R1 inspired dual LED headlights
The front fairing is equipped with R1 style headlights that underline the R3's strong genetic links with the larger R-series models. Utilising bright and long-lasting LED technology, the dual headlights produce excellent visibility and illumination with minimal power draw – and give the bike a radical race-bred look.
2021 Yamaha YZF-R3 Totalmotorcycle.com Features and Benefits
ENGINE
Lightweight, compact, 321 cc, liquid-cooled, DOHC, 8-valve (4-valves/cyl), fuel injected, inline-twin cylinder engine. The engine has been designed to provide solid performance right across the rev range, with very linear throttle response, low vibration & excellent fuel economy.
Downdraft style, compact combustion chamber

4 valves per cylinder to enhance low-to mid-range torque
straight intake path into the combustion chamber for excellent power output

The YZF-R3 uses regular 87 octane gas.
Valves are 26 mm (intake) and 22.5 mm (exhaust) in diameter.

Isonite surface treatment on the valve stems for improved durability & wear resistance
valves feature carbon cutters on the valve stems to help reduce carbon build-up during slower speed operation

Valve adjustment interval is every 42,000 km.
Automatic cam chain tensioner.

reduces mechanical engine noise & maintenance

Lightweight, all aluminum DiASil cylinder (die cast all aluminum cylinder with silicone content).

offers outstanding cooling performance / heat dissipation for consistent power delivery
reduces weight since there are no heavy liners & cylinder is made completely of aluminum

Offset cylinder design.

cylinder is offset 7 mm relative to the crankshaft (to the exhaust side)
reduces frictional losses between the pistons & cylinder wall during the power stroke
improved power output & improved fuel economy

180-degree crankshaft with uneven firing order.

helps reduce "pumping losses" for maximum power output
provides an interesting exhaust note

Gear driven "primary coupled-force" balancer shaft.

reduces engine vibration for excellent rider comfort

Lightweight forged aluminum pistons.

provide fast engine response
reduce weight
reduce mechanical vibration for excellent durability

Carburized connecting rods (carburizing is a form heat treating).

excellent strength & durability

"Closed loop" 32 mm throttle body fuel injection system.

system uses an idle speed controller (ISC) to maintain a steady idle regardless of engine temperature
12-hole injectors for optimum fuel atomization
system is tuned to provide excellent rideability and linear throttle control.
close-loop system uses an oxygen sensor to "sniff" spent exhaust & automatically adjust the fuel / air ratio for reduced emissions

Airbox utilizes a viscous paper-type air filter.
Compact, 6-speed transmission.

ratios specially designed to suit the character (torque & power) of the engine
5th & 6th gears are overdrive gears to reduce engine rpm at highway speeds

Compact, wet-type, multi-plate clutch.

ensures consistent, positive shifting
light, easy clutch lever pull.

Low-mounted, 2-into-1 exhaust system.

utilizes a short design muffler fitted with a 3-way catalyzer to reduce exhaust emissions
low mounted design centralizes mass for agile handling & lightweight feeling

Maintenance-free transistor controlled ignition (TCI).

produces a strong spark for fast starts
provides precise ignition timing / mapping for optimum engine performance at any rpm

Easy access spin-on type oil filter & engine oil drain plug.

fast & easy oil changes
oil change interval is 5,000 kms after the initial 1,000 km break-in oil change

Air Induction System (AIS… not ram air).

reduces harmful exhaust emissions
injects fresh air into exhaust ports to fully burn any unburnt fuel, further reducing exhaust emissions
CHASSIS
Lightweight, diamond-type, high-tensile, steel frame

features optimized rigidity balance for light, agile handling with excellent stability
engine is a stressed member of the chassis, allowing a lighter, more compact main frame design
frame features a mix of both solid & rubber engine mounts
Electrostatic paint helps prevent corrosion

The riding position is one of the most important features of the R3. Despite its supersport styling, the R3 offers excellent rider comfort thanks to its upright riding position.
Key chassis geometry figures include:

1380 mm (54.3″) wheelbase
25 degrees of rake & 95 mm of trail
50 / 50 front to rear weight distribution
chassis dimensions and shape have been designed to centralize mass & lower the centre of gravity to provide the rider with light, agile handling

Tapered, long design, high tensile steel swingarm.

lightweight design reduces unsprung weight for superior suspension performance
excellent rear wheel traction & control

37 mm KYB upside-down (inverted) fork offers 130 mm (5.1″) of wheel travel.

plastic chip guards help prevent damage to the fork tubes & seals

Adjustable Monocross link-less rear suspension with 125 mm (4.9″) of wheel travel.

features a single KYB rear shock with 7 levels of preload adjustability
adjustable design allows rider to tailor preload settings to match load & road condition

ABS-equipped 298 mm floating front disc brake squeezed by a twin-piston caliper.

provides solid stopping power
brake force & feel are tailored towards new riders

ABS-equipped 220 mm floating rear disc is squeezed by a lightweight, single-piston, slide-type caliper.
Anti-lock braking system (ABS).

controlling ECU & hydraulic unit are combined into a single compact unit to reduce weight & centralize mass
when ABS system senses impending wheel lock-up (via active type wheel sensors) it regulates hydraulic braking pressure to the point just before the wheel or wheels lock-up
ABS provides excellent control under hard braking or when braking on wet, slippery or loose surfaces

Lightweight, cast-aluminum 10-spoke mag wheels.

front wheel size is MT2.75-17 fitted with a 110/70-17 tire
rear wheel is MT4.00 fitted with a 140/70-17 tire
Lightweight hollow axles front & rear.

Clip-on style handlebars.

provide a supersport image but offer a comfortable, more upright riding position since they are mounted above the top triple clamp
Handlebar position is 22 mm lower than previous model

14-litre fuel tank with styling adopted from R1 and R6 models.

offers a slim design with great knee grip
"reserve" portion of the tank is 3 litres (low fuel light will illuminate)
tank is steel with plastic covers, which can reduce costs in the event of damage

Separate rider & passenger seats with low 780 mm (30.7″) seat height.

offer excellent comfort
narrow-design rider seat makes it easier to touch feet flat on the ground
passenger seat can be removed & replaced by the optional Genuine Yamaha Accessory rear seat cowl if desired

Feature-rich liquid crystal (LCD) multi-function meter.

data includes speedometer, bar tachometer, fuel meter, odometer, tripmeters (2), fuel trip meter, gear position, flasher indicators, clock, temperature meter, fuel economy, oil trip meter, ABS indicator, adjustable shift timing light and high beam indicator
Warning lights: oil pressure and engine trouble
back lighting is adjustable

Race inspired full fairing.

New design inspired by larger R-series models
New design translates to a 7 percent reduction in drag and an 8 km/h (5 mph) increase in top speed

Race-derived air intake duct directs flow to the radiator
LED headlights with updated design.

Brilliant rear LED tail light
unique running / brake light display
2021 Yamaha YZF-R3 – Totalmotorcycle.com USA Specifications/Technical Details
US MSRP Price: $5299 USD
Canada MSRP Price: Starting at $6299 CDN
Europe/UK MSRP Price: £5488 GBP (On The Road inc 20% Vat)
ENGINE
Engine Type
321cc liquid-cooled, 4-stroke, DOHC inline twin-cylinder; 4-valves per cylinder
Bore x Stroke
68.0mm x 44.1mm
Compression Ratio
11.2:1
Fuel Delivery
Fuel injection
Transmission
6-speed; multiplate wet clutch
Final Drive
Chain
ENGINE
Engine Type
321cc liquid-cooled, 4-stroke, DOHC inline twin-cylinder; 4-valves per cylinder
Bore x Stroke
68.0mm x 44.1mm
Compression Ratio
11.2:1
Fuel Delivery
Fuel injection
Transmission
6-speed; multiplate wet clutch
Final Drive
Chain
CHASSIS
Suspension / Front
Inverted telescopic fork; 5.1-in travel
Suspension / Rear
Monocross single shock, adjustable preload; 4.9- in travel
Brakes / Front
298mm hydraulic disc with ABS
Brakes / Rear
220mm hydraulic disc with ABS
Tires / Front
110/70-17 Dunlop® Sportmax GPR-300®
Tires / Rear
140/70-17 Dunlop® Sportmax GPR-300®
DIMENSIONS
L x W x H
82.3 in x 28.7 in x 44.9 in
Seat Height
30.7 in
Wheelbase
54.3 in
Rake (Caster Angle)
25.0°
Trail
3.7 in
Maximum Ground Clearance
6.3 in
Fuel Capacity
3.7 gal
Fuel Economy
56 mpg
Wet Weight
375 lb
OTHER
Warranty
1 Year (Limited Factory Warranty)
2021 Yamaha YZF-R3 – Totalmotorcycle.com Canada Specifications/Technical Details
| | |
| --- | --- |
| ENGINE | Liquid-cooled, DOHC, 8 valves (4 valves/cyl.), inline twin |
| DISPLACEMENT | 321 cc |
| BORE AND STROKE | 68 x 44.1 mm |
| COMPRESSION RATIO | 11.2:1 |
| FUEL DELIVERY | 32 mm throttle body F.I. |
| ESTIMATED FUEL CONSUMPTION± | 23.5 kpl / 66 mpg (Imp.) |
| LUBRICATION | Wet sump |
| IGNITION / STARTING | TCI / Electric |
| TRANSMISSION | 6-speed |
| FINAL DRIVE | O-ring chain |
CHASSIS
| | |
| --- | --- |
| SUSPENSION (FRONT) | 37 mm upside-down fork / 130 mm (5.1″) wheel travel |
| SUSPENSION (REAR) | Adjustable Monocross / 125 mm (4.9″) wheel travel |
| BRAKES (FRONT) | 298 mm floating disc / twin-piston caliper / ABS equipped |
| BRAKES (REAR) | 220 mm disc / single-piston caliper / ABS equipped |
| TIRES (FRONT) | 110/70-17 |
| TIRES (REAR) | 140/70-17 |
CRITICAL DATA
LENGTH
2,090 mm (82.3″)
WIDTH
730 mm (28.7″)
HEIGHT
1,140 mm (44.9″)
WHEELBASE
1,380 mm (54.3″)
RAKE / TRAIL
25 degrees / 95 mm (3.7″)
GROUND CLEARANCE
160 mm (6.3″)
SEAT HEIGHT
780 mm (30.7″)
FUEL CAPACITY
14 litres (3.1 Imp. gal.)
WET WEIGHT
167 kg (368 lb)
COLOUR(S)
Yamaha Racing Blue
Matte Black
Electric Teal
2021 Yamaha YZF-R3 – Totalmotorcycle.com European Specifications/Technical Details
Engine
Engine type 2-cylinder;4-stroke;Liquid-cooled;DOHC;4-valves
Displacement 321cc
Bore x stroke 68.0 mm x 44.1 mm
Compression ratio 11.2 : 1
Maximum power 30.9kW (42.0PS) @ 10,750 rpm
Maximum torque 28.8Nm (2.9kg-m) @ 9,000 rpm
Lubrication system Wet sump
Clutch type Wet;Multiple Disc
Ignition system TCI
Starter system Electric
Transmission system Constant Mesh;6-speed
Final transmission Chain
Fuel consumption 3.8l/100km
CO2 emission 89g/km
Fuel system Electronic Fuel Injection
Chassis
Frame Diamond
Caster angle 25º
Trail 95mm
Front suspension system Telescopic forks
Rear suspension system Swingarm
Front travel 130 mm
Rear travel 125 mm
Front brake Hydraulic single disc, Ø298 mm
Rear brake Hydraulic single disc, Ø220 mm
Front tyre 110/70-17M/C 54H (Tubeless)
Rear tyre 140/70-17M/C 66H (Tubeless)
Dimensions
Overall length 2090 mm
Overall width 730 mm
Overall height 1140 mm
Seat height 780 mm
Wheel base 1380 mm
Minimum ground clearance 160 mm
Wet weight (including full oil and fuel tank) 170 kg
Fuel tank capacity 14.0L
Oil tank capacity 2.4L
Manufacturer Specifications and appearance are subject to change without prior notice on Total Motorcycle (TMW).