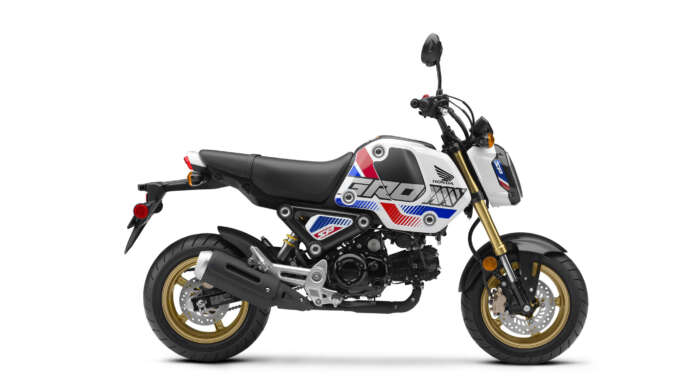 2022 Honda Grom ABS: THE NEW GROM: EVEN MORE GROMITUDE.
Introducing the 2022 Honda Grom ABS…
You've seen them everywhere, but you've never seen one like this. Check out the all-new 2022 Honda Grom, probably the most fun you'll ever have on two wheels. There's especially big news this year, because we've made some huge improvements to this little pocket rocket. A new engine, with a higher 10:1 compression ratio that increases power and adds to the bike's zippy performance. And an extra gear in the transmission—that's right, it's a five-speed now. Updated digital instruments. Plus a thicker, flatter seat that's more comfortable and a better fit for taller riders. But the biggest news of all are the Grom's new body panels. They give the Grom a fresh new look, and they're easy to remove for customizing your ride. You even get fuel injection, a bigger fuel tank, and optional ABS. So…more comfortable, more powerful, readily customizable and a fun factor that's off the charts—bring on the Gromance!
Honda's Grom—the undisputed King of Fun and the model that put the popular miniMOTO concept on the map—gets an extensive makeover for the 2022 model year with cool, modular styling and some comfort-focused updates.
Since its 2014 model-year introduction, the Grom has always been about enjoyment—an unintimidating option for new riders to learn with, an entertaining plaything for experienced riders and a customization platform for those looking for an amusing project. A cross-demographic army of enthusiasts have embraced the diminutive model with remarkable passion. With 750,000-plus units sold worldwide to date, the Grom has spawned a vibrant subculture of fun-seekers, serving as an inspiration and focal point for riding clubs and social-media groups, while also supporting a healthy aftermarket of accessory and performance parts. Eliciting laughs from those who ride it, thumbs-ups from fellow motorists and traffic-light smiles from pedestrians, the Grom is also a motorcycling evangelist, spreading positive powersports vibes wherever it goes.
The Grom's success has also served as the springboard for a trio of retro-themed miniMOTO siblings: the Monkey and Super Cub in model-year 2019 and the Trail 125 for model-year 2021.
Introduced in some markets last fall, the Grom's latest iteration is now coming to the U.S. market for model-year 2022, featuring striking new bodywork that facilitates customization, plus a peppy new engine, now with a fifth gear. Not lost in the redesign are the Grom's amazing gas mileage, low operating and maintenance costs, attention to detail and Honda's legendary reliability.
The Grom rounds an important corner this year, the iconic miniMOTO model emerging from its extensive makeover as a more refined, easily customizable machine. A more-efficient engine now has a fifth gear for increased versatility, while a flatter seat accommodates varying rider heights. The fuel capacity is increased from 1.45 gallons to 1.59, for added fun between stops, and a full-featured LCD display makes it easy to take it all in. A special SP color option has stylish graphics and a yellow shock spring, plus a gold finish for the wheels, brake calipers and fork. An ABS version is available as well.
PERFORMANCE
125cc FUEL-INJECTED ENGINE
For 2022, the Grom gets a new engine with higher compression. Nobody can match Honda's reputation for engines, and even though the Grom may be compact, it's a giant in terms of performance and reliability.
COMFORT
LOW SEAT HEIGHT
At just 30 inches the Grom makes it easy to flat-foot it in parking lots or at stop lights. Plus, the new seat is flatter and features thick padding so it's more comfortable, especially for taller riders.
ENGINEERING
HYDRAULIC DISC BRAKES
The Grom features 220mm front and 190mm rear single disc brakes for excellent stopping power.
STYLE
ALL-NEW BODYWORK
Part of the fun of owning and riding a Grom is the way it looks. So for 2022 we've given the Grom some tasty new bodywork. Plus, it's easy to remove if you want to customize it even further. In addition, the engine, exhaust, wheels and swingarm are all blacked out for an edgy look.
LED HEADLIGHT
The Grom's LED projector-style headlight not only looks great and is a major styling element, but it also provides superior illumination.
FIVE-SPEED TRANSMISSION
New for 2022, the Grom now features a five-speed transmission. You still get all the durability, control and efficiency of a conventional motorcycle, but the extra gear gives you more choice, and increases top speed for highway cruising.
LED TAILLIGHT
Forget about big, bulky taillights—the Grom's LED lamp is bright and clear.
MULTI-FUNCTION DIGITAL INSTRUMENTS
With some new functions this year, the instrument display features speedometer, odometer, tachometer, gear position indicator, A&B trip meters, fuel gauge, clock, and indicator for low/high beam.
OPTIONAL ABS
Honda's Anti-Lock Braking System (ABS) is available on the Grom, which helps you make confident stops under less-than-ideal conditions.
SPECIAL "SP" COLOR VERSION
While the Grom is easy to customize, we've already customized one for you. Check out the Pearl White option, with special gold-finished fork, wheels, and brake calipers, a yellow shock spring, and cool red/white/blue graphics.
CONVENIENCE
FUEL CAPACITY
Who says being on a budget can't be fun? With its 1.6-gallon fuel tank (bigger for 2022) you can venture far and economically too.
TWO-UP CAPABILITY
Want to share the fun with a friend? No problem—the Grom makes it easy to bring a passenger along.
HANDLING
12-INCH 10-SPOKE WHEELS
Tough and strong, these cast wheels and wide tires are just what the urban rider needs.
INVERTED FORK SUSPENSION
Just like a top-of-the-line sportbike, the Grom features an inverted hydraulic fork front suspension for control and road feel.
SINGLE REAR SHOCK
Thanks to the Grom's single hydraulic rear shock, you get a plush ride, even over choppy pavement.
GET THE PARTY STARTED
Since 2013, our MSX Grom (Mini Street X-Treme) has been transport of choice for a whole new generation of young riders around the world. It's easy to see why; individual looks, compact dimensions and full-sized motorcycle-specification, suspension and brakes. Add a peppy 125cc engine, and it's the perfect partner for busy urban life. And now, there's a new MSX Grom on the block, with extra power, an extra gear, and even more style.
SMALL AND EVEN MORE PERFECTLY FORMED
The MSX Grom is a little bike that thinks big. Its new, 125cc engine makes more power and, thanks to PGM-FI fuel injection and EURO5 compliance, is clean and fuel efficient. An extra gear means you now have five speeds to choose from, making longer rides easy. Funkily refreshed (and easily-removed) bodywork is great as is – or ripe for customisation. And, just like its big brothers, the MSX Grom's digital dash now has a rev-counter and gear position indicator.
2022 Honda Grom ABS Totalmotorcycle.com Features and Benefits
DESIGN / STYLING
Now in its third iteration, the Grom sports all-new, pared-down styling with straighter lines, a smaller subframe and thicker seat padding (seat height is still a low 30 inches). Best of all, the four main body panels quickly attach/detach, facilitating customization—a hallmark of Grom culture that is sure to be welcomed by customers eager to personalize their rides.
The 2022 Grom's minimalist aesthetic is enhanced with by its blacked-out engine, exhaust, wheels and swingarm, while a special SP version has a gold finish on the fork, wheels and brake calipers, plus a yellow shock spring.
Practical improvements include an increase in fuel capacity, from 1.45 gallons to 1.59 gallons. In addition, the upgraded LCD digital dash now has a gear-position indicator, alongside the speedometer, tachometer, twin trip meters, fuel gauge and clock.
The 2022 Grom is offered in Queen Bee Yellow, Matte Black Metallic and a special SP color option that has stylish graphics and a yellow shock spring, plus a gold finish for the wheels, brake calipers and fork. The ABS version is available in Candy Blue.
ENGINE / DRIVETRAIN
The Grom's updates are more than skin deep. The new engine is a modern design that includes—for the first time—a fifth gear for more comfortable cruising. Honda's engineers achieved this by specifying a wider spread of gear ratios and replacing the previous 34-tooth final-drive sprocket with a 38-tooth size. The changes not only provide peppy acceleration from low speeds, but increase top speed as well.
The 125cc two-valve, overhead-cam, air-cooled engine has a compression ratio of 10:1 (versus 9.3:1 with the previous model). This is achieved via an undersquare design, with a narrower bore and longer stroke than its predecessor—50.0 mm and 63.1 mm, compared to 52.4 mm and 57.9 mm with the previous engine.
State-of-the-art PGM-FI fuel injection assures optimal fuel delivery and highly efficient combustion. A large, 2.5-liter airbox houses a panel-type, wet-paper filter with a 10,000-mile life in normal riding conditions.
Many Grom owners prefer to do their own maintenance, and a welcome addition to the 2021 model is a replaceable oil filter, a practical upgrade from cleaning the previous model's oil spinner and screen.
Do-it-yourselfers will also appreciate the redesigned exhaust downpipe and muffler, which are now two separate parts for ease of replacement.
CHASSIS / SUSPENSION
The suspension remains unchanged with a 31 mm inverted fork and a single shock. The brakes feature a dual-piston front caliper with 220 mm disc, and a single-piston rear caliper with 190 mm disc. Wheels are a 12-inch cast design—a signature feature of the Grom—but the 2021 model boasts a new five-spoke pattern.
Of special note, the available revamped ABS system operates through an IMU (inertial measurement unit) that gives precise front-to-rear distribution of braking operation, depending on vehicle behavior.
Transferable one-year limited warranty; extended coverage available with a HondaCare Protection Plan
Meets current EPA and CARB standards
2022 Honda Grom ABS – Totalmotorcycle.com USA Specifications/Technical Details
US MSRP Price: from $3399 USD
Canada MSRP Price: $4099 CDN
Europe/UK MSRP Price: £ NA GBP (On The Road inc 20% Vat)
Model
Grom ABS
ENGINE
Type
123.9cc air-cooled four-stroke 80º single cylinder
Valve Train
SOHC; two-valve
Bore x Stroke
50.0 mm x 63.1 mm
Compression Ratio
10.0:1
Induction
PGM-FI automatic fuel injection w/ 24 mm bore
Ignition
Full transistorized
Starter
Electric
Driveline
Chain final drive; 15T/38T
Transmission
Manual; 5 speeds
Clutch
Multiplate wet
SUSPENSION
Front
31 mm telescopic inverted fork; 4.3 in. travel
Rear
Single shock w/ box-section steel swingarm; 4.1 in. travel
BRAKES
Front
Single hydraulic 2-piston caliper w/ 220 mm disc; ABS
Rear
Single hydraulic 1-piston caliper w/ 190
mm disc; ABS
TIRES
Front
120/70-12
Rear
130/70-12
MEASUREMENTS
Rake (castor angle)
25º
Trail
84 mm (3.31 in.)
Length
69.2 in.
Width
28.4 in.
Height
40.0 in.
Seat Height
30.0 in.
Ground Clearance
7.0 in.
Wheelbase
47.2 in.
Fuel Capacity
1.6 gal.
Curb Weight*
231 lbs.
OTHER
Colors
Candy Blue
2022 Honda Grom ABS – Totalmotorcycle.com Canada Specifications/Technical Details
Engine & Drivetrain
Engine Type Air-cooled, single-cylinder
Displacement 125 cc
Bore & Stroke 50.0 mm x 63.1 mm
Compression Ratio 10.0:1
Valve Train Chain-driven SOHC, two valves per cylinder
Fuel Delivery PGM-FI electronic fuel injection
Transmission Five-speed
Final Drive #420 O-ring-sealed chain
Chassis & Suspension
Front Suspension 31 mm inverted fork; 100 mm (3.9 in.) travel
Rear Suspension Single shock w/ steel box-section swingarm; 103 mm (4.1 in.) travel
Additional Information
Tires Front: 120/70-12
Rear: 130/70-12
Brakes Front: Single 220 mm disc with two-piston caliper
Rear: Single 190 mm disc with single-piston caliper
Seat Height 760 mm (29.9 in.)
Wheelbase 1,200 mm (47.2 in.)
Curb Weight Non-ABS: 103 kg (227 lb.) including required fluids and full tank of gas—ready to ride
ABS: 104 kg (231 lb.) including required fluids and full tank of gas—ready to ride
Fuel Capacity 6.0 litres
Colour Pearl Horizon White (Trico)
Warranty 12 months, unlimited mileage, freely transferable warranty; extended coverage available with Honda Plus
2022 Honda Grom ABS – Totalmotorcycle.com European Specifications/Technical Details
Engine
Bore × Stroke (mm) 50.0 x 63.1
Carburation PGM-FI electronic fuel injection
Compression Ratio 10.0:1
Engine Displacement (cc) 124.9
Engine Type Air-cooled 2-valve single cylinder
Max. Power Output 7.4kW / 7,250 rpm
Max. Torque 11.1Nm / 6,000 rpm
Starter Electric
C02 Emissions (g/km) 34 g/km
Oil Capacity (Litres) 1.1 L
Wheels
Brakes Front Single 220mm disc with hydraulic dual-piston brake caliper
Brakes Rear Single 190mm disc with hydraulic single-piston brake caliper
Suspension Front USD Front Forks, 31mm
Suspension Rear Mono shock, steel square pipe swingarm
Tyre Size Front 120/70R12 51L
Tyre Size Rear 130/70R12 56L
Wheels Front 12 X MT2.75 5-Spoke Aluminium Cast
Wheels Rear 12 X MT 3.50 5-Spoke Aluminium Cast
Dimensions and Weights
Battery Capacity (VAh) 12V 3.5Ah
Caster Angle 25°
Dimensions (L×W×H) (mm) 1760 x 720 x 1015
Frame type Steel mono-backbone frame
Fuel Tank Capacity (Litres) 6 litres
Fuel Consumption 66.7 km/l
Ground Clearance (mm) 180 mm
Kerb Weight (kg) 103 kg
Seat Height (mm) 761 mm
Trail (mm) 81 mm
Wheelbase (mm) 1200 mm
Turning Radius 1.9 metres
Transmission
Clutch Wet multiplate
Final Drive Chain
Transmission Type 5-speed
Instruments and Electrics
Headlights LED
Instruments LCD digital dash with speedometer, twin trip meters, fuel gauge and clock.
Tail Light LED
Manufacturer Specifications and appearance are subject to change without prior notice on Total Motorcycle (TMW).