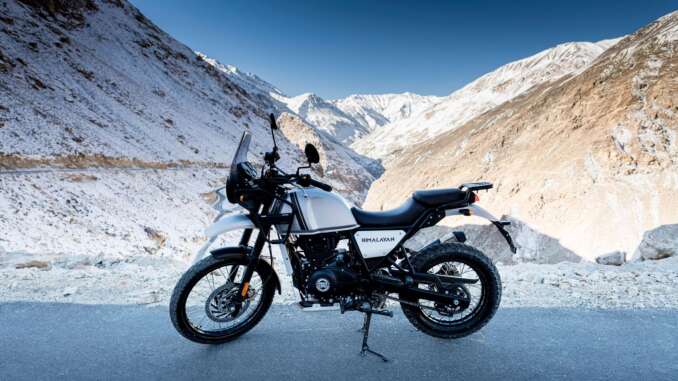 2022 Royal Enfield Himalayan: THE GO-ANYWHERE MOTORCYCLE.
Introducing the 2022 Royal Enfield Himalayan…
Royal Enfield, the global leader in midsize motorcycles (250-750cc), is proud to announce the new 2022 Himalayan. The versatile adventure-touring motorcycle will now be available in three new distinctive, terrain-inspired colorways, and features a range of upgrades, most notably the Royal Enfield Tripper Navigation, a simple and intuitive turn-by-turn navigation pod that pairs with your smartphone via the Royal Enfield App.
Inspired by its global community of adventure touring enthusiasts, the Himalayan has evolved to offer the Royal Enfield Tripper, a functional upgrade dedicated to enhancing the overall ride experience both on and off the road. Designed with the Google Maps Platform, the built-in navigation display device offers turn-by-turn directions, and pairs with the rider's smartphone by way of the Royal Enfield App.
The Story
Decades of expeditions. Thousands of miles of traversing the most challenging terrain. Years of living and evolving with a machine that responds to the mountains. That's how we made the Himalayan, our first dual-purpose motorcycle.
2022 Royal Enfield Himalayan Totalmotorcycle.com Key Features
ROYAL ENFIELD INTRODUCES 2022 HIMALAYAN
Tripper navigation, ergonomic upgrades and three new colorways highlight the refreshed 2022 Royal Enfield Himalayan
The 2022 Royal Enfield Himalayan receives several ergonomic upgrades, focused on increasing comfort and capability for an improved adventure-touring experience. Revised seat cushioning allows riders to enjoy extended saddle time while a new windscreen keeps more wind off the rider for improved all-day comfort, amounting to even more enjoyable miles. The new slimmer and ergonomically adjusted front rack offers a more spacious cockpit with minimal interference in the leg area, further improving the overall comfort and experience.
The rear carrier on the 2022 Royal Enfield Himalayan is also revised, now with an additional plate to ensure secure fastening and placement of luggage. Additionally, the rear carrier is now reduced in height, making it easier for riders to swing a leg over the motorcycle.
The 2022 Royal Enfield Himalayan will now be available in new Granite Black (mix of matte and gloss), Mirage Silver and Pine Green, in addition to the existing colorways: Rock Red, Lake Blue and Gravel Grey. The 2022 Royal Enfield Himalayan will be available in North America as early as November.
The Himalayan debuted in North America in 2018, and over the last three years, has definitively carved out a strong category of accessible adventure touring. Launched with the purpose of creating a distinct subcategory under the ever-popular adventure-touring segment, the Himalayan has been hugely successful in the U.S. market, and has a growing community of dedicated adventure riders around the globe.
A simple, capable, and go-anywhere motorcycle, the Himalayan was inspired by Royal Enfield's experience of over 50 years of riding across the Himalayas of Northern India. Owing to its versatility, simplicity and competence, the Himalayan has received an incredible response from riders across the world. The Himalayan today is recognized as a capable and dependable adventure tourer by global motorcycle enthusiasts, and is among the leading Royal Enfield motorcycles sold across several geographies, including Europe, America, Latin America and Southeast Asia.
2022 Royal Enfield Himalayan Totalmotorcycle.com Features and Benefits
ADVENTURE-READY HANDLING
The half-duplex split cradle frame and long travel suspension keep you in harmony with road, rocks, and everything in between.
VERSATILE PERFORMANCE
31.5 inches seat height, perfectly positioned footpegs and handlebars reduce fatigue and give you a comfortable upright riding position whether you sit or stand.
Tripper™ navigation assist
Go anywhere your adventure takes you. The Tripper™ navigation system on your Himalayan keeps you on course. It's powered by Google Maps and the Royal Enfield app, keeping your smartphone connected to your Himalayan through Bluetooth. The intuitive display system guides you through the road, notifying you before every turn.
SWITCHABLE ABS
Dual channel ABS as standard with the option of switching it off at the rear wheel for an engaging ride and for more control while riding on off-road surfaces.
TOUR-MINDED DESIGN
The new improved seat lets you cover longer distances with even more comfort. Panniers at the back. Jerry cans in the front. The Himalayan's mounting points let you strap up and set off anytime. The LCD dashboard lets you track everything from miles to maintenance.
FOR A STEADFAST RIDE
Hefty 17″ and 21″ wheels with dual purpose tires, for a steady grip on all roads and no roads.
2022 Royal Enfield Himalayan – Totalmotorcycle.com  Specifications/Technical Details
US MSRP Price: $5299 USD
Canada MSRP Price: $ See Dealer CDN
Europe/UK MSRP Price: £ GBP (On The Road inc 20% Vat)
Type Single Cylinder 4 stroke, SOHC All Cooled
Displacement 411cc
Bore x Stroke 75 mm x 55 mm
Compression ratio 95 l
Maximum power 24 3 bhp (l 7 BBKW) @ 6500 rpm
Maximum torque 23 6 mpg @7 40004500 rpm
Clutch Wet Multi plate
Gearbox 5 Speed, Constant Mesh
Lubrication Forced Lubrication, Wet Sump
Fuel supply Electronic Fuel Injection
Engine start Electric
Type Half-Duplex 5pm Cradle Frame
From suspension Telescopic 4t mm Forks, 200 mm Travel
Real suspension Monoshock with Linkage, 150 mm Wheel travel
Wheelbase 55 In
Ground clearance a o m
Length as m
Width 33 m
Seat height 31.5 in
Height 53 m (Fly screen top)
Curt: weight 43¢ lbs
Fuel CODGCW 4 gal
From me 90m , 2t "
Rear tire l20/90 , l7'
From brakes 300 mm Disc, 2-Ptston Floating Caliper
Real blokes 240 mm Disc, single Piston Floating Caliper
ABS Dual Channel ABS (SW/(chub/e to Slug/E Charms/v Real wheel/ABS CON/0! Deactivation)
Electrical system l 2v , DC
Battery l2v, 8 AH MF
Headlamp l 2v, H4-bU/55W
loll lamp l2v, 4/ l w
Tum Signal Lamp 12V, low X 4 Nos
Manufacturer Specifications and appearance are subject to change without prior notice on Total Motorcycle (TMW).