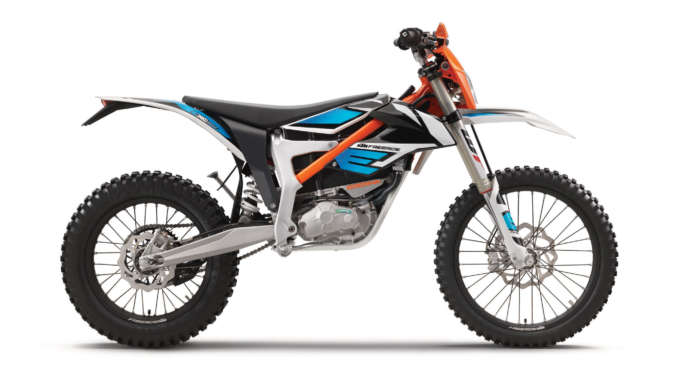 2023 KTM Freeride EX-C: PURE ELECTRIC FUN.
Introducing the 2023 KTM Freeride EX-C…
The KTM FREERIDE E-XC represents the latest generation of KTM electric bikes. It features a brushless 18 kW synchronous motor in a modern FREERIDE chassis with WP XPLOR suspension front and rear, making it outstandingly agile, as well as highly dynamic with great offroad mobility.
The KTM FREERIDE E-XC is a true all-rounder for pure fun on every terrain.
State-of-the-art electric motor with 18 kW of maximum output
Quick change KTM PowerPack with 3.9 kWh capacity
Adjustable WP XPLOR 43 front fork with 250 mm of travel
Adjustable WP XPLOR PDS rear shock with 260 mm of travel
Giant laced wheels 21″/18″; with anodized aluminum rims
 FORMULA brakes for improved feeling & performance
2023 KTM Freeride EX-C Totalmotorcycle.com Features and Benefits
Control unit
The state-of-the-art control unit is an advanced set of electronics delivering an important contribution toward the responsive yet highly tractable power delivery of the KTM FREERIDE E-XC. It is water cooled in order to ensure reliable function under any conditions.
Drivetrain
The KTM FREERIDE E-XC's brushless electric motor is controlled by an intelligent, state-of-the-art control unit specifically adapted for this application to guarantee a responsive, yet highly tractable power delivery for maximum riding fun. In fact, the tighter and twistier the tracks, the more fun is to be had: since the full torque is on tap basically from a standstill, which means that neither a gear shift lever nor a clutch are needed, there is no simpler way of riding a motorcycle.With the advanced motor providing 18 kW of peak power in Cross mode 3, the KTM FREERIDE E-XC easily holds its own against many motorcycles with combustion engines. In addition, when Economy mode is selected, the model is able to recuperate deceleration energy during coasting and braking for an additional range boost.At the same time, the KTM FREERIDE E-XC delivers full operational safety without compromise. Even fully submerged in water, there is no electrical hazard from the sophisticated, fully sealed system of the drivetrain and KTM PowerPack.
Display
The multifunctional display between the steering head and seat allows the rider to select one of three different power delivery modes. In addition, a chain of LEDs, colored green to red, provides a visual indication of the charge remaining in the KTM PowerPack, with the red LED starting to flash and the bike automatically entering "limp home mode" as soon as the charge drops below 10 %. In addition, error codes are indicated by the red LED flashing in different frequencies.
Ride modes
Three different ride modes are available to adjust the powertrain response to different skill levels on a READY TO RACE motorcycle, while also offering the benefit of the most efficient energy management yet, tailored to meet the current requirements and the rider's preference: mode 1 "Economy" with speed limited to 50 km/h; mode 2 "Enduro" with power restricted to 16 kW and the unrestricted mode 3 "Cross", where the full power of up to 18 kW is available.
Chassis Frame
The chassis of the KTM FREERIDE E-XC features a very lightweight composite frame design combining top quality chrome-molybdenum steel with bolt-on forged aluminum sections. The frame has an open lower section, with the motor and massive aluminum skid plate functioning as stressed members. This design ensures optimal stiffness and stability for top safety, even in high jumps.
Subframe
The bolt-on subframe is fabricated from high-strength polymer. Featuring exceptional rigidity, it makes a significant contribution towards keeping the overall vehicle weight down. The integrated grip handle is recessed and well protected from mud and dirt thrown up by the rear wheel.
Front suspension
The KTM FREERIDE E-XC uses the WP XPLOR 43 fork, a set of 43 mm upside-down fork legs with 250 mm of travel. With outstanding response and damping characteristics, the WP XPLOR 43 has a sensitive feel and resistance against bottoming out. A split fork design with springs on both sides, each of the fork legs houses a separate damping function, with the compression on the left side and rebound damping on the right, both easily adjusted with dials on top of the fork.
Rear suspension
A perfect match for the WP XPLOR 43 fork, the WP XPLOR shock absorber provides 260 mm of wheel travel. In a design typical of KTM competition Enduros, the successful PDS rear suspension (progressive damping system) has the shock absorber mounted directly to the top of the swingarm, which eliminates the added weight and complexity of a linkage. Adding to the progression achieved by the suspension geometry and progressive spring, the WP XPLOR comprises a second damping piston with a closed cup towards the end of the stroke for extra protection against bottoming out. Besides the rebound adjustment, the shock absorber also features separately adjustable high and low speed compression damping. The seat height may be lowered by an additional 25 mm using a bespoke kit available through the KTM PowerParts program.
Wheels
Assembled from anodized aluminum Giant rims and CNC machined hubs, and using lightweight aluminum spoke nipples, the high-end wheels of the KTM FREERIDE E-XC are hard to beat in terms of both weight and stability.
Brakes
The KTM FREERIDE E-XC features a recently-developed FORMULA system with floating calipers – two pistons in the front, one in the rear – and lightweight brake discs. The system is the benchmark in terms of controlled action and performance, ensuring powerful and confident braking.
Ergonomics & Comfort Handlebar
The tapered Neken high-strength aluminum handlebar of the KTM FREERIDE E-XC has the same bend and width as the EXC handlebar, providing the rider with enhanced ergonomics and control. The handlebar is equipped with ODI grips, with a convenient lock-on grip on the left, which requires neither adhesives nor wire for a secure fit.
Footrests
Offering unrestricted freedom of movement, combined with excellent comfort, the long, narrow seat of the KTM FREERIDE E-XC is easily unlocked and unlatched for access to the KTM PowerPack. At a seat height of just over 900 mm, ground contact is within reach of most riders, even in difficult terrain, which increases confidence and gives the rider a greater feeling of safety, which is particularly good for beginners. The KTM PowerParts range of high quality accessories includes an alternative seat with even lower seat height.
Dashboard
The KTM FREERIDE E-XC features a dashboard with a digital speedometer from MAE and numerous features, including ease of use and integrated warning and indicator lights. The speedometer cable is well protected in the braided front brake hose tube, which has an integrated channel. In addition the bike features a location for the ignition lock on the right hand side of the headlight mask next to the speedometer guaranteeing easy access.
Software & Electronics Charger
The external charger can be connected to any regular 230V socket fused at 10A or 13A and can be easily connected to the KTM PowerPack by flipping up the seat. Charging time is about 110 minutes for a full charge, or about 75 minutes for an 80 % charge.
2023 KTM Freeride EX-C – Totalmotorcycle.com International Specifications/Technical Details
US MSRP Price: $11,299 USD
Canada MSRP Price: $14,849 CDN
Europe/UK MSRP Price: £11,370 (On The Road inc 20% Vat)
ENGINE
RATED OUTPUT 9kW (12 hp) @ 4500 rpm
TORQUE 42 Nm
TRANSMISSION Single-speed automatic
TRACTION BATTERY Lithium-ion KTM PowerPack (easily removed)
RATED VOLTAGE 260 V
CHARGING TIME 1.3 h
COOLING Liquid cooled
ENERGY CONTENT 3.9 kWh
ELECTRIC MOTOR Permanent magnet synchronous motorin a disc armature design
MAX. POWER 18kW (24.5 hp) @ 5000 rpm
CHASSIS
FRONT BRAKE DISC DIAMETER 260 mm
REAR BRAKE DISC DIAMETER 230 mm
FRONT BRAKE Formula disc brakes
REAR BRAKE Formula disc brakes
CHAIN 5/8 x 1/4″
FRAME DESIGN Perimeter steel-aluminium composite frame
GROUND CLEARANCE 340 mm
REAR SUSPENSION WP Xplor PDS shock absorber
SEAT HEIGHT 910 mm
STEERING HEAD ANGLE 67 °
SUSPENSION TRAVEL (FRONT) 250 mm
SUSPENSION TRAVEL (REAR) 260 mm
Manufacturer Specifications and appearance are subject to change without prior notice on Total Motorcycle (TMW).