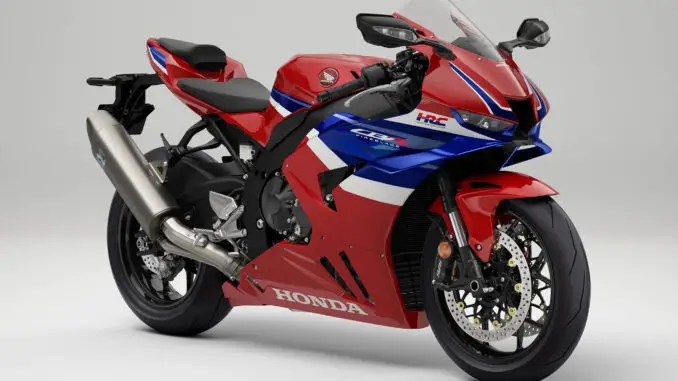 2024 Honda CBR1000RR-R Fireblade: DISCOVER THE OPEN ROAD.
Introducing the 2024 Honda CBR1000RR-R Fireblade…
The new CBR1000RR-R Fireblade. It's got more mid-range power from intake and cylinder head upgrades, with revised gearbox ratios, for incredible acceleration drive out of corners. We've maintained peak power, with improved response from Two Motor Throttle By Wire control that makes every rpm count and puts pinpoint throttle precision in your right hand. Add weight savings – everywhere – and updated fairing winglets this is a bike born to race, stock and straight out of the box. Or discover, out on the open road.
CBR1000RR-R Fireblade and CBR1000RR-R Fireblade SP
2024 sees the CBR1000RR-R Fireblade and its SP version drive further up their development curve with a host of engine and gearbox updates that produce a major mid-range performance boost and improved throttle response.
Harnessing a huge amount of HRC development and knowhow, the delivery of the CBR1000RR-R Fireblade SP's 113Nm torque and 160kW has been substantially changed to generate even more corner exit acceleration alongside its prodigious top-end power. This is further heightened by new shorter gear ratios and primary drive, redesigned middle fairing with new winglets plus a revised, lighter and more pliant frame.
The addition of 2-Motor Throttle By Wire increases part-throttle control and also allows amplified engine braking. Lighter crankcases, crankshaft and conrods, together with revised valve timing and raised compression ratio, ensure that the CBR1000RR-R Fireblade SP draws more performance from every combustion cycle, while changes to the standard fit Akrapovič muffler reduce exhaust volume by 5dB..
The SP version of the CBR1000RR-R Fireblade is the first bike in the world to use the new, third generation Öhlins Smart Electronic 43mm S-EC3.0 (SV) NPX USD forks. It also features a digital spring preload guide via the instrument panel, which has been developed to allow riders a clear and easy way to set their Fireblade up perfectly. New Brembo Stylema R four-piston radial mount brake calipers offer consistently high braking performance.
Since its original 1992 introduction Honda's iconic Fireblade has evolved into an incredible 1,000cc super sports motorcycle. And it's also been the base of a competitive race machine, on short circuits around the world and the roads of the Isle of Man TT.
But time – and competition – always races on and in 2020 Honda drew the line under where the CBR1000RR Fireblade had been and looked forward to where it was going. And, as a result, two brand-new motorcycles – the CBR1000RR-R Fireblade* and CBR1000RR-R Fireblade SP – were created with heavy involvement from Honda Racing Corporation to carry the legend forward.
Leaning heavily on the engine and chassis technology of the RC213V-S 'street-legal MotoGP machine', with aerodynamics drawn from the RC213V MotoGP bike, the new Fireblade was designed from the ground up – in terms of engine, handling and aerodynamics – for pure, outright track performance.
2022 marked 30 years of the Fireblade which saw the introduction of a variety of detail upgrades to the engine to boost acceleration; the intake ports, airbox, airbox funnels and exhaust mid-section were all revised to deliver extra mid-range thrust. The final drive sprocket also went up 3 teeth, to 43, with quickshifter performance upgraded. Honda Selectable Torque Control (HSTC) was also optimised for refined rear tire traction management, and throttle feel improved.
2024 Honda CBR1000RR-R Fireblade Totalmotorcycle.com Key Features
Short-stroke, inline four-cylinder semi-cam gear train engine produces 160Kw @ 14,000rpm with peak torque of 113Nm @ 12,000rpm
Compression ratio raised for 2024 plus revised valve timing, with new 3-stage unequal pitch springs
Crankcase optimised for weight reduction, inertial mass reduction for crankshaft and con-rods
All gear ratios – and primary drive – shortened for improved acceleration and corner exit drive
Lightweight Akrapovič muffler features increased volume and noise reduction
New 2-Motor Throttle By Wire system delivers smooth control for both acceleration and engine braking
9-level Honda Selectable Torque Control (HSTC) optimised for new power output character and gear ratios
3 default riding modes plus options to customise the revised Power, Engine Brake, HSTC and Wheelie Control parameters
4-level Start Mode standard fitment
Revised aluminium frame features new rigidity balance for enhanced steering accuracy and grip feel
Third generation Öhlins Smart Electronic Control (S-EC3.0) offers refined choice of settings, with new preload guide screen.
Öhlins 43mm NPX (SV) forks feature new Spool Valve internals, as does the TTX36 (SV) rear shock
New Brembo Stylema R radial-mount four-piston calipers managed by Cornering ABS now with 3 modes – STANDARD/TRACK/RACE
New riding position raises handlebars and lowers footpegs for increased rider freedom and control
Bosch six-axis Inertial Measurement Unit (IMU) gives accurate calculation of dynamic behaviour
Showa's 3-level Honda Electronic Steering Damper (HESD) controlled by IMU for stability management
Redesigned middle fairing includes new winglet shaping for high-speed agility; lower fairing features rear aero step to improve rear traction feel
5-inch colour TFT screen and four-way left-hand switch offer intuitive control of riding systems; redline now slides up rpm scale only when engine is at operating temperature
Fuel capacity increased to 16.5L
Smart Key operation adds convenience
Brembo Front and Rear Calipers for Race Specification Braking Performance
Biting on 330mm discs the four-piston, radial-mount Stylema calipers deliver massive stopping power. They're operated by a Brembo brake lever/master cylinder and matched with a Brembo rear caliper.
Lightweight High-Efficiency Akrapovic Titanium Muffler and New Exhaust Design
Redesigned in the mid-section, the 4-2-1 exhaust system employs oval-section downpipes for maximum gas flow and power. It feeds a compact titanium Akrapovic muffler which equally offers free-flowing output efficiency.
Faster Quick Shifter Ensures Smooth, Instant Gear Changes
The standard-fit quick shifter is now quicker. It's been through development for a shorter fuel cut time while shifting, and smoother torque pickup after shifting. All of which means more speed gained with every gear change.
High-RPM DOHC Inline Four-Cylinder Engine with Low- to Mid-Range Performance Boost
Updates to the 1000cc engine's inlet ports, airbox, 4-2-1 exhaust and gearing improve low- to mid-range acceleration. There's still huge peak power on tap for your throttle hand to exploit – 160kW @ 14,500rpm. New HSTC software offers refined reaction and finer feel for traction.
HRC Ram-Air Duct Generates Power, Winglet Structures High-Speed Stability
Aerodynamics from the RC213V MotoGP race bike include vertical winglet structures that maximise acceleration and high-speed braking stability. An HRC-designed ram-air duct feeds high-pressure air directly through the headstock for ultimate peak power.
Öhlins Smart Electronic Control (S-EC) Delivers Ultimate Suspension Reaction
Semi-active Öhlins S-EC offers incredible suspension reaction. The 43mm NPX USD fork uses pressurised damping to minimise cavitation for more stable control, improved high-speed bump absorption, and feedback.
Brembo Front and Rear Calipers for Race Specification Braking Performance
Biting on 330mm discs the four-piston, radial-mount Stylema calipers deliver massive stopping power. They're operated by a Brembo brake lever/master cylinder and matched with a Brembo rear caliper.
More low- and Mid-Range For Harder Corner Exit Acceleration
Producing 160kW at a stunning 14,500rpm the inline four-cylinder, semi-cam gear train engine shares the same bore and stroke, and friction-reducing technology as the RC213V race bike – with titanium con-rods, as well as forged aluminium pistons. New updates include a 43-tooth rear sprocket and optimisation of airbox funnels, inlet ports and 4-2-1 exhaust. So alongside the huge, high-rpm peak power, you now have a whole lot more low- and mid-range acceleration to drive even harder out of corners. An updated quick shifter delivers smoother, faster gear changes for even quicker lap times.
OBTi Management For the Perfect Setup
Using separated compression, rebound circuits and stepper motors to adjust damping, the Semi-active Öhlins S-EC 43mm NPX USD forks have been developed for racing use to offer precise front tire feedback and grip. The result? Huge confidence to go for a faster lap time. The race-quality front end is matched by an Öhlins TT36 S-EC rear shock. To provide maximum control – and because conditions change very quickly on track – you can work from default Öhlins Objective Tuning Base interface (OBTi) setting with 3, instantly selectable pre-set modes to completely change your set-up allowing for reduced fuel load, tire wear, or track conditions.
With Two-Mode ABS Control
Rigid, Brembo Stylema monobloc four-piston radial-mount brake calipers use less internal fluid volume for more immediate reaction. Operated by Brembo brake lever and master cylinder, they ensure massive, braking power. The rear Brembo brake caliper is the same design used by the RC213V. Two ABS modes give you choice of performance: SPORTS is biased toward road riding, while TRACK ups braking force for much higher track speeds. Brake force is also managed relative to lean angle while Rear Lift Control maintains forward-pitch stability – so you can concentrate on getting in, and out, of a corner faster.
The addition of 2-Motor Throttle By Wire (TBW) increases part-throttle control and allows amplified engine braking. Compression ratio has been raised, intake ports adjusted, and valve timing altered in conjunction with new valve springs, a lighter crankshaft and optimised, lighter titanium conrods. All gear ratios have been made shorter, to increase drive force to the rear wheel.
The 4-2-1 exhaust downpipes are ovalized and feed a titanium Akrapovič muffler now slightly larger in volume but 5dB quieter in operation.
Three default riding modes cover most conditions with options to fully adjust Power, Engine Brake, Wheelie Control and HSTC and all settings have been revised for the new output character. The electronics package also includes adjustable Start Mode and standard-fit quickshifter.
As before, the aluminium diamond frame uses the rear of the engine as upper shock mount while the swingarm is based on the RC213V-S design. The rigidity balance has been carefully optimised – and made more pliant – to exploit the engine's performance in terms of feel for front and rear grip levels, and steering accuracy.
A six-axis Inertial Measurement Unit (IMU) provides accurate 3D estimation of riding dynamics and provides input to manage all of the electronic systems. It also controls the rod-type 3-level Honda Electronic Steering Damper (HESD).
The front discs are worked by new Brembo Stylema R four-piston calipers and Brembo brake lever/master cylinder, while the Cornering ABS now features RACE mode, which allows the rear ABS to be turned off.
A redesigned fairing mid-section houses new winglets that generate downforce to improve braking stability and consistent front-end grip but with 10% less effort through high-speed corners. The riding position has also been adjusted to elevate control, with handlebars higher and footpegs lower.
The fully customisable 5-inch TFT display offers intuitive control via a four-way switch on the left handlebar. Now, on cold start, the redline moves up the rpm scale as operating temperature is reached.
Honda's Smart Key system adds convenience and the Emergency Stop Signal (ESS) increases visibility to road users behind.
2024 Honda CBR1000RR-R Fireblade Totalmotorcycle.com Features and Benefits
Engine
The Fireblade's 1,000cc, inline DOHC four-cylinder semi-cam gear engine was designed with heavy input from the HRC MotoGP development program. For 2024 it delivers peak power of 160Kw @ 14,000rpm with peak torque of 113Nm @ 12,000rpm.
A huge amount of HRC development has gone into the engine to change the way it delivers power and torque, throughout the rev-range, with a goal of increasing drive force to the rear wheel in every gear.
While continuing to share the same 'over square' 81mm bore and 48.5mm stroke as the RC213V, valve timing – duration and lift – have been revised for 2024 and compression ratio raised from 13.4:1 to 13.6:1. The inlet valves are 32.5mm diameter (and also lighter for 2024) with 28.5mm exhaust; they're operated by finger-follower rocker arms; valve angle on the intake side is 9°, reducing the surface area of the combustion chamber and improving combustion efficiency. Also new are 3-stage elliptical progressive springs for both inlet and exhaust, while the intake ports have been optimised for gas flow.
MotoGP technology is everywhere internally. Friction is reduced by the use of Diamond Like Carbon (DLC) on the cam lobes – just like the RC213V-S. 2020 marked the first time this process was used on a mass-produced motorcycle; it produces a reduction in valve train frictional loss of 35% compared to non DLC-coated lobes.
The valve train itself uses a semi-cam gear train system. To drive such high-rpm/high-cam lift performance the chain is driven from the timing gear located on the crankshaft via the cam idle gear; this makes it shorter in length. For 2024 the crankshaft pin and journal diameters have been optimised, saving 450g of inertial mass.
Forged TI-64A Titanium (a material developed by Honda) con-rods and con-rod caps save 50% in weight compared to the previous Chromium Molybdenum steel versions; they're even lighter for 2024 (by 20g) and employ HB 149 Chromium Molybdenum Vanadium, (again a Honda development) steel bolts and do not use fastening nuts.
For durability the same configuration as the RC213V-S is applied to the sliding surfaces; the small-end bushings are made of shaved C1720-HT Beryllium copper (because of its high-rpm reliability) while the surfaces of the big-ends are treated with DLC. The pistons are forged aluminium for lightweight strength, durability and increased output.
To guarantee high-rpm wear resistance the piston skirts feature an Ober coating (Teflon and Molybdenum base) and nickel-phosphorous plating for the piston-pin clip-groove.
Managing temperature, the pistons themselves – now constructed from tougher material – use a multi-point piston jet which sprays cooling oil in multiple directions through each cycle. At low rpm (when not needed) check balls within the jets shut off the flow of oil in order to limit oil pressure loss and reduce friction. The oil ring features a new side rail barrel shape.
To reduce bore distortion (and thus friction), the cylinder features a built-in bottom bypass. This system circulates cool water from the radiator into the main water jacket, while the area below uses non-cooled water. The net effect is a lower, and more even, temperature at all points across the bores.
To minimise width, the engine is started by rotation of the clutch main shaft rather than the crankshaft. This design for a more compact crankshaft while double use of the primary driven gear (which itself has fewer teeth) to also transmit rotation from the starter motor saves space; the engine is short in length with short distances between the crankshaft, counter shaft and main shafts. The rear of the engine block also serves as upper shock mount; 250g has been shaved from the crankcase for 2024.
Improving drive out of corners on track (and road), all of the gear ratios as well as the primary drive are now shorter.
Air is fed into the engine via a ram-air duct located at the high-surface pressure tip of the front fairing; the size of its aperture is equivalent to that of the RC213V MotoGP machine. A ribbed 'turbulator' to the right, left and above the duct entrance ensures maximum induction of moving air with minimal impact on handling. The draft angle of the aperture's interior wall maintains flow under high-speed and acceleration.
To maintain stable performance across a wide speed range, pressurised air takes a straight shot through the headstock, around the steering stem and into the airbox. This smooth path is made possible by Honda's Smart Key system and steering angle of 25°. To draw the volume of air needed the throttle bodies employ 52mm diameters.
The 'dirty' side of the air filter controls the direction of intake air separation and vortex generation, while on the 'clean' side, filtered air feeds slash-cut intake funnels. Mirroring the intake side, the four exhaust downpipes use an oval cross section.
Constructed from titanium, the Akrapovič muffler's small physical size and light weight contribute to mass centralisation and right-side lean angle. It's now 1L larger in volume; the exhaust valve was designed to deliver both low-rpm torque and high-rpm power – for 2024 the level of sound output has been reduced as the valve switches. 5dB quieter than the previous design, the exhaust note also rises linearly with engine rpm.
Engine / Electronics
The 2017 CBR1000RR was the first in-line four-cylinder engine from Honda to use Throttle By Wire (TBW). Derived and developed from the system used by the RC213V-S, it controls the throttle butterfly valve angle (relative to input from the throttle) to provide a linear delivery and puts precise throttle control – and a natural feel – in the rider's right hand. It's a critical area and in 2022 the TBW return spring load was reduced, further enhancing the response and linearity of throttle input.
To take the engine to the next level of control – and a first for a Honda – the TBW is now a 2-Motor system, 1 motor for cylinders 1 and 2, the other for 3 and 4. Through smaller throttle openings cylinders 1 and 2's throttle valves open first to finely adjust output and generate crank rotation fluctuations. This makes the engine much easier to control and use through the lower rpm ranges. As revs climbs, all throttle valves open together, for a smooth rush of top-end power.
The other benefit of 2-Motor TBW is the amplification of engine braking. With the throttle fully closed during deceleration cylinders 3 and 4 open with the exhaust valve closed to increase the engine's pumping loss – and therefore engine braking – while cylinders 1 and 2 are closed, ready to open smoothly on the next acceleration.
For the 9-level Honda Selectable Torque Control (HSTC) another 2022 update improved feel. The gap between the intervention timing and slip rate control (which monitors the rate at which slip is changing based on the ratio of front/rear wheel speeds) – was changed to give much smoother, intuitive grip management, with software developed with wide-ranging, top-level feedback from around the world, including HRC's riders. For 2024 the HSTC has been optimised for the engine's new power output characteristics and revised gear ratios.
There are three default riding modes with options to change engine output and character. Power (P) operates through levels 1-5 with 1 giving ultimate outright power. Engine Brake (EB) manages performance on a closed throttle through levels 1-3, with 1 being the strongest engine braking delivered by the 2-Motor TBW; Wheelie (W) manages through levels 1-3 (plus off) with 1 giving the weakest intervention. All settings across the board have been revised for 2024.
Chassis
The diamond-style main frame is constructed from 2mm aluminium with an extremely accurate tuning of the rigidity balance; in manufacture, after the four main frame components are welded, the engine mounts in six locations improving machine handling.
For 2024 internal ribbing has been removed, the thin wall area expanded and shaping optimised. A total 960g has been shaved from the frame, with a further 140g from shorter engine hanger bolts. But the main aim of the work is to adjust the rigidity balance for a more supple handling feel with razor-sharp steering accuracy; lateral stiffness is reduced 17%, with 15% less torsional stiffness.
Wheelbase is set at 1,455mm with rake and trail of 24°7' / 101.9mm. Wet weight is 201kg. Weight distribution is balanced at 53%/47% while a high c-of-g improves side-to-side agility.
The swingarm – constructed from 18 individual thicknesses of aluminium and as used by the RC213V-S – is 622.7mm long. Its horizontal and vertical rigidity are tuned to generate grip and feel.
For optimum design integrity (and to save weight) the top mount of the Pro-Link rear shock attaches to the rear of the engine block via a bracket. This also isolates the rear wheel from the headstock, improving high-speed stability and feel for rear wheel traction.
Round, thin-wall aluminium tubing forms the minimal subframe. It also mounts to the frame from the top to narrow the area around the rear of the fuel tank and seat, making for a compact – and aerodynamically efficient – riding position. Seat height is 830mm, and the riding position has been subtly adjusted for 2024 to allow more freedom of control – the handlebars are 19mm higher – and 23mm closer – with footpegs set 16mm lower.
In conjunction with the hardware, Öhlins Objective Based Tuning interface (OBTi)
offers much finer suspension adjustment front and rear; both can be set independently from the default settings and 3 individual modes can be set and stored, allowing the rider to configure multiple settings for conditions such as weather, tire wear or fuel load – and to switch instantly while riding. A new feature is a front/rear spring preload guide, accessible via the meter, which recommends the correct setting for the rider's weight.
New Brembo Stylema R four-piston radial mount brake calipers are operated by Brembo master cylinder and brake lever and offer consistently high braking performance at the high temperatures generated on track. They grip 330mm diameter/5mm thick diameter discs that dissipate heat efficiently. The rear brake caliper is the same Brembo unit used by the RC213V-S.
A Bosch six-axis Inertial Measurement Unit (IMU) delivers accurate calculation of pitch and roll for precise control of the bike's behaviour.
Rear lift control and ABS-managed brake force relative to lean angle boost confidence on turn-in. New for 2024 the system features now features 3 switchable set ups; STANDARD mode focuses on road-riding performance, with high brake force and less pitching, while TRACK mode offers performance in braking from much higher circuit speeds and does not suppress rear lift. RACE mode switches off the rear ABS function completely, with no Cornering ABS input.
The rear 17-inch 5-spoke cast aluminium rim mounts a 200/55-ZR17 sized tire, minimising the change in chassis geometry when going from street to track rubber. The front 5-spoke cast aluminium rim mounts a 120/70-ZR17 tire.
Aerodynamic Package & Equipment
An aggressive fairing design is no mere styling exercise: it's designed to create a class-leading drag coefficient (with a tucked-in rider under track conditions) and restrict lift under acceleration while improving braking stability.
The fairing mid-section houses re-shaped, more forward-set winglets which now generate downforce ­– to reduce wheelies under acceleration and increase stability on braking and corner entry – with an aerodynamic frontal step. The new design reduces yaw moment through a corner by 10% to make high-speed turning easier.
To make steering easier a convex surface on each side of the front mudguard moves air flow away from the front wheel, smoothly directing it to the fairing sides. Cooling air for radiator and oil cooler is optimised by aerodynamic management of both velocity and pressure of air flowing from the tire.
A new lower fairing design extends close to the rear tire and now features an aerodynamic step to reduce airflow around the rear tire improving handling.
To let air flow around the rider's feet with minimum resistance the sides of the rear hugger are carefully shaped, while its upper side is cut-out to vent air that channels up from underneath either side of the swingarm, decreasing rear lift.
The fuel tank cover is set low, decreasing the frontal area with the rider prone. It's been re-shaped to improve the rider's knee grip and fuel capacity has been increased .4L to 16.5L. At a 35° angle the screen smoothly channels airflow from the upper fairing over the rider and seat cowl, which itself presents the minimum possible drag resistance.
For full and intuitive control of the Fireblade's systems there's a high resolution, full colour 5-inch TFT screen. It's fully customisable to show exactly what the rider wants to see. The compact left-hand switchgear houses a four-way switch; fast and easy to use, the top/bottom buttons set riding mode parameters, while the left/right buttons cycle screen display information.
A new function – to protect the engine – moves the redline down to 8,000rpm on start up; as the coolant temperature reaches its operating zone the redline moves up to just over 14,000rpm.
Honda's Smart Key System operates the ignition without having to insert a key, and the handlebar lock. This is both convenient in day-to-day use and allows use of a competition-style top yoke, with optimum space for the ram air system. The CBR1000RR-R Fireblade also features Emergency Stop Signal (ESS), that on sudden braking the rear indicators are activated to warn road users behind.
2024 Honda CBR1000RR-R Fireblade – Totalmotorcycle.com USA Specifications/Technical Details
US MSRP Price: $ TBA USD
Canada MSRP Price: $ TBA CDN
Europe/UK MSRP Price: £23499 GBP (On The Road inc 20% Vat)
TBA
2024 Honda CBR1000RR-R Fireblade – Totalmotorcycle.com Canada Specifications/Technical Details
TBA
2024 Honda CBR1000RR-R Fireblade – Totalmotorcycle.com Europe Specifications/Technical Details
Key Features
·         12v Socket
Optional (USB)
·         Quick Shifter
Yes
·         Transmission Type
Manual Transmission
Engine
·         Bore × Stroke (mm)
81mm x 48.5mm
·         Carburation
PGM-FI
·         Compression Ratio
13.6:1
·         Engine Displacement (cc)
999.9cc
·         Engine Type
water-cooled, 4-stroke, DOHC, inline 4-cylinder
·         Max. Power Output
160kW/14,000rpm
·         Max. Torque
113Nm/12,000rpm
·         Starter
Electric
·         Throttle Bore
52mm
·         C02 Emissions (g/km)
155 g/km
·         Oil Capacity (Litres)
4L
Wheels
·         Brakes Front
330mm disc with radial-mount Brembo Stylema R 4-piston caliper
·         Brakes Rear
220mm disc with Brembo 2-Piston caliper
·         Suspension Front
Ohlins NPX S-EC3.0 43mm telescopic fork with preload, compression and rebound adjustments, 125mm stroke.
·         Suspension Rear
Ohlins TTX36 S-EC3.0 Pro-Link swingarm with preload, compression and rebound damping, 143mm stroke.
·         Tyres Front
PIRE:DIABLO SUPERCORSA SP (V3) BS:RS11
·         Tyre Size Front
120/70-ZR17
·         Tyre Size Rear
200/55-ZR17
·         Tyres Rear
PIRE:DIABLO SUPERCORSA SP (V3) BS:RS11
·         Wheels Front
17inch 3.5
·         Wheels Rear
17inch 6.0
Dimensions and Weights
·         Battery Capacity (VAh)
12V-2Ah HY85S Li-ion
·         Caster Angle
24°
·         Dimensions (L×W×H) (mm)
2,100mm x 745mm x 1,140mm
·         Frame type
AL TWIN-TUBE
·         Fuel Tank Capacity (Litres)
16.5L
·         Fuel Consumption
14.9km/L (6.7L/100km)
·         Ground Clearance (mm)
115mm
·         Kerb Weight (kg)
201kg
·         Seat Height (mm)
830mm
·         Trail (mm)
102mm
·         Wheelbase (mm)
1455mm
·         Noise Level
77dB
Transmission
·         Clutch
Wet, multiplate hydraulic clutch
·         Clutch Operation
Cable
·         Final Drive
Chain
·         Gearbox
6-speed
·         Transmission Type
Manual Transmission
·         Quick Shifter
Yes
Instruments and Electrics
·         Headlights
LED
·         12v Socket
Optional (USB)
·         Ignition System
Electronic, digital transistor
·         Instruments
TFT full color
·         Tail Light
LED
·         USB Socket
Optional
·         Security
Smart Key
Manufacturer Specifications and appearance are subject to change without prior notice on Total Motorcycle (TMW).