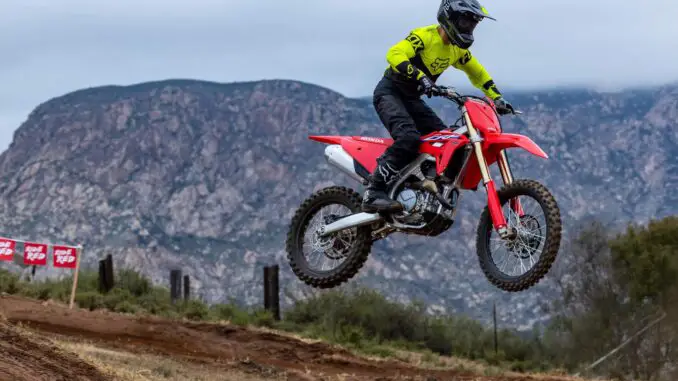 2024 Honda CRF450R-S: MAKE VICTORY TASTE EVEN SWEETER.
Introducing the 2024 Honda CRF450R-S…
Nobody needs to tell you that every dollar counts these days. Which is why our Honda CRF450R-S is such a perfect bike for its time. You get an incredibly refined open-class motocrosser at an incredible price. Unicam® engine, selectable engine modes, Honda Selectable Torque Control, titanium fuel tank, premium suspension, and something nobody else can match: Honda refinement and build quality. Spend the money you'll save on a new pair of boots, some extra tires, your entry fees . . . and a bigger trophy case. The 2024 CRF450R-S is the open classer we all need right now.
For riders that prioritize value and performance, Honda's CRF450R-S delivers both in spades. Based on the 2022 CRF450R, this model maintains the holeshot-inducing power and razor-sharp cornering that Honda's flagship motocrosser is known for, but at a value-oriented price point. While it spares the advancements applied for the 2023 and 2024 model years, the CRF450R-S is a testament to Honda's commitment to producing motorcycles that are incredibly capable and reliable without breaking the bank.
450cc liquid-cooled Unicam® single-cylinder engine
Fuel injection
Electric starter
Titanium fuel tank
Next-Generation twin-spar aluminum frame
Close-ratio five-speed transmission
HRC launch control
Engine mode select button
American Honda Announces Return of Championship-Winning CRF Models
CRF Performance lineup returns for 2024 with nine great models
Four-model CRF Trail family is back, ready to deliver off-road fun
Sport-naked CB300R and Pioneer 700 multipurpose side-by-side return
Following one of the most successful AMA Supercross seasons on record, with Team Honda HRC riders Chase Sexton, Hunter Lawrence and Jett Lawrence sweeping all three championships, Honda's iconic line of CRF Performance and Trail dirt bikes returns for the 2024 model year. Also included in the announcement is the return of the sport-naked CB300R and Pioneer 700 multipurpose side-by-side.
Between the CRF Performance and CRF Trail lineups, Honda offers a wide range of off-road motorcycles that covers nearly every category, from elite-level motocross to family-friendly trail riding. The CRF Performance line includes the CRF450R, CRF450RWE, CRF450R-S, CRF450RX, CRF450X, CRF450RL, CRF250R, CRF250RX and CRF150R, each of which are tailored to push the upper limits in its respective realm of off-road riding and racing. For riders seeking a more relaxed or beginner-friendly experience, the CRF Trail family—including the CRF250F, CRF125F, CRF110F and CRF50F—offer user-friendly design, unmatched reliability, ease of maintenance and hours of fun. In addition to the CRF models, the agile and responsive CB300R brings signature sport-naked styling for 2024, and rounding out the announcement is the middleweight Pioneer 700, a multipurpose side-by-side known for its endless versatility and capability.
"It's been an unprecedented year for Honda and the CRF Performance line," said Brandon Wilson, American Honda Manager of Sports & Experiential. "Team Honda HRC has done an incredible job of showcasing just how capable Honda's dirt bikes are. The knowledge gained from our championship-winning racing efforts trickles down to every model in the lineup, and even to the fun, friendly CRF Trail models, helping owners to make outdoor memories with family and friends.
We're also pleased to welcome back the CB300R and the Pioneer 700 for 2024. We're proud to deliver this diverse and capable range of products, offering customers numerous ways to enjoy the outdoors."
2024 Honda CRF450R-S Totalmotorcycle.com Features and Benefits
ENGINE / DRIVETRAIN
Like that of the model on which it is based, the CRF450R-S engine boasts exceptional bottom-end and midrange power, making for a linear delivery that is strong but manageable, even as the rider tires, while peak power is also very good.
Cylinder Head: The design of the Unicam® cylinder head, with the decompressor system's counterweight on the left end of the camshaft, contributes to combustion stability in the extremely low rpm range and for strong-but-manageable power delivery on corner exits, for example, as well as resistance to stalling. The cylinder head cover is magnesium, with a thin-wall design for weight savings. The engine's exhaust port is centrally located, has an oval shape and is quite straight, optimizing exhaust efficiency and torque characteristics, for a linear delivery that continues into the high rpm range. A five-hole piston oil jet and dual 12mm drum scavenge pump manage lubrication.
Intake: The CRF450R-S features a downdraft intake design that delivers strong, efficient power, and a large air boot (4.1 liters on the clean side of the air filter) achieves in strong torque at low rpm. The airbox is accessed with the removal of a single side-panel bolt. The 60º fuel-injector angle enables the spray to reach all the way to the back of the butterfly, thus cooling the upstream side of the intake path for maximum intake efficiency and torque feel.
Exhaust: The entire exhaust system weighs just 8.5 pounds, and with the engine's centralized exhaust-port location, the exhaust header and muffler are positioned close to the vehicle's centerline for a slim profile, contributing to freedom of movement for the rider. Two resonators (one after the front U-bend and another at the upstream end of the muffler) boost power and reduce noise.
Clutch: The clutch is hydraulically actuated and has eight plates and a large volume for good durability with minimal slippage and light lever pull.
Electronics: A gear-position sensor allows the use of three specific ignition maps for first and second, third and fourth, and fifth gears. There are options for Standard, Smooth and Aggressive ignition maps, selectable via an all-new handlebar-mounted switch, enabling simple tuning depending on rider preference or course conditions.
In addition, Honda Selectable Torque Control offers three levels of intervention. HSTC monitors rpm spikes and responds by temporarily reducing torque by retarding ignition timing and controlling PGM-FI to aid rear traction. The three different modes differ in drive-management level, for differing riding conditions or rider preferences:
Mode 1: The system intervenes most lightly and waits the longest to do so—useful for reducing wheel-spin and maintaining control in tight corners.
Mode 2: A midpoint between modes 1 and 3 in terms of how quickly and assertively the system intervenes.
Mode 3: The system intervenes most quickly and assertively, which helps in conditions that are slippery or muddy.
The CRF450R-S's handlebar-mounted switch allows selection between three modes, depending on conditions and rider preference. The HSTC system can also be switched off completely.
HRC Launch Control provides the best option for a strong start and also has three modes to choose from:
Level 1: 9,500 rpm, for high-traction conditions and/or advanced riders
Level 2: 8,500 rpm, for high-traction conditions and/or average riders
Level 3: 8,250 rpm, for slippery conditions and/or novice riders
The Engine Mode Select Button (EMSB) alters the engine's characteristics and three maps are available to suit riding conditions or rider preference:
Mode 1: Standard
Mode 2: Smooth
Mode 3: Aggressive
CHASSIS / SUSPENSION
The motorcycle's heavier components are positioned centrally and as low as possible for precise cornering without sacrificing high-speed tracking, in addition to minimal squat under acceleration and negligible pitching during hard braking.
Frame / Swingarm / Subframe: The frame uses narrow main spars and features optimized reinforcement ribbing on the backside of the pivot plate, contributing to the low frame weight of just 18.5 pounds. Lateral rigidity is optimized for a supple feel that contributes to good cornering—while vertical rigidity is relatively stiff. The subframe features a simple design that weighs just 2.0 pounds. The swingarm is narrow, providing good clearance in ruts, with rigidity tuned to maximize rear traction and cornering.
Suspension: Front suspension comprises a 49mm inverted Showa® coil-spring fork and a gas-liquid separation structure. The upper and lower triple clamps are designed to offer a good rigidity balance for optimum handling and feel through corners. The Pro-Link® rear-suspension system uses a Showa shock absorber with adjusters on the right side and an ultra-light steel shock spring. The link ratio is designed to minimize acceleration-triggered rear-end squat.
Wheels: Black D.I.D rims deliver durable performance and good looks. Petal-style brake rotors disperse heat, and a low-expansion front brake hose gives strong feel and consistent stopping power. The CRF450R comes with Dunlop's excellent Geomax MX33 tires, generally considered to be the industry standard for soft to intermediate terrain. Developed with the help of top motocross pros, MX33s feature technologies that deliver superior grip, slide control, bump absorption and durability.
DESIGN
The CRF450R-S has slim bodywork, with a smooth junction of the radiator shroud and side panel, facilitating rider movement and cornering. Each radiator shroud is produced in a single piece instead of two separate parts, and Computational Fluid Dynamics (CFD) were used to design air-outlet vents in the shrouds. The radiator grills optimize the number of fins and their angle, maximizing cooling performance.
The seat base has rearward-facing tongues and front-located mounting tabs, easing installation, and using acceleration forces to keep the seat securely in place. The 1.7 gallon fuel tank is made of lightweight titanium.
Only eight fasteners are used to secure all of the main bodywork components—both radiator shrouds, both side panels and the seat, and all of the bolts for the main bodywork parts have 8mm heads, simplifying maintenance.
A single switch cluster addresses several functions: engine stop, ride-modes and Honda Selectable Torque Control (HSTC). The starter and HRC launch control are on the right side of the Renthal® Fatbar® handlebar. There are two locations for the handlebar clamp, and the clamp can be turned 180º; as a result, four different mounting positions are possible, through a range of 26mm.
HANDLING
ALUMINUM FRAME
The CRF450R-S's twin-spar aluminum frame positions the rear shock's mounting point lower, opening up the airbox area and contributing to a lower center of gravity for more holeshots. The frame geometry also helps improve traction, feeling and steering precision.
LOW-MOUNT BATTERY BOX
Check out the battery-box location on the 2024 CRF450R-S. Putting it low in the chassis helps lower the overall center of gravity, which is always a benefit for responsive handling.
DIALED-IN SUSPENSION SETTINGS
The CRF450R-S has special suspension settings designed to work with its chassis and engine. What you'll experience is excellent overall performance and superior front/rear balance.
SHOWA SPRING FORK
The 49mm Showa fork features a conventional spring design that helps increase the CRF450R-S's front-suspension precision, handling and feel. The spring rate provides better bottoming resistance and improved handling.
SWINGARM
The CRF450R-S's swingarm uses a special fabrication technique that lets us fine-tune the flex to work with the chassis and give you better rear traction and cornering precision.
SINGLE-MUFFLER EXHAUST
Using a pressed-alloy design lets us shape the muffler for better rider ergonomics and lighter weight. The CRF450R-S exhaust is another premium item. Super light and super trick, the exhaust tucks away for better ergonomics too.
ENGINEERING
HRC LAUNCH CONTROL
We're talking about a special ECU program here: push the button to select the mode, hold the throttle open, release the clutch, and the CRF450R-S will do the rest, launching you into the first turn with a big advantage. It turns your bike into a holeshot-seeking machine!
Honda SELECTABLE TORQUE CONTROL (HSTC)
The button on the handlebar by the clutch perch activates our Honda Selectable Torque Control (HSTC). You can choose from one of three settings to perfectly dial your bike in depending on how much traction is available.
ENGINE MODE SELECT BUTTON
This simple handlebar-mounted button lets you dial in engine power delivery character with a push of your thumb. Choose between Standard, Smooth and Aggressive, depending on track conditions.
260mm FRONT BRAKE
The CRF450R-S's large front-brake disc measures a whopping 260mm. You get great brake feel and a pattern that cuts down on weight. Front and rear brake-disc guards are part of the package too.
TITANIUM FUEL TANK
Grams and performance count, and the CRF450R-S uses a titanium fuel tank. Light and strong, it's also thinner than our previous plastic unit, while maintaining the same capacity, freeing up more space and helping to centralize fuel mass.
CONVENIENCE
ELECTRIC STARTER
By ditching the kickstarter entirely, our engineers have made the CRF450R-S lighter. Electric starters and lithium-ion batteries are so light now and so good that putting them on a bike like this is a win/win combination. And winning is what a CRF450R-S is all about.
PERFORMANCE
450cc UNICAM ENGINE
Honda Unicam cylinder head combines the best of single- and double-overhead-cam designs. The configuration contributes to a compact engine that saves weight over a comparable dual-overhead-camshaft motor and also permits a narrow included valve angle. This flattens the combustion chamber to facilitate ignition flame propagation, allowing a high compression ratio. Since less space is taken up in the cylinder head, the camshaft sits lower in the head for a more compact engine and a lower center of gravity.
TITANIUM INTAKE VALVES
Lightweight titanium intake valves cut down on reciprocating mass and permit the use of smaller valve springs, reducing overall engine height.
DOWNDRAFT FUEL INJECTION
The CRF450R-S features a downdraft intake tract and FI body to help increase both power and fuel-metering precision. It's part of the reason the CRF450R-S offers such explosive power and massive torque, especially out of the starting gate and in the critical first 100 feet of the race to the first turn.
DOUBLE-SPRAY INJECTOR SETTINGS
The CRF450R-S's fuel-injection system sprays twice per intake cycle. That helps increase fuel atomization without adding the weight or complexity of a second injector. The better fuel atomization means more power in the midrange and on overrev—you'll feel it the first time you race.
DUNLOP MX33 TIRES
Developed using Dunlop's "block-on-block" design technology, the CRF450R-S's MX33 tires give excellent feedback and are a perfect complement to the CRF450R-S's frame and suspension.
CYLINDER HEAD LAYOUT
The CRF450R-S uses our finger-follower rocker design. The Unicam cylinder head remains one of the most efficient in the MX world, giving you the design and performance of a double-overhead-cam layout but the compactness of a single-overhead-cam design.
COMPRESSION RATIO
The CRF450R-S features a refined squish area that helps boost compression to an impressive 13.5:1. That means improved combustion efficiency for more power.
"IN MOLD" GRAPHICS
With all the time you'll be spending in victory circle, you need to look your best. The 2024 CRF450R-S has you covered. Our "in mold" graphics look great, and stay looking good.
SKID PLATE
A factory skid plate is light and offers the engine and lower-frame protection that a racer demands.
COMFORT
RENTHAL "FATBAR"
The aluminum Renthal Fatbar features a bend that's even better than the legendary Honda "CR" bar. You're gonna love it!
2024 Honda CRF450R-S – Totalmotorcycle.com USA Specifications/Technical Details
US MSRP Price: $8,899 USD
Canada MSRP Price: $ NA CDN
Europe/UK MSRP Price: £ NA GBP (On The Road inc 20% Vat)
| | |
| --- | --- |
| ENGINE |   |
| Type | 449.8cc liquid-cooled 10º single-cylinder four-stroke |
| Valve Train | Unicam® OHC, four-valve; 38mm intake, titanium; 31mm exhaust, steel |
| Bore x Stroke | 96.0mm x 62.1mm |
| Compression Ratio | 13.5:1 |
| Induction | Programmed fuel-injection system (PGM-FI); 46mm throttle bore |
| Ignition | Full transistorized ignition |
| Starter | Push-button electric starter |
| Transmission | Constant-mesh 5-speed; manual |
| Clutch | Multiplate wet, hydraulically actuated (6 springs, 8 plates) |
| Final Drive | #520 chain; 13T/49T |
| SUSPENSION |   |
| Front | 49mm fully adjustable leading-axle inverted telescopic Showa coil-spring fork w/ 12.2 in. travel |
| Rear | Pro-Link system; fully adjustable Showa single shock w/ 12.4 in. wheel travel |
| BRAKES |   |
| Front | Single 2-piston hydraulic caliper (30mm, 27mm) w/ 260mm petal-style disc |
| Rear | Single 1-piston hydraulic caliper w/ 240mm petal-style disc |
| TIRES |   |
| Front | Dunlop Geomax MX33 80/100-21 w/ tube |
| Rear | Dunlop Geomax MX33 120/80-19 w/ tube |
| MEASUREMENTS |   |
| Rake (Caster Angle) | 27.1° |
| Trail | 114mm (4.48 in.) |
| Length | 85.9 in. |
| Width | 32.6 in. |
| Height | 49.6 in. |
| Ground Clearance | 13.2 in. |
| Seat Height | 38.0 in |
| Wheelbase | 58.1 in. |
| Fuel Capacity | 1.7 gal. |
| Curb Weight* | 244 lbs. |
| OTHER | |
| Color | Red |
*Includes all standard equipment, required fluids and full tank of fuel—ready to ride
Specifications subject to change
2024 Honda CRF450R-S – Totalmotorcycle.com Canada Specifications/Technical Details
NA
2024 Honda CRF450R-S – Totalmotorcycle.com Europe Specifications/Technical Details
NA
Manufacturer Specifications and appearance are subject to change without prior notice on Total Motorcycle (TMW).