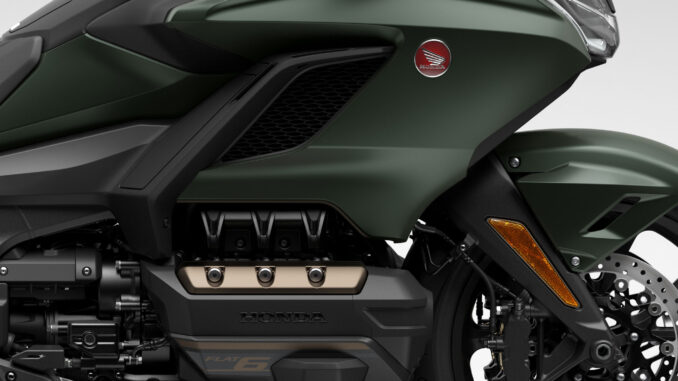 2024 Honda Gold Wing: SETTING THE GOLD STANDARD.
Introducing the 2024 Honda Gold Wing…
POWER AND ELEGANCE COMBINED
If you're seeking the perfect touring motorcycle that embodies the adventurous spirit and love for exploration, look no further than the Honda Gold Wing and Gold Wing Automatic DCT, renowned as the original and incomparable benchmarks for two-wheel touring machines. From their refined bodywork to the roomy luggage space, these motorcycles offer it all with cutting-edge features such as Android Auto™ and Apple CarPlay™ compatibility paired with either a conventional six-speed transmission or the innovative seven-speed automatic DCT transmission. For 2024, both trims also boast a bold new colorway, the striking Matte Armored Green Metallic. So, take the ultimate road trip and join the legacy with the one and only Honda Gold Wing.
When it comes to long, multi-day rides through winding backroads and stretches of open highway, few motorcycles can measure up to the smooth, gliding ride and refined technology of Honda's legendary Gold Wing. This touring icon continues to set the standard for the category with substantial storage capacity, a premium sound system, convenient navigation software and, most importantly, unmatched ride quality. Whether it's covering miles on the highway or carving through a scenic mountain pass, the Gold Wing's relaxed riding position, comfortable seat, robust wind protection and premium suspension amount to a remarkably luxurious experience for both the rider and passenger. Plus, with a notoriously smooth 1,833cc six-cylinder engine and available automatic DCT gearbox, hitting the open road has never felt this good.
Base Features
1833cc six-cylinder engine
Twin-spar aluminum frame
Anti-lock brakes
Four ride modes
Apple CarPlay™ and Android Auto™ compatible
DESIGN / STYLING
The Gold Wing's stylish bodywork and exposed engine complement its precise handling and reflect its performance-minded roots. Designed with comfortable ergonomics, effective heat management and refined aerodynamics, the Gold Wing is well-suited for long days on the open road.
Top trunk on Gold Wing Tour versions is 48mm wider, 46mm taller and 34mm longer. With an added 11 liters of storage (61 liters vs. 50), the trunk can fit added luggage or two XXL helmets, even when those helmets are outfitted with headsets. 30 liter storage capacity each for left and right saddlebags.
60 liter storage capacity for rear luggage case on Gold Wing Tour versions, enabling storage of two XXL helmets.
Dampers on saddlebag and rear luggage-case lids, for smooth operation.
Passenger backrest angle is 24.5º for a relaxed riding position that reduces pressure on the passenger's hips.
Passenger backrest is 30mm tall, and thickness of the backrest foam is 5mm, for increased comfort on long rides.
Premium suede-like seat cover on Gold Wing Tour and Gold Wing features enhanced feel and appearance.
Apple CarPlay™ integration and Android Auto™ capability enable customers to seamlessly enjoy application services such as music, phone calls and messaging.
45 watt speakers for rich midrange audio (Gold Wing Tour includes two speakers at the front fairing and two at the trunk, while Gold Wing features two speakers at the front).
Automatic volume-adjustment level for quality experience in a wide range of riding conditions.
Navigation software includes speed-limit information and four options for map color.
XM radio antenna standard.
Rear turn signals in all red for a clean, stylish look.
High aerodynamic efficiency complements an impressive power-to-weight ratio to maximize fuel mileage.
Compact, high-performance side-mount radiator allows space for narrow front cowl.
Air-guiding ducts flow optimal amounts of air into the rider area, allowing a true motorcycling experience.
Electric windscreen, in varying heights depending on version, gives rider control over airflow through stepless adjustment for height and angle.
LED headlight incorporates distinctive "wing line."
LED turn signals with auto-canceling function are integrated into mirrors at the front, and into the all-red taillights at the rear.
Two-piece seat is shaped to allow rider to easily move around in the saddle during spirited riding, and to let passenger tour in comfort.
Airbag version's collision-judgment system situated close to the center of gravity for optimal mass centralization.
ENGINE / DRIVETRAIN
The liquid-cooled, horizontally opposed six-cylinder engine has a low center of gravity, minimal vibration and quiet running. Available with a 6-speed manual transmission or with Honda's highly advanced 7-speed automatic dual clutch transmission (DCT), the engine offers impressive performance and the magic-carpet-ride experience for which the Honda Gold Wing is known.
1,833cc liquid-cooled, horizontally opposed six-cylinder engine provides an enjoyable riding experience in a wide range of riding situations.
SCM440H material for the crankshaft is strong, allowing a compact design.
Unicam® valve train offers weight savings and maximum fuel efficiency while also contributing to the engine's compact dimensions.
Four-valve head offers ideal combustion efficiency and fuel efficiency.
Aluminum cylinder sleeves for low engine weight.
Short engine configuration enables engine and seating area to be positioned forward in the chassis, affecting weight bias to promote sporty handling.
Single, 50mm throttle body for low weight.
Low intake-manifold volume for direct flow of air to combustion chamber, enhancing throttle response.
Sporty exhaust sound achieved through optimized pipe diameter on two of the six cylinders, and the absence of fiberglass in the muffler.
Standout fuel economy enables fuel tank to be made small for optimal vehicle packaging and low weight.
DCT features Walking Mode for creeping forward and backward (.75 mph in reverse direction, 1.1 mph in forward direction).
DCT models save weight through absence of reverse idle shaft, which is needed in the conventional transmission.
Minimal shift shock and noise on DCT models, through use of fork-shaft dampers, master-arm damper and DCT clutch-center damper.
Assist and slipper clutch on manual-transmission versions allow light lever effort and low shift shock on downshifts.
Cam damper on manual-transmission versions minimizes shift noise and shift shock.
Integrated Starter Generator (ISG) saves weight and minimizes noise at start-up.
TECHNOLOGIES
The Gold Wing is equipped with innovative electronics for seamless performance, including a throttle-by-wire system that features multiple ride modes and convenient electronic rider aids. This advanced technology highlights the Gold Wing's unmatched comfort and excellent performance.
Throttle-by-wire system provides basis for advanced electronics package.
Four riding modes—Tour, Sport, Econ and Rain—help tailor the riding experience for specific riding conditions.
On all five versions, Honda Selectable Torque Control (HSTC) system manages rear-wheel slip.
Hill Start Assist simplifies starting from a stop on an ascent.
Optimized cruise-control function for relaxed cruising.
Smart Key for keyless starts and bag access.
Vehicle Viewfinder system simplifies locating motorcycle, for instance in large parking lots.
Tire Pressure Monitoring System provides real-time status of tire pressure, also indicating when tire pressure drops below a certain level.
Apple CarPlay compatibility enables the rider to access Apple Music and Maps, make phone calls and send dictated messages using Siri.
Android Auto integration enables customers with Android 5.0 or later smartphones and the Android Auto app to seamlessly enjoy application services such as music, phone calls and messaging.
7-inch full-color Thin Film Transistor (TFT) display offers clear viewing of audio and navigation systems, as well as settings for individual rider-aid systems.
CHASSIS / SUSPENSION
Offering the optimal balance between stability and maneuverability, the Gold Wing chassis is engineered for comfort on the open highway and precision on tight backroads. The double-wishbone front suspension and Pro-Link® rear-suspension system complement the Gold Wing's aluminum frame, resulting in a smooth, confidence-inspiring ride.
Robotically welded aluminum twin-spar frame.
Optimized plate thicknesses in frame spars achieve ideal rigidity and flex characteristics.
Single-sided swingarm with frame attachment on one side. This solution changes stress on the swingarm pivot plate, giving engineers more freedom in their approach to frame rigidity, ultimately enhancing vehicle maneuverability.
Lightweight design for frame and swingarm.
Short seat rail positions rider and passenger forward, enabling optimal mass centralization.
Twin 320mm front-brake rotors, single 316mm rear rotor, for excellent stopping power.
Radially mounted six-piston dual front-brake calipers and single three-piston rear-brake caliper.
Electronically controlled combined braking system with ABS uses single modulator to minimize weight.
Tires specifically designed for Gold Wing, in sizes 200/55-R16 (rear) and 130/70-18 (front).
Double-wishbone front-suspension system minimizes friction and enhances agility, minimizing total shock transferred to the handlebars; the inertial mass of the components operated by the handlebars is reduced by 40 percent, for reduced steering effort.
Bearings for all shaft bushings on front-suspension system minimize friction for both stroke and steering.
Double-wishbone front-suspension system leads to compact vehicle package, as stroke trajectory allows a forward engine location.
Pro-Link rear-suspension system delivers a comfortable ride.
Convenient, electrically controlled suspension-damping adjustment uses stepping motor acting on a needle to control oil flow rate.
ACCESSORIES
More than 50 Honda Accessories are offered for the various Gold Wing versions, enabling rider customization or to meet rider-specific needs.
Meets current EPA and CARB standards
California version differs slightly due to emissions equipment
2024 Honda Gold Wing Totalmotorcycle.com Features and Benefits
PERFORMANCE
ENGINE
The Gold Wing's horizontally opposed six-cylinder engine is famously smooth and powerful. The latest version is an 1833cc design that's over 13 pounds lighter than the previous generation (more than eight pounds less for the DCT version).
ALUMINUM CYLINDER SLEEVES
High-strength aluminum cylinder sleeves help reduce weight, increase cooling efficiency, and reduce engine length. The 73mm cylinder bore as well as the short, high-strength crankshaft also help make the engine more compact.
UNICAM CYLINDER HEAD DESIGN
The Gold Wing's engine uses a four-valve, Unicam® cylinder head design that improves engine performance and power, and also contributes to the engine's weight reduction from its previous generation. The four-valve per cylinder design is also a big part of the Gold Wing's superior fuel efficiency.
6-SPEED MANUAL TRANSMISSION
If you prefer a manual transmission, the latest Gold Wing model offers the best conventional gearbox in Gold Wing history. Case in point: an overdrive sixth gear so highway cruising is smoother than ever.
DOUBLE-WALL EXHAUST PIPES
You may think this is just for cosmetics, but on a hot day single-wall exhaust pipes can throw off a lot of heat. The Gold Wing's twin-wall design keeps things cooler. Plus, this is the best sounding Gold Wing we've ever built!
FUEL EFFICIENCY
Because the 2024 Gold Wing is light, you'd expect it to be fuel efficient. But its weight is just the start. Combined with the bike's engine, intake system, and four-valve design, estimated fuel economy is up 22 percent from the previous generation.* And if you want to really squeeze the last mile out of every drop, try the "Econ" ride mode setting.
*Honda's fuel efficiency estimates are based on EPA exhaust emission measurement test procedures and are intended for comparison purposes only. Your actual mileage will vary depending on how you ride, how you maintain your vehicle, weather, road conditions, tire pressure, installation of accessories, cargo, rider and passenger weight, and other factors.
CRUISE CONTROL
The 2024 Gold Wing still features cruise control—it was one of the first touring bikes to offer the feature. And with our advanced throttle-by-wire system, it's better than ever.
HANDLING
DOUBLE WISHBONE FRONT SUSPENSION
One look and your eyes will immediately go to the Gold Wing's radical, Honda-engineered double-wishbone front suspension. The innovative design changes the path the wheel travels through the suspension stroke, and that lets us move both the engine and the rider/passenger closer to the front wheel. You get more room, and stellar handling.
FRAME
This latest generation all-aluminum frame is significantly lighter and more compact than previous editions. State-of-the-art die-casting lets us fine-tune chassis rigidity, giving you both a smooth ride and precise handling.
SWING ARM/REAR SUSPENSION
Using our proprietary single-sided Pro Arm® design, the aluminum swingarm houses the Gold Wing's shaft drive. The swingarm links to the frame using a patented pivot structure that both increases stiffness and reduces weight. You get responsive handling and a smoother ride.
ANTI-LOCK BRAKES
All our 2024 Gold Wing models are equipped with combined anti-lock brakes for excellent stopping power under a wide variety of road and traction conditions.
RIDE MODES
Gold Wing engines offer a wide range of user-friendly power, and you can even choose between four ride modes (Tour, Sport, Rain, and Econ). Each mode varies power output depending on the mode selected.
LIGHTER OVERALL WEIGHT
Shaving weight on a motorcycle returns all sorts of benefits, from handling to acceleration to just being easier to maneuver around. We didn't just shave ounces or grams with the latest Gold Wing. We lopped off almost 90 pounds compared to the previous generation. The lighter weight absolutely redefines this motorcycle. You thought it was fun to ride on twisty roads before — wait until you experience this one.
LOW CENTER OF GRAVITY
It's not just how much a motorcycle weighs; it's how it distributes that weight. Thanks to their horizontally opposed engines, Gold Wing models have always offered a low center of gravity. The 2024 Gold Wing offers the lowest center of gravity of any bike in the class. That's a huge benefit in handling, and it makes the bike feel lighter and easier to maneuver.
DUAL RADIAL FRONT BRAKE CALIPERS
The dual brake calipers on the Gold Wing are mounted similar to that of our World Champion RC213V MotoGP racebike. The stiffer mounting reduces caliper flex and improves brake power and feel.
ELECTRONICS
ADVANCED METERS
The Gold Wing's cockpit meters are information central. In addition to the basics like vehicle and engine speed, loading configuration, ride mode, fuel level, engine temperature and dual tripmeters, you can also monitor outside air temperature, cruise control speed, heater levels, and even selected apps linked through Apple CarPlay™ on an iPhone® or Android Auto™ on an Android phone.
HomeLink®
Available as an optional feature, HomeLink® lets you integrate your new Gold Wing with devices in your home. A typical example: you can open your home's garage door without any dedicated controller—just touch a switch on your bike's center console. No more fumbling, and no hassle.
TIRE PRESSURE MONITORING SYSTEM (TPMS)
Correct tire inflation is a necessity for safe, economical motorcycling. And it's especially critical with a touring bike, because of the varying loads. The Tire Pressure Monitoring System (TPMS) automatically warns you of low tire pressure on all Gold Wing models.
Apple CarPlay™ COMPATIBILITY
A first for the motorcycle industry! Apple's CarPlay™*1 seamlessly integrates your iPhone®*1 into your new Gold Wing. That means you can use your iPhone® to access Apple Maps®, Apple Music®, and other services easily. You'll have access to weather, playlists and telephone numbers while aboard. Available Bluetooth®*2-enabled wireless headsets let you communicate more easily than ever. And best of all, with more apps available every day, Apple CarPlay™*1 keeps your bike's technology and convenience on the cutting edge.
*1 Apple CarPlay and iPhone are the trademarks of Apple Inc.
*2 For using Apple CarPlay, connection to a commercially available Bluetooth headset is necessary. See owner's manual for Bluetooth headset requirements.
ANDROID AUTO COMPATIBILITY
If you have an Andriod, we have you covered. The 2024 Gold Wing fully integrates with your phone, thanks to Android Auto™. That means you can connect your Android phone to your Gold Wing to access Google Assistant, and to use navigation tools like Google Maps, Waze, and more. Plus, you'll have access to weather, playlists, music-streaming services and telephone numbers. Available Bluetooth*-compatible headsets let you communicate easily too.
*For using Android Auto, connection to a commercially available Bluetooth headset is necessary. Please refer to your Bluetooth headset manufacturer for optimal audio settings for use with Android Auto.
NAVI
Every Gold Wing is equipped with a big, bright, seven-inch full-color TFT LCD screen to display routes and other navigation information. Plus, since it's equipped with a gyrocompass, the system even functions inside a tunnel. Independent of the Apple CarPlay™ or Android Auto™ feature, it works with or without your phone.
VEHICLE SETTINGS
Your new Gold Wing is packed with smart rider aids. A glance at the dash keeps you informed of things like ride mode (Tour, Sport, Rain, Econ), rear-suspension preload settings, tire pressure* and much more.
*Depending on chosen model.
AUDIO
Your new Gold Wing's audio system is an excellent example of state-of-the-art electronic technology. In addition to listening to music, with an available Bluetooth* headset you can make or answer phone calls without taking off your helmet. In addition to a standard USB connector, options include a separate passenger audio control switch, a high-output amplifier and speakers, Sirius XM® satellite radio, a CB radio, and more. Plus, there's a second USB connector in the left saddlebag of all Gold Wing models.
*See owner's manual for Bluetooth headset requirements.
55-WATT SPEAKERS
Gold Wings have always offered excellent sound systems, but our current speakers have a high 55-watt rating, and we've optimized both the equalizer settings and automatic volume adjustment, so you'll get a sound that's a little richer and more pleasing to the ears. And make sure to check out our accessory rear speakers too.
ENGINEERING
7-SPEED AUTOMATIC DCT TRANSMISSION
The Gold Wing is available with a revolutionary 7-Speed Automatic DCT. The shifts in this version are faster and smoother than ever, and the overdrive seventh gear is perfect for highway cruising.
STANDARD ON: GOLD WING AUTOMATIC DCT
THROTTLE BY WIRE
The 2024 Gold Wing's throttle-by-wire system enables features like the bike's four ride modes and our exclusive Honda Selectable Torque Control (HSTC).
HILL START ASSIST
All our Gold Wings offer Hill Start Assist (HSA). This feature momentarily holds your motorcycle's position on inclines after you've released the brakes and before you apply the throttle, eliminating any roll-back drama. It's a great convenience when starting from a stop on a hill.
SMART KEY
Your new Gold Wing features an electronic smart key. When the key is in close proximity (say, in your jacket pocket), you can just hop on, press a button, and ride off. An "answer back" feature lets you find your bike in the dark or in crowded rally parking.
INTEGRATED STARTER GENERATOR (ISG)
Most cars and motorcycles have separate starters and alternators. Not your new Gold Wing. We've combined the starter and alternator into one assembly that's light and compact. It's part of the Gold Wing's overall weight-savings program, and you'll hear the difference the first time you press the start button.
REVERSE
Our Gold Wing DCT model offers an exclusive low-speed reverse that uses engine power, while the Gold Wing with manual transmission offers a unique electric reverse. Both systems make it easy to maneuver your bike out of a parking space, especially if you need to roll back up a slight hill.
Honda SELECTABLE TORQUE CONTROL (HSTC)
On our Gold Wing model, Honda Selectable Torque Control (HSTC) constantly monitors your bike's rear-wheel speed, and adjusts torque instantly. It's a great feature when riding in the rain, on sandy, gritty roads, over wet leaves, or anywhere else where surface conditions can compromise traction.
LED LIGHTING
All 2024 Gold Wing models feature a complete LED lighting package. The headlights, the taillights, and every bit of instrumentation is LED. LEDs not only last longer, but they're also lighter and run cooler.
NANO-TECH PAINT
Even the Gold Wing's paint is high tech, using BASF's nano technology. The darks look darker, and the lights look brighter. The paint itself has a luxurious look. The Gold Wing and Gold Wing DCT models are available in a new Matte Armored Green Metallic this year.
TURN SIGNALS
You'll notice that the Gold Wing's front turn signals are integrated into the rearview mirrors, and use three LEDs each. The rear LED turn signals are built into the tail- and brake-light assembly for a clean, integrated look. Best of all, they're self-cancelling.
OPTIONAL LIGHTS
Lighten up! Optional accessory LED lighting for your Gold Wing includes an additional LED rear brake light that is integrated into the available rear chrome trunk rack, and LED lights for inside the trunk that automatically illuminate when the trunk is opened. There's even available LED "Entry Lighting" that illuminate the outside of the bike.
COMFORT AND CARGO
ELECTRIC WINDSCREEN
You'll notice a couple of things about the Gold Wing's windscreen. First, it's electrically controlled, moving both up and down over a 4.9-inch range as well as changing its angle as it raises and lowers. Plus, it automatically remembers the last setting. Because you sit closer to the windscreen, it has a narrower, lower, more sporting profile, yet still offers excellent protection.
FAIRING
Back in the 1980s, the Gold Wing was the first bike to introduce full-coverage fairings as original equipment, and this latest one is one of our best. It offers excellent wind and weather protection, yet is trimmer and more aerodynamic than in previous generation models. It also flows more air through refined ducting, helping keep you cooler on hot summer days.
RIDER/LOCATION
The shorter engine and innovative front suspension let us move the rider farther forward, enhancing the bike's handling and making you feel more connected to the motorcycle's steering axis.
HUMAN MACHINE INTERFACE (HMI)
You'll find plenty of simple, dedicated switches and controls on your Gold Wing's handlebars, ergonomically placed, which give you simple, intuitive control inputs that zero out frustration. There is also a centralized control knob in the console similar to modern autos.
RIDER/PASSENGER SEATING
Our Gold Wing models feature seats with a custom-feel suede-like cover. The rider on every Gold Wing model can enjoy an optional backrest, and on our Gold Wing models without a trunk, there's also an optional backrest for the passenger.
LUGGAGE
All 2024 Gold Wings feature integrated saddlebags, designed to hold enough for most weekend trips. The bags open electronically with the push of a button, and lock and unlock remotely with the smart key. They're hydraulically damped for smooth operation too.
FUNCTIONAL STYLING
Sometimes less is more, at least when it comes to motorcycles. We've noted that the Gold Wing is lighter, more responsive and more athletic than in previous generations. That goes for its styling as well. While the bodywork still offers excellent weather protection, it's crisper now, exposing a little more of the engine and chassis. It's definitely not your grandfather's touring bike.
HEATED GRIPS
Part of riding a bike is enjoying the elements. But nobody likes being cold. That's why every 2024 Gold Wing comes equipped with electric heated grips as standard equipment.
OVER 50 ACCESSORIES
Gold Wing riders are incredibly engaged when it comes to accessorizing their motorcycles. And we have you covered. We have over 50 accessories available that look right, fit right, and are built to Honda's high standards. Time to make that new bike yours and yours alone!
2024 Honda Gold Wing – Totalmotorcycle.com USA Specifications/Technical Details
US MSRP Price: $24,700 USD
Canada MSRP Price: $30,178 CDN
Europe/UK MSRP Price: £ NA GBP (On The Road inc 20% Vat)
Model 
Gold Wing Tour Airbag DCT
(GL1800DAP)
Gold Wing Tour DCT
(GL1800DP)
Gold Wing Tour
(GL1800P)
Gold Wing DCT
(GL1800BDP)
Gold Wing
(GL1800B)
ENGINE
Type
1,833cc horizontally opposed, liquid-cooled, six-cylinder four-stroke
Valve Train
Single overhead Unicam® w/ 4 valves per cylinder, finger-follower rocker arm on intake, roller-rocker arm on exhaust valves
Bore x Stroke
73.0mm x 73.0mm
Compression Ratio
10.5:1
Induction
Fuel injection; single throttle body w/ 50mm bore, Throttle By Wire (TBW)
Ignition
Full transistorized ignition
Starter
Electric w/ Integrated Starter Generator System (ISG)
Transmission
7-speed automatic DCT w/ Walking Mode F/R
6-speed manual w/ Reverse
7-speed automatic DCT w/ Walking Mode F/R
6-speed manual w/ Reverse
Clutch
(2) multiplate wet
Multiplate wet
(2) multiplate wet
Multiplate wet
Final Drive
Shaft
SUSPENSION
Front
Double-wishbone system w/ Showa shock absorber, 4.3 in. travel
Rear
Pro-Link® system w/ Showa shock absorber, 4.1 in. travel
BRAKES
Front
(2) radially mounted 6-piston Nissin hydraulic calipers w/ 320mm rotors, electronically controlled combined ABS
Rear
(1) 3-piston Nissin hydraulic caliper w/ 316mm rotor, electronically controlled combined ABS
TIRES
Front
130/70-18
Rear
200/55-16
MEASUREMENTS
Rake (Caster Angle)
30º
Trail
109mm
110mm
109mm
Length
102.9 in.
97.6 in.
Width
35.6 in.
36.3 in.
35.6 in.
36.3 in.
Height
56.4 in. (windscreen in low position)
52.8 in.
Seat Height
29.3 in.
Ground Clearance
5.1 in.
Wheelbase
66.9 in.
Fuel Capacity
5.5 gal.
Curb Weight*
853 lbs.
845 lbs.
804 lbs.
802 lbs.
OTHER
Colors
Pearl White
Gray Metallic/Black; Pearl White
Matte Armored Green Metallic
*Includes all standard equipment, required fluids and full tank of fuel—ready to ride
Meets current EPA standards
Models sold in California meet current CARB standards and may differ slightly due to emissions equipment
2024 Honda Gold Wing – Totalmotorcycle.com Canada Specifications/Technical Details
Engine & Drivetrain
Engine type
Liquid-cooled horizontally opposed six-cylinder
Displacement
1,833 cc
Bore & stroke
73 mm x 73 mm
Compression ratio
10.5:1
Valve train
SOHC, 4 valves per cylinder
Fuel delivery
PGM-FI electronic fuel injection
Transmission
Six-speed manual with overdrive and electric low speed reverse function
Final drive
Shaft
Chassis & Suspension
Front suspension
Double Wishbone; 110 mm (4.3 in) travel
Rear suspension
Pro Arm® Single-sided swingarm and Pro-Link® single shock; 105 mm (4.1 in) travel
Dimensions & Additional Information
Tires
Front: 130/70R – 18
Rear: 200/55R – 16
Brakes
Front: dual 320 mm discs
Rear: single 316 mm disc
ABS
Electronically controlled Dual Combined Brake System (CBS) with ABS
Seat height
745 mm (29.3 in)
Wheelbase
1,695 mm (66.7 in)
Curb weight
366 kg (807 lb) including required fluids and full tank of gas – ready to ride
Fuel capacity
21 litres
Colour
Mat Armored Green Metallic
Warranty
3 year, unlimited mileage, freely transferable warranty; extended coverage available with Honda Plus
2024 Honda Gold Wing – Totalmotorcycle.com Europe Specifications/Technical Details
NA
Manufacturer Specifications and appearance are subject to change without prior notice on Total Motorcycle (TMW).