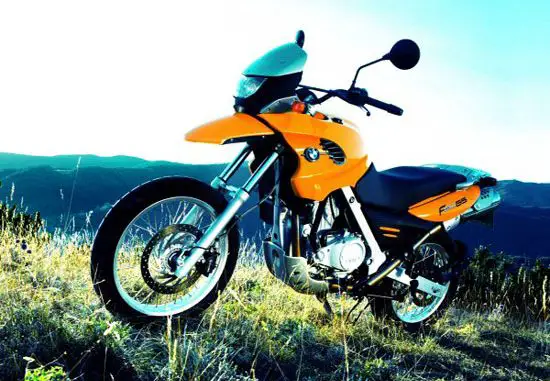 Back to 2001 BMW Motorcycle Index Page
Click photo to enlarge.
It makes a great desktop image.
– 2001 BMW F650
The BMW F Series is so versatile that it gives riding pleasure an entirely new dimension. This single cylinder motorcycle is an all around bike for on and off the road. Whether you're racing in the Dakar Rally or negotiating downtown traffic, the F Series sets a new standard for high-tech design, safety and more importantly —- Fun
Standard Equipment
Engine and Drivetrain
BMW motronic engine management system
3 way catalytic converter (open loop)
Five speed gearbox
Single cylinder power unit with 652 cc displacement (100 bore and 83 mm stroke)
Single-wall stainless steel exhaust pipes
Torque rated 44 lb-ft at 5000 rpm
Frame
Telescopic front fork and rear swingarm
The chassis gives the rider a safe feeling in any situations, whether off road, on extended tours or when carrying plenty of luggage.
Optional Equipment
BMW's ABS – N braking system
Hand Protectors
Heated handlebar grips
Optional higher seat (820 mm)
Optional lowered suspension with low seat (750mm)
2001 BMW F650 Specifications from Total Motorcycle:

Engine
Type Water-cooled single-cylinder 4-stroke
Bore x stroke 100 mm x 83 mm
Displacement 652 cc
Horsepower 50 bhp @ 6,500 rpm
Torque 44 lb.-ft. @ 5,200 rpm
Compression ratio 11.5:1
Valve Gear DOHC, chain driven with bucket tappets
Valves 36 mm intake / 31 mm exhaust

Valve Timing
(measured at 3 mmvalve clearance)
Intake opens 17 degrees before TDC
Intake closes 45 degrees after BDC
Exhaust opens 47 degrees before BDC
Exhaust closes 15 degrees after TDC
Four valves per cylinder
Camshafts Double overhead
Engine oil capacity 2.2 quarts of SF, SG or SH motor oil, also w/CC or CD
Engine oil filter Micronic paper element
Carburetion 2-type BST 33 B316 constant depression carburetors
Ignition Capacitor Discharge Ignition system
Fuel demand Unleaded, premium grade, 92 (AKI)
Fuel tank Plastic tank with manual fuel shut-off valve
Fuel capacity 4.6 U.S. gallons including 1/2 gal. reserve
Air filter Foam-type element
Charging system 14 V, 20 Amp Alternator (280 W)
Battery 12V 12 Amp/h
Cooling system Water cooled

Drivetrain
Primary drive Straight-cut gear 37 / 72 = 1:1.946
Clutch Multi-plate in oil bath
Gear ratios 1st gear: 2.75:1
2nd gear: 1.75.1
3rd gear: 1.31:1
4th gear: 1.05.1
5th gear: 0.88:1
Drive system Endless O-ring roller chain drive 5/8 x 1/4″
16 /47 (sprocket / chainwheel) =1:2.937
Final drive 2.94:1

Frame and Suspension
Frame Single-loop cradle, square-section steel tube w/bolt-on lower sections;upper frame section acts as oil tank
Front suspension 41 mm telescopic fork with stabilizer bridge
Travel / dimensions 6.69 inches total travel
Rear suspension Central spring strut actuated by lever-linkage. Basic spring setting and rebound stage damping continuously adjustable
Travel / dimensions 6.49 inches total travel, 40 stage adjustable spring pre-load

Brakes
Brake system Hydraulically operated single disc brake
Front brakes One 4-piston caliper, floating mount, w/wear compensation
Front rotors Single 11.8 inch fixed rotor
Actuation method Hydraulic, DOT 4 fluid type
Rear brake One 2-piston caliper, floating mount
Rear rotor Single 9.45 inch diameter fixed rotor
Actuation method Hydraulic, DOT 4 fluid type

Wheels and Tires
Front wheel 2.50 x 19 MT, wire spoked wheel with tubed tires
Rear wheel 3.00 x 17 MT, wire spoked wheel with tubed tires
Front tire 100/90 x 19 57 tube type
Rear tire 130/80 x 17 65 tube type

Dimensions
Overall length 85.7 inches (2180 mm)
Overall width 35.8 inches (880 mm) (over mirrors)
Wheelbase 58.1 inches (1480 mm) (unladen)
Ground clearance 5.1 inches (210 mm) (unladen)
Seat height 30.7 inches (800 mm)
Handlebar width 31.5 inches (800 mm) (without weights)
Steering angle 62 degrees
Front wheel trail 4.56 inches (116 mm) (laden)
Weight-dry 389 lbs. (176 kg)
Weight-wet 425 lbs. (191 kg)
Maximum load 838 lbs. (421 kg) gross vehicle weight rating
Wheel load limits Front = 298 lbs. (135 kg)
Rear = 573 lbs. (260 kg)
Top Speed 103 mph (163 km/h)
Colors
#761 Red
#762 Mandarin
#803 Titan Blue
#696 Aura White – Dakar Model
Specifications are subject to change without notice, in accordance with national regulation and legislations.