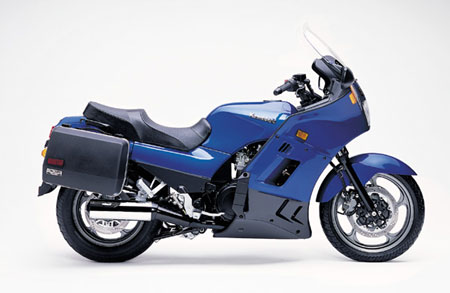 Back to 2001 Kawasaki Motorcycle Index Page
Click photo to enlarge.
It makes a great desktop image.

 
– 2001 Kawasaki Concours
.
The Kawasaki Concours™ motorcycle combines the comfort and weather protection of its Voyager® XII touring sibling with the performance, agility and styling of a Kawasaki Ninja® sportbike into one of the most popular and affordable sport-touring machines on the market
The Concours is a sport bike that loves to tour. Fully equipped for travel with its cavernous saddlebags and monstrous 7.5 gallon fuel tank. Adjustable front & rear suspension offers the sport factor in your touring day.
2001 KAWASAKI CONCOURS™
This Tourer is a Real Sport
The Kawasaki Concours motorcycle combines the comfort and weather protection of a full-dress touring machine with the performance, agility and styling of a sportbike to make one of the most popular and affordable sport-touring machines on the market.
The Concours' 997cc liquid-cooled four-cylinder engine produces strong power throughout the range. A gear-driven engine counterbalancer helps reduce engine vibration for rider comfort and increased electrical component life. Top gear in the six-speed transmission keeps the engine at a relaxed rpm at highway speeds, which adds to rider comfort on long-distance interstate rides. Power reaches the five-spoke rear wheel through a quiet and reliable low-maintenance shaft drive.
The Concours handles twisty backroads just as easily as it cruises the highway. Its diamond frame design is simple yet rigid, and uses the engine as a stressed member to eliminate weight and ease engine maintenance. Kawasaki's Bottom-Link UNI-TRAK® rear suspension system with lightweight aluminum components keeps the rear wheel firmly planted on all kinds of paved roads. A remote adjuster on the single shock makes it easy to tune rebound damping to any of four settings, and air pressure can be adjusted to match riding style, load and road conditions. Front suspension is handled by a 41mm fork with adjustable preload. Dual front disc brakes and a single disc rear provide sure stopping power.
Rider comfort is a priority on the Concours. A triple density foam seat is deeply contoured to please both the rider and passenger, while the full fairing creates an aerodynamic envelope for two when riding in a relaxed, upright riding position. Air vent ducts built into the fairing help cool the rider in warm temperatures. Two lockable bins are located on either side of the fairing for added convenience, while the easy-to-read instrumentation is similar to that found on the Kawasaki NINJA® ZX-11 sportbike and includes a digital clock as well as dual trip meters.
The Concours is equipped for the long haul with a 7.5-gallon fuel tank for exceptional touring range. Detachable locking hard luggage lets riders pack for extended trips, and to retain the smooth flow of the bodywork special panels are provided to fit the Concours' sides when the saddlebags are removed.
Concours buyers can also enjoy the benefits of the Concours Owners Group (COG) and the Kawasaki Good Times™ Owners Club (GTOC). Rides and functions take place throughout the year across the nation so that Concours owners never have to ride alone.
With the protection of a full fairing, carrying capacity of saddlebags plus the Ninja-like power and handling, the Kawasaki Concours is a machine that makes long-distance adventures a pleasure and commuting more fun, all at an amazingly reasonable price.
2001 CONCOURS™ FEATURES
Liquid Cooling
More even-running temperatures means no "power fade" on hot days and longer engine life
Allows tighter engine clearances for quieter running
Includes temperature gauge
Radiator with Auxiliary Cooling Fan
Engine is maintained at optimum temperature for best performance, fuel economy and reliability
Four Valves per cylinder
Better breathing for more power at high rpm
Compact combustion chamber for increased compression ratio without detonation on today's gasolines
Boosts low-end torque
Provides maximum valve area for optimum flow
Gear-Driven Engine Balancer
Smoothes engine vibration for comfort on the road
Lower vibration levels increase electrical component life
Oil Cooler
Increased reliability and durability
Handlebar-Mounted Choke
Convenient location makes starting and warm-up easier
Push-to-Cancel Turn Signals
No fumbling, just a simple push on the switch cancels the turn signals
Six-Speed Transmission
A gear for every situation gives better acceleration
Allows more relaxed highway cruising while utilizing the engine's full potential
Transistor Controlled Breakerless Ignition with Electronic Timing Advance
A hot spark at all engine speeds for easy starting, smooth running and good fuel economy
Full Fairing
Two lockable bins in the fairing for convenience
Instrumentation based on the ZX-11 panel also includes a digital clock
Provides an aerodynamic envelope for two
Special cool air ventilation ducts to maximize your comfort
Triple Density Foam Seat
Deeply contoured seat gives exceptional comfort two-up on long trips
7.5 Gallon Fuel Tank
Provides exceptional touring range
Detachable Luggage
Detaches with the flip of a latch
Bottom-Link UNI-TRAK® Rear Suspension with 4-Way Rebound Damping
Progressive rate provides a smoother, more controlled ride
Lightweight aluminum components provide quick suspension response
Remote adjuster makes it easy to tune the suspension to your riding style, load and road conditions
Dual Front Disc Brakes
BAC pin-slide calipers for great braking power and long pad life
Large, 300mm diameter front discs are drilled to reduce unsprung weight
Reliable stopping power under demanding conditions
Five-Spoke Wheels
Wide rims handle large, low-profile tires
Shaft Drive
Low maintenance; never needs adjustment
Quiet
Touring With Kawasaki
The "Call of the Open Road" means different things to different people. And Kawasaki offers more touring options to fill your desire to explore those out-of-the-way places that just beg to be explored.
If you love to pile up miles, look no further than the Kawasaki Voyager® XII. Naturally, you want full-dress luxury and convenience. But thanks to the narrow in-line four configuration, the engine is positioned more forward for superior handling and improved rider comfort. Plus, you can load it up with all the essentials to make your touring experience a true comfort.
"Seeking out the curves" best describes your type of touring. Where the road you ride counts as much as the destination. Seek out Kawasaki's Concours™: Ninja®-bred performance and handling manners in a package that combines refined sporting tradition with grand touring comfort.
Or do you prefer the lines of the classically styled Vulcan™ 1500 Nomad or Nomad™ Fi with its rumbling V-twin instead? It will take you places in comfort and make sure you get there in style.
And at Kawasaki there is more than one way to go V-twin touring. Look no further than the Vulcan 750 with its available Tour Package that makes your cruiser tour worthy. It's in a class of its own.
For the truly adventurous, Kawasaki offers the KLR650 with available soft luggage to take you to those hard to reach places where the roads may or may not be paved. You'd be surprised what you may find at the end of the road.
Specifications:

Model
ZG1000-A16

Engine Type
4-stoke, liquid-cooled In-Line Four

Displacement
997cc

Bore x Stroke
74 x 58 mm

Compression Ratio
10.2:1

Valve System
DOHC, 16 valves

Cooling System
Liquid

Carburetion
Keihin CVK32 x 4

Ignition
Electronic

Starting
Electric

Transmission
6-speed with Positive Neutral Finder

Final Drive Shaft
Frame type
Diamond, high-tensile steel

Rake / Trail
28.5 / 4.8 inches

Wheel Travel front/rear
5.5 / 5.5 inches

Wheelbase
61.2 inches

Suspension, Front
41mm fork with adjustable preload

Suspension, Rear
UNI-TRAK with adjustable preload, rebound damping and air pressure

Tire Front
Tubeless radial; 120/70-VR18

Tire Rear
Tubeless radial; 150/80-VR16

Brakes, Front
Dual Discs

Brakes, Rear
Disc

Seat Height
31.1 inches

Fuel Capacity
7.5 gallons

Dry Weight
595 pounds

Color
Metallic Sonic Blue/Pearl Cosmic Gray



Specifications are subject to change without notice, in accordance with national regulation and legislations.