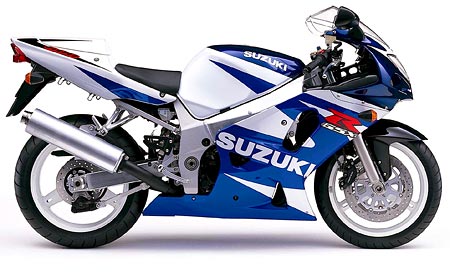 Back to 2001 Suzuki Motorcycle Index Page
Click photo to enlarge.
It makes a great desktop image.

 
– 2001 Suzuki GSX-R 600

If there was ever a family of motorcycles that "owned the racetrack" the GSX-R line is it. Not surprising considering the thousands of GSX-R motorcycles sold worldwide since the model's inception, and their popularity at all levels of roadracing. Now, the new generation of GSX-R motorcycles is complete with a new 600 supersport contender and an open-class machine with the best power-to-weight ratio in its class. Rounding out the supersport line is the TL1000R – a V-twin-powered machine with outstanding performance on the street or the track.
NEW MODEL: GSX-R600 – OWN THE RACETRACK
The 2001 GSX-R600 is a totally new machine that mirrors the successful 2000 GSX-R750 design. The new fuel-injected GSX-R600 has been designed to be lighter, more responsive and better handling than any previous 600cc Suzuki sportbike. Using a similar design approach as the 750, Suzuki engineers were able to reduce the weight of the new machine by 25 lbs. producing a class-leading dry weight of only 359 lbs.
Power is supplied by an all new liquid-cooled, 599cc inline four-cylinder engine that is lighter, more compact and more powerful than the 2000 model engine it replaces. Although the basic engine design is taken from the GSX-R750, the following items are unique to this engine: cylinder head, cylinder block, valves, camshafts, cam chain, crankshaft, conrods, wrist pins, pistons, clutch assembly and most of the transmission gears. To improve engine power output and throttle response, this year's model comes equipped with electronic fuel injection featuring the Suzuki Dual Throttle Valve System (SDTV). This system features two butterfly valves per throttle body and uses an electronic servo motor to control the secondary valves. As the rider opens the primary valves via a throttle cable, a throttle body-mounted servo motor progressivley opens the secondary valves to maintain maximum intake velocity at all engine speeds.
An equally light twin-spar aluminim frame, with bolt-on subframe and aluminum swingarm, was developed for this model. The frame weighs 4.4 lbs. less than the previous model's frame with a 10% improvement in torsional-rigidity-to-weight ratio. New, fully-adjustable conventional-style cartridge forks are lighter and positioned 7mm closer together to reduce the frontal area of the bike. At the rear is a new aluminum-bodied shock absorber, fully adjustable with a ride adjustment bracket at the upper mount. The chassis rolls on lightweight 17″ aluminum wheels and radial tires (120/70 ZR-17 front, 180/55 ZR-17 rear). Improved front brake performance is supplied by new light-weight 4-piston calipers with larger aluminum pistons and 320mm rotors. A single 220mm rear disc brake works with a dual opposed piston caliper with new aluminum pistons. The whole package is wrapped in new aerodynamic bodywork with twin headlights and step-motor powered instruments.
GSX-R600 AT A GLANCE
Suggested Retail: $7,999
Engine Type: 4-stroke, liquid-cooled
Bore and Stroke: 67.0mm x 42.5mm
Front Brake: Dual Hydraulic Disc
Rear Brake: Single Hydraulic Disc
Wheelbase: 1300 mm (55.1 in.)
Dry Weight: 163 kg (359lbs.)

*Suggested Retail Prices (MSRP) shown do not include freight/ destination or other dealer charges.
Specifications:
Overall Length: 2 040 mm (80.3 in)
Overall Width: 715 mm (28.1 in)
Overall Height: 1 135 mm (44.7 in)
Seat Height: 830 mm (32.7 in)
Wheelbase: 1300 mm (55.1 in.)
Dry Weight: 163 kg (359lbs.)
Engine type: Water-cooled 599 cc inline-4, DOHC, 16 valves. 115 hp (85 kW)/ 13,000 rpm, 69.0 Nm/ 10,500 rpm.


Specifications are subject to change without notice, in accordance with national regulation and legislations.