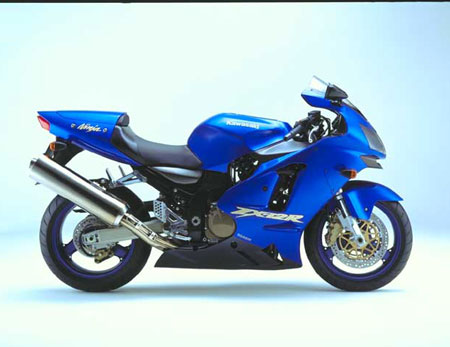 Back to 2002 Kawasaki Motorcycle Index Page
Click photo to enlarge.
It makes a great desktop image.

 
Flagship NINJA model boasts major engine and chassis changes for stronger performance and improved handling.
The new-for-2002 Kawasaki NINJA® ZX-12R motorcycle is the latest in a long line of standard-setting Kawasaki sportbikes. Indeed, this performance-defining machine claims as its ancestors a number of boundary-pushing motorcycles, ranging from the legendary H1 to the Z1 and various open-class NINJA models, such as the much-lauded ZX-11. With this impressive lineage in mind, Kawasaki endowed the newest ZX-12R with dozens of modifications and enhancements aimed at improving overall performance. The result is a powerful, yet user-friendly engine combined with an ultra-responsive chassis for a performance-oriented, nimble-handling and comfortable ride.
The ZX-12R sportbike's 1,199cc inline-four engine utilizes the same high-performance design found in the class-leading NINJA ZX-9R and ZX-6R models, and produces healthy doses of horsepower. For 2002, Kawasaki engineers retuned the 16-valve, dohc engine to provide a more tractable power delivery for quicker acceleration. Changes include adding weight to the crank by widening the starter and balancer/primary gears, thus making it easier to pull cleanly away from stops. Adding inertia is a new, narrower flywheel with a smaller diameter and a thicker outer rim. An oval throttle pulley improves throttle control, particularly at low- to mid-range engine speeds. The ignition mapping was also altered to enhance low and mid-range power.
The new motorcycle's distinctive-looking snout has been updated with a more streamlined nosepiece. This new ram-air duct not only improves the bike's overall aerodynamics, it also increases the intake area by 30 percent. Ribbing within the ducts improves the ram-air effect at the sides, and offsets wind shear from cross breezes. Quieter, more efficient radiator fans improve cooling at lower speeds, and the front engine mount has been changed from a double to a single hanger to accommodate the two new fans' locations.
For more positive-feeling gear engagement, the ZX-12R's six-speed transmission now incorporates less clearance between the gear dogs, and a modified clutch damper helps reduce driveline lash. Also contributing to smoother shifting is a larger-diameter shift shaft. For better overall clutch durability, holes were added to the clutch pull rod and within the clutch hub itself to increase oil flow.
This high-compression engine gets its fuel mixture through a Nippondenso electronic fuel-injection system. Within the four 46mm throttle bodies, the injector tips have four holes to spray fuel directly at the intake valves. Electronic sensors continuously feed the system engine and atmospheric data to control fuel injection and ignition for each cylinder. The result is exceptional throttle response and high output at all engine speeds.
Compact stick-style ignition coils help generate the electrical current to fire the twin-electrode, long-lasting platinum spark plugs. Burned gasses are expelled through a four-into-two-into-one exhaust system featuring stainless steel headpipes and a lightweight, all-titanium muffler.
The ZX12-R is supported by an aluminum monocoque frame that incorporates a cast steering head welded to pressed plates welded to a cast midsection that incorporates the battery case as a stressed member. For 2002, the steering-head bearings are both the same size for lighter steering and a more planted feel. Steering angle has been increased to maintain adequate rake as the suspension is compressed for better turn-in. Fork offset was reduced to keep trail numbers the same.
Kawasaki's patented UNI-TRAK® rear suspension uses a linkage system to progressively increase the damping and spring rate as the suspension is compressed. For better handling, the extruded-aluminum swingarm pivot was lowered, and the swingarm itself now uses an extruded-aluminum cross brace that was moved 2.5mm forward. The single shock is 5mm shorter than the previous version and has a softer spring. It also features a new stepless damping adjuster, which incorporates a check valve for improved damping performance.
Front suspension is supplied by a 43mm inverted cartridge fork with adjustable preload, compression and rebound damping. For '02, stiffer settings help prevent front-end dive under braking. Like the rear shock, the front fork uses the new stepless adjuster.
Both ends of the ZX-12R wear 17-inch wheels with hexagonal tri-spokes. The six-inch-wide rear rim is fitted with an ultra-wide 200/50 tire for excellent traction. Braking is accomplished with opposed six-piston calipers gripping large 320mm diameter dual disc front brakes, while a lightweight 230mm single disc is gripped by a lightweight opposed-piston caliper at the rear.
In order to make the ZX-12R as aerodynamic as possible, Kawasaki redesigned its front cowling with a one-point drag coefficient reduction. This new cowling is wider and is equipped with a higher, bubble-type windscreen for better rider protection. Smaller triangular-shaped mirrors are mounted lower on the cowling to aid in aerodynamics and resist vibration-induced blurring. A new three-piece lower fairing assembly with a solid center insert and a new, shorter front fender provide a sportier look.
As the flagship model in the legendary Ninja line, the new 2002 ZX-12R represents the ultimate expression of Kawasaki's engineering excellence and performance heritage.
2002 KAWASAKI NINJA® SPORTBIKES
For more than a decade, the term "Ninja" has been synonymous with Kawasaki sportbikes. In fact, the association is so widespread that even non-motorcyclists are familiar with the Kawasaki NINJA® motorcycle line-up. Such familiarity should come as no surprise to anyone, considering Kawasaki's formidable history with sportbikes.
New for 2002 is the ultimate open-class sportbike, the new ZX-12R which features more than 130 updates, enhancements and improvements to the engine, chassis, suspension and more. With a more planted feel, lighter steering and more low- to mid-range power, the new ZX-12R is the bike of choice for serious enthusiasts. Also, new for 2002 is the NINJA ZX-9R which bristles with a host of performance and styling changes sure to blast it to the pinnacle of the liter class.
For the sporting adventurer, the new-for-2002 Kawasaki NINJA® ZZ-R1200 sport-touring motorcycle is the ideal vehicle. Designed specifically for motorcyclists interested in a performance-oriented ride, but who also seek the comfort and style of a bona fide grand-touring bike, the ZZ-R1200 can't help but please.
And for all those sportbike riders who seek a more adventurous and winding route, Kawasaki features the ALL-NEW ZZ-R1200. A sportbike with a touring heart. Check out the features and styling of this new model.
On the professional racing level, Kawasaki has won an impressive nine AMA Superbike Road Racing Championships–more than any other manufacturer. Currently, modified NINJA motorcycles are raced by the Kawasaki Road Race team in its quest for championships. This includes the much lauded ZX-7R, upon which Kawasaki Road Racing's Eric Bostrom and Doug Chandler battled for AMA Superbike victory in the 2001 season. Likewise, the ZX-6R provided the base for Bostrom's 600 SuperSport mount in '01 where he won multiple races.
Furthermore, Kawasaki has dominated the AMA/Prostar Motorcycle Drag Racing Series over the last several years. Team rider Rickey Gadson won three consecutive AMA/Prostar 750 Superbike National Championships, and teammate Chip Ellis was named Rookie of the Year in 2000.

In addition to these particular racer replicas, Kawasaki also offers other sporting options. These include the sporty-yet-affordable ZX-6 and some of the best entry-level bikes available in the form of the popular NINJA 500R and 250R models. Whether the goal is track time, canyon carving or NINJA performance at an economical price, all of these Kawasaki motorcycles deliver experience you crave.
Revised for 2002:
Innovative Monocoque Aluminum Frame
Extruded Aluminum Swingarm
Bottom-Link Uni-Trak Rear Suspension
Liquid Cooling
1,199cc, 4-Cylinder DOHC Engine with Electroplated Aluminum Cylinder Bores
6-Speed Transmission
Denso Electronic Fuel Injection
Ram Air Induction System
Semi-Floating Dual Disc Front Brakes
Inverted 43mm Cartridge Type Front Fork
Digital Timing Advance
New for 2002:
Wind Tunnel Designed Fairing
Specifications:
Model
ZX1200-B1

Engine Type
4-stroke, liquid-cooled

Displacement
1,199 cc.

Bore x Stroke
83 x 55.4 mm.

Compression Ratio
12.2:1

Valve System
DOHC, 16 valves

Fuel System
Denso Electronic Fuel Injection

Ignition
Digital Ignition with K-TRIC

Starting
Electric

Transmission
6-speed

Frame type
Monocoque aluminum

Rake / Trail
23.5 degrees

Wheelbase
56.7″

Suspension, Front
43 mm. inverted cartridge

Suspension, Rear
Bottom-Link Uni-Trak with

Tire Front
120/70ZR17

Tire Rear
200/50ZR17

Brakes, Front
Semi-floating 320 mm. discs with dual six-piston calipers

Brakes, Rear
Disc with opposed-piston caliper

Seat Height
31.9″

Fuel Capacity
5.3 gallons

Dry Weight 463 pounds

Colors
Pearl Mystic Black/Metallic Crescent Gold
Passion Red/Pearl Cosmic Gray
Candy Thunder Blue/Pearl Cosmic Gray

Specifications are subject to change without notice, in accordance with national regulation and legislations.