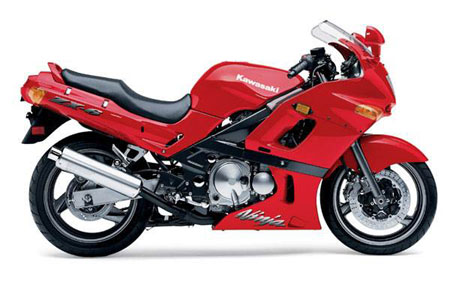 Back to 2002 Kawasaki Motorcycle Index Page
Click photo to enlarge.
It makes a great desktop image.

 
The Kawasaki NINJA® ZX-6 sportbike could be described as the best of all possible sporting worlds. On the one hand, it provides plenty of sportbike performance, but on the other, the ZX-6 features a comfortable riding position, civilized manners and an affordable price. More specifically, it is endowed with the performance of a 600cc SuperSport champion, as well as with a low seat height, spacious cockpit and wide power spread. Overall, it's the ultimate all-around motorcycle.
The ZX-6 is powered by a compact 599cc liquid-cooled four-cylinder engine that's similar to the high-performance, AMA 600cc Supersport-winning ZX-6R powerplant. Dual overhead cams actuate four extra-light valves per cylinder, and Kawasaki Straight-Shot ports combine with narrow valve stems to provide free-flowing intake for quick throttle response.
Intake efficiency is further enhanced by the Kawasaki Twin Ram Air Induction system. Scoops at the front of the fairing supply cool air directly to the airbox, and at highway speeds this becomes pressurized to help pack more fuel mixture from the 36mm Keihin carburetors into the cylinders for increased power. A digital capacitor discharge ignition (CDI) system ignites the mixture as its microprocessor-controlled timing is ultra-responsive to engine speed and the system never needs adjustment. Burned gasses exit the engine through two mufflers for smooth power throughout the rev range.
The NINJA ZX-6 is supported by a lightweight aluminum perimeter frame to increase handling performance. Made from a welded aluminum sheet, each section is precisely engineered to provide maximum rigidity with minimum weight. Likewise, the extruded-aluminum swingarm is lightweight yet rigid. It acts on the single rear shock through Kawasaki's UNI-TRAK® linkage system, which produces progressively stiffer damping and spring rates as the suspension is compressed. At the front end, a 41mm fork provides exceptional rigidity for precise cornering. Preload and four-way rebound damping adjustment allows the rider to fine-tune the front suspension for specific needs.
With all the power associated with a Kawasaki NINJA motorcycle, a comfortable layout and convenient features, the ZX-6 satisfies a wide range of riders from daily commuters to weekend warriors.

2002 KAWASAKI NINJA® SPORTBIKES
For more than a decade, the term "Ninja" has been synonymous with Kawasaki sportbikes. In fact, the association is so widespread that even non-motorcyclists are familiar with the Kawasaki NINJA® motorcycle line-up. Such familiarity should come as no surprise to anyone, considering Kawasaki's formidable history with sportbikes.
New for 2002 is the ultimate open-class sportbike, the new ZX-12R which features more than 130 updates, enhancements and improvements to the engine, chassis, suspension and more. With a more planted feel, lighter steering and more low- to mid-range power, the new ZX-12R is the bike of choice for serious enthusiasts. Also, new for 2002 is the NINJA ZX-9R which bristles with a host of performance and styling changes sure to blast it to the pinnacle of the liter class.
For the sporting adventurer, the new-for-2002 Kawasaki NINJA® ZZ-R1200 sport-touring motorcycle is the ideal vehicle. Designed specifically for motorcyclists interested in a performance-oriented ride, but who also seek the comfort and style of a bona fide grand-touring bike, the ZZ-R1200 can't help but please.
And for all those sportbike riders who seek a more adventurous and winding route, Kawasaki features the ALL-NEW ZZ-R1200. A sportbike with a touring heart. Check out the features and styling of this new model.
On the professional racing level, Kawasaki has won an impressive nine AMA Superbike Road Racing Championships–more than any other manufacturer. Currently, modified NINJA motorcycles are raced by the Kawasaki Road Race team in its quest for championships. This includes the much lauded ZX-7R, upon which Kawasaki Road Racing's Eric Bostrom and Doug Chandler battled for AMA Superbike victory in the 2001 season. Likewise, the ZX-6R provided the base for Bostrom's 600 SuperSport mount in '01 where he won multiple races.
Furthermore, Kawasaki has dominated the AMA/Prostar Motorcycle Drag Racing Series over the last several years. Team rider Rickey Gadson won three consecutive AMA/Prostar 750 Superbike National Championships, and teammate Chip Ellis was named Rookie of the Year in 2000.

In addition to these particular racer replicas, Kawasaki also offers other sporting options. These include the sporty-yet-affordable ZX-6 and some of the best entry-level bikes available in the form of the popular NINJA 500R and 250R models. Whether the goal is track time, canyon carving or NINJA performance at an economical price, all of these Kawasaki motorcycles deliver experience you crave.
Specifications:
Model
ZX600-E10

Engine Type
4-stroke, liquid cooling with Oil cooler

Displacement
599 cc.

Bore x Stroke
64 x 46.6 mm.

Compression Ratio
12.0:1

Valve System
DOHC, 16 valves

Carburetion
Keihin CVKD36 x 4

Ignition
Digital

Starting
Electric

Transmission
6-speed

Rake / Trail
24.5

Wheelbase
56.3″

Suspension, Front
41 mm. fork with adjustable preload and 4-way rebound damping

Suspension, Rear
Bottom-Link Uni-Trak with gas-charged shock, adjustable spring preload and 3-way rebound damping

Tire Front
120/60ZR17

Tire Rear
160/60ZR17

Brakes, Front
Dual floating discs with dual four-piston calipers

Brakes, Rear
Disc with single-piston caliper

Seat Height
30.7″

Fuel Capacity
4.8 gallons

Dry Weight
430 pounds

Color
Candy Persimmon Red


Specifications are subject to change without notice, in accordance with national regulation and legislations.