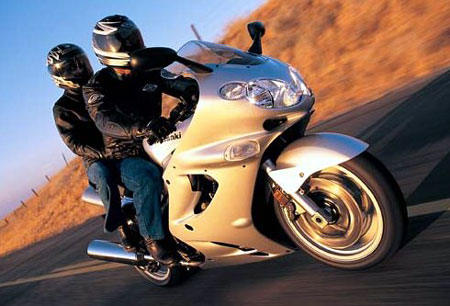 Back to 2002 Kawasaki Motorcycle Index Page
Click photo to enlarge.
It makes a great desktop image.

 
– 2002 Kawasaki Ninja ZZ-R1200
.
High Performance Sport Tourer
New for 2002
Puts the "sport" in sport-touring
For the sporting adventurer, the new-for-2002 Kawasaki ZZ-R1200 sport-touring motorcycle is the ideal vehicle. Designed specifically for motorcyclists interested in a performance-oriented ride, but who also seek the comfort and style of a bona fide grand-touring bike, the ZZ-R1200 can't help but please. Originally conceptualized for the European market, the ZZ-R comes stateside with the best of Kawasaki's ZRX1200R and NINJA ZX-11 traits. The result is a machine that offers sporty handling, a powerful yet user-friendly engine, comfortable ergonomics and an upscale appearance.
Although the ZZ-R1200's double-overhead-cam 1164cc inline-four engine is similar to that of the ZRX1200R, Kawasaki engineers modified the 16-valve engine to be a stronger performer in the low and midrange sections of the powerband. For starters, the cylinder head is endowed with a new water jacket and head-bolt layout to accommodate a bank of four Keihin 40mm downdraft carburetors. Like the ZRX, the aluminum cylinders themselves utilize electroplating rather than cylinder liners to provide an altogether lighter-weight package and quick heat transfer, both of which allow for closer tolerances and therefore more power.
The pistons also have been altered as the skirts were reshaped and reinforcing ribs similar to those on the ZX-12R sportbike were added. Actuating the valves are sintered-tipped rocker arms, instead of the chrome-tipped versions used in years past. The new versions ensure less wear and friction and offer better lubrication. A newly balanced crank is similar to that on the ZRX1200, and helps bring out the engine's torquey personality.
For more efficient fuel flow, the ZZ-R1200 uses twin fuel pumps that feed four Keihin carburetors equipped with the Kawasaki Throttle Responsive Ignition Control (K-TRIC) system. In turn, a revised alternator produces more output to power the dual fuel pumps, as well as the new dual headlights on the ZZ-R. Finally, in an effort to keep things cool, the 1200's radiator is equipped with two fans, similar to the ZX-12R.
Much as the ZZ-R1200 motorcycle's engine was tweaked to create an all-new powerplant, the same can be said for the chassis. The aluminum perimeter-style frame was stiffened with thicker rails and a new steering head. The latter is reinforced with internal ribbing. Also, the aluminum rear subframe was exchanged for a steel unit in order to accommodate aftermarket saddlebags such as the color-matched luggage offered by Givi.
To give the ZZ-R1200 the lighter-handling nature associated with sport-touring bikes, the rake was decreased and offset reduced, while efficient ball bearings are used in the steering head to maintain a light-steering feeling. Also in the name of agility, the swingarm was lightened and then lowered to improve traction and squat characteristics. Kawasaki's patented UNI-TRAK® rear suspension employs longer linkage rods and a new rear shock for an overall smoother ride.
Bringing the new 1200 to a halt is an amalgam of braking components. Dual-piston calipers grip 320mm discs in the front, while the rear brake caliper is borrowed from the ZX-12R and the 250mm rotor from the ZRX1200R.
With power and handling covered, Kawasaki turned its attention to ergonomics and styling. To give the ZZ-R1200 all-day touring capacity, a new and comfortable riding position was created by moving the handlebars back, and the footpegs forward and down in comparison to the ZX-11. From the rider's perspective, an attractive instrument panel displays pertinent information and incorporates the ZX-12R fuel gauge for improved accuracy.
Aesthetics are apparent in the all-new bodywork, which includes an elegant, contoured fuel tank and sleek-looking twin-beam headlights. Hollow-spoke wheels, a one-piece fender and clear, automotive-style turnsignals round out the complete ZZ-R1200 sport-touring package.
Four-Cylinder, 16-Valve Engine
·Aluminum cylinders with electroplated bores reduce weight, resist wear
and offer superior heat dispersion
·Pistons reshaped with new skirts and reinforcing ribs similar to those
in the ZX-12R
·Cylinder head equipped with new water jacket and head-bolt layout
·Equipped with newly balanced crank based on that of the ZRX1200
Downdraft Carburetors with Kawasaki Throttle Responsive Ignition Control (K-TRIC)
·A throttle-position sensor tells the ignition control unit how hard the
engine is working so that its micro-computer can determine the best
ignition timing for more power and better fuel economy
Dual Fuel Pumps
·Dual fuel pumps provide more fuel flow to cylinders
·One pump feeds cylinders one and two, while the other feeds cylinders
three and four
Liquid Cooling
·Even-running temperatures mean no "power fade" on hot days and
longer engine life
·Equipped with twin fans, similar to the system on the ZX-12R
Sintered-Tipped Rocker Arms
·Provide longer wear, less friction and better lubrication
·Replace chrome-tipped rocker arms
Redesigned Alternator
·Produces more output to power the dual headlamps and fuel pumps
·Holes redesigned to increase cooling
Aluminum Perimeter-Style Frame
·Thicker frame rails provide extra rigidity
·Rake and offset modified to provide more nimble handling
·New steering head incorporates internal reinforcement ribbing
·Tapered head bearings replaced by ball bearings, which aren't easily
over-tightened and don't bind the steering
·Steel subframe accommodates aftermarket saddlebags
Bottom-Link UNI-TRAK® Rear Suspension
·Longer linkage rods provide a smoother ride
·New shock features hydraulic preload adjustment and protective guard
over the shaft and seal
·Lowered swingarm improves traction and squat characteristics, and
reduces wear on the chain slipper
·Lighter swingarm features ZX-9R mounts that don't pinch the pivot when
tightened
Cartridge Fork
·Inner guards added for overall durability
·Comes with new leak-resistant seals from the ZRX1200
All-New Bodywork
·Includes twin-beam headlights, modern taillight and automotive-type
turnsignals with clear lenses
·Contoured fuel tank contributes to bike's aesthetics
Details
·New riding position created by moving handlebars back, and footpegs
forward and down
·Attractive instrumentation with ZX-12R fuel gauge increases accuracy
·One-piece fender provides easy maintenance
·Hollow-spoke ZRX1200-style wheels replace solid-spoke design
from ZX-11
·ZX-12R ignition switch deters theft
2002 KAWASAKI NINJA® SPORTBIKES
For more than a decade, the term "Ninja" has been synonymous with Kawasaki sportbikes. In fact, the association is so widespread that even non-motorcyclists are familiar with the Kawasaki NINJA® motorcycle line-up. Such familiarity should come as no surprise to anyone, considering Kawasaki's formidable history with sportbikes.
New for 2002 is the ultimate open-class sportbike, the new ZX-12R which features more than 130 updates, enhancements and improvements to the engine, chassis, suspension and more. With a more planted feel, lighter steering and more low- to mid-range power, the new ZX-12R is the bike of choice for serious enthusiasts. Also, new for 2002 is the NINJA ZX-9R which bristles with a host of performance and styling changes sure to blast it to the pinnacle of the liter class.
For the sporting adventurer, the new-for-2002 Kawasaki NINJA® ZZ-R1200 sport-touring motorcycle is the ideal vehicle. Designed specifically for motorcyclists interested in a performance-oriented ride, but who also seek the comfort and style of a bona fide grand-touring bike, the ZZ-R1200 can't help but please.
And for all those sportbike riders who seek a more adventurous and winding route, Kawasaki features the ALL-NEW ZZ-R1200. A sportbike with a touring heart. Check out the features and styling of this new model.
On the professional racing level, Kawasaki has won an impressive nine AMA Superbike Road Racing Championships–more than any other manufacturer. Currently, modified NINJA motorcycles are raced by the Kawasaki Road Race team in its quest for championships. This includes the much lauded ZX-7R, upon which Kawasaki Road Racing's Eric Bostrom and Doug Chandler battled for AMA Superbike victory in the 2001 season. Likewise, the ZX-6R provided the base for Bostrom's 600 SuperSport mount in '01 where he won multiple races.
Furthermore, Kawasaki has dominated the AMA/Prostar Motorcycle Drag Racing Series over the last several years. Team rider Rickey Gadson won three consecutive AMA/Prostar 750 Superbike National Championships, and teammate Chip Ellis was named Rookie of the Year in 2000.

In addition to these particular racer replicas, Kawasaki also offers other sporting options. These include the sporty-yet-affordable ZX-6 and some of the best entry-level bikes available in the form of the popular NINJA 500R and 250R models. Whether the goal is track time, canyon carving or NINJA performance at an economical price, all of these Kawasaki motorcycles deliver experience you crave.
Specifications:
Model
ZX1200-C1

Engine Type
4-stroke, liquid-cooled

Displacement
1,164cc

Bore x Stroke
79 x 59.4 mm

Compression Ratio
10.5:1

Valve System
DOHC, 16 valves

Carburetion
Keihin CVKD40 x 4

Ignition
Digital

Starting
Electric

Transmission
6-speed

Frame type
Perimeter, pressed aluminum

Rake / Trail
25 degrees

Wheelbase
N/A

Suspension, Front
43 mm. fork with adjustable preload and 4-way rebound damping

Suspension, Rear
Bottom-Link Uni-Trak with gas-charged shock, adjustable preload and 4-way rebound damping

Tire Front
120/70ZR17

Tire Rear
180/55ZR17

Brakes, Front
Dual 320mm floating discs with dual four-piston calipers

Brakes, Rear
Disc with opposed-piston caliper

Seat Height
N/A

Fuel Capacity
6.1 gallons

Dry Weight
N/A

Color
Galaxy Silver


Specifications are subject to change without notice, in accordance with national regulation and legislations.