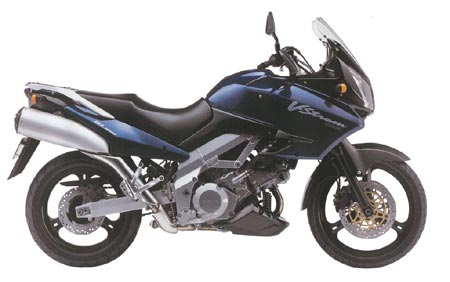 Back to 2002 Suzuki Motorcycle Index Page
Click photo to enlarge.
It makes a great desktop image.

 
2002 SUZUKI STREET LINE
Suzuki's street bike line has a solid reputation as having some of the best values in the industry. Versatile machines that have broad appeal, they offer the right combination of price, performance and style. For 2002 all three models are back with all the style, performance and value you've come to expect from Suzuki as well as a new addition to the Suzuki street line-up: the all new 2002 DL1000 V-Strom, a multi-purpose machine combining strong V-twin performance, easy handing and distinct styling to create Suzuki's first Sport Enduro Tourer.

NEW MODEL: DL1000 V-STROM-
THE FIRST SPORT ENDURO TOURER
Suzuki announces the all new 2002 DL1000 V-Strom…Suzuki's first Sport Enduro Tourer. The versatile, multi-purpose V-Strom DL1000 combines the strong performance of a proven V-twin engine with easy handling, sporty styling and a comfortable relaxed riding position.
The DL1000 engine is based on the proven and reliable Suzuki TL1000 powerplant, a textbook example of advanced engine design. The strong and reliable TL-based engine utilizes a liquid-cooled 90-degree V-twin configuration with four valves per cylinder, dual overhead cams and a big bore, short stroke 98 mm x 66 mm layout producing 996cc of displacement. The DL1000 also continues to utilize gear driven cams for reduced overall height, vertically staggered transmission shafts to make the engine shorter front to rear and an exceptionally short crankshaft for a slim and narrow powerplant. Changes for the DL1000 engine include smaller intake valves, 36 mm versus 40 mm, and shorter cam timing with reduced valve lift for improved torque and responsiveness. The six-speed transmission has new wider gear ratios specifically designed for the DL1000 and a larger diameter clutch with additional plates, plus a new hydraulic actuation system for a lighter pull at the lever.
The V-Strom features a new fuel injection system using the Suzuki Dual Throttle Valve System (SDTV), for exceptionally linear throttle response, better fuel economy, improved low-rpm torque, reduced emissions and improved combustion efficiency. Each of the two 45 mm throttle bodies utilizes two throttle valves; a primary unit controlled by the rider via the twist grip and a secondary throttle valve operated by an electronic servo motor. The servo motor progressively opens the secondary throttle valve to maintain maximum intake velocity. The DL1000 also uses a built-in Auto First Idling System (AFIS), which automatically sets primary and secondary throttle valve openings when the engine is first started and increases engine idle speed until the coolant reaches normal operating temperature.
Utilizing a strong and lightweight aluminum-alloy twin-spar frame, the DL1000 is lighter than other steel frame competitors. Combined with an aluminum-alloy swingarm the DL1000 measures in with a 1550 mm (61.0 inches) wheelbase, 26.5 degrees of rake and 110.6 mm (4.35 inches) of trail. Seat height is set at a reasonable 830.0 mm (32.7 inches) and dry weight is the lightest in the class at 456 pounds.
Suspension features include a 43 mm cartridge fork with 160 mm (6.3 inches) of smooth wheel travel up front, while the rear suspension utilizes a piggy back reservoir rear shock with adjustable rebound damping and a convenient knob-operated hydraulic spring preload adjuster. The link type rear suspension works with an aluminum-alloy swingarm, and rear shock to create 162 mm (6.4 inches) of wheel travel. Lightweight cast aluminum alloy wheels are mounted front and rear, while braking duties are handled by dual 310 mm floating discs with dual-piston calipers in front and a single 260 mm disc and single-piston caliper at the rear.
Completing the V-Strom is a sporty front fairing, a large 22 liter (5.8 gallon) fuel tank, high-mounted mufflers, and engine skid plate. An ultra-thin instrument cluster, dual multi-reflector headlights, and durable radial DualSport tires at both ends are also standard equipment.

The all new 2002 Suzuki DL1000 V-Strom. Ready to live the adventure.
DL1000 (K2) V-STROM AT A GLANCE
Suggested Retail: $8,899.00
Engine Type: *4-stroke, 90-degree V-twin, Liquid cooled, DOHC
Bore and Stroke: *98 mm x 66 mm
Front Brake: *Dual Hydraulic Disc
Rear Brake: *Single Hydraulic Disc
Wheelbase: *1,550 mm (61.0 in.)
Dry Weight: *207 kg (456 lbs)
*Specifications are not final

Specifications:
Overall Length: 2,290 mm (90.2 in)
Overall Width: 865 mm (34.1 in)
Overall height: 1,340 mm (52.8 in)
Wheelbase: 1,550 mm (61.0 in)
Seat Height: 830 mm (32.7 in)
Dry Weight: 207 kg (456 lbs)
Engine type: Water-cooled 996 cc 4-stroke 90 degree 8 valves V-twin, DOHC, TSCC. 98 hp (72 kW)/ 7,500 rpm, 104 Nm/ 6.500 rpm.


Specifications are subject to change without notice, in accordance with national regulation and legislations.