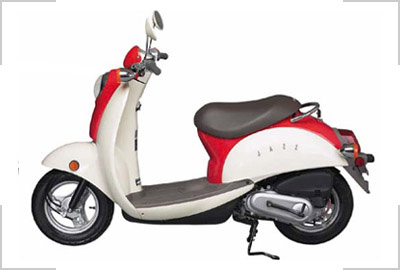 Back to 2003 Honda Motorcycle Index Page
Click on photos to enlarge.
It makes a great desktop image.


2002 Honda CHF50 Jazz

 
– 2003 Honda CHF50 Jazz

The Honda Jazz is a stylish and dependable scooter with an economical, efficient four-stroke engine. The Jazz has the convenience of Honda's automatic V-Matic transmission and a lockable underseat compartment offers nearly 22 litres of storage capacity.
A lockable centerstand and Honda's CBS brakes provide added safety and security.



Unique Jazz Features
· Efficient four-stroke engine consumes substantially less fuel and produces significantly lower exhaust emissions than a comparable two-stroke engine.
· Combined Brake System, CBS provides excellent stopping power.
· Lightweight, sturdy aluminum chassis is recyclable and contributes to the Jazz's maneuverability and excellent fuel economy.
· Lockable underseat compartment offers nearly 22 litres of storage capacity.
· Lockable centerstand deters unauthorized use.

Engine
· Lightweight 49cc four-stroke OHC liquid-cooled single-cylinder engine provides ample power for in-town riding.
· Fuel-sipping constant-velocity (CV) carburetor with automatic choke.
· Maintenance-free solid-state ignition system.
· Simple push-button electric starter.
· New starter system utilizes the engine's brushless alternator (ACG) for starting, eliminating the need for a separate starter motor. This simple design requires no maintenance and lowers overall weight for even better fuel economy.
· Solid-state electronic control unit (ECU) provides control for ignition timing, alternator regulator, ACG starter, electric fuel pump and automatic choke.
· Lightweight, maintenance-free, magnetically driven water pump eliminates the need for mechanical seals.
· Compact engine-mounted radiator has aluminum fins for optimal cooling in all riding conditions.
· Electromagnetic fuel pump is located in the fuel tank under the Jazz's floor and contributes to the excellent storage space under the seat.
· Automatic cam-chain tensioner requires virtually no maintenance.
· Ultra-quiet exhaust system.
· Automatic Honda V-Matic belt-drive transmission provides spirited acceleration and requires virtually no maintenance.

Chassis/Suspension
· Two-piece die cast aluminum chassis provides an optimum balance of light weight and rigidity for excellent handling.
· Twin-downtube fork front suspension provides 48mm of plush travel for a well-controlled ride.
· Single-side aluminum swingarm with single-shock rear suspension has 66mm of travel for a compliant, comfortable ride.
· Front and rear drum brakes offer predictable, powerful stopping power.
· Jazz's CBS brakes provide added control when slowing or stopping. Rider application of the front brake lever activates the front brake in conventional fashion. Application of the rear brake lever, mounted on the left handlebar, activates the rear brake and the front brake together. When only the rear brake lever is used, a proportioning mechanism gradually applies the front brake.
· High-grip, high-mileage tires.

Additional Features
· Well-padded seat boasts a low, 711mm (28″) seat height for added confidence at stops.
· Underseat storage compartment with 22-litre capacity holds groceries or a full-face helmet.
· Instrumentation includes analog speedometer, odometer, analog fuel gauge, and indicator lights for coolant temperature and low/high beam.
· Audible turn-signal indicator.
· Key-operated ignition lock has an integrated trunk release switch. By pushing in the key, the rider can easily unlock the spacious storage compartment under the main seat.
· Centerstand locking lever located inside the underseat storage compartment discourages unauthorized use.
· Rear hand rail.
· Helmet holder locks helmet in place.
· Shopping bag holder.
· Backup kickstarter.
· Twin-filament headlight with 35-watt low/high beam provides ample nighttime illumination.
· Maintenance-free battery.
Specifications:
Engine
49cc liquid-cooled single-cylinder four-stroke

Bore and Stroke
38mm X 44mm

Compression Ratio
12:1

Valve Train
SOHC

Carburetion
15mm CV with automatic choke

Transmission
Automatic

Final Drive
Belt drive

Front Suspension
Twin-downtube fork; 48mm travel

Rear Suspension
Single shock; 66mm travel

Front Brakes
Drum

Rear Brake
Drum with CBS

Front Tire
90/90-10

Rear Tire
90/90-10

Wheelbase
1191mm (46.9 in.)

Seat Height
711mm (28.0 in.)

Dry Weight
71 kg (157lb)

Fuel Capacity
5 litres

Specifications are subject to change without notice, in accordance with national regulation and legislations.