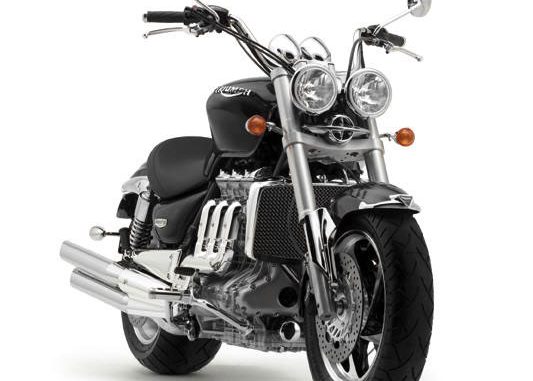 You are here: Index — New Models — 2004 Triumph Motorcycle Models
2004 Triumph Motorcycles
Great looking, big and glossy photos! Less reading, more looking!
Year 2004 Triumph Motorcycle Models.

Road Bikes
– 2004 Triumph Bonneville
– 2004 Triumph Bonneville T100
– 2004 Triumph Thurxton
– 2004 Triumph America
– 2004 Triumph Speedmaster
– 2004 Triumph Thunderbird Sport
– 2004 Triumph Rocket 3 (Rocket III)
– 2004 Triumph Speed Four
– 2004 Triumph Speed Triple
– 2004 Triumph Daytona 600
– 2004 Triumph Daytona 955i
– 2004 Triumph Sprint ST
– 2004 Triumph Tiger


 

Behind the Scenes
– Manufacturer websites worldwide
– Triumph Spy Shots

Specifications, appearance, and price of product are subject to change without notice.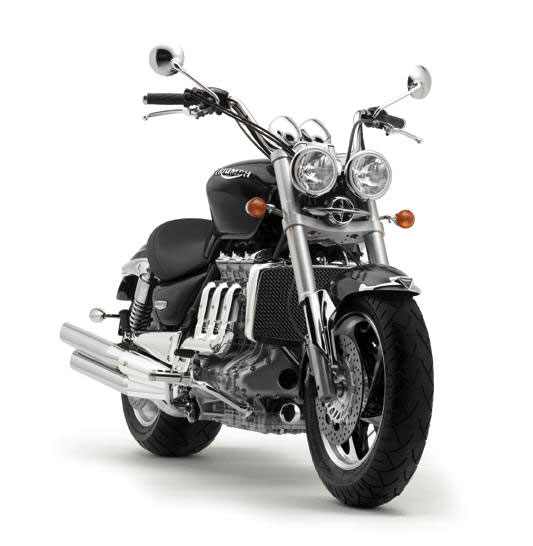 2004 Triumph Rocket 3 (Rocket III)
– Manufacturer Websites
Triumph
September 11, 2003 (thanks goes to MCN)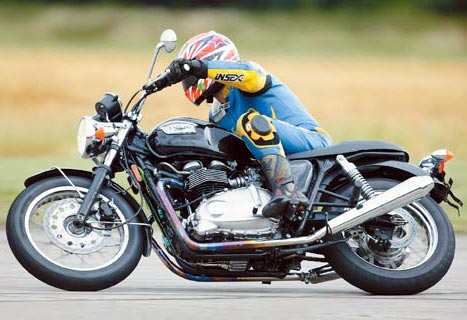 TRIUMPH'S new line-up doesn't end with the Daytona 1300– as this spy shot of the new cafe racer version of the Bonneville proves.
Caught in action at Bruntingthorpe proving ground in Leicestershire.
The cafe racer is expected to be called the Bonneville Thruxton, sharing its name with the original 1960s Triumph cafe racer.
The new machine is clearly heavily based on the stock Bonneville. It shares the same chassis but the parallel twin-cylinder engine is bored out from 790cc to 865cc. That, and a freer-breathing new upswept megaphone exhaust, add up to an increase in power over the base Bonnie from 61bhp to 70bhp. Torque is up from 44ftlb to 53ftlb.
The new bike weighs 205kg, the same as the stock bike.
Other changes include a humped seat to give the classic cafe-racer look and a shortened rear mudguard.
The bike's handling should be more responsive than the basic Bonnie's thanks to new rear twin shocks, which are longer than the current ones.
They increase the bike's ground clearance and sharpen the steering by effectively giving the bike a steeper fork angle.
The brakes and front suspension are straight from the base-model Bonneville.
Like the standard bike, the Thruxton is aimed squarely at the American market, where retro Triumphs are massively popular – even this prototype is American-spec, with extra reflectors mounted on the chassis downtubes.
To add to the sporty feel of the bike, it gets the twin clocks from the Bonneville T100, including a rev-counter, but otherwise it's an unadorned Bonnie – with unpolished engine cases and no extra chrome.

April 16, 2003 (thanks goes to T595/motorbiker)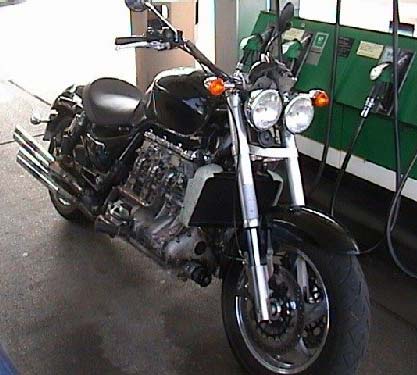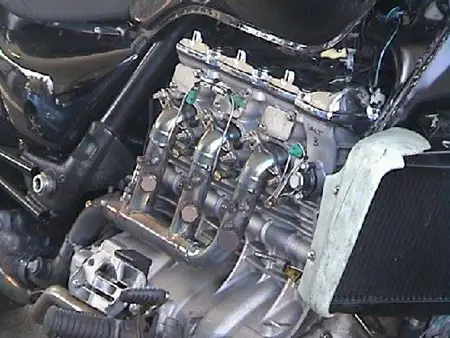 The first spy photos of the new Triumph Cruiser are out….. a hefty looking beast.
The engine looks incredible. What a monster !! Looks like they are going for the top part of the Cruiser market.