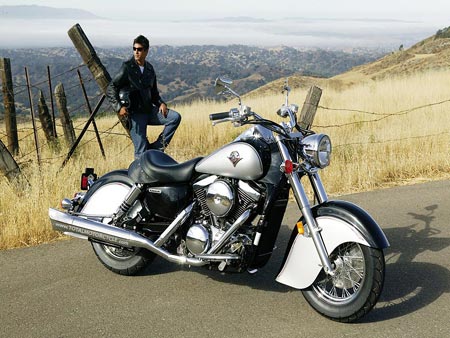 You are here: Home — New Models — 2005 Kawasaki Motorcycle Models
2005 Kawasaski Vulcan 1500 Drifter
Back to 2005 Kawasaki Motorcycle Index Page

Click to Enlarge for Desktop Sized Photo
– 2005 Kawasaki Vulcan 1500 Drifter

In the late 1940s, Americans turned on their radios to listen to big band music, drove large, powerful cars, and their motorcycles were as stylish as they were functional. The Kawasaki Vulcan® 1500 Drifter® captures the mood of this era with its low, slung chassis, sculpted fenders and fishtail muffler. But underneath its beauty is the advanced engineering of a modern Kawasaki motorcycle.
A big, 90 cubic-inch, liquid-cooled V-twin engine provides the Drifter with modern cruiser performance. High compression and aggressive cam timing provide the healthy power output, while each cylinder features a single overhead cam actuating four valves. Hydraulic valve lash adjusters reduce maintenance.
The big cylinders breath through the dual 36mm throttle bodies of a Mitsubishi digital fuel injection system. A separate intake tract for each throttle body provides smooth engine operation, and the tip of each injector contains four nozzles, with two of those aimed at each intake valve. The system "brain" uses readings from sensors that monitor engine coolant temperature, intake air temperature, atmospheric pressure, intake air pressure and throttle position to adjust the amount of fuel delivered. The result is excellent engine response and power with enhanced fuel efficiency.
The Drifter's five-gallon fuel tank incorporates an electronic speedometer for a clean, sleek look and includes an LED display for the odometer and tripmeter, as well as the clock.
Starting is made easy via an automatic fast-idle system. The pilot can simply turn the key and push the starter button to get the engine roaring and keep it rumbling smoothly during warm-
up. The fast-idle knob can be utilized for extremely cold weather or high altitude starts.
The Drifter's frame uses large-diameter tubing as well as a large-diameter steering head for strength and rigidity. The front fork and rear shocks provide a comfortable ride and superior handling, and the Drifter's floorboards and wide handlebar provide an easy-going, upright riding position. Other conveniences include self-canceling turn signals, single multi-reflector headlight and a storage compartment beneath the left side cover.

Features and Benefits
1,470cc OHC V-Twin
– Engine design evolved from the Vulcan® 1500 Classic
– Exhaust system has a single fish tail muffler on the right side
Liquid Cooling
– Maintains consistent engine temperatures for long engine life and sustained power during hard use
– Auxiliary fan keeps things cool, even in traffic
Four Valves per Cylinder
– Boosts low-end torque
Hydraulic Valve Lash Adjusters
– Keep valves quiet with no maintenance, no adjustment required
Digital Fuel Injection
– Provides excellent engine response and power with less fuel consumption
– Two different systems are switched and used automatically according to engine load for accurate fuel injection control
Dual Throttle Bodies
– Dual 36mm throttle bodies use one injector for each cylinder, with a separate intake tract for each throttle body
– Four nozzles at the tip of each injector, with two nozzles aimed at each intake valve
Idle Speed Controller
– Helps stable idle and good throttle response at ultra-low engine rpm
Gear-Driven Engine Balancer
– Counter-rotates at engine speed to cancel vibration
– Allows use of single-pin crankshaft without the heavy vibration
Rubber-Mounted Engine
– All but eliminates engine vibration at all speeds
Five-Gallon Fuel Tank
– Rounded-edge finish for clean, upscale look
– Larger capacity for extended cruising
Five-Speed Transmission
– Five-speed transmission combines great around-town acceleration with relaxed highway cruising
Positive Neutral Finder (Kawasaki Exclusive)
– Just lift the shift pedal from first at a stop to find neutral easily, every time
Disc Brakes
– Solid 300mm disc with twin-piston caliper up front for style and quiet braking
– A single 270mm rear disc with twin-piston caliper located below the swingarm
Shaft Drive
– A reliable and quiet, low-maintenance system
Hydraulic Clutch Release
– Easy to operate and maintain
Self-Canceling Turn Signals
– Automatically shuts off after eight seconds or after traveling 213 feet


Specifications
Engine: Four-stroke, SOHC, V-twin, 8 valves
Displacement: 1,470cc
Bore x stroke: 102.0 x 90.0mm
Starting: Electric
Compression ratio: 9.0:1
Cooling: Liquid
Induction: Digital fuel injection with dual 36mm throttle bodies
Ignition: Digital
Transmission: Five-speed
Frame: High-tensile steel, double cradle
Rake / trail: 32° / 6.5 in.
Suspension type, front: 41mm hydraulic telescopic fork
Suspension type, rear: Dual air-assisted shocks
Suspension adjustments, rear: Air adjustable, four-way rebound damping
Wheel travel, front: 5.9 in.
Wheel travel, rear: 3.9 in.
Tire, front: 130/90 x 16
Tire, rear: 150/80 x 16
Brakes, front / rear: Hydraulic disc / Disc
Overall length: 100.2 in.
Overall width: 38.6 in.
Overall height: 43.9 in.
Ground clearance: 4.9 in.
Seat height: 28.7 in.
Dry weight: 670 lbs.
Fuel capacity: 5.0 gal.
Wheelbase: 65.2 in.
Colors: Black
* Price and specifications subject to change