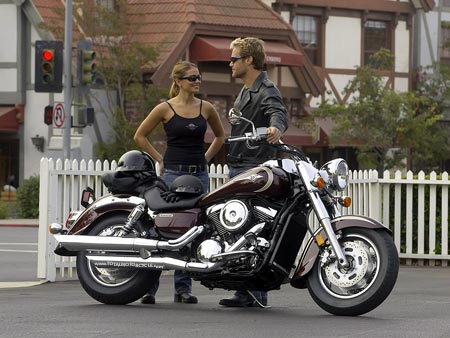 You are here: Home — New Models — 2005 Kawasaki Motorcycle Models
2005 Kawasaski Vulcan 1600 Classic
Back to 2005 Kawasaki Motorcycle Index Page

Click to Enlarge for Desktop Sized Photo
– 2005 Kawasaki Vulcan 1600 Classic

With the sleek lines of a low "stretched" chassis and muscled-out V-twin engine, the Kawasaki Vulcan® 1600 Classic cruiser makes weekend rides into the countryside too inviting to resist.
The temptation begins with a liquid-cooled 1,552cc V-twin engine tuned for low- and mid-range power. V-twin its large 1,552cc engine. Each of the big cylinders features a single overhead cam actuating four valves, and hydraulic lash adjusters automatically maintain valve clearance for smooth engine performance, reduced valve clatter and no maintenance. Plus, automatic chain tensioners keep cam timing accurate and provide greater reliability.
A digital fuel injection system with 36mm throttle bodies feeds the engine to deliver responsive power at all engine speeds and helps reduce exhaust emissions.
The Vulcan 1600 Classic's hydraulically actuated clutch provides smooth, progressive torque to the five-speed transmission and quiet shaft drive for great around-town acceleration and relaxed highway cruising.
Checking the engine's oil level and performing regularly scheduled maintenance requires minimal effort due to the simple, yet sleek design of the right-side crankcase and clutch cover. A gear-driven counter balancer and rubber engine mounts reduce handlebar and floorboard vibration for smoother acceleration. Dual alternators provides enough output to power electrical accessories.
To match the 1600 Classic's sleek lines, the chamberless dual mufflers are slash-cut for major style points and also feature catalyzers to meet emissions regulations.
The chassis features a single backbone frame, which utilizes two 40 x 40mm square cross-section tubes. This design permits the use of a larger fuel tank and a detachable right-side downtube allows the engine to be removed more easily.
A large, 43mm telescopic fork provides rigidity for superb steering feel and excellent ride quality, while dual rear shocks deliver exceptional comfort for long days in the saddle. Dish-case wheels allow the use of large tires and wide fenders to give the 1600 Classic its tough look. The front wheel also features a large diameter 300mm dual disc brakes and, combined with a single 300mm disc brake on the rear, delivers impressive stopping power.
The design details that make the 1600 Classic a one-of-a-kind American classic include a stainless steel handlebar, stepped seat, side covers that proudly display the Kawasaki logo and a multi-reflector headlight. Features of the integrated instrument cluster include an LCD screen, tank-mounted ignition switch, fuel-injection warning lamp, fuel gauge, odometer, tripmeter and clock. Fold-up floorboards look great and improve rider comfort.
Features and Benefits
1,552cc OHC V-Twin
– Tuned for low- and mid-range power to deliver gutsy acceleration in the typical cruising range
– Oversquare 102 x 95mm bore and stroke help ensure punchy response and a broad spread of satisfying power
Liquid Cooling
– Maintains consistent engine temperatures for long engine life and sustained power during hard use
– Ring-type cooling fan is quiet and efficient
Four Valves per Cylinder
– Compact combustion chamber for increased compression ratio without detonation on today's gasolines
– Dished piston crowns allow for 9.0:1 compression ratio
– Boosts low-end torque
– Provides maximum valve area for optimum flow
Hydraulic Valve Lash Adjusters
– Keep valves quiet with no adjustment required
Fuel Injection System
– Produces easy starting, smooth running, high performance and reduced exhaust emissions
Fuel Pump
– Vertical return-type fuel pump inside tank prevents fuel starvation during hard braking or acceleration
Dual Plug Digital Ignition
– Microprocessor-controlled timing
– Two spark plugs in each combustion chamber cut detonation for extra durability
Gear-Driven Engine Balancer
– Counter-rotates at engine speed to cancel vibration
– Allows use of single-pin crankshaft without the heavy vibration
Five-Speed Transmission
– Five-speed transmission combines great around-town acceleration with relaxed highway cruising
High-Capacity Oil Pump
– Provides reliable lubrication during extended periods of high-speed, high-temperature operation
Positive Neutral Finder
– Just lift the shift pedal from first at a stop to find neutral easily, every time
– A Kawasaki exclusive
Shaft Drive
– A reliable and quiet, low-maintenance system
Hydraulic Clutch
– Easy to operate and maintain
Chamberless Dual Mufflers
– Dual slash-cut mufflers give increased power feel
– Catalyzers built into each muffler to meet emissions regulations
– ECU controls the electromagnetic solenoid valve of the secondary air system to further reduce emissions
Frame
– Uses twin 40 x 40mm square cross section tubes to create single backbone
– Use of single backbone accommodates larger capacity fuel tank
– Detachable right-side downtube allows engine to be removed more easily
Long and Low
– Overall package is longer and lower than Vulcan® 1500 Classic
43mm Telescopic Fork
– Provides increased rigidity, superb steering feedback and excellent ride quality
Dual Shocks w/4-way Rebound Damping
– Deliver superb comfort and high stability
Brakes
– Dual 300mm diameter discs and 300mm single rear disc provide abundant stopping power
Headlight and Turn Signals
– Front turn signals feature an integrated lamp/stay design for easy mounting
– Auto-canceling turn signals
Dished Cast Wheels
– Allow the use of tubeless tires
– Large tires and wheels give 1600 Classic a tougher look
Integrated Instrument Cluster
– Features LCD screen and tank-mounted ignition switch
– Incorporate fuel-injection warning lamp, fuel gauge, odometer, tripmeter and clock
– Ignition switch mounted on top of instrument cluster
Details
– Self-canceling turn signals automatically shut off after eight seconds or traveling 213 feet
– Wider fenders enhance style
– Chrome-backed mirrors are stylish and corrosion resistant
– Locking left-side cover holds tool kit, while providing space for small items

Specifications
Engine: Four-stroke, SOHC, V-twin, 8 valves
Displacement: 1,552cc
Bore x stroke: 102.0 x 95.0mm
Compression ratio: 9.0:1
Cooling: Liquid
Induction: Digital fuel injection
Ignition: Digital
Transmission: Five-speed
Frame: High-tensile steel, double cradle
Rake / trail: 32° / 6.6 in.
Suspension type, front: 43mm hydraulic fork
Suspension type, rear: Dual shocks
Suspension adjustments, rear: Four-way rebound damping and four-way preload adjustment
Wheel travel, front: 5.9 in.
Wheel travel, rear: 3.7 in.
Tire, front: 130/90 x 16
Tire, rear: 170/70 x 16
Brakes, front / rear: Dual 300mm hydraulic discs / 300mm disc
Overall length: 98.6 in.
Overall width: 40.9 in.
Overall height: 44.5 in.
Ground clearance: 5.1 in.
Seat height: 27.4 in.
Dry weight: 675 lbs.
Fuel capacity: 5.3 gal.
Wheelbase: 66.7 in.
Colors: Black, Beige, Red
* Price and specifications subject to change