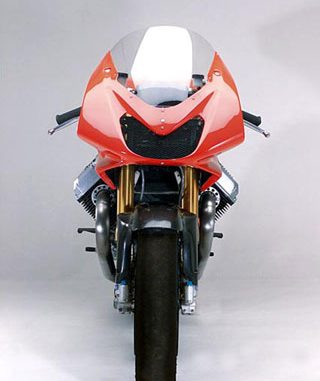 You are here: Home — New Models — 2005 Moto Guzzi Motorcycle Models
2005 Moto Guzzi MGS-01 Corsa
Back to 2005 Moto Guzzi Motorcycle Index Page
Click photos to enlarge.
They make great desktop images.

 
– 2005 Moto Guzzi MGS-01 Corsa

MGS-01 "CORSA" :
Too beautiful not to be true
Winning designs are not born by accident. Behind the sleek lines of the MGS-01 Corsa are strategic decisions, a gradual development process and above all the desire to explore the potential of the Moto Guzzi all the way, without limits.
Going back through the stages leading up to production of this model means following, step by step, the transformation of a dream into reality.

The idea
The "Style Laboratory" was set up at the beginning of 2002 as a training ground to put the skills and creativity of famous designers, planners and preparers such as Ghezzi & Brian to the test with the aim of designing motorcycles with modern style and technology, but unmistakably Moto Guzzi.
All the company's technological and human resources were made available for the challenge which showed all signs of being both difficult and thrilling.
The deadlines were concrete: the models designed, if agreed, must be ready to go into production within two years at most.
The technical starting point was the four-valve twin of the Centauro and the six speed box of the V11, for the first time working together.
Project guidelines.
To say that Ghezzi & Brian had little time to "give birth" to their creature would not be wrong, given that they had less than nine months, from February to November, to present the show-bike at Intermot in Munich.
The ideas were very clear. It must be simple, without frills, "pure".
Go back to the very essence of the motorcycle, be easy to ride and have a number of elements such as the exposed mechanics and shaft drive which would communicate the personality of the bike immediately.
From a technical point of view, attention was concentrated on ridability and handling. Short wheelbase, excellent balance and racing mechanics were the parameters on which work began immediately and with great enthusiasm.

Development.
The prototype had an original and aggressive design, sleek lines and a decidedly sporting temperament in an ultra-modern interpretation of the Moto Guzzi spirit in which the lines reflect the technical characteristics of a bike able to transmit strong emotions. The use of lightweight components such as a swinging fork swingarm in box-type aluminium enabled the weight to be kept down.
This lightness, together with the rigidity of the rectangular cross-section steel single spar frame and high performance Öhlins suspension, gives this bike extraordinary handling.
The challenge had taken shape. All that remained was to await the judgement of the motorcycling public and press.
The most admired at Intermot 2002.

At Intermot 2002 the MGS-01 made its debut in society. The stand where the bike was displayed became one of the main attractions at the exhibition.
The public was enthusiastic. Press reports were flattering. Articles on the bike started to flow into motorcycling sites, praising the beauty of the new Moto Guzzi to an extent that surprised even the design team. Market research commissioned by Moto Guzzi and carried out by CSM International showed that potential sports motorcycle buyers held the MGS-01's styling in great esteem.
This was the stimulus to go ahead – also because customers and dealers wanted the motorcycle to go into mass production as soon as possible.
The public and motorcycling enthusiasts submerged the Mandello del Lario company with thousands of requests. All that was left was to decide the technical specifications.

MGS-01 Corsa. The bike.
The MGS-01 Corsa has more than just breathtaking lines. It is driven by a powerful air-cooled 1,256 cc four-stroke with four valves in Nymonic, with high compression three-segment Cosworth pistons, ceramic-coated cylinders and bushings replaced with bearings.
The power of the engine, which "pumps" right from the lowest revs, is backed by top standard mechanics. Precise entry into bends and road holding are guaranteed by the Öhlins upside-down fork. At the rear, there is an extra long swinging fork swingarm (505 mm) in box section aluminium, improving the traction of the rear wheel and transmitting all the horsepower of the MGS-01 Corsa to the ground. The rear single shock absorber is in a vertical position, just behind the engine, to leave room for the 15 litres airbox.
Handling is guaranteed by the weight, kept down to just 192 kg, the wheelbase measuring just 1,428 mm, obtained by integrating the gearbox in the timing case, and the ideal weight distribution with a difference of just 200 g between front and back. The Brembo disc brakes with radial mounted callipers are ultra-powerful. Those who have had an opportunity to ride the MGS-01 Corsa confirm that this time appearances are not deceptive.
Project development times.
The project is divided into two phases:
– a limited series non homologated – for racing use – MGS-01 Corsa will be available during the first quarter of 2004, complete with 122 HP power kit;
– the fully homologated production MGS-01 Serie will be launched in October 2004.

Passion as a mission.
The MGS-01 Corsa is a motorcycle with a sporting temperament. It is also a machine dedicated to all riders who love and understand motorcycling, not an over-tuned mass of technology for a limited few. The MGS-01 nevertheless has tremendous competition potential and could well dominate events like the American AMA Championship. A type of race which could also attract an enthusiastic following in Italy too.

Specifications:
Engine Type : Air Cooled, 4 Stroke 90º V-Twin
Displacement: 1225 cc
Bore and Stroke: 100 x 78 mm
Compression Ratio : 11:1
Maximum Power: 122 hp @ 8000 rpm
Maximum Torque: 83.2 ft lbs @ 6400 rpm
Valve and Operation: Overhead Camshaft – 4 Valves
Per Cylinder with Positive Drive Belt
Nymonic Valves: 36 mm Intake, 36 mm Exhaust
Pistons: Cosworth Racing 3 Rings
Ignition: Marelli IA 15M Electronic Digital
Intake Conduit: Marelli 54 mm
Airbox: 18.5 liters
Starting System: Electronic Digital
Battery: 12V 8Ah
Transmission: 6 Speed
Lubrication: Wet sump, forced oil, cartridge filter
Clutch: Sintering Double Disc Hydraulic Drive
Chassis: Rectangular Section Single Beam
Wheelbase: 56″ (1423 mm)
Trail: 3.74″ (95 mm)
Rake: 23.5º Front Suspension: Ohlins 43 mm Adjustable USD Fork
Front Wheel Travel: 4.72″ (120 mm)
Rear Suspension: Aluminum Box Swingarm with Ohlins Adjustable Monoshock
Rear Wheel Travel : 4.33″ (110 mm)
Front Brake: 320 mm Brembo Oro Double Disc with 4 Pad Radial Calipers
Rear Brake: 220 mm Brembo Oro Single Disc
Rims: Five Spoke OZ Forged Aluminum
Front Wheel/ Tire: 3.50×17″/120-70/17″
Rear Wheel/ Tire: 5.50×17″/180-55/17″
Length: 79.13″ (2010 mm)
Width: 30.7″ (780 mm)
Height: 46.45″ (1180 mm)
Seat Height: 32.28″ (820 mm)
Footrest Height: 15.75″ (400 mm)
Handlebar Height: 33.46″ (850 mm)
Dry Weight: 423 lbs (192 kg)
Fuel Capacity: 4.75 US Gal (18 liters)
Color: Red
MSRP: $24,990
Technical specifications and colors are subject to change without notice.