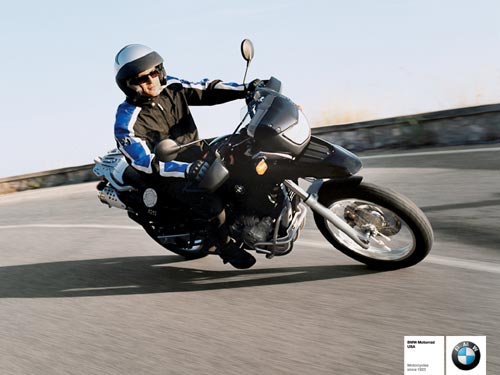 Back to 2007 BMW Motorcycle Index Page
Click photos to enlarge for detail.
They make great desktop images.
– 2007 BMW F650GS

2007 BMW F650GS
Forget the road less traveled. Make your own road.
The most popular dual purpose single in the 250+cc category, the F 650 GS has become the standard upon which single-cylinder dual purpose motorcycles are judged. Aggressively engineered for unrelenting performance in harsh environments, the F 650 GS was designed to take riders off-road and on to new frontiers. The 2005 model features a list of significant improvements including the new 2 SPARK ignition system, a 3-position clutch lever, newly designed windscreen, accessory power socket, and improved on-board electronics.

Gravel? Tarmac? Cobblestones? Sand? The BMW F650GS is a match for any surface. This is the definitive multi-talented bike. Whether it's tiny alleyways in town, sweeping bends on country roads or adventurous wild terrain, the light handling is a winner with novices and pros alike. The adjustable seat height ensures outstanding ergonomics. The new engine management system BMS-C II together with twin-spark ignition delivers lower fuel consumption and reduced exhaust emissions. Hence the powerful four-valve single-cylinder engine is state-of-the-art and sets new standards in its class.
Standard Equipment
Closed Loop 3 Way Catalytic Converter

Stainless Steel Exhaust System

Hydraulic Rear Shock w/Adjustable Preload

Stainless Steel Brake Lines

Power Socket

Rear Lockable Storage Compartment

Luggage Rack

Center Stand

Single Key Locking System

Engine Guard

Adjustable Clutch Lever

Diagnostic Interface

Tool Kit


Specifications USA
2007 BMW F 650 GS
MSRP:$7,100.00* Destination charge (not included in MSRP): $475.00
*Actual price determined by dealer. MSRP includes equalized freight charges and PDA. Price excludes taxes, license, options and handling charges.
Prices and specifications subject to change without notice.

Engine
Type Liquid-cooled single-cylinder
Bore x Stroke 100.0 mm x 83.0 mm
Displacement 652 cc
Horsepower 50 bhp @ 6500 rpm
Torque 44 lb/ft @ 5000 rpm
Compression Ratio 11.5 :1
Valve Gear DOHC, chain-driven with bucket tappets
Valves 2.0 x 36.0 mm intake / 2.0 x 31.0 mm exhaust
Valves / Cylinder Four
Engine Oil Capacity 2.4 quarts
Engine Management BMS-C II with two spark ignition
Fuel Requirement Premium Unleaded
Fuel Tank HDPE, internal pump and external filter
Fuel Capacity 4.0 U.S. gallons including 1 gallon reserve
Charging System 400 Watts @ 14 Volts
Battery 12 Volts 12 Amps/hour
Cooling System Single Radiator, 50/50 water/anti-freeze mix
Drivetrain
Primary Drive Straight-cut gear 37 / 72 = 1:1.946
Clutch Multiple plate in oil bath
1st Gear Ratio 2.75:1
2nd Gear Ratio 1.75:1
3rd Gear Ratio 1.31:1
4th Gear Ratio 1.05:1
5th Gear Ratio 0.88:1
6th Gear Ratio N/A
Final Drive System 520 O-ring, roller-type chain
Final Drive Ratio 2.937:1
Frame and Suspension
Frame Bridge-type with bolted-on rear section
Front Suspension 41 mm telescopic fork w/stabilizer bridge
Front Travel 6.7 inches
Rear Suspension Central spring strut actuated by lever-linkage
Rear Travel 6.5 inches
Brakes
Brake System Front and rear disc with optional ABS
Front Brakes One, two-piston floating caliper
Front Rotor 11.8 inch fixed rotors
Rear Brake One, single-piston floating caliper
Rear Rotor 9.5 inch fixed rotor
Actuation Method Hydraulic, DOT 4 fluid type
Wheels and Tires
Front Wheel 2.50 x 19 wire-spoke
Rear Wheel 3.00 x 17 wire-spoke
Front Tire 100/90 x 19 tube-type
Rear Tire 130/80 x 17 tube-type
Dimensions
Overall Length 85.6 inches
Overall Width 35.8 inches
Wheelbase 58.2 inches
Ground Clearance 5.1 inches
Seat Height 30.7 inches
Steering Angle 60.8 degrees
Front Wheel Trail 4.5 inches
Weight – Dry 387 lbs. excluding options & accessories
Weight – Wet 423 lbs. excluding options & accessories
Maximum Load 837 lbs. GVWR
Standard Colors
Code  Price Description
715     N / C Deep Black
761     N / C Red
925     N / C Iceberg Silver Metallic
Specifications Canada:
Engine
Type . . . . . . . . . . . . . . . . . . . . . . . . . Water-cooled, single-cylinder four-stroke engine, four valves, dual
overhead camshaft, central balance shaft, dry sump lubrication
Bore x stroke . . . . . . . . . . . . . . . . . .100 mm x 83 mm
Capacity . . . . . . . . . . . . . . . . . . . . .652 ccm
Output . . . . . . . . . . . . . . . . . . . . . . . 37 kW (50 bhp) at 6,800 rpm
(Power reduction option: 25 kW
(34 bhp) at 5,500 rpm)
Max. torque . . . . . . . . . . . . . . . . . . . 60 Nm at 4,800 rpm
(Power reduction option: 51 Nm
at 4,000 rpm)
Compression ratio . . . . . . . . . . . . . .11.5 : 1
Fuel / engine management . . . . . . . Electronic intake manifold injection/ BMW engine management system, dual ignition
Catalytic converter . . . . . . . . . . . . .Regulated 3-way catalytic converter
Performance / fuel consumption
Maximum speed . . . . . . . . . . . . . . . Over 170 km/h = 106 mph
(Power reduction option:
over 145 km/h = 90 mph)
Fuel consumption per 100 km (62 mls.)
at constant 90 km/h (56 mph) . . . .3.2 l
at constant 120 km/h (75 mph) . . .4.3 l
Fuel type . . . . . . . . . . . . . . . . . . . . . Regular unleaded, minimum octane rating 91 (RON)
Electrics
Alternator . . . . . . . . . . . . . . . . . . . .400 W generator
Battery . . . . . . . . . . . . . . . . . . . . . .12 V / 12 Ah
Power transmission
Clutch . . . . . . . . . . . . . . . . . . . . . . . Multi-disc oil-bath clutch,
mechanically operated
Gearbox . . . . . . . . . . . . . . . . . . . . . . Constant mesh 5-speed gearbox
integrated into engine housing
Secondary drive . . . . . . . . . . . . . . . Endless O-ring chain with cush
damping in the rear wheel hub
Chassis / brakes
Frame . . . . . . . . . . . . . . . . . . . . . . . Bridge-type, tubular, made from steel sections, with bolted-on rear section
Front suspension . . . . . . . . . . . . . . Telescopic fork with stabiliser,
stanchion diameter 41 mm
Rear suspension . . . . . . . . . . . . . . . Box-section dual swinging arm made from steel sections, central spring strut action controlled via lever
system, spring preload continuously variable set by hydraulic handwheel adjustment, rebound damping adjustable
Travel front / rear . . . . . . . . . . . . . . .170 mm / 165 mm
Wheelbase (in normal position) . . .1,479 mm
Castor (in normal position) . . . . . . .113.3 mm
Steering head angle
(in normal position) . . . . . . . . . . . . .60.8°
Wheels . . . . . . . . . . . . . . . . . . . . . .Wire spoke wheels
Rims, front . . . . . . . . . . . . . . . . . . .2.50 x 19
Rims, rear . . . . . . . . . . . . . . . . . . . .3.00 x 17
Tyres, front . . . . . . . . . . . . . . . . . . .100 / 90 S 19
Tyres, rear . . . . . . . . . . . . . . . . . . . . 130 / 80 S 17
Brakes, front . . . . . . . . . . . . . . . . . . Single disc, 300 mm diameter,
two-piston floating caliper
Brakes, rear . . . . . . . . . . . . . . . . . . . Single disc, 240 mm diameter,
one-piston floating caliper
ABS . . . . . . . . . . . . . . . . . . . . . . . . . BMW Motorrad ABS, can be
deactivated (optional extra)
Dimensions / weights
Seat height, unladen . . . . . . . . . . . . 780 mm
(optional lower seat: 750 mm,
optional high seat: 820 mm)
Unladen, road ready, fully fuelled* 192 kg
Dry weight** . . . . . . . . . . . . . . . . .175.4 kg
Max. permitted weight . . . . . . . . . .380 kg
Max. load with standard equipment 187 kg
Usable tank volume . . . . . . . . . . . . .17.3 l
Reserve . . . . . . . . . . . . . . . . . . . . . .Approx. 4.5 l
Length . . . . . . . . . . . . . . . . . . . . . . .2,175 mm
Height (without mirrors) . . . . . . . . .1,265 mm
Width (with mirrors) . . . . . . . . . . . .910 mm


Specifications and features are subject to change