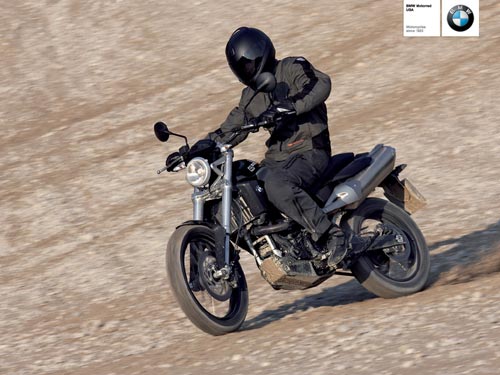 Back to 2007 BMW Motorcycle Index Page
Click photos to enlarge for detail.
They make great desktop images.
– 2007 BMW G650X Country

2007 BMW G650X Country
See a Road. Eat a Road.
The most versatile member of BMW Motorrad's fresh new G series line up, the G 650 Xcountry is the classic scrambler concept topped off with a few modern features unique to BMW, like a zippy 53 hp single cylinder engine, and a high performance lightweight design. With a round head lamp, round side panels and black, anodized wheels, the look of the Xcountry is edgy and totally striking. Add Marzocchi telescopic forks and Magura aluminum handlebars and you can attack any road you want, from dusty gravel tracks to asphalt sweepers. On-road or off-road, the Xcountry is one scrambler that's will have your heart revving as fast as your tachometer.

Refined, generous chassis components surround a high-performance single-cylinder engine which has what it takes. Reliable, powerful and thanks to Euro 3 catalytic converter and state-of-the-art engine management with the very lowest fuel consumption and exhaust emission levels: this bike will put many larger machines behind it. And that applies to asphalt and off-road. The BMW G650X Country is a genuine scrambler. As well as being a BMW through and through: high-quality, durable, suitable for everyday use, with long maintenance intervals and the reliability which distinguishes the brand. The best of both worlds makes this BMW G650X Country unique.


MSRP*: $10,500.00 Canada
MSRP: $8,200 USA
*Freight, retailer preparation & taxes extra.
Standard Equipment
LED Tail Light

Chain Rear Wheel Drive

Clear Turn Signal Lenses

(from Feb. 07 based on LED technology)

Closed Loop Catalytic Converter

Conified Aluminum Handlebar

Digital Engine Management (BMS C II)

with Twin Spark Ignition

Fuel Tank Located Under Seat

Redesigned Single Cylinder Engine (53 hp)

Removable License Plate Holder

Spoke Wheels

Stainless Steel Exhaust System

Up Side Down Front Fork (45 mm)

Specifications USA

Engine
Type Liquid-cooled single-cylinder
Bore x Stroke 100.0 mm x 83.0 mm
Displacement 652 cc
Horsepower 53 bhp @ 7000 rpm
Torque 44 lb/ft @ 5250 rpm
Compression Ratio 11.5 :1
Valve Gear DOHC, chain-driven with bucket tappets
Valves 2 x 36 mm intake / 2 x 31 mm exhaust
Valves / Cylinder Four
Engine Oil Capacity 2.4 quarts
Engine Management BMW Motor Controller – Compact (BMS-C II)
Fuel Requirement Premium Unleaded
Fuel Tank HDPE, internal pump and external filter
Fuel Capacity 2.5 U.S. gallons including one gallon reserve
Charging System 280 Watts @ 14 Volts
Battery 12 Volts 10 Amps/hour maintenance-free
Cooling System Single Radiator, 50/50 water/anti-freeze mix
Drivetrain
Primary Drive 1:1.946
Clutch Multiple plate in oil bath
1st Gear Ratio 2.75:1
2nd Gear Ratio 1.75:1
3rd Gear Ratio 1.31:1
4th Gear Ratio 1.05:1
5th Gear Ratio 0.84:1
6th Gear Ratio N/A
Final Drive System Chain
Final Drive Ratio 2.937:1
Frame and Suspension
Frame Steel bridge tubular frame
Front Suspension UPSD fork 45 mm
Front Travel 9.4 inches
Rear Suspension Aluminum two unit cast swing arm, air damping
Rear Travel 8.3 inches
Brakes
Brake System Front and rear disc with optional ABS
Front Brakes One two piston caliper
Front Rotor 11.8 inch fixed rotor
Rear Brake One, single-piston floating caliper
Rear Rotor 9.5 inch fixed rotor
Actuation Method Hydraulic, DOT 4 fluid type
Wheels and Tires
Front Wheel 2.50 x 19 wire-spoke
Rear Wheel 3.00 x 17 wire-spoke
Front Tire 100/90 x 19 tube-type
Rear Tire 130/80 x 17 tube-type
Dimensions
Overall Length 86.0 inches
Overall Width 35.7 inches
Wheelbase 59.0 inches
Ground Clearance Info. Unavailable
Seat Height 33.1 inches
Steering Angle 61.5 degrees
Front Wheel Trail 4.6 inches
Weight – Dry 326 lbs. excluding options & accessories
Weight – Wet 353 lbs. excluding options & accessories
Maximum Load 739 lbs. GVWR
Standard Colors
Code  Price Description
N11     N / C Deep black uni/white aluminum met. matt
Available Equipment
524     $670.00 ABS

Specifications Canada:
G650X Country

Engine
Type . . . . . . . . . . . . . . . . . . . . . . . . Water-cooled, single-cylinder
4-stroke, four valves, two overhead camshafts, dry sump lubrication
Bore / stroke. . . . . . . . . . . . . . . . . . 100 mm x 83 mm
Capacity. . . . . . . . . . . . . . . . . . . . . 652 cc
Rated output . . . . . . . . . . . . . . . . . 39 kW (53 hp) at 7,000 rpm
Max. torque . . . . . . . . . . . . . . . . . . 60 Nm at 5,250 rpm
Compression ratio . . . . . . . . . . . . . 11.5 : 1
Fuel / engine management. . . . . . . Electronic intake pipe injection / BMW engine management, twin spark ignition
Emission control . . . . . . . . . . . . . . Closed-loop 3-way catalytic
converter, emission standard EU-3
Performance / fuel consumption
Maximum speed. . . . . . . . . . . . . . . approx. 170 km/h
Fuel consumption per 100 km
at constant 90 km/h. . . . . . . . . . . . 3.4 l
at constant 120 km/h. . . . . . . . . . . 4.8 l
Fuel type . . . . . . . . . . . . . . . . . . . . Unleaded super, minimum octane rating 95 (RON)
Electrical system
Alternator. . . . . . . . . . . . . . . . . . . . three-phase alternator 280 W
Battery . . . . . . . . . . . . . . . . . . . . . . 12 V / 10 Ah, maintenance-free
Power transmission
Clutch. . . . . . . . . . . . . . . . . . . . . . . Multiple-disc clutch in oil bath, mechanically operated
Gearbox . . . . . . . . . . . . . . . . . . . . . Constant mesh 5-speed gearbox integrated into crankcase
Drive. . . . . . . . . . . . . . . . . . . . . . . . Endless O-ring chain with shock damping in rear wheel hub
Chassis / brakes
Frame . . . . . . . . . . . . . . . . . . . . . . Bridge-type steel section frame with bolted cast aluminium side elements, bolted-on aluminium rear section
Front suspension . . . . . . . . . . . . . . Upside-down front fork, ø 45 mm
Rear suspension. . . . . . . . . . . . . . . Cast aluminium dual swing arm, height-adjustable central spring strut, spring-preload and rebound damping manually adjustable
Travel front / rear . . . . . . . . . . . . . . 240 mm / 210 mm
Wheelbase1 . . . . . . . . . . . . . . . . . . 1,498 mm
Castor1 . . . . . . . . . . . . . . . . . . . . . . 116 mm
Steering head angle1 . . . . . . . . . . . 61.5°
Wheels . . . . . . . . . . . . . . . . . . . . . . Wire spoke
Rim, front . . . . . . . . . . . . . . . . . . . . 2.50 x 19″
Rim, rear. . . . . . . . . . . . . . . . . . . . . 3.00 x 17″
Tyre, front . . . . . . . . . . . . . . . . . . . 100/90 S 19
Tyre, rear. . . . . . . . . . . . . . . . . . . . . 130/80 S 17
Brake, front. . . . . . . . . . . . . . . . . . . Single disc, ø 300 mm, double-
piston floating caliper
Brake, rear . . . . . . . . . . . . . . . . . . . Single disc, ø 240 mm, single-piston floating caliper
ABS2. . . . . . . . . . . . . . . . . . . . . . . . BMW Motorrad ABS
(can be switched off)
Dimensions / weights
Seat height. . . . . . . . . . . . . . . . . . . 840 – 870 mm
Inner leg curve . . . . . . . . . . . . . . . . 1,880 – 1,940 mm
Unladen weight, road ready3 . . . . . 160 kg
Dry weight4. . . . . . . . . . . . . . . . . . . 148 kg
Permitted total weight . . . . . . . . . . 335 kg
Payload (with standard equipment) 175 kg
Usable tank volume . . . . . . . . . . . . 9.5 l
Reserve . . . . . . . . . . . . . . . . . . . . . approx. 2 l
Length . . . . . . . . . . . . . . . . . . . . . . 2,185 mm
Height (excl. mirrors) . . . . . . . . . . . 1,205 mm
Width (incl. mirrors) . . . . . . . . . . . . 907 mm

Specifications and features are subject to change