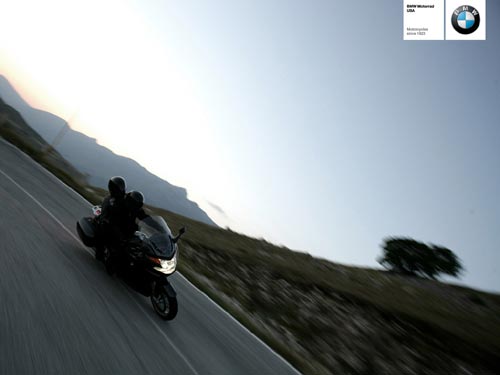 Back to 2007 BMW Motorcycle Index Page
Click photos to enlarge for detail.
They make great desktop images.
– 2007 BMW K1200GT

2007 BMW K1200GT
Tour at blazing speed in total comfort
Cycle World's 'Best Sport-touring Bike for 2006,' the K 1200 GT features the new BMW Duolever front suspension, optional ESA and a transversely-mounted in-line 4-cyinder engine offering a whopping 152 bhp. It also has height-adjustable handlebars, a narrower design, and an adjustable saddle. Point it at the horizon and swallow huge chunks of highway mile after mile, because sport touring has never been this thrilling.

Travel connoisseurs know something special when it comes along. A case in point is the BMW K1200GT, which with its water-cooled, in-line four-cylinder engine with 152 bhp and 130 Nm torque at 7,750 rpm, offers the perfect balance between comfort and performance. The chassis, with the BMW Motorrad Duolever front wheel suspension and the BMW Motorrad EVO Paralever, provides increased driving safety and comfort. The BMW K1200GT is also available with the unique ESA (Electronic Suspension Adjustment) as an optional extra, enabling riders to adjust the chassis at the push of a button to different driving modes and loads. The EVO brake system and standard BMW Motorrad Integral ABS in the part integral version make riding a pleasure even at 0 mph. The new BMW K1200GT – five-star gran turismo.


MSRP*: $23,750.00 Canada
MSRP: $18,600 USA

*Freight, retailer preparation & taxes extra.
Standard Equipment
Hazard Warning Flashers

Integral ABS II

Single Key Locks

Closed Loop 3 Way Catalytic Converter

Prob Stand with Starter Inhibit

Adjustable Handbrake and Clutch Levers

Side Cases in Body Color

Diagnostic Interface

Electronic Immobilizer

Info Flat Screen

Power Socket

Tool Kit

Clear Turn Signal Lenses

Brake Pad Renewal Display

Black Seat

Specifications USA

Engine
Type Transverse mounted, liquid-cooled inline 4-cyl.
Bore x Stroke 79 mm x 59 mm
Displacement 1157 cc
Horsepower 152 bhp @ 9500 rpm
Torque 96 lb/ft @ 7750 rpm
Compression Ratio 13.0 :1
Valve Gear DOHC, chain-driven with bucket tappets
Valves 2 x 32 mm intake / 2 x 27,5 mm exhaust
Valves / Cylinder Four
Engine Oil Capacity 3.7 quarts
Engine Management BMW Engine Controller – BMS K
Fuel Requirement Premium Unleaded
Fuel Tank HDPE, internal pump and internal filter
Fuel Capacity 6.3 U.S. gallons including 1 gallon reserve
Charging System 945 Watts @ 14 Volts
Battery 12 Volts 19 Amps/hour
Cooling System Single Radiator, 50/50 water/anti-freeze mix
Drivetrain
Primary Drive 1:1.559
Clutch 151 mm, multi-disc oil bath
1st Gear Ratio 2.52:1
2nd Gear Ratio 1.84:1
3rd Gear Ratio 1.45:1
4th Gear Ratio 1.28:1
5th Gear Ratio 1.14:1
6th Gear Ratio 1.01:1
Final Drive System Enclosed driveshaft with two universal joints
Final Drive Ratio 2.82:1
Frame and Suspension
Frame Composite aluminum frame
Front Suspension BMW Duolever
Front Travel 4.5 inches
Rear Suspension BMW EVO Paralever
Rear Travel 5.3 inches
Brakes
Brake System BMW EVO with partial integral ABS
Front Brakes Two, four-piston fixed calipers
Front Rotor 12.6 inch dual floating rotors
Rear Brake Single, two-piston fixed caliper
Rear Rotor 11.6 inch single, fixed rotor
Actuation Method Hydraulic, DOT 4 fluid type
Wheels and Tires
Front Wheel 3.50 x 17 cast alloy, five double-spoke
Rear Wheel 5.50 x 17 cast alloy, five double-spoke
Front Tire 120/70 x 17 tubeless
Rear Tire 180/55 x 17 tubeless
Dimensions
Overall Length 91.3 inches
Overall Width 39.0 inches
Wheelbase 61.8 inches
Ground Clearance 4.6 inches
Seat Height 32.3 inches
Steering Angle 61.0 degrees
Front Wheel Trail 4.5 inches
Weight – Dry 549 lbs.
Weight – Wet 622 lbs.
Maximum Load 1147 lbs. GVWR
Standard Colors
Code  Price Description
946     N / C Dark Graphite Metallic
989     N / C Crystal Gray Metallic
997     N / C Deep Blue Metallic
Standard Equipment
773     N / C Seat – Black
Available Equipment
164     N / C Seat – Gray
171     N / C Side Cover Granite Gray Metallic
172     N / C Side Cover Dark Slate Metallic
320     $465.00 Xenon Light
416     $800 Electronic Suspension Adjustment (ESA)
431     $690 Equipment Package 1 (519, 538, 539)
432     $1560.00 Equipment Package 2 (416, 518, 519, 538, 539)
518     $280 Heated Seat
519     $235 Heated Hand Grips
530     $260 Tire Pressure Monitoring (TPM)
538     $325 Cruise Control
539     $275 On Board Computer (incl. Oil Level Warning)
553     $100 Tall Windshield
603     $235 Anti-Theft Alarm
650     $365.00 ASC
776     $N / C Seat Low (31.1 inches)
Specifications Canada:
BMW K1200GT

Engine
Type . . . . . . . . . . . . . . . . . . . . . . . Water-cooled, four-stroke-in-line-four-
cylinder-engine, dual camshaft, four
valves per cylinder
Bore x stroke . . . . . . . . . . . . . . . . 79 mm x 59 mm
Capacity. . . . . . . . . . . . . . . . . . . . 1,157 ccm
Output . . . . . . . . . . . . . . . . . . . . . 112 kW (152 bhp) at 9,500 rpm
Max. torque . . . . . . . . . . . . . . . . . 130 Nm at 7,750 rpm
Compression ratio . . . . . . . . . . . . 13:1
Fuel / engine management. . . . . . Electronic intake pipe injection /
BMS-K digital engine management system by integrated knock control
Emission control . . . . . . . . . . . . . Regulated 3-way catalytic converter
Performance / fuel consumption
Maximum speed. . . . . . . . . . . . . . Over 200 km/h (124 mph)
Fuel consumption per 100 km (62 mls.)
at constant 90 km/h (56 mph) . . . 4.8 l
at constant 120 km/h (75 mph). . 5.8 l
Fuel type . . . . . . . . . . . . . . . . . . . Super unleaded 98 (RON); by
automatic knock control but
can be operated up to minimum
octane rating 95 (RON)
Electrics
Alternator . . . . . . . . . . . . . . . . . . 945 W generator
Battery . . . . . . . . . . . . . . . . . . . . . 12 V / 19 Ah
Power transmission
Clutch. . . . . . . . . . . . . . . . . . . . . . Multi-disc oil-bath clutch,
hydraulically operated
Gearbox . . . . . . . . . . . . . . . . . . . . Synchromesh 6-speed gearbox
Secondary drive . . . . . . . . . . . . . . Cardan (shaft drive)
Chassis / brakes
Frame. . . . . . . . . . . . . . . . . . . . . . Bridging frame consisting of die-cast
aluminium, load-bearing engine
Front suspension. . . . . . . . . . . . . BMW Motorrad Duolever; central
suspension strut, rebound damping electronically adjustable via ESA*
Rear suspension. . . . . . . . . . . . . . Die-cast aluminium single-sided
swinging arm with BMW Motorrad
Paralever; central spring strut with lever system, continuously variable hydraulic spring preload adjustment via handwheel, electronic suspension adjustment, adjustable rebound damping
(with ESA* suspension adjustment compression and rebound damping
is electronic)
Travel front / rear . . . . . . . . . . . . . 115 mm / 135 mm
Wheel base (in normal position) . 1,571 mm
Castor (in normal position). . . . . . 115 mm
Steering head angle
(in normal position) . . . . . . . . . . . 61°
Wheels . . . . . . . . . . . . . . . . . . . . . Die-cast aluminium
Rims, front . . . . . . . . . . . . . . . . . . 3.50 x 17
Rims, rear. . . . . . . . . . . . . . . . . . . 5.50 x 17
Tyres, front . . . . . . . . . . . . . . . . . . 120 / 70 ZR 17
Tyres, rear. . . . . . . . . . . . . . . . . . . 180 / 55 ZR 17
Brakes, front . . . . . . . . . . . . . . . . EVO brake system with dual disc,
floating brake discs, 320 mm
diameter, four-piston fixed calliper
Brakes, rear . . . . . . . . . . . . . . . . . Single disc, diameter 294 mm,
two-piston fixed calliper
ABS . . . . . . . . . . . . . . . . . . . . . . . BMW Motorrad Integral ABS
(part-integral version)
Dimensions / Weights
Seat height, unladen . . . . . . . . . . 820/840 mm (lower seat*
800 mm and 820 mm)
Unladen, road ready, fully fuelled* 282 kg
Dry weight** . . . . . . . . . . . . . . . . 249 kg
Max. permitted weight . . . . . . . . . 520 kg
Max. load with standard equipment 238 kg
Usable tank volume . . . . . . . . . . . 24 l
Reserve . . . . . . . . . . . . . . . . . . . . Approx. 4.0 l
Length . . . . . . . . . . . . . . . . . . . . . 2,318 mm
Height (without mirrors). . . . . . . . 1,438 mm
Width (with mirrors) . . . . . . . . . . . 965 mm
Width (with panniers). . . . . . . . . . 990 mm

Specifications and features are subject to change