You are here: Home — New 2007 Models — 2007 Suzuki Motorcycle Models
2007 Suzuki GSX-R600
Back to 2007 Suzuki Motorcycle Index Page
Click photos to enlarge.
They make great desktop images.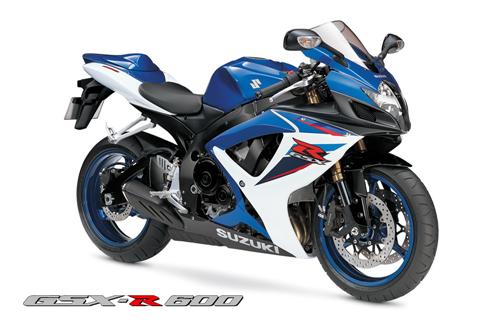 2007 Suzuki GSX-R600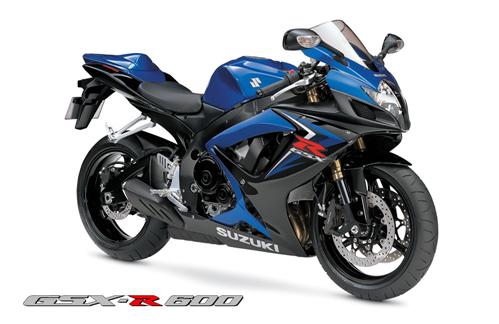 2007 Suzuki GSX-R600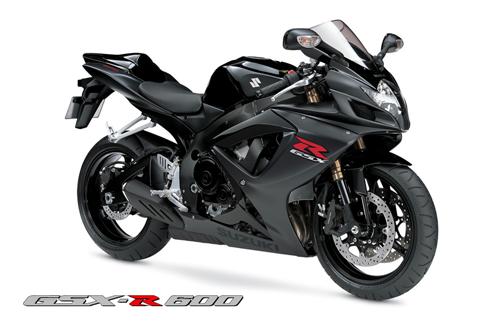 2007 Suzuki GSX-R600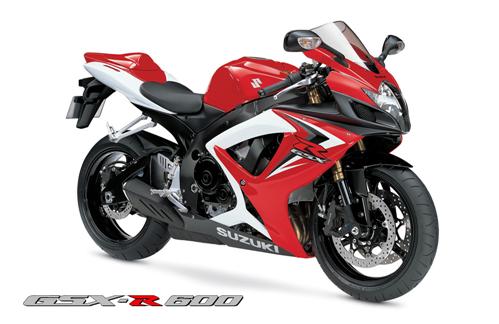 2007 Suzuki GSX-R600
– 2007 Suzuki GSX-R600

2007 GSX-R600
It started at racetracks far from Suzuki's Hamamatsu, Japan headquarters. A group of dedicated Suzuki engineers on an overseas fact-finding mission wandered through paddocks and spectator parking lots, looking at motorcycles and watching races.
The racers at these events didn't have factory contracts, and were not paid to race. They came because they loved the competition, the sport, and they rode motorcycles they bought themselves.
The race classes were defined by engine size, rider skill level and allowable modifications. The grids for 1000cc machines were packed with GSX-R1000s. The grids for 750cc machines featured row after row of GSX-R750s. But the 600cc grids were no longer completely filled with GSX-R600s. After years of trying, the middleweight competition had finally caught up, again.
The engineers worked stopwatches, talked to riders and mechanics, filled notebooks with observations and comments. They compared what they had seen at these regional races to what was happening in the World Superbike and AMA and other national Superbike series, and with the results from endurance series in Europe and the U.S.
By the time they returned to Japan, the engineers had a clear plan: Take everything Suzuki has learned from building and racing the dominating GSX-R1000 and use it to again leapfrog the would-be 600cc competition.
Apply the cutting-edge technology inherent in Genuine Suzuki Engineering, and build a new middleweight machine that defines the concept, The Top Performer.
In other words, produce a racer replica that delivers "the outstanding power-to-weight ratio, powerband and throttle response". A sportbike that also establishes the 600cc state-of-the-art in terms of throttle response, suspension performance, braking power. A motorcycle with the type of overall handling that inspires rider confidence and leads to quicker lap times. A machine infused with lessons from the racetrack.
Build the 2007 Suzuki GSX-R600.
And Own The Racetrack. Again.

Features:
Engine Features
– Ultra-compact and lightweight 4-stroke, 4-cylinder, liquid-cooled engine designed to be narrower and lighter with increased peformance and responsiveness

– Electronic fuel injection system features Suzuki Dual Throttle Valve (SDTV) system – with dual fuel injectors per cylinder for smooth throttle response and high torque output

– Cylinder head features titanium intake valves and exhaust valves utlizing a narrow valve angle for a compact combustion chamber and a 12.5:1 compression ratio

– Forged aluminum-alloy pistons feature short skirts with cutaway sides. New reshaped stronger chrome moly steel connecting rods are shotpeened to improve strength

– The crankshaft and transmisison shaft positions are positioned to make the crankcases compact front to rear and the engine has been rotated forward in the chassis for maximum performance

– Ventilation holes located between the cylinder bores are 39mm for reduced internal pumping pressure and reduced mechanical losses

– Large trapezoidal shaped radiator for maximum cooling capacity without increasing frontal area, plus compact cooling fan design further improves effeciency

– A back torque limiting clutch helps make quick downshifts smoother working in conjuction with an six speed transmission with carefully selected internal gear ratios aproviding awesome acceleration and superb shifting performance

– Stainless steel Suzuki Advanced Exhaust System utilizing an innovative under engine layout for optimum aerodynamics and maximum mass centralization

– Suzuki Exhaust Tuning system is built into the mid-pipe using a servo-controlled butterfly valve to tune the exhaust system to match engine rpm and improving low end torque


Chassis Features

– An aluminum-alloy frame utilizing five cast sections is engineered to deliver the ideal balance of rigidity for improved handling and less weight

– Braced aluminum alloy swingarm is rigid with a large 25mm swingarm pivot and the swingarm assembly is designed for optimum suspension feedback and rear wheel traction

– Innovative rear suspension linkage features a forged aluminum alloy link and one piece forged aluminum alloy link rod designed to increase traction and reduce side loads

– Inverted 41mm Showa front forks are fully adjustable for rebound, compression and preload settings with optimum rake and trail dimensions for incredible cornerting performance.

– Showa rear shock utilizes a 46mm piston and a large 16mm rod and is completely adjustable for rebound, high and low speed compression and preload damping

– Bridgestone tires mounted on cast aluminum wheels featuring thin spokes are optimized to reduce unsprung weight

– Radial mount four piston front brake calipers with 310mm rotors and a lightweight single piston rear brake caliper

– Three way adjustable footpegs can be moved into three different positions with a 14mm horizontal and vertical range

– Compact overall chassis dimensions including a short fuel tank, narrow width, and low seat height for improved rider comfort and mobility

– The compact lightweight instrument cluster features a step motor controlled analog tach, LCD speedometer, dual tripmeters, clock, fuel reserve and a gear position indicator

From the Press Release:
2007 Suzuki GSX-R600
Introducing the 2007 Suzuki GSX-R600, built to be the incredibly fast, unbelievably nimble and offering unmatched performance for the true sportbike rider.
Building on the passion and dedication found in all GSX-R machines, the '07 GSX-R600 combines the outstanding size and handling of a 600 with the mind-numbing performance of a liter-class machine.
The GSX-R600 utilizes a compact chassis, complete with an aluminum-alloy twin-spar frame built with optimum rigidity and maximum handling performance in mind. Rake and trail specifications have been chosen for razor sharp handling and the aluminum frame uses five cast sections for maximum control during production.
Forks are inverted 41mm Showa units with rebound, compression and preload adjustability for maximum rider control and a carbonized titanium fork coating for reduced friction losses of 15 percent. A braced aluminum swingarm works with a Showa rear shock absorber and an innovative rear linkage system with a forged aluminum link that pivots on the swingarm itself with a one-piece forged aluminum link rod connected to the frame. The rear shock absorber features adjustable preload and rebound settings along with adjustable high and low speed compression settings for optimum suspension tuning. Brakes feature a radial pump master cylinder and 310mm rotors up front and a lightweight single piston rear caliper.
Powering the GSX-R600 is a 749cc inline, water cooled, DOHC, four-cylinder engine with Suzuki fuel injection and an ultra-compact under-engine exhaust system. Bore and stroke measurements are 70.0mm x 48.7 with a compression ration of 12.5:1 and twin injector, 42mm Suzuki Dual Throttle Valve fuel injectors provide fuel and unmatched throttle control. Connecting rods are shotpeened chrome-moly steel and utilize a crankshaft designed with increased inertia for improved cornering performance and stability. Downshifts are a breeze with the proven slipper clutch system as found on the powerful GSX-R1000.
In an effort to maximize mass centralization for optimum handling performance, the GSX-R600 utilizes an innovative under-engine exhaust chamber. The all-new system offers the ultimate benefits of mass centralization with the exhaust system mounted completely under the engine, and provides an aggressive new look for the GSX-R600. The new exhaust system also uses the proven Suzuki Exhaust Tuning system for maximum torque.
Countless hours of wind tunnel testing have helped shape the look of the GSX-R600 resulting in a reduction in frontal area, decreased drag and a sharp overall look. The compact front fairing features an aggressive design, and when combined with the sharply styled fuel tank, upswept tail section with integrated turn signals creates an unmistakable and purposeful new look for the GSX-R600. All this combined with the new under-engine exhaust system create an aggressive and stylish look for the GSX-R600 along with unmatched aerodynamic performance.
It is possible to have it all with the GSX-R600. It is the perfect balance of unmistakable style, unmatched engine performance and world class handling. The 2007 GSX-R600 – the legacy continues.



SPECIFICATIONS:
MSRP: $8,899.00

Engine: 599cc,4-stroke,four-cylinder, liquid-cooled, DOHC, 16-valve
Bore Stroke: 67.0 x 42.5mm
Compression Ratio: 12.5:1
Fuel System: Fuel Injection
Lubrication: Wet Sump
Ignition: Digital/transistorized
Transmission: 6-speed, constant mesh
Final Drive: #525 chain
Overall Length: 2040mm (80.3 in.)
Overall Width: 715mm (28.1 in.)
Overall Height: 1125mm (44.3 in.)
Seat Height: 810mm (31.9 in.)
Ground Clearance: 130mm (5.1 in.)
Wheelbase: 1400mm (55.1 in.)
Dry Weight: 161 kg (354 lbs) CA Spec: 162 kg (357 lbs.)
Suspension Front: Cartridge-type, coil spring, fully adjustable spring preload, rebound and compression damping
Suspension Rear: Link-type, gas/oil damped, fully adjustable spring preload, compression and rebound damping
Brakes Front: Dual hydraulic disc
Brakes Rear: Single hydraulic disc
Tires Front: 120/70-ZR-17
Tires Rear: 180/55-ZR-17
Fuel Tank Capacity: 16.5 liter (4.4 gal.) CA Model: 15.5 liter (4.1 gal.)
Color: Blue/White, Red/White, Black/Matte Black, Blue/Black


All Specifications and features are subject to change