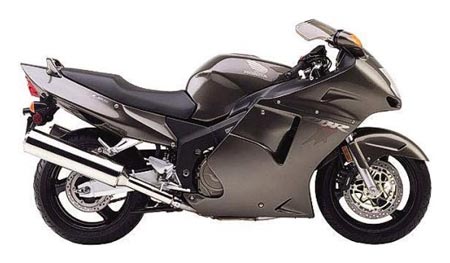 You are here: Home — 2000 Motorcycle Models — 2000 Honda Motorcycle Models
2000 Honda CBR1100XX Super Blackbird
Back to 2000 Honda Motorcycle Index Page
Click photo to enlarge.
It makes a great desktop image.


2000 Honda CBR1100XX Super Blackbird

 
– 2000 Honda CBR1100XX Super Blackbird

The sophisticated CBR1100XX rewards the mature big-bore sport bike rider with immense power, impeccable handling and Honda's unparalleled fit and finish.


Features & Benefits

New For 2000
· Rich Metallic Titanium paint

Engine
· Lightweight 1137cc liquid-cooled fourcylinder engine with one-piece upper crankcase cylinder block
· Side-mounted cam chain and ultra-narrow cylinder-sleeve spacing reduce engine size and weight
· Unique gear-driven dual engine-balancer system nearly eliminates high-frequency engine vibration
· Double overhead camshafts actuate valves using simple and direct cam-overbucket design
· Four valves per cylinder with a narrow, 30 degree valve angle for a compact combustion chamber and optimum power output at all rpm levels
· Ram-air system produces awesome power in mid- and upper-rpm operating range
· Electronic CPU provides two digital 3-D fuel injection maps for each cylinder and one digital 3-D ignition map for cylinder pairs, creating ideal fuel mixture and spark advance settings for superb response.
· Unique knock-control sensor monitors ignition advance and improves mid-range performance
· Slim-tipped NGK VX spark plugs offer high performance and minimal build-up for consistent operation
· 360-degree exhaust collector, combined with EFI and ignition settings, provides stunning mid-range power
· High-performance exhaust system features two 6.4-liter canister-style stainlesssteel mufflers polished to a satin finish
· Seven-plate clutch design features tough friction plate material and excellent durability
· Large-capacity aluminum radiator combines with high-efficiency oil cooler mounted directly beneath the steering head to help maintain optimum performance and long engine life.
· Oil-cooled alternator is powerful and compact
· Automatic cam-chain tensioner
· Six-speed close-ratio transmission.

Chassis/Suspension
· Twin-spar diamond-configuration aluminum frame offers lightweight and high rigidity
· Triple-box-section extruded aluminum spars are welded to a cast aluminum steering head and gravity die-cast aluminum pivot plates. The bolt-on seat rail is made of box-section steel
· Triple-box-section extruded aluminum 40mm x 90mm swingarm offers exceptional rigidity
· 43mm cartridge fork features the Honda Multi-Action System (HMASTM) for smooth, progressive action. Wide forged-aluminum triple-clamp offers light weight and high rigidity
· Pro-Link(R) rear suspension uses an HMAS rear damper and offers rebound damping and spring preload adjustability for a plush yet well-controlled ride
· Ultra-wide, hollow-section, triple-spoke cast aluminum wheels carry wide-profile Mono-Spiral radial tires
· Honda's third-generation Linked Braking System (LBSTM) uses a second master cylinder and a proportional control valve to couple the three-piston calipers of the dual-front and single-rear brake discs. Using either the handlebar lever or the foot pedal partially activates all three calipers, and the rider controls brake force distribution between the front and rear wheels depending on which control is used. As the rider increases braking force and weight transfers forward, the proportional control valve progressively shifts the balance of braking force in three steps toward the front wheel. A delay valve smoothes front brake engagement to minimize suspension dive when performing minor speed corrections using only the foot pedal
· 310mm floating front-brake discs use stainless steel mounting plates
· Rear brake disc measures 256mm

Additional Features
· Extensive wind-tunnel testing results in an extraordinarily low overall frontal area and one of the lowest drag coefficients in motorcycling, while maintaining a high level of wind protection and rider comfort. The drag coefficient (cg, a measurement combining drag and frontal area) of 0.00155 surpasses figures for most machines in the 250cc class
· The fairing features a very sharp nose, made possible by an innovative piggyback headlight design. The separate lowand high-beam units are each lighted by a powerful single-filament bulb, and the units are stacked, one on top of the other. The result is a narrow frontal aspect, with a very bright and extensive light pattern made possible by advanced multi-curvature reflector design
· The engine air-intake system consists of panels which isolate the system from the heat-producing radiator and engine area. Two large-capacity ram-air ducts feed air to the airbox and deliver it to the EFI system
· The fairing has been designed to reduce the number of panels. Gas-assist injection technology is used to increase strength and lower weight.
· Specially designed front fender features indented ducts on the top front area which create a wing-like low-pressure zone on the upper surface. This aids steering and helps counter the wind's effect on the front wheel. at Integrated, fully electronic instrument panel is lightweight and features a flexible thinfilm printed circuit board
· Front turn signals are integrated with the rear view mirrors, achieving improved airflow characteristics
· Large-capacity, 6.3-gallon fuel tank
· LED fuel gauge in instrument panel.
· Lightweight and strong O-ring-sealed #530 drive chain
· Underseat storage area designed to carry most U-type or cable locks. (Lock not included.)
· Tie-down bolts are provided at the sides of the seat and at the trailing edges of the passenger-peg mounting stays
· Left-side seat cowl opening reveals a frame-mounted handle to help lift the machine onto its centerstand
· Injection-molded nylon rear passenger grabrail is more comfortable to the touch than metal rails in chilly or hot weather. Convenient ignition switch/fork lock for added security
· Transferable one-year unlimitedmileage limited warranty
· Ownership includes one-year complimentary Membership in the Honda Rider's Club of America. Benefits include discounts, travel benefits, roadside assistance and much more. For HRCA details, call 1-800-847-HRCA.
Specifications:
Engine
1137cc liquid-cooled inline four

Bore and Stroke
79mm X 58 mm

Compression Ratio
11 : 1

Valve Train
DOHC, 4 valve, shim under bucket

Carburetion
PGM fuel injection with automatic choke

Ignition
Computer-controlled, with 3-dimensional mapping

Starting
Electric

Transmission
Close-ratio, 6-speed

Final Drive
O ring chain

Front Suspension
43mm cartridge fork, 120mm travel

Rear Suspension
Pro-Link, single shock with adjustable preload and rebound damping, 120mm travel

Front Brakes
Dual 310mm floating discs with three piston calipers, LBS.

Rear Brakes
Single 256mm disc with LBS triple piston caliper.

Front Tires
120/70 ZR – 17

Rear Tires
180/55 ZR – 17

Seat Height
810mm (31.9 in.)

Wheelbase
1490mm (58.7 in.)

Dry Weight
223 kg (492 lbs.)

Fuel Capacity
24 litres (5.2 Imp. gal.)


Specifications are subject to change without notice, in accordance with national regulation and legislations.