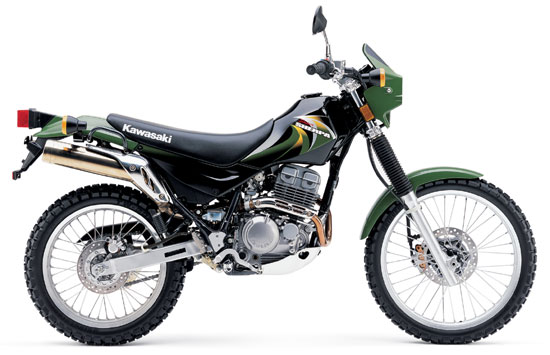 You are here: Home — 2009 Models — 2009 Kawasaki Motorcycle Models
2009 Kawasaki Super Sherpa
Back to 2009 Kawasaki Motorcycle Index Page
Click photos to enlarge.
They make great desktop images.
– 2009 Kawasaki Super Sherpa

2009 Kawasaki Super Sherpa
Economical dualsport offers low seat height electric starting and incredible value
The Kawasaki Super Sherpa® motorcycle is built to tackle a wide range of terrain and appeal to a broad spectrum of riders. Its light weight, maneuverability, low seat height, electric starting, ease of operation and outstanding fuel economy help make the Super Sherpa especially appealing to novice riders who are developing their riding skills. The classic European styling, responsive handling and easily modulated power from its 249cc four-stroke engine let more experienced riders enjoy it on the street, backroads or even in the dirt.
The Super Sherpa's air-cooled, dual overhead cam, four-valve single-cylinder engine is specifically tuned to produce a wide range of power to make it suitable for around-town commuting, running errands or trail riding. Its Mikuni carburetor provides good throttle response, but also delivers fuel sparingly – endowing the Super Sherpa with spectacular fuel economy.
Cooling fins on the cam covers and specially designed air passageways help to provide efficient engine cooling. Additional cooling capacity is offered by fins on the inside of the cam chain tunnel and on both the inside and outside surfaces of the clutch cover.
Narrow valve angles and a short connecting rod help reduce the overall size of the Super Sherpa engine so that it fits neatly into the compact, lightweight high-tensile steel frame. The comfortable seat is a low 32.7 inches, and its frame provides a narrow mid-section, so the reach to the ground is surprisingly-easy. That frame also features compact geometry to provide responsive handling and the ability to negotiate the tightest of trails.
Low-speed maneuverability is enhanced with a full 51 degree lock-to-lock steering angle for a great turning radius that's usable anywhere from campsite to campus. Rigid 36mm front fork stanchions also contribute to the Sherpa's responsive steering. Aluminum triple clamps help reduce overall weight, and 9.1 inches of front wheel travel helps to deliver a smoother ride than most street-only machines.
The box section extruded aluminum swingarm acts through Kawasaki's UNI-TRAK® system, to progressively increase the effective damping and spring rate from the single rear shock as the rear wheel arcs through its 7.3 inches of travel.
Powerful single disc brakes, front and rear, provide sure stopping power with responsive feel. Universal tires provide usable traction on the street or dirt.
The Super Sherpa's lightweight, compact multi-function digital instruments feature an electronic digital speedometer, dual tripmeters, an odometer and a clock. A compact, bright headlight also helps to save weight.
Other features include a quiet stainless steel exhaust system with spark arrestor, rear grab rails that help improve passenger comfort, as well as providing cargo tie-down and lifting points, and a 2.4-gallon fuel tank that maintains the machine's slim profile while giving the Super Sherpa a surprisingly-long cruising range.
Authentic Kawasaki Accessories are available through Kawasaki dealers.
Features


249cc Four-Stroke Single Cylinder Engine
– Strong performance in an economical package
– DOHC engine features four valves for efficient breathing
– Narrow valve angle for a compact combustion chamber and small cylinder head
– Specially-designed cooling fins and passageways route air for more efficient cooling
– Crankcase sight window for quick and easy oil level checks
Gear-Driven Engine Balancer
– Helps to counter-act primary vibration pulses
– Reduced vibration enhances rider comfort and lowers fatigue
Stainless Steel Exhaust System
– Looks good and resists corrosion
– U.S. Forest Service-approved spark arrestor/muffler only emits 80 decibels
34mm Mikuni Constant Velocity Carburetor
– Provides excellent fuel economy and quick throttle response
– Choke lever within easy reach on upper triple clamp
Electric Starting
– Provides quick, easy starting
– Uses a sealed, maintenance-free battery
– Ignition switch and fork lock combination
36mm Front Fork
– Aluminum upper and lower triple clamps reduce weight and provide optimum rigidity
– 36mm fork tubes provide a good balance between light weight and responsive steering
– 51 degrees of steering lock radius for easy maneuverability at low speeds
UNI-TRAK® Rear Suspension System
– Progressively increases the damping and spring rates as the suspension is compressed
– Swingarm is extruded box-section aluminum for rigidity and light weight
Disc brakes
– Front and rear disc brakes provide sure stopping power with minimal effort
Aluminum Rims
– Durable aluminum rims reduce unsprung weight for better suspension action
– Attractive gold finish
Digital Multi-function Meter
– Contains speedometer, dual trip meters, clock and odometer
Convenience Features
– Easy-to-use snail-type chain adjusters
– Durable O-ring chain
– Easy-to-service guillotine-style air filter
– Polished aluminum frame guards
– Chrome handlebars with brushed alloy clamps for an attractive appearance
– Engine case guard helps protect the engine from rocks and other collisions
2009 Kawasaki Super Sherpa – USA Specifications
MSRP: $5,599

Engine: 4-stroke, DOHC, 4-valve single cylinder
Displacement: 249cc
Bore x stroke: 72.0 x 61.2mm
Compression ratio: 9.3:1
Fuel System: Single 34mm Mikuni BST34 carburetor
Ignition: CDI
Transmission: 6-speed
Final drive: Chain
Frame: Semi-double cradle steel
Rake / trail: 28 degrees / 4.2 in.
Front suspension / wheel travel: 36mm telescopic fork / 9.1 in.
Rear suspension / wheel travel: Uni-Trak® single shock system adjustable preload and 20-way rebound damping adjustability / 7.3 in.
Front tire: 2.75 x 21
Rear tire: 4.10 x 18
Front brake / rear brake: Single hydraulic disc / Single hydraulic disc
Overall length: 81.9 in.
Overall width: 30.7 in.
Overall height: 46.9 in.
Ground Clearance: 10.6 in.
Seat height: 32.7 in.
Curb weight: 282.1 lbs.
Fuel capacity: 2.4 gal.
Wheelbase: 54.1 in.
Color: Olive Green / Ebony
MSRP: $4,499
Warranty: 12 months
Wholesale distributor: Kawasaki Motors Corp., U.S.A.
9950 Jeronimo Road
Irvine, California 92618
(949) 7700400
www.kawasaki.com

2009 Kawasaki Super Sherpa – Canada Specifications
TBA
2009 Kawasaki Super Sherpa – UK Specifications
MSRP: £0
Not Available in the UK

*Prices and specifications subject to change without notice.