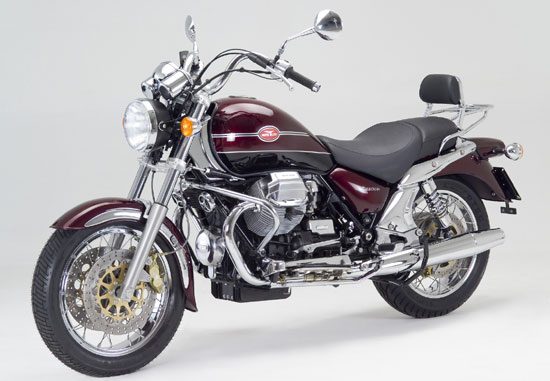 You are here: Home — 2009 Models — 2009 Moto Guzzi Motorcycle Models
2009 Moto Guzzi California Classic
Back to 2009 Moto Guzzi Motorcycle Index Page
Click photos to enlarge.
They make great desktop images.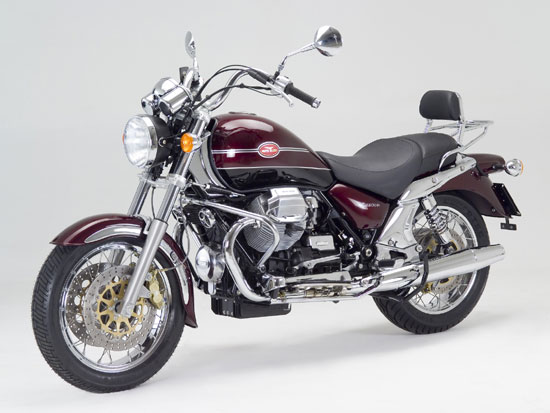 2009 Moto Guzzi California Classic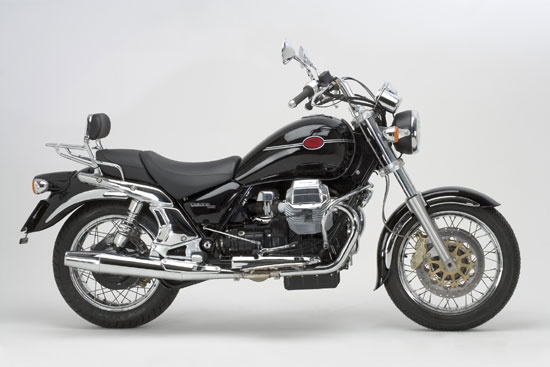 2009 Moto Guzzi California Classic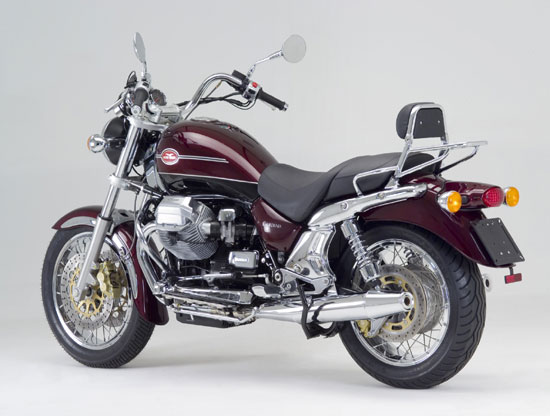 2009 Moto Guzzi California Classic
– 2009 Moto Guzzi California Classic

2009 Moto Guzzi California Classic
The secret of eternal youth. If the elixir of eternal youth exists, Californian the Guzzi Motorcycle must know it very well. After having undamaged past from a millenium to another one and through whole generations, now it presents/displays one more a freer version and stretched of the motociclismo and one goes to the encounter of year 2007 with the overwhelming Classic version, fruit of a deep renovation that begins in its interior. The bicylinder in V of 90°, the emblem of the house, has borrowed the own thermal elements from Breva 1100 to obtain an unpublished standard of reliability.
The components of the motor have been first in undergoing an energetic cure of thinning destined to reduce the weight and to increase the efficiency. While their connecting rods and pistons were lightened, the relation between the length of the connecting rod and the route of the piston increased in order to be able to contain the inertia of the masses in movement and to reduce the vibrations. Now to travel is pleasanter thanks to the modifications conducted in the valves. The guides of sinterized material assure a constant action, and the spill valves of Nymonic increase the resistance to the high temperatures and the wearing down, contributing a duration superior. The distribution is the responsibility of the very proven ones and trustworthy mechanical raise-valves, the alternator has increased and the steering wheel has modified. The ciclística continues being the same that anywhere in the world made the comfort famous of Guzzi Motorcycle, but now a braking distributor has gotten up itself whose operation is much more effective. To the always alive character of its design, own of a motorcycle of young spirit, there are addition some I touch to him of distinction, as the new protections of the covers of the regulator and the new screens between the cylinders and the deposit. California Classic is prepared to travel to the new century dressed in its more classic colors: Red Race, Black Guzzi and Gray/White.
2009 Moto Guzzi California Classic – USA Specifications
MSRP: $TBD USD

Model not available in North America. See California Vintage


2009 Moto Guzzi California Classic – Canada Specifications
MSRP $0 CDN
Model not available in North America. See California Vintage

2009 Moto Guzzi California Classic – European Specifications
MSRP: £TBD

ENGINE
Type : 90° V-Twin, 4 stroke
Cooling system : air cooled
Displacement : 1,064 cc
Bore and stroke : 92 x 80 mm
Compression ratio : 9.8 : 1
Timing system : 2 overhead valves moved by light alloy push-rod sand rocker arm with mechanical tappets
Valve timing : Intake open 24° B.T.D.C.
intake close 52° A.B.D.C.
exhaust open 54° B.B.D.C.
exhaust close 22° A.T.D.C.
Maximum power : 54 kW at 6,400 rpm
Maximum torque : 94 Nm at 5,000 rpm
Fuel system : Magneti Marelli IAW alfa-n system Multipoint phased sequential fuel; 2 throttle bodies of 40 mm with injectors Weber IW 031
Starting system : electric
Ignition : Magneti Marelli IAW 15RC electronic digital ignition; twin spark
Exhaust system : steel, 2 tubes connected to an expansion room, that is connected to 2 steel mufflers; three-way catalyzer with Lambda sensor (Euro 3)
Homologation Euro 3
Lubrication : with lobes pump and pressure regulator

TRANSMISSION
Gearbox : 5 speed, costant mesh gears with built-in cush drive
Internal ratios : 1° 14/28 = 1:2
: 2° 18/25 = 1:1.389
: 3° 21/22 = 1:1.048
: 4° 23/20 = 1:0.870
: 5° 28/21 = 1:0.750
Primary drive : by helical gears, ratio 17/21 = 1: 1.235
Secondary drive : shaft drive, ratio 8/33 = 1:4.125
Clutch : dual disc dry with mechanical control