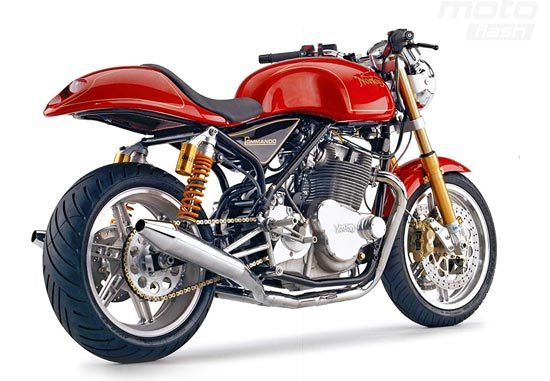 You are here: Home — 2009 Models — 2009 Norton Motorcycle Models
2009 Norton 961 Commando
Back to 2009 Norton Motorcycle Index Page
Click photos to enlarge.
They make great desktop images.
– 2009 Norton 961 Commando

2009 Norton 961 Commando
Introducing the NEW Norton Commando

The 961 Commando represents a new beginning for Norton Motorcycles. Designed and built from the ground up, this bike continues the Norton legacy of defined style and performance.
This modern roadster reflects the soul of the original machine. Classic sculptural forms are combined with raw functionalism, laying beautiful shapes over a structural frame and muscular motor; resulting in a visual language that is both sensual and purposeful. With a very narrow waist and curves in just the right places, the 961 is a bike that feels as good as it looks.
Features and Benefits:
Engine
Simple and direct engineering solutions are employed to create a motor that is visually and mechanically elegant; efficiently assembled in production, and easily maintained or upgraded in the owner's garage.

Chassis
Carbon Fibre wheels reduce un-sprung weight; while 43mm, 3-way adjustable Ohlins front forks, and 4-way adjustable "piggy back" rear shocks provide an unparalleled connection with the road. Brembo Gold Line brakes combine excellent power and sensitive feedback. The chro-moly tubular steel frame and formed aluminium swing-arm, with a 56.5 inch wheelbase, 24.5 degrees of rake and 4 inches of trail provide athletic handling in the mountain passes and relaxed handling in hi-speed sweepers or just along the open road. Careful engineering analysis using FEA and physical testing has been employed to optimise the design for performance and safety.


Controls and Gauges
Reminiscent of the old Smith gauges, the instruments are modern-classics; electronic control, traditional layout and modern LCD display features create an easy-to-read minimal effect. Tapered aluminum handlebars and quality switchgear round out the rider input and display components.

2009 Norton 961 Commando – Specifications
MSRP* $Pricing available mid 2009


Frame
Frame material: 4130 chromoly steel
Swing arm: Formed Aluminium
Oil capacity: oil-in-frame backbone tank holds 3.5 qts of oil
Wheelbase: 56.5″
Rake: 24.5 degrees
Trail: 4 "
Front suspension: 43mm Ohlins RSU – Adjustable preload, compression, and rebound damping.
Rear suspension: Ohlins reservoir-style twin shocks – Adjstable ride height, preload, compression, and rebound damping.
Front wheel: 3.50 X 17″ BST Carbon Fiber
Rear wheel: 5.50 X 17″ BST Carbon Fiber
Front tyre: 120/70 X 17″ Michelin Pilot Power
Rear tyre: 180/55 X 17″ Michelin Pilot Power
Front wheel travel: 5.5″
Rear wheel travel: 4.0″

Brakes & Hydraulics
Front rotors: Brembo 320mm semi-floating hi carbon stainless steel
Rear rotors: Brembo 220mm rear rotor
Front calipers: Brembo 4 piston "Gold Line"
Rear calipers: Brembo 2 piston "Gold Line"
Power Assembly
Engine type: Parallel twin with push-rod valve actuation, dry sump
Displacement: 961 cc
Cooling system: Air
Valve Actuation: Push rod, hydraulic lifter, two valves per cylinder
Bore x stroke: 88 mm X 79 mm
Compression ratio: 10.1:1
Horsepower: 80 rear wheel @ 6500RPM
Torque: 65 foot pounds @ 5200RPM
Exhaust:1 3/4″ header system with merged collector and twin silencers with catalytic converters.
Ignition: Crank fired electronic
Carburetors: Twin 39mm Keihin FCR

Transmission
Gearbox: 5 speed
Final drive: 520 "O" ring chain
Clutch: Cush drive clutch
Primary drive: Direct gear drive
Electronics & Controls
Charging system: 300 watt hi-output charging system
Instrumentation: Norton electronic analogue speedo and tachometer w/dual trip meters

Miscellaneous
Fuel tank capacity: 17l (4.5 US gallons)
Dry weight: 188kg (415lbs)
Seat height: 813mm (32″)
Oil capacity in frame: 3.3l (3.5 US quarts)
Gear case oil: 1.4l (1.5 US quarts)
Available colors: Black
Specifications are subject to change without notice.

Specifications, appearance, and price of product are subject to change without notice.
Media Press Release
Norton Comes Home!!!
Category: Norton Racing, Press Clipping
By: Tony Norton
After nearly fifteen years of US ownership, Norton, the quintessential and most famous of British motorcycle brands returns home.

After nearly fifteen years of US ownership, Norton, the quintessential and most famous of British motorcycle brands returns home.
As a result of prolonged negotiations and a multi-million pound deal we can announce that the Norton motorcycle brand is, at last, back in caring British hands.
Stuart Garner a UK based businessman and owner of Norton Racing Ltd has bought back all the trademarks and development work relating to the Norton, Manx, Atlas, Commando and Dominator brands.
Norton Racing Ltd is already in development of a new rotary engined race bike and now with the ownership of the brand itself plans are being developed to introduce a new road bike for 2009.
'This has been a challenging and exciting period for us' Commented Garner 'We are proud to have brought the brands back home and we now intend to focus on re-establishing Norton as a premier motorcycling brand across the World' he added.
In the early nineties the brands were bought by Norton Motorcycles Inc in the USA with the view of developing a new Commando road bike for the US market. Nearly $10 million was spent on IP, design and development, and this development work has formed part of the new deal. The investment can now be brought to bear on the new global project for the Norton Commando 961.
Norton intend to develop a strong presence on the track and on the road during 2009 with a new 15000 sq foot factory and office complex based at Donington Park – Norton are at the heart of motorcycle racing once again and committed to investment to make the initiative work.
As well as creating a new 'state of the art' road bike the Norton brands will see a vigourous licensing programme through Norton Global Brands to safeguard and develop licensing of all kinds from spare parts to clothing.
Commenting on the programme Garner said 'Our trade marks and brand have incredible strength and value, we will strongly enforce our position as the new owners of these world famous brands and ensure our new partners benefit from a robust protection programme going forward'.
'This is the beginning of a new and exciting era in a brand that was started over 100 years ago by James Lansdowne Norton. It has sustained ups and downs over the years but still stands for performance and excellence. These will be the standards we live by from now on' stated Garner.