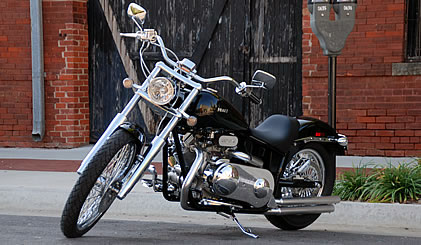 You are here: Home — 2009 Models — 2009 Ridley Motorcycle Models
2009 Ridley Auto-Glide TT
Back to 2009 Ridley Motorcycle Index Page
Click photos to enlarge.
They make great desktop images.
– 2009 Ridley Auto-Glide TT

2009 Ridley Auto-Glide TT
Personality is the vital spirit of this years' Auto-Glide Limited. The custom styling and unique features set the '09 Limited apart from the rest. It is the first ever Ridley to feature an electronic fuel gauge. That along with its custom black and black cherry paint, and tan leather seat make this a true collectors piece.

Features & Benefits

FEATURES
– Ridley 750 V-Twin – Type II Automatic Transmission
– 4.2 Gallon Stretched Fuel Tank – Mechanical Parking Brake
– Right Side Final Drive – Chrome/Rubber Hand Grips
– Cruiser Handlebars – LED Turn Signals
– Chrome Billet Headlight – LED Speedometer
BENEFITS
– Twist & Go Centrifugal Clutch – Low Center of Gravity
– Low 24.5″ Seat Height – Incredible Attention to Detail

MODEL PRICING
Base Model MSRP : $17,750
Delivery : $650
MSRP : $18,400

OPTIONS
Paint : Pearl/Premium Paint +$300
Paint : Deluxe Two Tone Paint +$500
Paint : Tribal Flames Paint +$900
Paint : Traditional Flames Paint +$900
Paint : Faded Flames Paint +$1100
Paint : Key Color Frame +300
++ White Pearl / Candy Red / Candy Blue

Tires : White Wall Tires +$100

Ergo : Pullback Handlebars +$100
Ergo : Ape Hanger Handlebars +$80
Ergo : Beach Bar Handlebars +$20

Seat : Touring (Black or Gray) +$140
Seat : Studded Touring (Black) +$180
Seat : Two Up (Black or Gray) +$75
Seat : Passenger Pinion (Black) +$161

2009 Ridley Auto-Glide TT – USA Specifications
Base Model MSRP : $17,750 + Delivery : $650 + MSRP : $18,400
ENGINE
Manufacturer : Ridley®
Configuration : 90° V-Twin
Displacement : 750
Cooling System : Air
Compression Ratio : 8.5 : 1

DRIVE SYSTEM
Transmission Type : Automatic CVT
Clutch Type : Centrifugal
Engagement RPM : 1100 RPM
RPM @ 85 MPH : 3600 RPM
Primary Drive : Belt
Final Drive : Belt

SIZES & WEIGHT
Dry Weight : 460 lbs. / 209 kg
Wheelbase : 67″ / 170.1 cm
Overall Length : 99″ / 251.5 cm
Seat Height : 24.5″ / 62.2 cm

BRAKES
Brake Type : Hydraulic (DOT 5)
Front Brake : Four Piston
Rear Brake : Four Piston