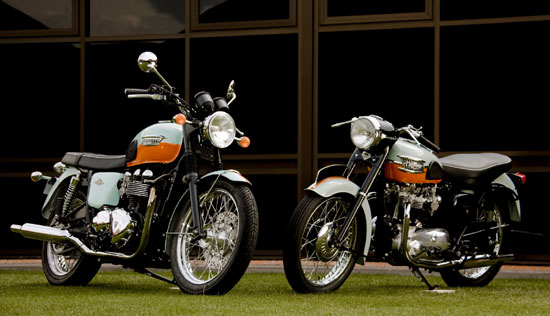 Great looking, big and glossy photos! Less reading, more looking!
Introducing the new 2009 Triumph Motorcycles.



Modern Classics
You've just cleaned it, a final wipe over as it gleams in the sunshine. Step back and look at the bike, but for once resist the urge to get on it and ride it. Take a moment to think. What was it that led you to a Triumph in the first place? Was it the history of our parallel twins? Our racing heritage on tarmac, dirt and oval tracks? Was it because you saw Steve McQueen or Evel Knievel ride one? Or was it simply because your Dad had one and said it was the best bike he ever had? Names like Speed Twin, Thunderbird and Bonneville, immortalised by a sense of pride, depth and real history. It's a glorious past from a British motorcycle manufacturer that still proudly makes bikes like this today. Now take it for a ride and see how you feel.

The Triumph badge has been proudly displayed on world class motorcycles since 1902 and on our famous parallel twins since 1922. Someone once said back in the 60's that A Triumph looked, ran and sounded the way a motorcycle should look, run and sound and that's as true today, with our Modern Classic bikes, as it's always been. Like British rock, they are Triumph, through to the core. They create a passion that will continue to burn in our riders and temper the people who work in our company. We continually develop our bikes to comply with modern standards, whilst keeping an eye firmly on our heritage. The authentic Triumph parallel twin will always be unmistakable and unique. Faithful to the style, the sound and the passion that made a Triumph a great motorcycle in the first place.

– 2009 Triumph Bonneville
– 2009 Triumph Bonneville SE
– 2009 Triumph Bonneville T100
– 2009 Triumph Bonneville T100 50th Anniversary
– 2009 Triumph Scrambler
– 2009 Triumph Thruxton

 

Urban Sports
The Urban Sports Range – We think it's a perfect formula for a sportsbike. The three cylinder engine is part of Triumph's unique heritage. It delivers the right amount of power and a strong spread of torque for a different kind of ride. Whether it's a 675cc or 1050cc, a Speed Triple, Street Triple, Sprint ST, Tiger or a Daytona 675, these bikes are tuned, set up and balanced with the rider in mind. They inspire confidence and have an intuitive and sure footed feel. They are what we like to call complete and mature motorcycles with performance you can use everyday and not just on a trackday. However, we know there will always be those who need an extra cylinder to be like everyone else, but we're not buying into that. How about you?

Ask any one of our engineers or designers about their journey to work and they'll tell you they can go one of two ways. Turn right, to take the quick route, or turn left to take the longer route where the roads twist and turn and make mornings even more of a pleasure before working on what they believe to be the best bikes in the world. They turn left.

It's people like this who keep us connected to our riders. We need to know how a bike handles, turns, stops and goes. So we test them ourselves constantly monitoring views and feedback to produce a bike that is just right. Only then do we go to production. Nothing here is rushed out of the gates…unless it's something we can't wait to test!

– 2009 Triumph Street Triple
– 2009 Triumph Street Triple R
– 2009 Triumph Street Triple Carbon Edition (UK only)
– 2009 Triumph Speed Triple
– 2009 Triumph Speed Triple 15th Anniversary Edition
– 2009 Triumph Daytona 675
– 2009 Triumph Daytona 675SE Special Edition
– 2009 Triumph Sprint ST
– 2009 Triumph Tiger
– 2009 Triumph Tiger Special Edition





Cruisers
The Cruiser Range -It starts with a gut feeling, a tingle of anticipation when an idea for a new bike comes along. We instinctively know what the rider wants because we are just as passionate about riding bikes as we are about building them. More often than not, we know what the finished product will look like even before pen meets paper. Our enthusiasm and creative energy is a formidable combination that gets things done and makes things happen. Things like how the engine works with the chassis, how the bike turns, how it pulls away from stop or how it feels when you just sit on it. The sound is as important to us as it is to you and you'll feel it the moment you hear a Triumph triple, or parallel twin, crack into life. All will become clear from the first day you ride one of our bikes, the day you go your own way.

You can't put it into words, it's an intangible feeling, the moment you know when it all feels right. You, the bike, the road and everything around you. It could be a great corner that you've only just discovered, or it could be just someone walking by who happens to notice the bike you've just parked. You feel proud that you made the choice to ride a Triumph because, above all, it says that you are the type of rider that puts riding first. It's all the things we know about riding too and what we believe makes a Triumph a Triumph. However, for the benefit of our tireless engineers and designers who create our incredible machines please take a look at the spec sheet. It shows how passionate we are about our bikes, but it's not all in there…the rest of it you'll find out for yourself when you first ride a Triumph Cruiser.

– 2009 Triumph Speedmaster
– 2009 Triumph America
– 2009 Triumph Rocket 3 (Rocket III)
– 2009 Triumph Rocket 3 Classic (Rocket III Classic)
– 2009 Triumph Rocket 3 Touring (Rocket III Touring)
– 2010 Triumph Thunderbird

 
The Inside Track
– Industry News, Rumors, Spy Shots and information
– Manufacturer websites worldwide

 

Although the Triumph range is divided into three distinct segments – Urban Sports, Modern Classics and Cruisers – all Triumph motorcycles share several fundamental characteristics:

1.)- Powered by either parallel twin or in-line triple cylinder engines, which have a charismatic sound and distinctive feel and deliver a broad spread of truly usable power. 2.)- Stylish and unique looks with great attention to detail. Design is always purposeful, blending form with function, to deliver a beautifully crafted machine where the looks are backed by genuine, well-engineered substance. 3.)- A well-balanced chassis with class-leading handling; Triumphs are intuitive and incredibly easy to ride.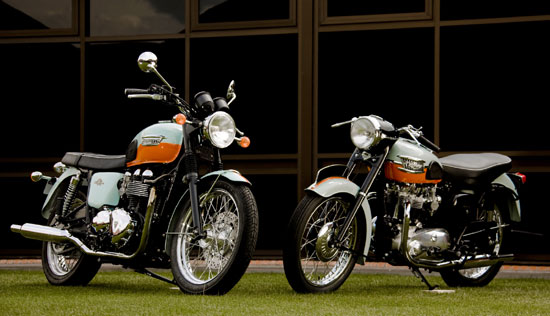 2009 Triumph Bonneville T100 50th Anniversary Edition
– Industry News, Rumors, Spy Shots and information
Total Motorcycle is constantly on the look out for new 2010 and beyond motorcycle model information, industry rumors and spy shots. As we hear, conduct interviews and find the latest information we will post it here for you to read, share and enjoy.

Total Motorcycle Community Forums

Motorcycle Rumor Mill & New Model News Forum

Massive Motorcycle Specifications Handbook 1980-2009

Total Motorcycle's Big Book of Concept Bikes

Don't forget to check out our Huge Motorcycle Photo Gallery with thousands of photos for you to enjoy!

 
– Manufacturer Websites

Triumph