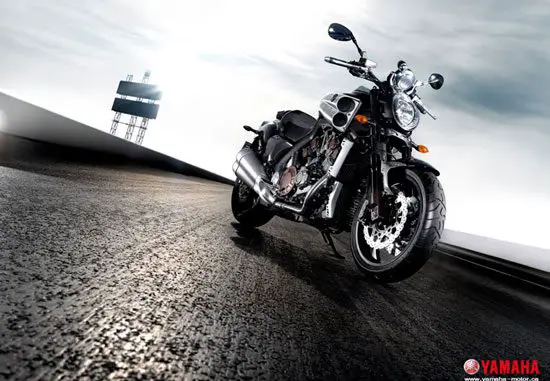 You are here: Index — 2009 Models — 2009 Yamaha Motorcycle Models
2009 Yamaha VMax VMX17
Back to 2009 Yamaha Motorcycle Index Page
Click photos to enlarge.
They make great desktop images.
NOTE: Also see the 2009 Yamaha VMax European Edition for more information and photos

• 2009 Yamaha VMax VMX17

2009 Yamaha VMax VMX17
The legend is re-born.
In '85 the original V-Max turned the motorcycle world on its ear. Our engineers took a big dose of the original "Mad Max" DNA then added a bunch of Yamaha's latest sport bike technologies like our chip controlled variable intake stacks, a new high tech fuel injection system and our famous fly by wire throttle. The result is stunning. The legendary sound, engine character and amazing acceleration are all part of the 2009 design but there is a twist. The new VMAX offers truly sporty handling, thanks to its new lightweight aluminium chassis and fully adjustable suspension. We even improved rider comfort. Scorched any pavement lately?
Rocket Science
The VMAX has always been the muscle bike to end all other muscle bikes. Commanding respect, triggering fear. Now, the all-new 2009 VMAX. Re-thought, reloaded, with a major chip on its shoulder. The 2009 Yamaha VMAX – We didn't just improve a legend; We started a whole new one.
1985: The birth of a legend
Back in the '80s the big V8 muscle car was the undisputed boss on the strip in the USA, and in both the car and the bike drag race scene, the large-capacity engine was king. A quarter of a century ago, cubic capacity ruled – and Yamaha captured the true spirit of the time with the introduction of the awesome VMAX in 1985. With its massive 1,198cc V4, 4-stroke, 4-valve DOHC engine kicking out 140PS, this radically-styled muscle bike became an instant legend which established itself as the definitive cult-bike. With around 100,000 units sold during its production run that spanned three decades, the original VMAX made history by being included in the Guggenheim Museum's 'Art of the Motorcycle' exhibition while still in production. There has never been anything to beat it…until now…

2008: The rebirth of a legend
During the late 90's Yamaha's VMAX project team started to work on the rebirth of a legend. The team understand just how special the original VMAX is to its owners – as well as those fans who admired the bike without ever riding one. The project team identified a set of four goals that would enable them to create a worthy successor to the legendary original model.
– Awesome acceleration feeling together with strong performance
– Distinctive, precise and sharp handling
– A sophisticated chassis with unique bodywork
– Compliant to EU3 regulations

With these main aims in mind, the development team have created an all-new powerful state-of-the-art 1,679cc V4 engine providing 200 PS and 166.8 Nm of torque combined with Yamaha's finest and latest electronic engine control technology such as YCC-I and YCC-T. We've also created an all-new low-profile diamond-type frame, which uses the engine as a stressed member in order to deliver the right balance of rigidity, which makes for excellent straight line stability – together with precise and sharp levels of cornering. All packed in a head-turning and forceful appearance.
Owners of the original model – as well as newcomers to the VMAX world – can be sure that the new VMAX delivers an unforgettable combination of innovation and acceleration.
The new VMAX stays true to the philosophy of the genuine hot-rod. Imagine yourself gripping the drag bars and feeling the mega-wide 200/50 R18 rear tyre transfer all the V4's incredible 200 PS and 166.8 Nm of throbbing torque to the ground – it's got to the ultimate adrenaline ride. We are proud to say the VMAX is back!
Key Features USA Model: (Canadian Model Below)
All-New for 2009

– The long-awaited ultimate power cruiser delivers unmatched performance from its all-new 65-degree, four-valves-per-cylinder, 1679cc V4—plenty of eye-opening, controllable acceleration from a compact engine that looks as powerful as it is.

– Downdraft four-bore fuel injection with YCC-I intake technology and YCC-T fly-by-wire throttle provide awesome acceleration throughout the broad powerband.

– Lightweight aluminum chassis puts the engine low and forward for mass centralization, resulting in a machine designed to handle curves as well as straightaways.

– Borrowing liberally from advanced sportbike technology, VMAX features a slipper clutch, wave-style brake discs with ABS and Brembo® master cylinders and complete suspension adjustability front and rear.


Engine:

– A new-generation V4: The thunderous 1679cc, 65-degree, liquid-cooled, fuel-injected four-valves-per-cylinder, DOHC engine pumps out astonishing power to reinvent the VMAX legend.

– The sportbike-proven Yamaha Chip Controlled Intake (YCC-I) switches nearly instantaneously between 150mm and 54mm intake funnels as needed for a broad powerband that delivers optimum performance at any rpm.

– Yamaha Chip Controlled Throttle (YCC-T), the fly-by-wire system, delivers flawless response every time the rider twists the throttle.

– Engine combines four-valve technology with a high 11.3:1 compression ratio, forged aluminum pistons and NGK® Iridium spark plugs with R1-type direct ignition coils to extract maximum horsepower from the fuel charge.

– Cams are driven by a combined chain and gear system to precisely control valves while keeping cylinder heads remarkably compact for such a large displacement engine.

– Hydraulically activated clutch includes racetrack-proven ramp-type slipper clutch system that makes braking from speed while downshifting smoother.

– Five-speed transmission has superbly spaced gear ratios to take full advantage of the engine's awesome power in straight-line acceleration or through the canyons.

– Delivering this power cruiser's muscle to the street means a beefy shaft drive just like its predecessor. Special shaft design includes two cross joints to accommodate the fat 200/50 R18 rear tire.

– The high-performance engine is cooled by two radiators for efficiency and clean looks. Lubrication is via a simple, reliable wet sump system.

– Four-into-one-into-two-into-four exhaust system with EXUP (Exhaust Ultimate Power valve) delivers a broad, seamless powerband with the right VMAX look.

– The iconic VMAX aluminum intake covers are hand buffed by craftsmen for superb quality and individuality.


Chassis/Suspension:

– The newly designed chassis is light and compact, with a cast aluminum main frame, CF die-cast and extruded aluminum rear frame and cast aluminum swingarm. The result is superb rigidity balance for both hard acceleration off the line and corner carving.

– Cartridge-damper-type front forks have substantial 52mm inner tubes with oxidized titanium coating. Forks have both compression and rebound damping adjustability plus spring preload.

– Link-type Monocross® rear suspension has a piggyback reservoir and features compression and rebound clickers, plus remote preload adjustment.

– VMAX uses Brembo®-designed master cylinders, the front with radial pump and reserve tank. Large 320mm wave-style dual front discs are matched to radial-mounted mono block 6-piston calipers. On the rear wheel, there's a 298mm disc, also wave design, and single-piston caliper. These high-tech brakes also incorporate three-position ABS.

– Tapered handlebar provides a muscular 1-1/8" diameter look at the triple clamp while using conventionally sized controls.

– Newly designed 18-inch radial tires, 120/70 R18 front and 200/50 R18 rear, are mounted on cast aluminum five-spoke wheels.

– For mass centralization that contributes to the bike's lean looks, the 4 gallon (15-liter) fuel tank is mounted under the seat, with the filler under the rider's backrest. Tank is constructed of fluorinated polyethylene with superb permeability resistance.


Additional Features:

– The Electronic Control Unit (ECU) uses three microprocessors to control fuel injection, ignition, YCC-T, YCC-I, meters and other electrical components.

– The instrument panel includes an analog, step-motor driven tachometer and digital speedometer with LED indicator lights. Prominent LED shift timing indicator adds to the performance character of the new VMAX.

– Organic electro luminescence multi-function display provides a more precise display vs. LCD and includes clock, fuel meter, trip meter with fuel reserve trip meter, transmission gear position, coolant temperature, stopwatch and more.

– Distinctive key design reinforces the unique character of this new VMAX.
H4 60/55W headlight provides excellent visibility and distinctive style, while the trick-looking LED taillight is light, bright and highly efficient.

– Rare earth magnet AC magneto puts out a robust 420W at 5000 rpm.


2009 Yamaha VMax VMX17 – USA Specifications
MSRP* $17,990 (Intense Black) Available from November 2008


Engine
Type 1679cc liquid-cooled 65° V-4, DOHC, 4 valves/cylinder

Bore x Stroke 90.0mm x 66.0mm

Compression Ratio 11.3:1

Fuel Delivery Fuel Injection with YCC-T and YCC-I

Ignition TCI

Transmission 5-speed, multiplate slipper clutch

Final Drive Shaft


Chassis
Suspension/Front 52mm telescopic cartridge fork w/oxidized titanium coating. Fully adjustable preload, compression and rebound; 4.7 in travel

Suspension/Rear Single shock w/remote reservoir and remote adjustable for preload, compression and rebound

Brakes/Front Dual 320mm wave-type discs; radial mount 6-piston calipers, Brembo® radial pump master cylinder

Brakes/Rear 298mm wave-type disc, single-piston caliper and Brembo® master cylinder

Tires/Front Bridgestone® Radial 120/70-R18 59V

Tires/Rear Bridgestone® Radial 200/50-R18 76V


Dimensions
Length 94.3 in

Width 32.3 in

Height 46.8 in

Seat Height 30.5 in

Wheelbase 66.9 in

Rake (Caster Angle) 31.0 in

Fuel Capacity 4.0 gal

Wet Weight 683 lb / 685 lb (CA model)


Other
Warranty 2 Year (Limited Factory Warranty) with Priority Delivery Program

Key Features Canada Model:
Engine:
All-new liquid-cooled, 1,679cc, DOHC, 16-valve, 65°, V-4 engine has no equal in its class. This new engine is more compact front to back allowing the engineers to place the engine in the "sweet spot" of the frame.
DOHC 4-valve "pent roof" cylinder head design provides optimum breathing efficiency for incredible engine performance. Valve actuation is via under bucket shims. Compression ratio is 11.3:1.
Steel valves are used for excellent durability. Intake valves are 34mm in diameter with a 14-degree valve angle while exhaust valves are 30mm with a 15 degree valve angle.
New "combination" chain and gear camshaft drive system is utilized. With this system, only the intake cams are driven by a chain (attached to the crank), the exhaust cams are driven by a gear drive off the intake cams. This design allows for more compact cylinder heads since the distance or "pitch" between the camshafts can be reduced.
Newly designed high-performance camshafts provide incredible engine performance. Centrifugal decompression device on the exhaust cam means fast, easy starting.
Automatic hydraulic cam chain tensioners reduce engine mechanical noise.
Lightweight, forged, aluminium short skirt pistons help provide fast throttle response, reduced vibration and provide excellent durability.
Connecting rods are carburized and use a nutless design. The lower end "cap" of the rod is made from the same piece of material as the upper portion; this design is known as "fracture splitting". This design aids in establishing true big end roundness, greater precision in con rod dimensions and are extremely durable.
New design 180-degree crankshaft is utilized.
Gear-driven engine counter balancer shaft is used to reduce vibration and maximize rider comfort. The balance ratio is 50% to allow some pulse feel. Since the crank design is 180 degrees, there is also some inherent natural balancing effect as well.
Twin radiator design features a curved upper rad and lower flat rad for maximum cooling efficiency. Each rad has its own cooling fan.
An oil-to-coolant heat exchanger type oil cooler maintains stable lubricant temperatures for increased performance and extended engine life.
Wet sump oil lubrication system is used and features a spin-on cartridge-type oil filter.
Mikuni fuel injection system uses four 48mm throttle bodies fitted with T.P.S. (Throttle Position Sensor) and numerous other sensors. An oxygen sensor has been fitted into the exhaust making this a "closed loop" type FI system. The benefits include excellent throttle response, great fuel economy, reduced emissions, stable idling and no choke to fuss with during start up. The closed loop design means the system is constantly monitoring the fuel / air mixture and adjusting it as required for maximum performance plus reduced emissions.
Denso 12-hole injectors are used for excellent fuel atomization for maximum power and response across the entire rev range.
The VMAX utilizes a lightweight main Electronic Control Unit (ECU) that in fact comprises 3 ECUs in total. The main 32-bit ECU controls the ignition and fuel injection process, while a 2nd and 3rd integral ECU controls the YCC-T & YCC-I. This "combined" ECU design reduces weight.
YCC-I or Yamaha's Chip Controlled Intake means the intake funnels / stacks vary in length (between 2 positions) depending on engine rpm. An electronic servo motor varies the funnel length from 150mm (for low to mid rpms) to the short setting of 54mm for high rpm. The transition or switching rpm between the 2 lengths is 6,650 rpms. The revolutionary YCC-I provides the best of both worlds, solid low rpm torque and power combined with an amazing high rpm rush. It takes only 0.3 of a second for the funnels to move from the tall to the short position.
Yamaha Chip Controlled Throttle (YCC-T) electronically controls the throttle valves for outstanding response and improved controllability at all rpms. This system features twin Throttle Position Sensors (TPS) and a D.C. motor driving the throttle valves. The YCC-T is used to provide even more control of the intake air volume for smoother torque character. The rider can "mechanically close" the throttles by simply closing the throttle twist grip.
Large capacity airbox uses a viscous-type paper air filter.
Air Induction System (AIS) injects fresh air into the exhaust port area to fully combust any un-burnt fuel, reducing harmful HC and CO emissions for a cleaner environment.
4-into-1-into-2 into-4 exhaust system is used. Not only does it make a serious styling statement but also provides excellent performance and reduced emissions thanks to a 3-way honeycomb catalytic converter in the under engine "muffler box". It also features Yamaha's patented Exhaust Ultimate Power Valve (EXUP). This system monitors engine rpm and adjusts exhaust flow (via the EXUP valve) for maximum performance at all rpms with no "flat spots". This system helps to improve torque, optimize fuel economy and reduce emissions too.
New crankcase design incorporates the cylinders into the upper half of the cases for reduced weight. Ceramic composite cylinder "bores" are a "liner-less" design with the ceramic coating sprayed directly on the aluminium block to ensure great heat dissipation for consistent power delivery, reduced friction and reduced weight.
Open deck type cylinder sleeves are used for maximum cooling efficiency.
Lightweight magnesium alloy crankcase covers are used.
Hydraulically activated, ramp-type slipper clutch featuring 10 friction plates is used to deliver consistent clutch performance with a light lever pull and minimal maintenance. A slipper or back limiter clutch assembly reduces rear wheel hop when making hard downshifts or under hard braking. The clutch master cylinder is a Nissin design using a 14mm piston. The clutch lever offers 4 positions of adjustability.
5-speed transmission features optimized gear ratios for maximum acceleration and performance. 5th gear is an overdrive gear to reduce engine rpm at highway speeds for a comfortable ride.
Clean, quiet, smooth low-maintenance shaft drive is used. This system features dual "U" joints to accommodate the extra wide rear tire.
Compact rear shaft drive gearcase assembly reduces weight and improves styling.
Functional hand finished aluminium intake covers highlight Yamaha's quality and attention to detail.
ACM magneto produces 420 watts of power at 5,000 rpms.
High-performance direct ignition coils (ignition coil is built into the spark plug cap) reduce weight while iridium spark plugs and high-output magneto deliver increased spark energy.
Chassis/Suspension
Lightweight cast aluminium frame has been designed to offer an optimized rigidity balance to maximize handling performance. This frame is very rigid or stiff at the head pipe, engine mounts and swingarm pivot point. In other areas, material is less rigid in order to allow for "tuned flex".
Extra-long, lightweight cast aluminium swingarm provides great torsional rigidity for excellent handling and manoeuverability. The distance between the swingarm pivot and the rear axle has been optimized (662.5mm) for great rear wheel traction. Threaded holes for racing type stand are provided.
Detachable C.F. die cast aluminium and extruded aluminium rear sub frame means easier maintenance access (and a less costly repair if the unit is "looped out").
Huge fully adjustable, conventional cartridge-type 52mm front fork features 120mm (4.7″) of road-smoothing wheel travel. The inner types feature a oxide titanium coating to reduce friction and wear. The adjustable design allows the rider to tailor suspension settings to match rider's weight and road conditions to maximize handling and suspension performance. There is 6-way spring preload adjustability plus 20-way compression damping and 25-way rebound damping adjustability.
Lightweight triple clamps. The upper is made of cast aluminium while the lower clamp is forged aluminium. Fork pitch is 225mm while offset is 30mm.
Link Monocross rear suspension utilizes a fully adjustable remote reservoir rear shock. Rear wheel travel is 110mm (4.3″). Adjustments include 11 clicks / steps of spring preload adjustability (via easy-access remote adjuster), 12-way compression damping and 20-way rebound damping adjustability.
15-litre fluorinated polyethylene fuel tank is mounted below the rider's seat and therefore helps maintain a low centre of gravity plus mass centralization. It also provides space for the large capacity airbox. The fluorination treatment reduces the "permeation" of fuel vapours (hydrocarbons) into the atmosphere. The electric fuel pump is housed inside the tank. The low fuel warning light will illuminate with approx. 4.2 litres of fuel remaining.
Dual floating 320mm wave-style front rotors are squeezed by radial mount, monoblock 6-piston calipers. The result is incredible braking performance with excellent control and lever feedback. The master cylinder is a Brembo radial pump master cylinder with a 16mm piston, a direct GP race innovation. The lever is adjustable for various hand sizes.
298mm wave-style rear disc is squeezed by a single-piston slide-type caliper utilizing sintered metal pads and a 14mm Brembo master. The caliper is mounted below the swingram to maintain a handling enhancing low centre of gravity.
Anti-lock braking system features Yamaha's latest ABS system, very similar to that found on the '08 FJR1300. The linear controlled 3-position ABS system features an ECU with an integrated compact hydraulic unit built into the ECU plus active type wheel sensors with magnetic rotors. The benefit is reduced weight, excellent mass centralization and better lever feedback feeling when the system is operating. The main benefit of ABS is excellent control under hard braking or braking on wet or slippery surfaces since the ABS system helps to prevents wheel lock-up.
Rugged yet lightweight cast aluminium 5-spoke mag wheels front and rear. The wheels utilize hollow "spokes" to reduce unsprung weight for superior handling. Front rim size is a 3.50 x 18 fitted with a tubeless 120/70R18 radial tire, while the rear is 6.00 x 18 fitted with a wide tubeless 200/50R18 radial tire.
Conventional tapered 1?" diameter low rise steel handlebar.
Cool multi-function handlebar mounted meter includes analog tachometer and digital speedo plus an adjustable shift light and a variety of warning lights. A second multi-function display panel is located on top of the "fuel tank" (actually it is the airbox cover). Readouts on this panel include fuel gauge, fuel consumption display, odometer, dual tripmeters, clock, coolant temp, gear indicator, throttle valve opening, intake air temp, stop watch and fuel reserve tripmeter. This panel uses a highly visible 256 x 64 dot matrix "Organic Electro Luminescence display". Brightness is adjustable.
Details
Bright, H4 60/55-watt, halogen headlight
Eye-catching LED tail light also means it uses less electrical power too.
Immobilizer ignition system is designed to reduce the possibility of "ride-away" theft. This system must recognize the "coded ignition key" in order for the unit to start. If the immobilizer ignition does not recognize the key (or a screwdriver or other type of "jimmy tool") the bike will not start even if the ignition is turned or forced into the on position. If the system does not recognize the coded chip in the ignition key, it will not allow the ignition system, fuel pump or starter motor to function.
High-performance, long-life Iridium spark plugs
Lightweight forged aluminium shift lever and rear brake pedal
Low-fuel warning light
Low maintenance, lightweight, sealed battery
All new stylish key with special key case holder
Lean angle engine kill switch prevents unit from running if it is on its side to avoid engine damage.
IMPORTANT NOTE: The VMAX offers a significant level of power and performance. It is not intended for novice or inexperienced riders.
2009 Yamaha VMax VMX17 – Candian Specifications
MSRP: C$21,999
Engine Liquid-cooled, DOHC, 4-valve, 65 degree V-4
Displacement 1679cc
Bore and Stroke 90 x 66mm
Compression Ratio 11.3:1
Maximum Torque 17 kg-m (123 ft-lb) @ 6,500 rpm
Fuel Delivery Mikuni 48mm fuel injection (4)
Lubrication Wet sump
Ignition TCI / Electric Start
Transmission 5-speed (with slipper clutch)
Drive Train Shaft

Suspension (Front) Fully adjustable 52mm cartridge fork, 120mm (4.7″) travel
Suspension (Rear) Fully adjustable Link Monocross, 110mm (4.3″) travel
Brakes (Front) Dual 320mm discs
Brakes (Rear) 298mm disc
Tires (Front) 120/70R18
Tires (Rear) 200/50R18

Length 2395mm (94.3″)
Width 820mm (32.3″)
Height 1,190mm (46.9″)
Wheelbase 1,700 mm (66.9″)
Rake / Trail 31° / 148mm (5.8″)
Ground Clearance 140mm (5.5″)
Seat Height 775mm (30.5″)
Fuel Capacity 15 litres
Wet Weight 310 kg (683 lb)
Colour(s) Metallic Black

2009 Yamaha VMax Multimedia mp3 Sound files:
2009 Yamaha VMax VMX17 Burn Out .mp3 sound
2009 Yamaha VMax VMX17 Racing .mp3 sound
2009 Yamaha VMax VMX17 Shifting .mp3 sound
2009 Yamaha VMax VMX17 Reving .mp3 sound
2009 Yamaha VMax VMX17 Passing .mp3 sound
2009 Yamaha VMax VMX17 Starting .mp3 sound