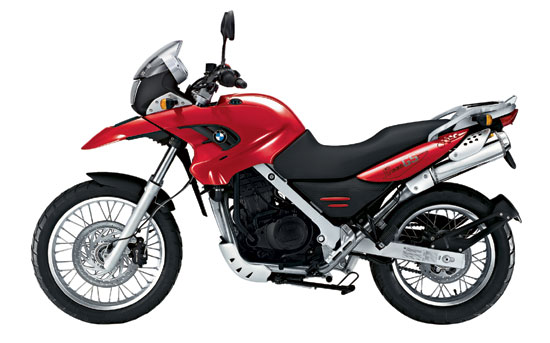 Back to 2010 BMW Motorcycle Index Page
Click photos to enlarge.
They make great desktop images.
– 2010 BMW G650GS

2010 BMW G650GS
An evolution of the former single-cylinder BMW F650GS, the 2010 G650GS joins the BMW Motorrad lineup with an MSRP of $8,750.
The re-birth of a classic liquid-cooled, DOHC single cylinder with technical upgrades now producing 50 hp through an upgraded fuel injection system. Standard equipment includes heated grips and new lightweight ABS available in Canada in two colours.

The familiar 652cc liquid-cooled four-valve DOHC powerplant remains little changed from its predecessor, featuring BMW's Digital Motor Electronics and fuel injection, engine management version BMS-CII, and high-performance cylinder head technology, producing 50 bhp at 6,500 and maximum torque of 44 ft-lb at 4,800 rpm. Power transmission is still maintained by the proven five-speed gearbox and an O-ring chain drive.
The new G 650 GS's brake system, however, is upgraded with standard ABS featuring the new generation BMW Motorrad Bosch 8 M ABS control unit weighing only 1.5 kilograms. ABS can also be deactivated, as on the GS boxer twins. Single discs brakes at both front and rear measure 340mm and 240mm, respectively.
The new G650GS continues with a stiff steel bridge tubular frame with bolt-on lower frame section and rear subframe. The 19-inch front spoke wheel is suspended by a Showa telescopic fork with 170 mm/ 6.7″ spring travel. The 17-inch rear wheel runs in a two-arm box-type swingarm with a central spring strut with adjustable preload and travel of165 mm/ 6.5″ . Standard seat height is a very compatible 780mm, with an optional lowering kit available for $200 ex-factory.
With heated grips also fitted as standard equipment, the new G650GS is available in two colors – Deep Black and Red, both combined with a black tank, further highlighted by matte black engine surface. The new level of standard equipment leave only two available options – the aforementioned lowering kit and a centre stand ($170).

The most popular dual purpose single in the 250+cc category, the G 650 GS has become the standard upon which single-cylinder dual purpose motorcycles are judged. Aggressively engineered for unrelenting performance in harsh environments, the G 650 GS was designed to take riders off-road and on to new frontiers. The 2009 model features a 2 SPARK ignition system, a 3-position clutch lever, newly designed windscreen, accessory power socket, and improved on-board electronics.
Features and Specifications
Standard Equipment:
Heated Grips
ABS Brakes
Available Equipment:
Lowering Kit – 750 mm
Centre Stand
2010 BMW G650GS – USA Specifications
US MSRP: $7,900 USD
Engine

Type Liquid-cooled single-cylinder

Bore x stroke 100.0 mm X 83.0 mm

Capacity 652 cc

Rated output 50 hp @ 7000 rpm

Max. torque 44 lb/ft @ 5250 rpm

Compression ratio 11.5 : 1

Mixture control / engine management Electronic intake pipe injection / BMW engine management, twin spark ignition

Emission control Closed-loop 3-way catalytic converter, emission standard EU-3

Performance / fuel consumption

Maximum speed approx. 100 mph (165 km/h)

Fuel type Unleaded Premium

Electrical system

Alternator 400 Watts @ 14 Volts

Battery 12 Volts 12 Amps/hour

Power transmission

Clutch Multiple plate in oil bath

Drive 520 O-ring, roller-type chain



Chassis / brakes

Frame Bridge-type with bolted-on rear section

Front wheel location / suspension 41 mm telescopic fork w/stabilizer bridge

Rear wheel location / suspension Central spring strut actuated by lever-linkage

Suspension travel front / rear 6.7 inches / 6.5 inches

Wheelbase 58.2 inches

Castor 4.5 inches

Steering head angle 60.8 degrees

Rim, front 2.50 x 19 wire-spoke

Rim, rear 3.00 x 17 wire-spoke

Tyres, front 100/90 x 19 tube-type

Tyres, rear 130/80 x 17 tube-type

Brake, front One, two-piston floating caliper

Brake, rear One single piston floating caliper

ABS Single front disc with ABS


Dimensions / weights

Length 85.6 inches

Width (incl. mirrors) 35.8 inches

Seat height, unladen weight 30.7 inches

Unladen weight, road ready, fully fuelled 423 lbs. excluding options & accessories

Dry weight 387 lbs. excluding options & accessories

Permitted total weight 837 lbs. GVWR

Usable tank volume 4.0 U.S. gallons

Reserve 1 U.S. gallon


2010 BMW G650GS – Canada Specifications
Canada MSRP: $8,750 CDN

Engine:
Type:
o Liquid-cooled single cylinder-engine, four valves
Bore / stroke:
o 100 mm x 83 mm
Capacity:
o 652 cc
Rated output:
o 37 kW (50 hp) at 00 rpm
Max. torque:
o 60 Nm at 4,800 rpm
Compression ratio:
o 11.5 : 1
Mixture control / engine management:
o Electronic intake pipe injection / digital engine management (BMS-C)
Emission control:
o Closed-loop 3-way catalytic converter, emission standard EU-3

Chassis / brakes:
Frame:
o Steel bridge tubular frame
Front wheel location / suspension:
o Telescopic fork
Rear wheel location / suspension:
o Swing arm
Travel front/rear:
o 170 mm / 165 mm
Wheelbase :
o 1,479 mm
Castor :
o 113.3 mm
Steering head angle:
o 60.8°
Wheels:
o Wire spoke wheels
Rim front:
o 2.50 x 19″
Rim rear:
o 3.00 x 17″
Tires front :
o 110/90 – 19″ 57 S
Tires rear:
o 130/80 – 17″ 65 S
Brake front:
o Single disc brake, diameter 300 mm
Brake rear:
o Single disc brake, diameter 240 mm
Performance / fuel consumption:
Maximum speed:
o approx. 170 km/h

Power transmission:
Clutch:
Multi plate Clutch in oil bath
Gearbox:
o Five speed gearbox with dog-type shift
Drive:
oO-ring chain 5/8 x 1/4
Electrical system:
Alternator:
o three-phase alternator 400 W
Battery:
o 12 V / 12 Ah, maintenance-free


Dimensions / Weight:
Length:
o 2,175 mm
Width (inc. mirrors):
o 910 mm
Seat height,
780 mm
Unladen weight, road ready, fully fuelled 1):
o 192 kg
Permitted total weight:
o 380 kg
Usable tank volume:
o 17.3 l
Reserve:
o approx. . 4.0 l

Paintwork: Deep Black or Red
Rim color: silver
Frame color: black


2010 BMW G650GS – UK Specifications
UK MSRP: £NA
Model not available in the UK