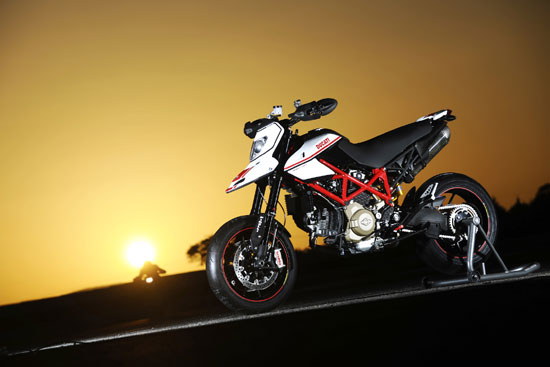 Back to 2010 Ducati Motorcycle Index Page
Click photos to enlarge.
They make great desktop images.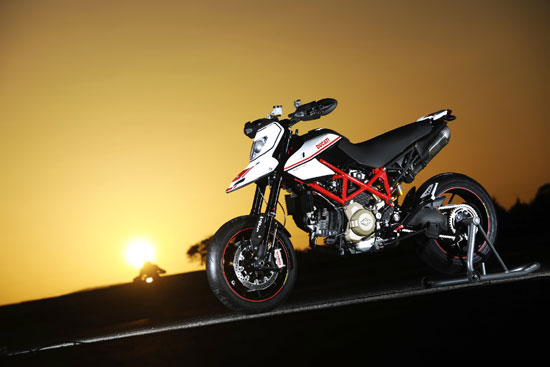 2010 Ducati Hypermotard 1100 EVO SP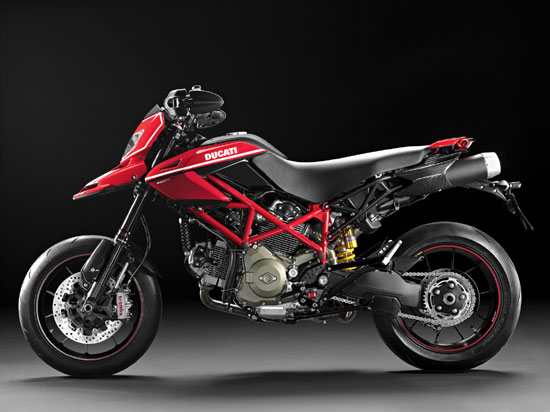 2010 Ducati Hypermotard 1100 EVO SP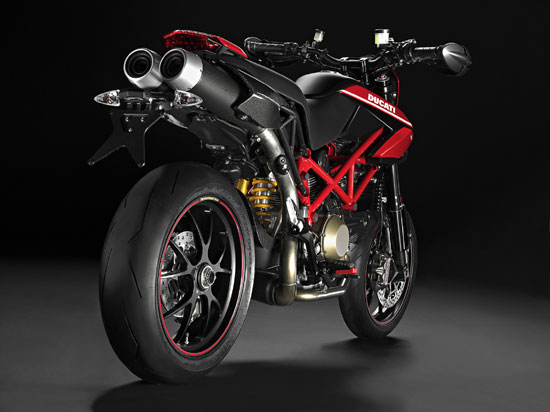 2010 Ducati Hypermotard 1100 EVO SP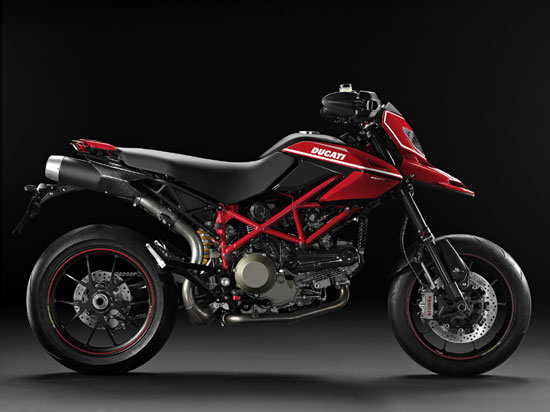 2010 Ducati Hypermotard 1100 EVO SP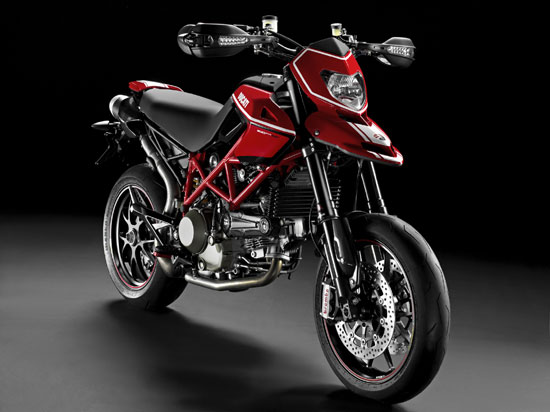 2010 Ducati Hypermotard 1100 EVO SP
– 2010 Ducati Hypermotard 1100 EVO SP

2010 Ducati Hypermotard 1100 EVO SP
More Hyper than ever.
The Hypermotard 1100EVO SP takes the whole Hypermotard concept to a new level of extreme. Higher ground clearance, higher spec suspension, higher bars and even less weight makes the 1100EVO SP track-ready for action.
When Ducati first launched the Hypermotard project they knew that there would be extreme riders out there who wanted more – they just didn't realise there would be so many! With a racing heritage built on direct rider feed-back, and two years of a Hypermotard category in the Italian Ducati Desmo Challenge series, Ducati's reputation for listening to owners to improve their motorcycles has become legendary and the Hypermotard 1100EVO SP is no exception.
Aggressive 'motard' styling and stance combine with Ducati 'sportbike' technology to deliver the best of both worlds. With a riding position that ensures total control, the Hypermotard is ready to dominate every inch of asphalt with big-bore acceleration and road holding that redefines the street experience.
Extreme riders all wanted the same thing from the Hypermotard: More power, more ground clearance, more control in extreme situations, more detail and less weight. For 2010, Ducati engineers have ticked all the boxes.
The Hypermotard family expands for 2010 with the addition of the exciting new Hypermotard 796, the new and enhanced Hypermotard 1100EVO and the extreme Hypermotard 1100EVO SP.
Hot on the heels of its early model year 2010 launch in October, the lightweight 796 is now joined by an evolution of the 1100 model that rolls out at an incredible 7kg (15.5lb) lighter and 5hp more powerful than the original.
And if further weight reduction and more punch wasn't already enough on a bike that was built to thrill, the Hypermotard 1100EVO SP pushes the limits even further with a model intended to perform on the track as well as the street.
The latest evolution models, in addition to the new 796, represent Ducati's continued excitement in the Hypermotard concept and their commitment to the family's future development. Many features of the new models were in response to requests from Ducatisti worldwide and represent the factory's ongoing ability to respond to direct owner feedback .
The Hypermotard prototype was an instant success when first shown in Milan at the end of 2005 and soon became a top seller when its production started in 2007. Since then, its unique design has excited riders around the world and praise for this thrilling and versatile bike has never stopped – and neither has its evolution.
Now, the range is more Hyper than ever.
Features and Benefits
So what's all the hype for 2010?
SP suspension
Brand new longer, black-bodied, fully adjustable 50mm Marzocchi forks have 30mm (1.2in) more travel and increase the SP's ground clearance by 30mm (1.38in), extending the SP's extreme cornering performance and providing a more track-oriented set-up. Coated with a durable low friction, DLC (diamond-like carbon) black coating, the sliders enable the Hypermotard 'SP' to respond effortlessly to every minute variation in the tarmac, improving on its already impressive road holding. The advanced 'SP' suspension is further enhanced with an Öhlins remote reservoir rear shock, renowned in racing as the ultimate performance choice. This incredible shock is fully adjustable for compression and rebound damping as well as spring pre-load, ensuring that the 'SP' is readily adaptable to every riding style and road or track it challenges.
SP brakes
With a bike as extreme as the Hypermotard 1100EVO SP, superior stopping power is fundamental, so world-class braking performance is assured by using the same Brembo Monobloc callipers as on Ducati's top Superbikes. Machined from a single piece of alloy, the callipers achieve a higher rigidity and resistance to distortion during extreme braking, which not only delivers incredible braking power, but also provides an enhanced and precise 'feel' at the brake lever. The twin Monobloc callipers, each with four 34mm pistons gripping 305mm discs, guarantee spectacular braking performance.
SP lightweight wheels by Marchesini
Extreme riders know that one of the best ways to improve the handling and performance of a motorcycle is to reduce its unsprung weight by upgrading to superior lightweight wheels. Even from a distance, the 5-spoke black Marchesini wheels with red pin-striping confirm the high performance of the Hypermotard 1100EVO SP. Created from forged then machined alloy, both front and rear wheels are significantly lighter and create a lower moment of inertia and unsprung weight, resulting in improved acceleration and braking as well as quicker steering. Mounted to the lightweight wheels are Z-rated Pirelli Diablo Supercorsa SP tyres. Designed to deliver racing performance on the road, they give great feedback, are stable under severe braking and feature a sure-footed 'feel' when braking or accelerating is applied at considerable lean angles.

SP extras
The Hypermotard 1100EVO SP has serrated footpegs for increased boot grip during extreme conditions and a Teflon slider under each peg for protection in extreme lean angles. Ducati include a rubber insert with the bike for riders who prefer to cover the serration for increased comfort.
To enhance control, the tapered alloy handlebars have a 20mm longer bar-riser that effectively changes the riding positioning to enable greater leverage under extreme riding conditions. The risers are finished in black along with the new Marzocchi forks, upper and lower fork clamps, footpeg carriers and pedals, exhaust guard, rear subframe and rear sprocket carrier.
A carbon fibre rear hugger is fitted as standard equipment, enhancing the SP's already extreme image and also providing protection for the Öhlins rear suspension unit. The advanced composite is also used for the fork protectors, timing belt covers, front fender rear section and tail side covers.
SP colours
The Hypermotard 1100EVO SP is boldly finished in a choice of red-themed or white-themed Ducati Corse livery to underline its competition intention.
The white-themed livery has a white tank with thin red stripe and red Ducati graphic, contrasted with a black knee-panel area. The headlight fairing and beak section are also white with a wide red stripe along the centre of the beak and thin black striping around the fairing section. The tailpiece is white with a wide red stripe along its centre.
The red-themed livery has a red tank with thin white stripe and white Ducati graphic, contrasted with a black knee-panel area. The headlight fairing and beak section are also red with a wide white stripe along the centre of the beak and thin white striping around the fairing section. The tailpiece is red with a wide white stripe along its centre.
Both colour schemes have red Trellis frames with black wheels and the new Ducati Corse logo proudly displayed on the Hypermotard's beak section.
Hyper data
Supplied as standard equipment on the 1100EVO SP, the Ducati Data Analyser (DDA), which includes PC software, a USB-ready data retrieval card and instructions, enables owners to review and analyse the performance of the bike and its rider, and make comparisons between various channels of information.
The system records numerous channels of data including throttle opening, vehicle speed, engine rpm, engine temperature, distance travelled, laps and lap times. It also automatically calculates engine rpm and vehicle speed data, enabling it to display gear selection as an additional channel of information. At the end of a ride or track session, up to 4mb of data can be downloaded ready to compare, analyse and get an inside view of the performance of both the rider and the Hypermotard.
Lighter Trellis frame
The quick and precise handling that the Hypermotard provides is down to the construction and geometry of its famous Trellis frame. Its ability to handle the abundant torque from the L-Twin engine and its rigidity under powerful Brembo braking are just a few reasons why Ducati's chassis department would never want to change it. But it could be made lighter. They realised that almost all of the heavy forged sections of the construction could be completely removed without reducing its strength or its performance, so they applied it to the entire family.
Lighter, more powerful engines
While the chassis department were busy reducing the weight of the frame, the engine department went back to the drawing board for the 796 and started with a clean sheet of paper. Their complete redesign of the crankcases rewarded them with an incredible saving of 1.2kg (2.64lb) compared to the 696 castings, and the new 796 crankshaft with 848-style flywheel further reduced the overall engine weight to an impressive 1.9kg (4.2lb) savings over the 696 power unit. And with 81hp (59.6kW) of smooth and flexible power, the 796 is a very credible package.
The 1100 air-cooled Desmodue Evoluzione engine truly is an 'evolution' – both in power and weight – and is responsible for the model name extension 1100 EVO. Engineers used the same Vacural® technology employed for the lightweight Superbike engines when they vacuum die-cast the Hypermotard 1100 crankcases, a process that achieves a significant weight saving and ensures consistent wall thickness and increased strength. This process – combined with the lightweight crankshaft assembly that uses an 848-style flywheel and use of lighter rare-earth magnets in the alternator – reduced the 1100 power unit's weight by a staggering 5.2kg (11.5lb). Couple those savings with a 5hp boost to 95hp (69.9kW) and it becomes clear why there's all the hype.
Compact and efficient, the Desmodue engine's hyper-lightweight and narrow L-Twin layout, no wider than a single cylinder, ensures that all Hypermotards remain lean and agile. The air-cooled design eliminates the need for water radiators, hoses, reservoirs and pumps, keeping the motorcycle's weight down to a minimum and its lines clean and race-like.

New controls and instrumentation
The entire Hypermotard family now inherits the electronic advances made in the compact and user-friendly switchgear and instrumentation first created for the Streetfighter.

The slim-line switch bodies house easy-to-use switches and buttons, and feature a unique weapons-like 'trigger catch' that slides down to cover the starter button when the kill-switch is activated. Their minimalist design fits perfectly in the clean and essential lines of the Hypermotard's sporting image.
Looking clean and purposeful, the display provides an extensive amount of data including speed, revs, time, oil temperature, battery voltage, A & B trips, fuel reserve trip and scheduled maintenance, while the warning lights illuminate for neutral, turn signals, high-beam, rev-limit, oil pressure and fuel reserve. In addition, it can list recorded lap times by using the high-beam flash button as a stopwatch. Both the 1100EVO and 1100EVO SP use a white back-lighting while the 796 uses an orange back-lighting.
The instrument display also doubles as a control panel for the activation of the Ducati Data Analyser (DDA) system, which is available as an accessory from Ducati Performance for the 'system-ready' Hypermotard 796 and 1100EVO and supplied as standard equipment on the 1100EVO SP. The DDA-intended USB connection port under all of the Hypermotard seats doubles as a charging point for a handy new battery charger, which is available as an accessory from Ducati Performance.
Hyper mirrors
Ducati pushed motorcycle design limits to find an innovative solution for the original Hypermotard mirrors and these are now used throughout the family. The challenge of maintaining a clean, racing look around the handlebar area motivated the design of the folding mirror concept which is based on the handguards typically found on off-road bikes. Flipped out for high visibility street mode and easily folded in for a quick change to 'Hypermode', the mirror handguard assemblies also integrate the LED directional indicators for an even cleaner front-end.
Lighting and indicators
The headlamp uses a highly compact lighting shape which blends with the single piece nose fairing and front fender moulding, while the rear light employs a specially designed strip of LEDs enhanced by a high diffusion lens shaped into the sleek lines of the tailpiece. The same LEDs are intensified under braking. The front directional indicators also employ the latest in LED technology for illumination, and are ingeniously integrated into the handguards which support the foldable rear view mirrors.
Tailpiece
The high intensity LED rear light assembly is moulded into a unique tailpiece positioned high behind the seat. The supporting structure has been designed so that the under tray of the tailpiece is formed perfectly to offer a sturdy pair of pillion grab-handles. This ingenious solution not only helps to merge the rear light into the Hypermotard styling but also provides a safe grip for the passenger.
Footpegs
Rider footpegs on all of the Hypermotard models have removable rubber inserts to expose the serrated metal edge and increase boot grip on the peg during extreme riding. The 1100EVO and 1100EVO SP provide a further minimalist and no-compromise feature by having removable passenger footpegs. This attention to detail enables a clean 'monoposto' look when on the track, while allowing a fast and easy change to 'biposto' for the street.

The Hypermotard Story
When the prototype Hypermotard was first shown at the Milan show it represented the creation of a new segment, one that bridged the gap between refined sportbikes and minimalist supermotards. But some at Ducati had reservations about the initial Hypermotard concept and were unsure whether or not the market was ready for such a motorcycle.
Despite those reservations, the project continued to be developed, driven by the belief in the upright and in-control riding position of a dirtbike, but not the harsh characteristics of its single cylinder engine. These confident few liked the feel of a skinny, taut and agile chassis, but not the fact that its original off-road design made it a compromise on the street. They set about creating a bike that combined the agility and lightweight precision of a supermotard, with the refined power characteristics of a charismatic L-Twin Ducati sportbike. They were designing the future.
As each day went past, more and more people in the factory got to hear about the completed bike and those who had the chance to catch sight of it all responded in the same way: "Wow! We're going to produce it, right?" There was one way to gauge market response: show it at the 2005 Milan show as a prototype and conduct an online survey.
Ducati presented the prototype Hypermotard as its centrepiece that year and their confidence was rewarded with a global 'yes!' from the public, the 'Best of Show' award, and demands from riders all over the world to produce it immediately. In fact, a staggering 15,000 people completed the Ducati.com survey, with more than 50% asking for the Hypermotard to be built exactly as shown at the show. But Ducati were serious when they asked the public for their feed-back and took time to sift through thousands of additional suggestions and requests, such as twin front brake discs instead of the prototype's single, and integrated many of them into the final production design.
The innovative Hypermotard spawned a new and exciting 'cross-over' category that had reinvented pure riding pleasure with a practical and versatile motorcycle that could be used every day. Riders hungry for excitement immediately understood the concept and have been enjoying it ever since.
Quick glance history
November 2005: Prototype Hypermotard 1100 shown at Milan International Motorcycle Show. Awarded 'Best of Show'.
November 2007: Production Hypermotard 1100 and 1100 S launched at Milan International Motorcycle show.
June 2007: Hypermotard 1100 and 1100 S arrived in showrooms as an early release model year 2008.
November 2008: Model year 2009 Hypermotard 1100 updated with an additional colour option of pearl white. Hypermotard 1100 S updated with Kayaba forks, an additional colour option of black and DDA kit supplied as standard equipment. The Hypermotard 1100 S takes victory at Pike's Peak International Hill Climb, Colorado (1200cc category).
October 2009: Release of new model year 2010 Hypermotard 796.
November 2009: Model year 2010 Hypermotard 1100EVO and 1100EVO SP launched at Milan International Motorcycle show.

2010 Ducati Hypermotard 1100 EVO SP – International Specifications
MSRP: See Dealer

Chassis

Frame
Tubular steel Trellis frame
Wheelbase
1465mm (57.7in)
Rake
24°
Front Suspension
Marzocchi 50mm fully adjustable usd forks with DLC
Front Wheel Travel
195mm (7.7in)
Front Wheel
5-spoke in forged light alloy 3.50×17
Front Tyre
120/70 ZR17
Rear Suspension
Progressive linkage with fully adjustable Öhlins monoshock. Aluminium single-sided swingarm
Rear Wheel Travel
156mm (6.1in)
Rear Wheel
5-spoke forged light alloy 5.50×17
Rear Tyre
180/55 ZR17
Front Brake
2 x 305mm semi-floating discs, radially mounted Brembo Monobloc callipers 4-piston, 2-pad
Rear Brake
245mm disc, 2-piston calliper
Fuel Tank Capacity
12.4l – 3.3gallon (US)
Dry Weight
171kg (377lb)

Instruments
Digital unit with displays for: Speedometer, rev counter, lap times, time, oil temp, battery voltage, A & B trips, fuel reserve trip, scheduled maintenance. Warning lights for: Neutral, turn signals, high-beam, rev-limit, oil pressure, fuel reserve. Plus: Immobilizer system and management of DDA system

Warranty
2 years unlimited mileage
Body Colour (Frame/Wheel)
Corse red (red / black) – Corse white (red / black)
Versions
Dual seat
Seat Height
875mm (34.5in)


DDA
Standard equipment


DTC
Not available on this model


ABS
Not available on this model

Engine
Type
L-Twin cylinder, 2 valve per cylinder Desmodromic, air cooled
Displacement
1078cc
Bore x Stroke
98×71.5mm
Compression Ratio
11.3:1
Power
95hp (69.9kW) @ 7500rpm
Torque
75.9lb-ft 10.5kgm @ 5750rpm
Fuel injection
Siemens electronic fuel injection, 45mm throttle body
Exhaust
Lightweight 2-1-2 system with catalytic converter with twin lambda probes

Transmission
Gearbox
6 speed
Ratio
1=37/15 2=30/17 3=27/20 4=24/22 5=23/24 6=24/28
Primary Drive
Straight cut gears, Ratio 1.84:1
Final Drive
Chain, Front sprocket 15, Rear sprocket 41
Clutch
Dry multiplate with hydraulic control

Emissions
Standard
Euro 3
Media Press Release
DUCATI PRESENTS 2010 INNOVATIONS
Finally unveiled, world preview of the new and eagerly anticipated Multistrada 1200.
Also new for 2010: new "Corse" livery for the 1198, two new Hypermotard 1000evo models and technical advances in the Monster family.
As is tradition prior to the opening of the EICMA show, Ducati has officially revealed the innovations of its 2010 product range.
Dream bikes, the fruit of Italian ingenuity and creativity, and destined to become new points of reference on the international market, are ready to take the spotlight at EICMA 2009, the 67th edition of the International Motorcycle Exhibition, taking place at the Fiera Internazionale di Milano in Rho, from 10 – 15 November.
Before the unveiling of the 2010 line-up, the new Ducati Corse logo was presented to the international press, an evolution of the historic brand in the form of a new graphic, following on from the launch of the new Ducati logo at last year's EICMA show.
A press conference, eagerly anticipated and rich in content, took place immediately prior to the official opening of the trade show. Gabriele Del Torchio, President of Ducati Motor Holding, met with representatives of the international media to present the company's recent sporting and commercial results, confirming the Italian manufacturer's strength and performance, despite the difficulties that the sector is currently experiencing.
"In 2009 Ducati has faced a year of important challenges but also one of important opportunities," stated Gabriele Del Torchio, President of Ducati, during the conference. "The challenges arrive from a market that has entered a significant worldwide slump and where the segment in which we operate could have dropped by 35% by the end of this year. In this scenario Ducati knew how best to react, so much so that our shares have continuously grown and in 2009 we will register a record share of 7.2% on a worldwide level. This result was achieved by sticking strictly to the objectives we had set ourselves, in relation to the company's three fundamental pillars. Firstly, product, with the 2010 innovations the clearest demonstration of how we have followed an intelligent plan for continuous renewal. Then the distribution network, constantly renewed and reinforced to improve and expand the service. Thanks also to the recent opening of stores in Shanghai, Mexico City and in Vietnam, Ducati today distributes in 80 countries of the world. Last but not least, the brand. We continue to work on the recognition of our brand name, and above all, on the role that Ducati has as an ambassador of Italian style across the world, a factor that is of fundamental value to us."
Claudio Domenicali, General Director of Ducati Motor Holding, then presented the many new bikes lining-up in Ducati's 2010 Model Year.
"We are present at EICMA with a series of important innovations, in accordance with our strategic industrial plan," declared Claudio Domenicali, Ducati's General Director, while presenting the 2010 Model Year. "The new Multistrada 1200 provides Ducati with an important opportunity to penetrate what is, for us, a completely new market segment, with a totally innovative concept, in terms of performance, usability and technological content. Four bikes in one, with four different riding modes, traction control and electronic suspension but, most importantly, a true Ducati, in its style, design and advanced technology, derived directly from Ducati's racing experience on tracks across the world. The Hypermotard 796 e 1100 evo, the new "Corse" liveries for the 1198 S and 1198 R, as well as countless technical and style updates, complete the 2010 line-up of which we are so proud."
The undeniable star is the eagerly awaited Ducati Multistrada 1200, already in the running to take the prize for "best bike in show."
Faithful to the original intuition, which combined sport bike technology with comfort and versatility, Ducati now extends the concept further with a brand new Multistrada 1200 designed to satisfy the demands of all motorcyclists. Ducati have designed a motorcycle to tackle all kinds of journey and road surface using technology derived from the Bologna made race bikes in MotoGP and World Superbike.
A bike with no limits, that can transform itself to suit the rider's demands, from a supersport to a tourer for long journeys with a passenger and luggage, to an everyday bike which can breeze through the daily commute and also tackle off-road routes with the agility of an enduro; in other words, four bikes in one!
Ducati have once again pushed the limits of motorcycle design by adding Italian innovation to the elegance, style and technology which characterise the motorcycles that leave the Bologna factory.
All it needed was a heart, the perfect engine to fulfill the potential of this new design. The obvious starting point was the World Championship-winning engine, the Testastretta, used on the Superbike 1198. Engineers in Bologna have succeeded in harnessing the immense power of this engine, making it smooth and adaptable to any situation. The new Testastretta 11° engine is thus born, and represents a milestone in combining performance with usability.
2010 Special Editions celebrate the historic Ducati Corse logo change and two world titles in Superbike and Superstock. The 1198 S Corse Special Edition and 1198 R Corse Special Edition, both equipped with factory team-style aluminium fuel tanks, Ducati Traction Control and a special celebratory Ducati Corse livery, now complement the lightweight and agile 848 now in Dark colour scheme, the awesomely powerful 1198, and the high-spec 1198 S to complete the 2010 Superbike model line-up.
There are more exciting new products in the Ducati Hypermotard range that now becomes a fully-fledged family of bikes in 2010. No longer just one, but three versions, designed to suit different needs, but each with the same specific objective: to provide excitement and fun. So here is the new, agile Hypermotard 796, which joins the new and even more powerful Hypermotard 1100EVO as well as the extreme version, the as yet unseen Hypermotard 1100 EVO SP.
Hot on the heels of its early model year 2010 launch in October, the lightweight 796 is now joined by an evolution of the 1100 model that rolls out at an incredible 7kg (15.5lb) lighter and 5hp more powerful than the original.

And if further weight reduction and more punch wasn't already enough on a bike that was built to thrill, the Hypermotard 1100EVO SP pushes the limits even further with a model intended to perform on the track as well as the street.
The exciting introduction to the Monster family for 2010 are the ABS equipped versions of the 696 and 1100 (basic and S), the first time that Ducati has ever equipped the Monster family with a safety-enhancing anti-lock braking system.
Other 2010 introductions to the Monster family include new exhaust guards, which feature a longer shape and provide improved heat protection.
Brand new crankcases for the 696, which are an impressive 1.2kg (2.6lb) lighter and, furthermore, the user-friendliness of the controls has been improved with 4-point adjustable clutch and brake levers to suit all hand sizes.
In addition, Ducati presents many new accessories, special components and a new collection of Ducati clothing.