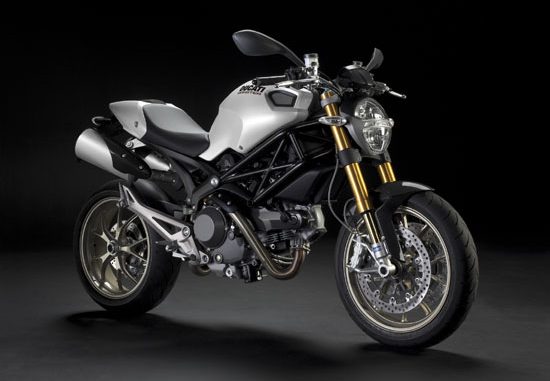 Back to 2010 Ducati Motorcycle Index Page
Click photos to enlarge.
They make great desktop images.
– 2010 Ducati Monster 1100S

2010 Ducati Monster 1100S
Absolute Monster.
The Monster 1100 S is a pure concentrate of power, lightweight design and exclusivity. The best you can get.
MONSTER 1100 S: THE BEST YOU CAN GET
The Monster 1100 S is a pure concentrate of lightness, power, design and exclusivity.
The 'S' features fully adjustable 43mm titanium nitride-coated Öhlins forks and a rising rate linkage Öhlins rear shock absorber with adjustable pre-load and return damping.
Front brake disc carriers in aluminium help reduce rotating mass, while carbon fibre cam belt covers, new silencer guards and front fender reduce weight by a further 1kg (2.2lb).
The distinctive racing gold coloured 5-spoke wheels of the Monster 1100 S give it an elegant style and the same sporting look as historical Ducati racing models.
Dream Personalisation
Customise your own personal object of desire and make your Monster a one-off with Ducati's complete range of accessories. Whether creating a whole new look, improving performance further or simply styling your own Monster, the accessory collection is intended to make your Monster experience even more rewarding. Both versions of the new Monster 1100 already come factory-personalised with removable single seat covers and neat micro-bikini fairings. From there, interchangeable tank covers offer an easy way to personalise your Monster while carbon fibre and titanium exhausts enhance the performance and sound of the Desmo engine – whatever you desire, you'll find endless ways to make your Monster special.
Performance-hungry owners can choose carbon fibre components to make the Monster even lighter or the Ducati Data Analyser (DDA) to analyse the performance data of the bike and rider. Alternatively, the extra comfortable touring seats and soft pannier bags for seat and tank are perfect for longer, more relaxed rides.

2010 sees the Monster 696 with new exhaust guards, new engine crankcases and adjustable levers in addition to a brand new ABS version.
The exciting introduction to the Monster family for 2010 is the ABS equipped versions of the 696 and 1100 (basic and S), the first time that Ducati has ever equipped the Monster family with a safety-enhancing anti-lock braking system.
Other 2010 introductions to the Monster family include new exhaust guards, which feature a longer shape and provide improved heat protection and brand new crankcases for the 696, which are an impressive 1.2kg (2.6lb) lighter. In addition, user-friendliness of the controls has been improved with 4-point adjustable clutch and brake levers to suit all hand sizes.
ABS ON THE MONSTER
For the first time since its debut, both the 696 and 1100 Monsters will be available with ABS (anti-lock braking system).
The ABS developed by Ducati and applied to the Monster family is the most sophisticated version available in the world of motorcycling. Designed to reduce the risk of wheel-locking under heavy braking or when braking in low grip conditions, the system reads wheel speed data from phonic wheel sensors to detect wheel lock. If a wheel speed falls below a specific safety limit, the control unit immediately reduces the brake system pressure to the appropriate calliper to avoid wheel lock. The pressure reduction on each individual braking circuit is activated by electronically controlled valves, which then close as the wheel speed moves away from a locking scenario.
Unlike the majority of motorcycle ABS set-ups, this system has the advantage of ensuring a more natural braking 'feel' for the rider.
Monster ART
The Monster has proven itself as the Ducati that most inspires and stimulates the art of personalisation. Designers, artists, actors, singers and, above all, bike fans from all over the world have been moved by the Monster to create their very own "two-wheeled work of art".
The link between the Monster and the world of art appears again and again. Spontaneous shows dedicated to the interpretation and personalisation of the Monster are countless, with news of competitions, exhibitions and "customisations" of every kind, from all around the world, filling the pages of important sector and lifestyle magazines.
This incredible phenomenon, that in sixteen years has seen the Monster receive worldwide acclaim as a symbol of "coolness" and modernity, has motivated Ducati to initiate a project that celebrates and highlights the great artistic potential of this bike.
"Colour Therapy" represents the first stage of the Monster ART project.
Ducati with Colour Therapy offers ten new colour options: "Rosso GP" Red, "Verde Tricolore" Green, "Giallo Ducati" Yellow, "Lilla Glamour" Lilac, "Blu Italia" Blue, "Azzurro Mediterranei" Azure-Blue, "Arancione Scrambler" Orange, "Amaranto Glossy" Rich Purple, "Argento Vivo" Silver and "Oro Puro" Gold.
In Italy, France and Spain, you can choose all the new colour options at an additional price when purchasing the bike, or they can be purchased separately as a Ducati accessory (tank cover, mudguard, micro-bikini fairing and seat cover).
The 10 "Monster ART Kits" gives Monster owners the freedom to change the bike's colour at any time, so while today feels right for a classic colour, tomorrow just might call for a trendier shade. And changing the colour of the bike couldn't be simpler: In just 10 minutes the Monster can be totally transformed.

Features and Benefits
HEADLIGHT: The triple-parabola headlamp uses the latest optical technology to provide a deep, wide beam which makes riding at night both easier and safer. The highly advanced construction of the assembly provides one of the most compact headlamps available.
AIRBOX AND FUEL TANK: The use of advanced moulding techniques have not only enabled greater fuel capacity but also a larger airbox. The new fuel tank now holds 15 litres (3.8 US gal) while the airbox contains a power-enhancing 10 litres of air.
MIRRORS: The rear view mirrors have been completely redesigned, making them lower, smoother and more aerodynamic while ensuring a clear view to the rear. Their design accentuates the curves and lines of the handlebars and fuel tank.
LED REAR LIGHT: The minimalist spirit of the Monster and the desire to reduce weight to a minimum were the reasons behind the choice of an LED lighting system for the rear.
GULL-WING FORK CLAMPS: Just like the race-winning Ducatis, the Monster 1100 is fitted with extremely robust fork clamps. Their 'gull-wing' shape achieves exceptional torsional strength.

2010 Ducati Monster 1100S – International Specifications
MSRP: See Dealer

Chassis

Frame
Tubular steel Trellis frame
Wheelbase
1450mm (57.1in)
Rake
24°
Front Suspension
Öhlins 43mm fully adjustable upside-down forks with TiN
Front Wheel Travel
130mm (5.1in)
Front Wheel
Y-shaped, 5-spoke in light alloy 3.50 x17
Front Tyre
120/70 ZR17
Rear Suspension
Progressive with preload and rebound Öhlins adjustable monoshock
Rear Wheel Travel
148mm (5.8in)
Rear Wheel
Y-shaped, 5-spoke in light alloy 5.50 x 17
Rear Tyre
180/55 ZR17
Front Brake
2 x 320mm discs, 4-piston radial caliper
Rear Brake
245mm disc, 2-piston caliper
Fuel Tank Capacity
15l – 3.8gallon (US) / 13.5l – 3.6gallon (US) ABS version
Dry Weight
168kg (370lb) / 170kg (374lb) ABS version

Instruments
Digital unit displaying: Speedometer, rev counter, clock, scheduled maintenance warning, oil temperature, trip fuel, lap time, warning light for low oil pressure, fuel level, fuel reserve, neutral, turn signals, overrev, immobilizer. Ready for DDA system

Warranty
2 years unlimited mileage
Body Colour (Frame/Wheel)
Red (red / racing gold) – Pearl white (matt black / racing gold)
Versions
Dual seat
Seat Height
810mm (31.9in)

DDA
DDA system-ready for Ducati Performance accessory

DTC
DTC
Not available on this model


ABS
Available upon request

Engine
Type
L-Twin cylinder, 2 valve per cylinder Desmodromic, air cooled
Displacement
1078cc
Bore x Stroke
98×71.5mm
Compression Ratio
10.7:1
Power
69.8kW – 95hp @ 7500rpm
Torque
10.5kgm – 75.9lb-ft @ 6000rpm
Fuel injection
Siemens electronic fuel injection, 45mm throttle body
Exhaust
2 aluminum mufflers

Transmission
Gearbox
6 speed
Ratio
1st 37/15, 2nd 30/17, 3rd 27/20, 4th 24/22, 5th 23/24, 6th 24/28
Primary Drive
Straight cut gears, Ratio 1.84:1
Final Drive
Chain; Front sprocket 15; Rear sprocket 39
Clutch
Dry multiplate with hydraulic control

Emissions
Standard
Euro 3
Media Press Release
DUCATI PRESENTS 2010 INNOVATIONS
Finally unveiled, world preview of the new and eagerly anticipated Multistrada 1200.
Also new for 2010: new "Corse" livery for the 1198, two new Hypermotard 1000evo models and technical advances in the Monster family.
As is tradition prior to the opening of the EICMA show, Ducati has officially revealed the innovations of its 2010 product range.
Dream bikes, the fruit of Italian ingenuity and creativity, and destined to become new points of reference on the international market, are ready to take the spotlight at EICMA 2009, the 67th edition of the International Motorcycle Exhibition, taking place at the Fiera Internazionale di Milano in Rho, from 10 – 15 November.
Before the unveiling of the 2010 line-up, the new Ducati Corse logo was presented to the international press, an evolution of the historic brand in the form of a new graphic, following on from the launch of the new Ducati logo at last year's EICMA show.
A press conference, eagerly anticipated and rich in content, took place immediately prior to the official opening of the trade show. Gabriele Del Torchio, President of Ducati Motor Holding, met with representatives of the international media to present the company's recent sporting and commercial results, confirming the Italian manufacturer's strength and performance, despite the difficulties that the sector is currently experiencing.
"In 2009 Ducati has faced a year of important challenges but also one of important opportunities," stated Gabriele Del Torchio, President of Ducati, during the conference. "The challenges arrive from a market that has entered a significant worldwide slump and where the segment in which we operate could have dropped by 35% by the end of this year. In this scenario Ducati knew how best to react, so much so that our shares have continuously grown and in 2009 we will register a record share of 7.2% on a worldwide level. This result was achieved by sticking strictly to the objectives we had set ourselves, in relation to the company's three fundamental pillars. Firstly, product, with the 2010 innovations the clearest demonstration of how we have followed an intelligent plan for continuous renewal. Then the distribution network, constantly renewed and reinforced to improve and expand the service. Thanks also to the recent opening of stores in Shanghai, Mexico City and in Vietnam, Ducati today distributes in 80 countries of the world. Last but not least, the brand. We continue to work on the recognition of our brand name, and above all, on the role that Ducati has as an ambassador of Italian style across the world, a factor that is of fundamental value to us."
Claudio Domenicali, General Director of Ducati Motor Holding, then presented the many new bikes lining-up in Ducati's 2010 Model Year.
"We are present at EICMA with a series of important innovations, in accordance with our strategic industrial plan," declared Claudio Domenicali, Ducati's General Director, while presenting the 2010 Model Year. "The new Multistrada 1200 provides Ducati with an important opportunity to penetrate what is, for us, a completely new market segment, with a totally innovative concept, in terms of performance, usability and technological content. Four bikes in one, with four different riding modes, traction control and electronic suspension but, most importantly, a true Ducati, in its style, design and advanced technology, derived directly from Ducati's racing experience on tracks across the world. The Hypermotard 796 e 1100 evo, the new "Corse" liveries for the 1198 S and 1198 R, as well as countless technical and style updates, complete the 2010 line-up of which we are so proud."
The undeniable star is the eagerly awaited Ducati Multistrada 1200, already in the running to take the prize for "best bike in show."
Faithful to the original intuition, which combined sport bike technology with comfort and versatility, Ducati now extends the concept further with a brand new Multistrada 1200 designed to satisfy the demands of all motorcyclists. Ducati have designed a motorcycle to tackle all kinds of journey and road surface using technology derived from the Bologna made race bikes in MotoGP and World Superbike.
A bike with no limits, that can transform itself to suit the rider's demands, from a supersport to a tourer for long journeys with a passenger and luggage, to an everyday bike which can breeze through the daily commute and also tackle off-road routes with the agility of an enduro; in other words, four bikes in one!
Ducati have once again pushed the limits of motorcycle design by adding Italian innovation to the elegance, style and technology which characterise the motorcycles that leave the Bologna factory.
All it needed was a heart, the perfect engine to fulfill the potential of this new design. The obvious starting point was the World Championship-winning engine, the Testastretta, used on the Superbike 1198. Engineers in Bologna have succeeded in harnessing the immense power of this engine, making it smooth and adaptable to any situation. The new Testastretta 11° engine is thus born, and represents a milestone in combining performance with usability.
2010 Special Editions celebrate the historic Ducati Corse logo change and two world titles in Superbike and Superstock. The 1198 S Corse Special Edition and 1198 R Corse Special Edition, both equipped with factory team-style aluminium fuel tanks, Ducati Traction Control and a special celebratory Ducati Corse livery, now complement the lightweight and agile 848 now in Dark colour scheme, the awesomely powerful 1198, and the high-spec 1198 S to complete the 2010 Superbike model line-up.
There are more exciting new products in the Ducati Hypermotard range that now becomes a fully-fledged family of bikes in 2010. No longer just one, but three versions, designed to suit different needs, but each with the same specific objective: to provide excitement and fun. So here is the new, agile Hypermotard 796, which joins the new and even more powerful Hypermotard 1100EVO as well as the extreme version, the as yet unseen Hypermotard 1100 EVO SP.
Hot on the heels of its early model year 2010 launch in October, the lightweight 796 is now joined by an evolution of the 1100 model that rolls out at an incredible 7kg (15.5lb) lighter and 5hp more powerful than the original.
And if further weight reduction and more punch wasn't already enough on a bike that was built to thrill, the Hypermotard 1100EVO SP pushes the limits even further with a model intended to perform on the track as well as the street.
The exciting introduction to the Monster family for 2010 are the ABS equipped versions of the 696 and 1100 (basic and S), the first time that Ducati has ever equipped the Monster family with a safety-enhancing anti-lock braking system.
Other 2010 introductions to the Monster family include new exhaust guards, which feature a longer shape and provide improved heat protection.
Brand new crankcases for the 696, which are an impressive 1.2kg (2.6lb) lighter and, furthermore, the user-friendliness of the controls has been improved with 4-point adjustable clutch and brake levers to suit all hand sizes.
In addition, Ducati presents many new accessories, special components and a new collection of Ducati clothing.