Back to 2010 Honda Motorcycle Index Page
Click photos to enlarge.
They make great desktop images.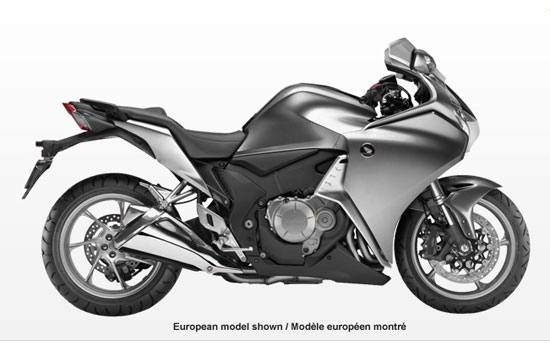 2010 Honda Interceptor VFR1200FA DCT


– 2010 Honda Interceptor VFR1200FA DCT

2010 Honda Interceptor VFR1200FA DCT

Honda's storied V-4 heritage has been re-invented in an astonishing new sport motorcycle that's unlike anything you've ever seen, heard, or ridden. Drawing from an impressive history of V-4 innovation, the all-new Honda VFR1200FA incorporates technology borrowed from such diverse sources as MotoGP, motocross, and even high-end sports cars. Its 1,237 cc engine has a narrow 76-degree cylinder angle, Unicam™ valve train, asymmetrical front/rear cylinder spacing, and other advanced features, which combine to produce a remarkably compact engine. Throttle-by-wire, a smart new shaft-drive system, Dual Clutch Transmission… it all adds up to a futuristic new bike for those who love to ride hard, ride far, and ride often.




Features and Benefits

Engine/Drivetrain

Light and compact 1,237 cc liquid-cooled 76-degree V-4 engine pumps out amazing levels of power with a distinctive feel and sound.

By combining many of Honda's most advanced technologies, engineers managed to create a remarkably compact engine that's both smaller and lighter than the V-4 engine in the VFR800A.

Unique cylinder layout locates the rear cylinders side by side but close together, and the front cylinders more widely spaced. This layout allows for a slim, compact "waist" that fits comfortably between the rider's legs. It also improves mass centralization, thereby contributing to the bike's balanced feel and ease of control.

The engine also incorporates a special high-strength Symmetrically Coupled Phase-shift Crankshaft that features a 28-degree crankpin offset that works in concert with the 76-degree V angle to essentially negate primary engine vibration for smooth running. And because the powerplant now has perfect primary balance, the need for a balance shaft is eliminated, which allows for a more compact engine and also yields a weight savings of nearly 1.4 kg (3 lb) .

Lightweight and compact Unicam™ valve train allows for significantly shorter and smaller cylinder heads with no loss in efficiency. It's the same technology used in Honda's potent CRF motocross bikes.

Also borrowed from the CRF range and the RC211V MotoGP bike is the sealed crankcase system that reduces the pumping loss created through piston movement, marking the first time this system has been used on a street motorcycle.

The new engine's performance is delivered where it's most useful and most enjoyable. Its linear torque curve is focused in the low-end and midrange, making it possible for the rider to simply roll on and off the throttle while powering through bends. This effortless control makes the VFR1200FA great fun to ride – this is a sportbike with real-world-usable power.

Asymmetrical exhaust lengths between front and rear cylinders further improve power output and add to the VFR1200FA's unique sound and feel.

Engineered to provide excellent cornering clearance and minimal intrusion to the feet of the rider and passenger, the high-volume, twin-outlet muffler produces an unobtrusive but fantastically stirring note.
At low revs the sound is almost like a human heartbeat. Further up the rev range, once the internal servo-operated exhaust valve is opened, the sound changes to a truly inspiring, hard-edged V-4 howl.

A throttle-by-wire system replaces the throttle cable with sophisticated electronics. It provides light, precise fuel metering at all engine rpm, the system's accuracy gives the rider increased levels of control.

The Dual Clutch Transmission includes two automatic modes and a manual mode with paddle-style shifters, and is similar to systems found on high-end sports cars. Its mechanical efficiency matches that of a manual gearbox, meaning you get to enjoy the convenience of an automatic with the unbridled performance of a manual.

The next-generation shaft-drive system routes the shaft below the swingarm pivot point to eliminate the squat and lift of conventional shaft drives without resorting to complex and heavy countermeasures as found on some competing models. Special dampers eliminate any excessive slack or jerkiness in the system, resulting in smooth on- and off-throttle transitions.


Chassis/Suspension

The patented layered fairing design creates a uniquely beautiful shape and, at the same time, optimal airflow and heat management. The fairing incorporates two layers. Air entering between the layers and through two oval-shaped spaces in the front of the fairing is channelled in exactly the directions needed to enhance the bike's stability at higher speeds. Plus, by channelling air through smaller apertures before it reaches the radiators and thereby increasing its velocity, engine cooling is optimized and the hot, exhausted air is carried quickly away from the rider and passenger for a cooler, more comfortable ride. The heat generated by the engine is also channelled away to keep hot air away from the rider.

Honda Pro-Arm single-side swingarm with single gas-charged shock features a handy remote spring-preload adjuster, rebound damping adjustability, and 130 mm (5.1 inches) of travel. At the front the
VFR1200FA boasts a stout, sport-oriented 43 mm inverted cartridge fork with spring preload adjustability and 120 mm (4.7 inches) of travel.

The VFR1200FA is equipped with a sophisticated braking system that's ideal for all-round sportbike use. Powerful new six-piston calipers for the front and a two-piston caliper at the rear act on large full-floating discs (320 mm front; 276 mm rear). Honda's Combined Braking System creates the optimal balance of front and rear braking forces, while the compact and lightweight Anti-lock Braking System (ABS) lets you brake with confidence on even difficult surfaces.
Additional Features
New-technology seat construction permits a higher level of seat shaping and forming detail for excellent rider and passenger comfort and a sleek look.

Integral saddlebag mounts come standard on both versions of the VFR1200FA.

New painting technologies, specially developed at Honda's new high-tech Kumamoto factory, result in a level of finish far above normal production standards .

The handlebar and the layout of the controls are the result of careful study of ergonomics and rider needs. The designers looked at the time required to reach controls comfortably and the ease of operation— particularly during cornering. As a result, the VFR1200FA has new handlebar switches and a new layout with reversed horn and indicator controls. The indicator switch shape is designed around natural thumb movement for effortless operation.
2010 Honda Interceptor VFR1200FA DCT – Canada Specifications
MSRP: $TBA USD

Engine Type Liquid-cooled 76-degree V-4 with asymmetrical front/rear cylinder layout

Displacement 1,237 cc

Bore & Stroke 81 mm x 60 mm

Compression Ratio 12:1

Valve Train Chain-driven SOHC Unicam, 4 valves per cylinder

Fuel Delivery PGM-FI electronic fuel injection

Transmission Dual Clutch Transmission with two automatic shift modes and a manual shift mode via paddle-style shifters

Final Drive Shaft

Front Suspension 43 mm cartridge fork with spring preload adjustability; 120 mm (4.7 in.) travel

Rear Suspension Pro Arm single-side swingarm with Pro-Link single gas-charged shock with remote spring preload adjustability and rebound damping adjustability; 130 mm (5.1 in.) travel

Tires 120/70ZR – 17 radial front; 190/55ZR – 17 radial rear

Brakes Front dual 320 mm discs with six-piston calipers; rear single 276 mm disc with two-piston caliper. Combined Braking System with ABS (Anti-lock Braking System)

Seat Height 815 mm (32.1 in.)

Seating capacity Two

Wheelbase 1,545 mm (60.8 in.)

Curb Weight 278 kg (613 lb). Including required fluids and full tank of gas – ready to ride

Fuel Capacity 18.5 litres

Colour Silver Metallic