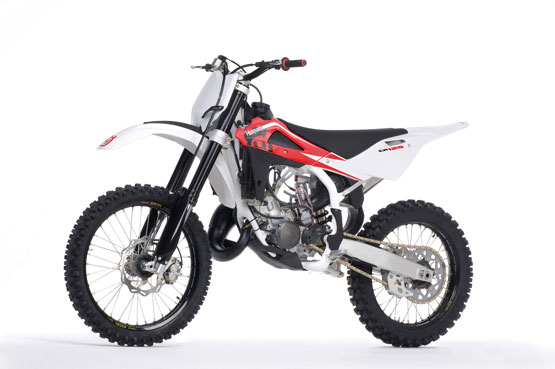 Back to 2010 Husqvarna Motorcycle Index Page
Click photos to enlarge.
They make great desktop images.
– 2010 Husqvarna CR125

2010 Husqvarna CR125
CR125 – HUSQVARNA. The CR 125 is the ideal machine for young motocross enthusiasts wanting to make a start in the sport.
These machines are light and easy to ride with their weight being right on the limit of the category. The powerful engine on the CR125 and its superb power delivery characteristics have always brought this Husqvarna great success.

The redesigned frame has been reinforced in the most critical areas. The geometry of the upper and lower engine mounts has been changed and there are now new chromium molybdenum trellis frame members.

The suspension system is totally new with Kayaba 48mm forks and a sealed cartridge with AOS (Air-Oil-Separate) system and Kashima coat treatment. These systems improve manoeuvrability, comfort, stability and damping while also increasing the effectiveness of the shock absorbing system and making the forks operate more smoothly.

The Sachs shock absorber has new settings and a newly designed separate reservoir that makes better use of the space available.

The appearance of the CR125 features new stronger, more flexible plastics with IPD (in-mould plastic decoration) graphics.

As regards the engine, the exhaust has been changed to provide better engine response at low revs and a new Arrow silencer has been fitted.

The history of motocross was written by Husqvarna. Since introducing two-stroke engines in the 60s to returning to four-strokes in the 90s, it has always been Husqvarna that set the rules in this sport.
Thanks to development work carried out during the motocross world championships by the official team, the team manager and the test rider Andrea Bartolini, Husqvarna can now offer a completely renewed range of two and four-stroke machines for 2010.
Reinforced, redesigned frames, new suspension, new exhaust systems and a new modern, aggressive look are the main features that the following motocross models all share: CR 125, TC 250, TC 450.
Summary of new items on motocross models for 2010:
– NEW IPD (IN–MOULD PLASTIC DECORATION) GRAPHICS ON TANK SIDES AND NUMBER PLATE HOLDER
– NEW STRONGER, MORE FLEXIBLE PLASTICS
– NEW 48 MM SEALED CARTRIDGE KAYABA FORKS
– NEW FORK CLAMPS FOR KAYABA FORKS
– NEW EXHAUST PIPE (CR125) FOR IMPROVED POWER DISTRIBUTION
– NEW SILENCER (CR 125)
– FRAME REINFORCED AT CRITICAL POINTS
– REAR SWING ARM SHORTENED BY 15 MM (TC) FOR IMPROVED TRACTION AND HANDLING
– NEW RADIATOR CONNECTORS AND HOSES. (TC MODELS ONLY)
– NEW MORE POWERFUL WATER PUMP (TC ONLY)
– NEW SACHS REAR SHOCK ABSORBER (CR 125)
2010 Husqvarna CR125 – Specifications
MSRP: $TBA USD

TDA. See Husqvarna.