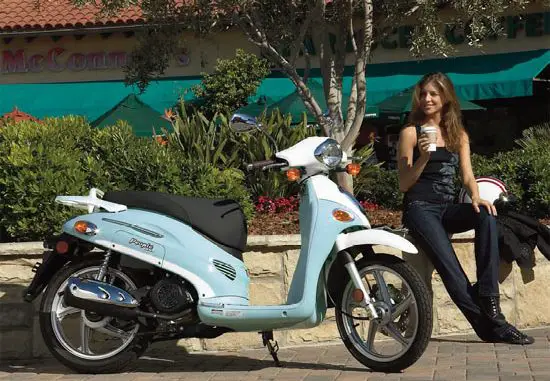 Back to 2010 Kymco Motorcycle Index Page
Click photos to enlarge.
They make great desktop images.
– 2010 Kymco People 150

2010 Kymco People 150
KYMCO has re-introduced the People 150 at a price several hundred dollars below their previous MSRP. At only $2,799, the People 150 brings extra horsepower to the party for just a few dollars more. With its classic styling and fuel-efficient 150cc 4-stroke SOHC engine, the People 150 is a people pleaser – and an excellent choice for inner city transportation or getting across your college campus. With 16″ wheels and front disc brakes the People 150 offers great handling and stability. Its comfortable seat accommodates you and a passenger and there's plenty of underseat storage – what a deal!

The People 150 With a 150cc four-stroke engine, the People 150 will take your comfort and riding experience to another level. With the same CVT automatic transmission as every scooter in our line, the People 150 makes riding hassle free. There's never any shifting – ever. Large lockable underseat storage makes running errands a breeze. Gas up at the pump for the cost of an overnight movie rental and ride for the whole week at, yes, over 80 MPG. Thousands of riders will tell you – the People 150
is the scooter for you.

Features and Benefits
150cc, 4-Stroke Air-Cooled SOHC Engine

CVT Transmission

16-inch Wheels

Electric starter with kickstart back up

Analog Speedometer, Odometer, Fuel Gauge

Large Padded Seat

Full Front Fender and Detailed Grill

Underseat Single Helmet Storage

Two Year Limited Factory Warranty

C.A.R.B. Certified

Taking a ride on the People 150 is the hip way to get to school, work or anywhere

Large, comfortable seat with room for two, helmet hooks, lockable underseat storage and locking front compartment

12 horsepower, 4-stroke, air-cooled 150cc engine with clean-running design

Travels over 150 miles on the contents of a single 1.8-gallon fuel tank

16-inch wheels and telescopic front fork and dual shock rear suspension that inspire a confident, smooth ride every time

Large displacement engine has no radiator, and is forced air-cooled for simplicity and reliability

Priced at $2,799

Available in the colors of: Black & Ivory, Blue & Ivory, Green & White, Wineberry or Silver

Bright Halogen headlight, digital dash, clock, speedometer, odometer and warning lights

Under-seat storage box, folding aluminum passenger foot-pegs, a side stand, center stand, fuel gauge, front disc brake

2010 Kymco People 150 – USA Specifications
MSRP: $2,799 USD
Engine Type 4-stroke air-cooled SOHC
Displacement 152cc
Bore/Stroke 57.4×57.8mm
Cooling System Forced Air
Ignition Electric w/kickstart back up
Gearbox Automatic CVT
Chassis Steel
Front Suspension Telescopic forks
Rear Suspension Dual shocks
Front Brake Disc
Rear Brake Drum
Front Wheel/Tire 80/80-16
Rear Wheel/Tire 100/80-16
Seat Height 31 in.
Wheelbase 53 in.
Fuel Capacity/MPG 1.8 gals./ Estimated 84
Weight 245 lbs.
Available Colors Black/Ivory, Blue/Ivory, Green/White, Wineberry, Silver
MSRP $2,799
Features 16″ wheels, comfortable seating for two, plenty of under seat storage and a 2 Year Factory Warranty. C.A.R.B. Certified

2010 Kymco People 150 – Canada Specifications
MSRP: $NA CDN

Model not available in Canada
*Note: MSRP does not reflect destination or other dealer vehicle preparation charges.
Warning: KYMCO vehicles meet all applicable Federal Motor Vehicle Safety and EPA standards. Always wear a helmet, eye protection and protective clothing. Avoid excessive speed. Never engage in stunt riding. Never ride under the influence of alcohol or drugs. Take a riding skills course.


Total Motorcycle and KYMCO make every effort to present the most current specifications and model features. Changes in equipment, colors, availability and specifications may change without notice or obligation. Some models are shown with optional equipment. MSRP does not reflect destination or other dealer vehicle preparation charges.