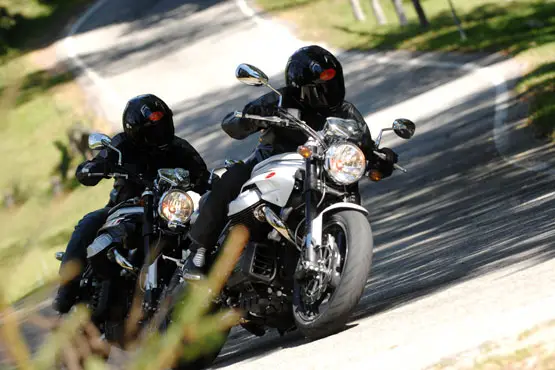 Back to 2010 Moto Guzzi Motorcycle Index Page
Click photos to enlarge.
They make great desktop images.
– 2010 Moto Guzzi Griso 1200 8V

2010 Moto Guzzi Griso 1200 8V
"His power became greater in reality and in the minds of others." This is a description of 'Griso', a character in 'I promessi sposi' by Alessandro Manzoni, one of the most famous works of Italian literature. In the book, Griso is a tough and fearless leader of the Bravi, and a man "who naturally undertook all the most daring enterprises". This description could just as well be applied to the new Griso 8V, the most exciting and spirited of all Moto Guzzi models, designed to create a new, more intense concept of sports riding based on sheer power and four valve cylinder head technology.
Designed to respect a tradition that has lasted forty years, the new engine adopts the rational 90° transverse V twin layout but with 563 new parts, and introduces for the first time single overhead cam valve timing and silent running Morse chains to operate the four valves per cylinder. 75% of this highly developed Moto Guzzi 1200 cc engine has been modified compared to its predecessor, to produce 110 HP at only 7500 rpm and a maximum torque of 11 Kgm at 6400 rpm.


2010 Moto Guzzi Griso 1200 8V – American Specifications
MSRP: See Dealer

MOTO GUZZI GRISO 8V ENGINE
Type : Four-stroke V 90 twin
Cooling : Air and oil cooled with independent cooling pump
Capacity : 1,151cc
Bore and stroke : 95 x 81.2 mm
Compression ratio : 11 : 1
Timing diagram : Intake valve opening 36° before upper TDC.
(play 1 mm) Intake valve closing 62° after lower TDC.
Exhaust valve opening 58° before lower TDC.
Exhaust valve closing 30° after upper TDC.
measured with rocker arm/valve play
of 1.5 mm
Maximum power output : Over 80.8 kW (110 CV) at 7,500 rpm
Max Torque : Over 108 Nm at 6,400 rpm
Fuel supply/ignition : Multipoint sequential electronic injection, Magneti Marelli IAW 5A phased, alfa-n system; 2 x Ø50 mm throttle bodies with Weber IWP 189 injectors, Lambda probe.
Starter : Electric
Spark plugs : NGK PMR8B (Long Life)
Exhaust system : Stainless steel two-into-one 3-way catalysed with Lambda probe.
Homologation : Euro 3

TRANSMISSION
Gearbox : 6 speed
Gear ratios : 1st 17/38 = 1 : 2.235
: 2nd 20/34 = 1 : 1.700
: 3rd 23/31 = 1 : 1.348
: 4th 26/29 = 1 : 1.115
: 5th 31/30 = 1 : 0.968
: 6th 29/25 = 1 : 0.862
Lubrication : Oil bath
Primary drive : Helicoidal gears, ratio 26/35 = 1 : 1.346
Final drive : CA.R.C reactive drive; double universal joint with floating bevel gear, ratio 12/44 = 1 : 3,666
Clutch : Single plate with integrated flexible couplings

FRAME
Frame : High tensile steel tubular twin cradle
Wheelbase : 1,554 mm
Rake : 108 mm
Steering rake : 26.30°
Steering angle. : 34°
Front suspension : Upside down Ø 43 mm fully adjustable forks (spring preload and hydraulic for rebound and compression) with mounting for radial calipers.
Front wheel travel : 120 mm
Rear suspension : Progressive single swingarm, fully adjustable monoshock with separate gas reservoir (spring preload and hydraulic for rebound and compression).
Rear wheel travel : 110 mm
2010 Moto Guzzi Griso 1200 8V – Canadian Specifications
MSRP: $16,895 CDN

MOTO GUZZI GRISO 8V ENGINE
Type : Four-stroke V 90 twin
Cooling : Air and oil cooled with independent cooling pump
Capacity : 1,151cc
Bore and stroke : 95 x 81.2 mm
Compression ratio : 11 : 1
Timing diagram : Intake valve opening 36° before upper TDC.
(play 1 mm) Intake valve closing 62° after lower TDC.
Exhaust valve opening 58° before lower TDC.
Exhaust valve closing 30° after upper TDC.
measured with rocker arm/valve play
of 1.5 mm
Maximum power output : Over 80.8 kW (110 CV) at 7,500 rpm
Max Torque : Over 108 Nm at 6,400 rpm
Fuel supply/ignition : Multipoint sequential electronic injection, Magneti Marelli IAW 5A phased, alfa-n system; 2 x Ø50 mm throttle bodies with Weber IWP 189 injectors, Lambda probe.
Starter : Electric
Spark plugs : NGK PMR8B (Long Life)
Exhaust system : Stainless steel two-into-one 3-way catalysed with Lambda probe.
Homologation : Euro 3

TRANSMISSION
Gearbox : 6 speed
Gear ratios : 1st 17/38 = 1 : 2.235
: 2nd 20/34 = 1 : 1.700
: 3rd 23/31 = 1 : 1.348
: 4th 26/29 = 1 : 1.115
: 5th 31/30 = 1 : 0.968
: 6th 29/25 = 1 : 0.862
Lubrication : Oil bath
Primary drive : Helicoidal gears, ratio 26/35 = 1 : 1.346
Final drive : CA.R.C reactive drive; double universal joint with floating bevel gear, ratio 12/44 = 1 : 3,666
Clutch : Single plate with integrated flexible couplings

FRAME
Frame : High tensile steel tubular twin cradle
Wheelbase : 1,554 mm
Rake : 108 mm
Steering rake : 26.30°
Steering angle. : 34°
Front suspension : Upside down Ø 43 mm fully adjustable forks (spring preload and hydraulic for rebound and compression) with mounting for radial calipers.
Front wheel travel : 120 mm
Rear suspension : Progressive single swingarm, fully adjustable monoshock with separate gas reservoir (spring preload and hydraulic for rebound and compression).
Rear wheel travel : 110 mm