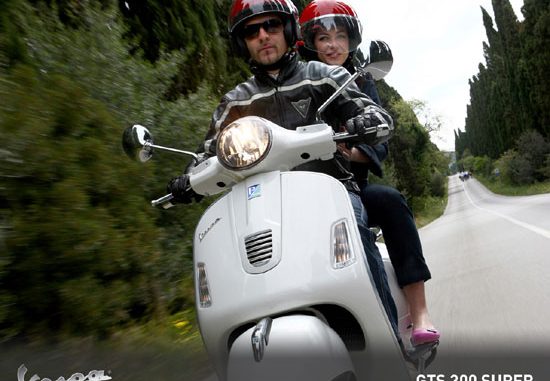 Back to 2010 Vespa Motorcycle Index Page
Click photos to enlarge.
They make great desktop images.
– 2010 Vespa GTS 300 Super

2010 Vespa GTS 300 Super
The fastest most technologically advanced Vespa ever.
GTS 300 SUPER Redefining the commuting experience. The classic, unique Vespa style is combined with a distinctly sporty and modern personality, giving the clean Vespa lines a decidedly rugged look. With its sporty design, the Vespa GTS 300 Super embodies the style, convenience, safety and sturdiness of the Vespa brand. With an ultra-modern, powerful 4-valve liquid-cooled engine, electronic injection and Euro3 approval, what sets the Vespa GTS 300 Super apart is the incredible flexibility and exuberance of the engine.
2010 Vespa GTS 300 Super – Specifications
MSRP: $6,199 USD

ENGINE TYPE Single cylinder, four-stroke, four-valve, electronic injection, catalytic QUASAR
CYLINDER CAPACITY 278cc
BORE x STROKE 2.95″ x 2.48″ (75 mm x 63 mm)
MAX POWER AT SHAFT 15.8 Kw (22 hp) at 7,500 rpm
MAX TORQUE 22.3 Nm at 5,000 rpm
MAX SPEED 80 mph (129 km/h)
FUEL / TANK CAPACITY Unleaded 2.4 gallons (9 litres)
GAS MILEAGE 65-70
DISTRIBUTION Chain driven SOHC (single overhead camshaft)
COOLING SYSTEM Liquid
LUBRICATION Wet sump and chain driven lobe pump; intake and delivery filters
INGINTION Electronic (with inductive discharge, variable spark advance and three-dimensional mapping)
GEARS CVT (Continuously Variable Transmission) with torque server
CLUTCH Automatic centrifugal dry clutch with dampers
CHASSIS Load-bearing sheet steel chassis with welded structural supports
FRONT SUSPENSION Single arm, dual chamber hydraulic shock absorber with coaxial spring
REAR SUSPENSION Two dual effect shock absorbers with adjustable preload
FRONT BREAK 220 mm disc
REAR BREAK 220 mm disc
FRONT TIRE Tubeless 120 / 70, 12″
REAR TIRE Tubeless 130 / 70, 12″
LENGTH 76.4″ (1941 mm)
WIDTH 29.7″ (755 mm)
WHEELBASE 53.9″ (1369 mm)
SEAT HEIGHT 31.1″ (790 mm)
DRY WEIGHT 326 lbs (148 kg)
TYPE APPROVAL EPA and CARB
AVAILABLE COLORS Shiny Black, Dragon Red, Montebianco White, Cortina Gray