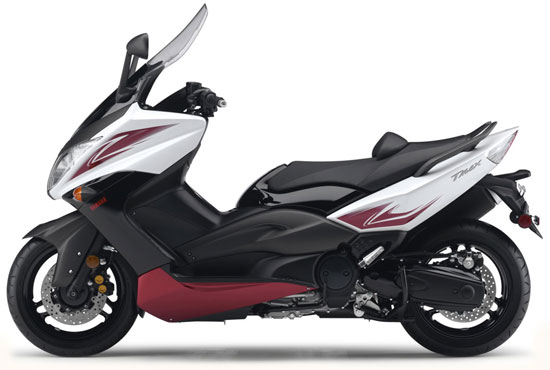 Back to 2010 Yamaha Motorcycle Index Page
Click photos to enlarge.
They make great desktop images.
– 2010 Yamaha TMAX

2010 Yamaha TMAX
The all-new Super Sport scooter blurs the boundries between scooter and motorcycle.
Powered by a twin cylinder, liquid cooled, 499cc engine the 2010 Yamaha TMAX offers the comfort and performance of a motorcycle in a scooter design. The 2010 TMAX is perfect for zipping around the city or discovering the faraway wonders that this great country has to offer.
Maximum scooter.
Blurring the boundaries between scooter and motorcycle – a super sport automatic fuel injected, liquid cooled, four valve per cylinder engine boasts, controlled-fill, die-cast aluminum frame, 43mm front forks, 4-piston caliper dual front disc brakes, and rear disc brake. Plus a multifunction instrumentation with speedometer and tachometer and radical sports styling.
The TMAX, is in many respects a motorcycle with the convenience of a step through design.
Featuring fuel injected twin cylinder power, huge 43mm fork and 2-up seating, the TMAX is no ordinary scooter. Whether commuting in the city or touring the Rocky Mountains, the TMAX offers serious performance and comfort. A huge under seat storage compartment and a fully automatic transmission provide unmatched convenience while an aluminium frame, R6 inspired brakes and 15″ wheels highlight its motorcycle handling and heritage. Discover why the TMAX is Italy's most popular scooter.
Highlights:
Fuel Consumption * 20kpl/56mpg(Imp)
499cc, liquid-cooled, fuel injected, 4-stroke power
motorcycle inspired performance, suspension and handling

Features andBenefits (USA):
Key Features:

" Fuel-injected, liquid-cooled, four-valve-per-cylinder engine boasts forged pistons, carburized connecting rods, and ceramic-composite plated cylinders. The TMAX has a 11.0:1 compression ratio; upswept muffler canister; Controlled-fill die-cast aluminum frame; 43mm front forks; 4-piston mono-block caliper dual front disc brakes; rear disc brake; aluminum die cast wheels with radial H-rated tires; fully featured multifunction instrumentation with speedometer and tachometer; and radical new sports styling; with those credentials, it's no wonder TMAX is the Super Sport Scooter.

" Horizontally positioned 499cc parallel twin, with reciprocating balancer, offers plenty of smooth power, enough for two-up touring at highway speeds. Configuration helps keep weight low in frame for mass centralization.

" Luxury scooter appointments include a double glove box in the streamlined front apron, a positionadjustable operator backrest, a storage box under the seat spacious enough for a large full-face helmet, and the excellent wind and weather protection that comes from the TMAX's floorboard/apron/windshield configuration.

" Continuously variable transmission connects engine power to the wet multiplate centrifugal clutch via a durable double-cog-type rubber V-belt. Silent chain efficiently transfers power to the rear wheel. This proven system, combined with TMAX's ample power, gives a whole new meaning-and adrenaline level-to twist-and-go throttle operation.

" The TMAX achieves fuel economy up to an estimated 47 mpg* with a fuel tank that holds 4 gallons of gas.

Engine:

" Fuel-injected, DOHC, four-valve-per-cylinder, 499cc parallel twin, liquid-cooled engine is horizontally mounted and performance engineered with forged pistons, carburized connecting rods and ceramic-composite plated cylinders for plenty of tractable power. Also includes a horizontally opposed reciprocating balancer for uncommon smoothness.

" Electronic fuel-injection system provides sure starts and excellent performance in virtually all conditions and altitudes.

" Lubrication is via a semi-dry-sump system with an oil cooler for longer engine life.

" Continuously variable transmission (CVT) connects engine power to the wet multiplate centrifugal clutch via a durable double cog-type rubber V-belt. Pivot coaxial drive shaft is used, allowing use of a swingarm separate from the powerplant for excellent handling. Two-stage, adjustment-free silent chain system then transfers power to the rear wheel.

" Muffler incorporates exhaust catalyst technology to reduce air pollution.

" Fuel tank emission system includes a charcoal canister to control gasoline evaporation and reduce air pollution.

Chassis/Suspension:

" Using technology proven in Yamaha's sportbike line, TMAX has a lightweight, Controlled-Fill die-cast aluminum frame that provides rigidity and balance for superb handling.

" Motorcycle-type telescopic front forks use beefy 43mm tubes.

" 15-inch cast aluminum wheels front and rear are fitted with radial tires for excellent, sporty handling.

" Front double disc brakes with four-pod mono block calipers.

" Pin-slide, single piston rear brake caliper with parking brake system.

" Brake lever is adjustable for operator comfort.

" Rear seat is hinged for easy opening. Underseat storage is spacious enough to store a large full-face helmet.

Additional Features:

" Bright headlights and taillight take their styling cues from Yamaha sportbikes
Features and Benefits (Canada)
Engine:
" Potent 499cc, liquid-cooled, DOHC, 4-valve, 4-stroke engine produces great fuel economy and low emissions. Highway speeds are easily obtainable with this powerful sports oriented engine.

" Fuel consumption of 20kpl or 56mpg. Your actual consumption may vary.

" Convenient electric starting with automatic decompression system means fast, reliable starting.

" Liquid cooling maintains consistent engine temperatures even while idling at stoplights or in traffic, for maximum performance and extended engine life.

" DOHC 4-valve cylinder head design provides optimum breathing efficiency for great engine performance. Valve actuation is via under bucket shims … just like on many sport bikes.

" Silent type cam chain and automatic hydraulic cam chain tensioner reduces both mechanical engine noise and maintenance chores.

" Light weight aluminium cylinder block features ceramic composite cylinder "bores". This "liner less" design means the ceramic coating is sprayed directly on the aluminium block to ensure great heat dissipation for consistent power delivery, reduced friction and reduced weight.

" Closed deck cylinder design allows the cylinders to be spaced more closely together, allowing a narrower engine.

" Specially designed twin cylinder crankshaft utilizes a horizontally opposed reciprocating "piston-style" balancer for reduced vibration for maximum rider and passenger comfort.

" Lightweight forged aluminium pistons reduce reciprocating mass for fast engine response and excellent durability.

" Carburized connecting rods are used for excellent durability and extended service life

" Downdraft style intake layout is used for maximum engine performance

" Maintenance-free digital TCI ignition system provides a precise, high-voltage spark for seamless engine performance, sure starts and excellent reliability.

" Oil coated paper-type air filter is used. The air box is designed for excellent performance and reduced intake noise.

" Mikuni 31mm dual throttle body fuel injection system provides crisp throttle response, reduced fuel consumption, reduced emissions and reduced weight. Other fuel injection benefits include no choke to fuss with … it is controlled automatically. The system also features a TPS (throttle position sensor) which feeds back info to the ECU for optimum ignition timing and maximum performance.

" The fuel injectors are a 12-hole design for better fuel / air atomization for strong engine performance. The fuel injectors are located down stream of throttle body in the intake manifolds.

" The fuel injection system is a "closed loop system" which means there is an oxygen sensor in the exhaust that monitors the exhaust emissions and constantly regulates / adjusts the fuel mixture for optimum performance and reduced emissions.

" 16 bit ECU (electronic control unit) controls the ignition and fuel injection process.

" Curved radiator with electric fan design provides maximum cooling efficiency.

" Fully automatic, CVT (constantly variable transmission) V-belt transmission ensures easy "twist-the-throttle-and-go operation". There is no hand clutch or gear shifting to worry about. A wide range reduction ratio is used for strong sports performance. Special dual paper air filters allow cooling air to enter the belt case for extended V-belt life. The belt is a double cog type belt for extended durability

" A special wet multi-plate automatic centrifugal clutch is used for strong starting acceleration and extended service life

" Stylish upswept muffler contains a catalytic converter to reduce harmful hydrocarbons and nitrous oxide exhaust emissions. The muffler produces a quiet exhaust note.


Chassis/Suspension

" Unique CF die cast aluminium frame is lightweight yet rigid for excellent sports handling. This frame design is a cross between a motorcycle type frame and a scooter step-through design. The TMAX is one of the most sporty handling scooters on the market today … it handles more like a motorcycle than a scooter.

" Motorcycle type lightweight aluminium swingarm reduces unsprung weight for sporty handling and excellent ride comfort. The pivot point for the swingarm passes though the rear of the engine cases.

" Large 43mm motorcycle inspired forks offer 120mm (4.7″) of front wheel travel for a smooth comfort ride. Fork offset (30mm)and pitch (210mm) are designed with sporty handling in mind

" Pull type single rear shock actually extends as the rear wheel moves through its stroke. The shock is mounted between the engine and the swingarm and offers 116mm (4.6″) of rear wheel travel.

" Dual floating 267mm front discs are squeezed by R6 inspired four piston monoblock calipers. Braking performance and lever feedback is excellent … just like a sport motorcycle.

" 267mm rear disc with single piston caliper provides strong, reliable stopping power.

" Special design parking brake provides additional confidence when parking the TMAX on sloped ground. A convenient handlebar-mounted lever activates the rear brake to prevent the unit from moving. The lever is designed to interfere with the left handlebar to prevent the unit from being ridden with the park brake activated.

" Rugged, 15″ cast aluminium "mag style" (3-spoke) wheels. Front wheel size is 3.50-X15 and is fitted with 120/70R15 tire, while the rear wheel size is 5.00×15 and is fitted with a wide 160/60R15 tire. Both tires are tubeless and radial construction for sporty handling.

" Roomy, 2-person seat ensures excellent comfort. The rider portion of the seat features a 3 position back support for even more comfort and allows the rider's position to be adjusted forward or backward to add or reduce leg room.

" Large, locking under seat storage compartment can easily hold a full-face helmet. A vanity light is provided in the rear section of the trunk for added convenience.

" Additional storage can also be found in the front area of the rider cockpit. There are two storage compartments on the left and right side of the inner fairing panel.

" 15 litre fuel tank includes a 3 litre reserve portion. An electric fuel pump is mounted inside the fuel tank to provide fuel to the FI system.

" Stylish 2-piece windshield provides excellent wind and weather protection. The upper portion of the windshield features a "hard coated" finish for scratch protection.

" Dual 60/55-watt halogen headlights provide a bright beam of light as well as that sleek, cat-eye image.

" Eye-catching rear taillight provides excellent visibility plus a sporty design.

" Sports styled front apron and floorboards provide excellent splash and wind protection and highlights the TMAX's functional side.

" Cool multi-function instrumentation panel includes analog speedometer, temp and fuel gauges with illuminated needles. Tach, odometer, dual tripmeters, clock, fuel tripmeter are digital. Plus V-belt wear indicator warning light and an oil change indicator light too.


Details

" Integrated rear turn signals

" Folding mirrors

" Convenient spin on type oil filter

" Rugged plastic stone chip protectors on fork legs help prevent inner tube damage

" 5-postion adjustable front and rear hand brake levers

" Special helmet cable slips thru helmet "D" rings and then locks under the seat for added helmet
storage and security

" Convenient passenger grab rails

" Push-to-cancel-type turn signals

" Easy-to-use centre stand and side stand

" Side stand safety lock-out switch prevents unit from being ridden when side stand is down.

" 3-in-1 main ignition switch combines the ignition, fork lock and under seat storage compartment lock in one convenient switch.

" Low-maintenance, sealed battery

" Locking fuel cap is hidden by special-access panel located at the front of the seat.

" Stylish heat shield on muffler protects rider and passenger from hot components.
2010 Yamaha TMAX – USA Specifications
MSRP* $8,490 (High Tech Silver) Available from February 2010


Engine
Type 499cc liquid-cooled 4-stroke, forward inclined parallel 2-cylinder, DOHC, 4-valve

Bore x Stroke 66.0 x 73.0 mm

Compression Ratio 11:1

Fuel Delivery Electronic fuel injection

Ignition Digital TCI: Transistor Controlled Ignition

Clutch Type Wet, multiple-disc automatic centrifugal

Transmission CVT double-cog V-belt auto

Final Drive V-belt


Chassis
Suspension/Front 43mm telescopic forks

Suspension/Rear Swingarm

Brakes/Front 267mm disc

Brakes/Rear 267mm disc

Tires/Front 120/70-15 67H Radial

Tires/Rear 160/60-15 67H Radial


Dimensions
Length 86.4 in

Width 30.5 in

Height 56.9 in

Seat Height 31.5 in

Wheelbase 62.2 in

Ground Clearance 4.9 in

Fuel Capacity 4.0 gal

Fuel Economy** 47 mpg

Wet Weight 489 lb


Other
Warranty 1 Year (Limited Factory Warranty)






2010 Yamaha TMAX – Canada Specifications
MSRP: $10,999 CDN
Engine 4-stroke, liquid-cooled, DOHC, 4-valve, parallel twin
Displacement 499 cc
Bore and Stroke 66 x 73mm
Compression Ratio 11:1
Maximum Torque 4.7 kg-m (34.2 ft-lb) @ 6,500 rpm
Fuel Delivery Mikuni 31mm fuel injection
Estimated Fuel Consumption* 20kpl / 56mpg (Imp.)
Lubrication Dry Sump
Ignition / Starting TCI / Electric Start
Transmission Fully automatic
Final Drive Enclosed chain

Suspension (Front) 43mm fork
Suspension (Rear) Single shock swingarm
Brakes (Front) Dual 267mm discs
Brakes (Rear) 267mm disc
Tires (Front) 120/70R15
Tires (Rear) 160/60R15

Length 2,195mm (86.4")
Width 775mm (30.5")
Height 1,445mm (56.9")
Wheelbase 1,580mm (62.2")
Ground Clearance 125mm (4.9″)
Seat Height 800mm (31.5")
Fuel Capacity 15 litres (3.3 Imp. gallons)
Wet Weight 222kg (488.4 lb)

Colour(s)
Hi Tech Silver
Bluish White

* Fuel economy estimates are based on US EPA exhaust emission certification data obtained by Yamaha and converted into Canadian measurements. Your actual mileage will vary depending on road condition, how you ride, maintain your vehicle, accessories, cargo and operator/passenger weight.

Specifications, appearance, and price of product are subject to change without notice.
* MSRP does not include freight, PDI (Pre Delivery Inspection), pre-rigging (boats), or taxes. Dealer may sell for less.