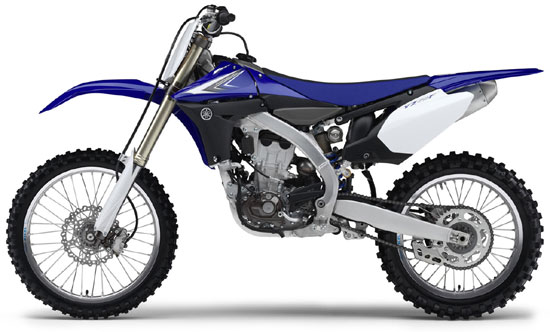 Back to 2010 Yamaha Motorcycle Index Page
Click photos to enlarge.
They make great desktop images.
– 2010 Yamaha YZ450F

2010 Yamaha YZ450F
The revolutionary new YZ450F: So forward thinking everything else seems backwards.
Yamaha has "spun" the MX world 180 degrees with the introduction of the new and innovative 2010 Yamaha YZ450F. Our engineers stepped out side of the box and the result is a stunning new machine which showcases Yamaha's latest MX technologies. Mass centralization combines with excellent "Rideability" to provide riders with a machine that exceeds expectations.
New bikes amke some people stare. The revolutionary new 2010 YZ450F will have many gazing far into the future.
But slanting the cylinder rearward and reversing the intake and exhaust ports, the 2010 Yamaha YZ450F's mass is more centralized for amazing balance, unprecedented handling and cornering. The all-new Bilateral Beam frame and suspension offer fantastic feedback to the rider. Add fuel injection to the mix of of these new innovations and you'll agree: backward is the right way forward.
Fuel injection, "reversed" rearward slanted engine, Tornado exhaust, "Bilateral Beam" frame, new swingarm, longer suspension travel … the list of improvements goes on.
The new YZ450F features engine and chassis designs that separate Yamaha from the competition. The YZ450F is a "no compromise" machine designed to win with styling highlights that will turn heads at the same time.
Highlights:
New rearward slanting "reversed" engine
New Bilateral Beam frame


All New for 2010

" YZ450F's new rearward-slanted cylinder is a revolutionary advancement that achieves unmatched mass centralization, concentrating inertial mass toward the center of the machine. This bold new design also swaps traditional intake and exhaust positions, putting the lightweight airbox and throttle body out front. This contributes to mass centralization for nimble handling while also achieving a straight intake tract for superb combustion efficiency that delivers more power.

" The cylinder is offset so the connecting rod is vertical at the moment of greatest combustion force, minimizing piston friction against the cylinder wall that could rob power. That means quicker response.

" The new 4-titanium valve cylinder head is matched to a fuel injection system developed specifically for the YZ450F. Instantly adapts to changing air/fuel mixtures depending on altitude and temperature, for an engine that delivers no matter what conditions.

" The all-new aluminum Bilateral Beam frame provides a superb rigidity balance that complements the engine for unmatched lightweight handling and cornering. The result? The best cornering, most nimble 450F for all track conditions.

" Revamped looks deliver new-generation styling, including front and rear fenders, intake cover, front fork protector, and number plate, along with the fuel tank and seat.

" Accessory GYTR® Power Tuner lets bike tuners adjust air/fuel mixture and ignition timing maps to match engine performance characteristics to the rider and track conditions.
Features andBenefits (USA):
Key Features:

Engine:

" The rearward-slanted engine allowed engineers to design straight intake and exhaust ports, creating the most direct path for air flow into the fuel-injected engine for incredible performance.

" The YZ450F uses a battery-less fuel injection system with a 12-hole injector for superb fuel atomization. The 44mm Keihin® throttle body is designed for easy starting, with an integrated cold start and idle speed adjustment knob. Yamaha FI provides optimal air/fuel mixtures in all altitudes and wide range of temperatures for outstanding throttle response.

" 14 volt / 110W high output generator powers the battery less fuel injection system.

" 4-titanium valve cylinder head with a "pent-roof" design combustion chamber provides excellent combustion efficiency and unequalled power output.

" Intake and exhaust camshaft profile changes to increase valve working angle and valve lift for most excellent performance at all rpm.

" The bigger 97.0mm bore and shorter 60.8mm stroke, along with a higher 12.5:1 compression ratio, create a combustion chamber that delivers really impressive power.

" The air filter case is changed to accommodate the new engine layout. Putting it up front keeps dirt and dust kicked up from the rear tire away from the intake system.

" New "tornado-style" exhaust header with resonator efficiently scavenges exhaust gasses and helps the engine achieve its exceptional low-to-mid range torque characteristics, while the 150mm-longer muffler comfortably meets the latest noise standards without a sacrifice of power.

" Clutch and transmission components have been thoughtfully revamped to give the rider great shifting feel.

Chassis/Suspension:

" The aluminum Bilateral Beam frame is crafted from a carefully chosen combination of forged and extruded aluminum, 16 components in all, for the right rigidity balance and light weight. A very symmetrical chassis design promotes nimble handling, letting riders enter and exit corners as quickly as possible to put the competition behind them.

" New skid plate is constructed from tough polypropylene for great protection and low weight.

" The swingarm and rear shock are redesigned, with the shock mounted along the central axis of the frame, taking advantage of the space no longer needed for the front-mounted airbox. This optimized combination delivers exceptionally linear performance for excellent bump absorption and awesome cornering ability.

" The KYB® Speed Sensitive front fork has 10mm longer stroke for excellent feel and shock absorption.

" KYB® rear shock with large capacity piggy back reservoir and 50mm piston for more consistent damping control.

" New fuel tank is positioned underneath the seat, contributing to the centralized mass. The seat is long and flat for to allow free rider movement.

" New rear sprocket shape has a trick appearance and is light weight.

" The triple clamps are redesigned, with a change in offset from 25 to 22 mm for unequalled cornering performance. The ProTaper® bars are four-way adjustable to accommodate a wide range of riders.

" The front and rear fenders, along with the number plate, side cover and front fork protector have been redesigned for an aggressive look. Less plastic is used to expose and enhance the lightweight aluminum frame.

Additional Features:

" Fuel pump is small and lightweight, as is the compact transistor ignition unit.
Features and Benefits (Canada)
Engine:
" All new, "reversed" liquid-cooled, 450cc, DOHC, 4-valve, 4-stroke, single with fuel injection and titanium valves. The engine has been tuned for excellent "drivability and controllability" one of the most important keys to fast lap times. The engine delivers a broad power curve with a great over-rev capacity.

" This all new, unique engine design features a rearward slanting cylinder that is "reversed" compared to traditional designs. The FI throttle body and air box are front mounted while the exhaust exits from the rear of the cylinder. This design is used to centralize mass for excellent handling and a light feel. The other major benefit is the straight shot intake system which maximizes power output. The engine is slanted 7.5 degrees rearward.

" The "reversed" design allows for a straight intake path into the cylinder, providing maximum intake flow and efficiency for excellent power. The front positioned intake means that engine heat will have less "heating effect" on the incoming fuel charge (cooler fuel helps increase power).

" Centrally located spark plug and the new design of the 4-valve head promotes a "tumbling effect" of the inbound fuel / air for better combustion, improved throttle response and power output.

" All new, compact, 4-valve cylinder head design, features a 12.5:1 compression ratio (Vs 12.3 for '09). The intake valves are 36mm in diameter and the exhaust valves are 30mm.

" Lightweight titanium valves (intake & exhaust) and new load-reduced oval valve springs reduce reciprocating mass for less friction, faster-revving and smoother-hitting power delivery across the rev range.

" The bore has been increased by 2mm while the stroke has been shortened by 2.6mm compared to last year's model.

" Automatic cam chain tensioner reduces maintenance and new cam chain "sliders" reduce internal frictional losses.

" All new, hollow design intake and exhaust camshafts feature new valve timing and lift specifications for improved power.

" The lightweight aluminium cylinder features a ceramic composite coating which is applied directly to the aluminium, eliminating the need for a heavy iron sleeve or liner. The ceramic coating insures faster, more uniform heat dissipation, reduced friction and a longer service life.

" The cylinder is "offset" relative to the crankshaft to reduce frictional losses between the piston and the cylinder wall during the power stroke. This offset design is a first on a Yamaha motocross machine.

" New, more rigid crankcase to accommodate the increased engine power

" New design crankcase utilizes an integrated oil tank inside the cases to supply oil to the dry sump lubrication system. This design concentrates mass lower in the frame for optimum handling and lighter weight feeling. There are no exterior oil lines with this design and the internal oil tank is designed to promote air – oil separation.

" Special cylinder design features cutaways that allow the air "trapped" under the piston to enter a side chamber (or cutaway) to reduce horsepower-robbing "pumping losses."

" The crankcase also utilizes cutaways to reduce "pumping losses". The crankcase cutaways match the cutaways in the cylinder for maximum efficiency.

" All new short-skirt, forged piston provides excellent reliability, less mechanical vibration and reduced weight.

" Newly designed piston rings reduce friction for improved power and reduced oil consumption.

" Piston oil cooler utilizes a pinpoint nozzle that directs oil to the desired portion of the cylinder and underside of the piston, which reduces piston, cylinder and rod temperatures for great durability.

" Oil volume in the engine has been optimized to reduce weight and oil drag related power losses.

" Revised, lightweight gear driven balancer shaft reduces vibration for improved rider comfort and less rider fatigue.

" The crankcase features a tri-axis layout for the crank, main and drive axles. This tri-axis design keeps the crankcase more compact while also centralizing mass for excellent handling. All of the shafts are positioned low in the cases to maintain a low centre of gravity.

" Revised multi-plate wet clutch features a new clutch push lever assembly and revised push rod. The benefit is improved clutch feel and reduced clutch lever effort.

" Revised, 5-speed transmission features "involute splines" on the transmission axles to ensure smooth shifting and instant hook-up under power. There are numerous changes to the transmission including engagement dog shape, shift cam "pattern" and revised shift forks. The benefit is smooth, positive shifting

" 5-speed transmission optimizes engine performance. This 5-speed transmission provides great performance and makes the YZ450F very versatile for MX, Hare Scrambles, Super Moto, Ice Racing and Enduro type applications.

" Quick-access, lightweight magnesium outer clutch cover for fast, easy clutch maintenance.

" All new Keihin 44mm throttle body fuel injection system is a battery-less design for reduced weight and is designed specifically for MX applications. The 12-hole injector maximizes fuel atomization for more complete combustion and great power output. The benefits of fuel injection include constant ongoing adjustments to insure the optimum fuel – air ratio regardless of outside air temperature and altitude. Other benefits include improved starting and improved throttle response. The system is equipped a throttle position sensor (TPS), plus a range of sensors (engine temp, outside air temp and air pressure etc.). There is also a cold start and fast idle knob which doubles as an idle adjuster too.

" The injector spray pattern, spray direction and the distance to the intake valves have been optimized, while the specially designed straight intake tract helps to maximize the benefits of the FI system and overall power output.

" Optional, compact, hand held "YZ Power Tuner" allows tailoring of both fuel injection settings and ignition mapping. Nine (9) different setting points can be accessed for both the FI and ignition maps. Maps can be stored and shared with other Power Tuners if desired. The days of removing a carb to make jetting changes are gone.

" New, compact, lightweight in-tank electric fuel pump

" A new larger capacity ACM (alternating current magneto) is used to eliminate the need for a battery.

" Automatic decompression system ensures easy starts in any gear with no manual lever to fuss with.

" All new air box (located behind the steering head) features a straight shot intake boot and a new washable, dual-stage, foam air filter.

" All new "Tornado" design exhaust system exits from the "rear" of the cylinder. The spiral winding of the header pipe provides the correct "tuned" length and takes full advantage of the exhaust "pulse" effect to maximize cylinder filling. There is a "resonator" (or power chamber) built into the header pipe. Another benefit of this new exhaust system is mass centralization

" New re-packable lightweight aluminium / stainless steel muffler has been designed to optimize the performance of the new engine. This muffler complies with both CMRC and AMA 2010 noise limits.

" Revised compact, lightweight, single core, dual radiators provide outstanding cooling efficiency.

" All new ECU controls the ignition and fuel injection processes. There is also a "G" sensor system that will shut down the fuel injection system if the bike lies on its side for more than 10 seconds. There is no special procedure to re-start the bike … just kick it and go. The ignition timing maps are all new to maximize the benefit of both the FI system and the new engine characteristics.

" Works-style race-spec "barrel adjuster" for on-the-fly clutch adjustability.

" Easy access oil filter.


Chassis/Suspension

" All new, compact "bilateral beam" aluminium frame centralizes mass for exceptional handling. This 450cc class specifically designed frame consists of a "High Solid Die Cast" head pipe, hydro formed main rails plus various forged and extruded components. This all new frame is compact and offers significantly improved "rider – machine communication" (a.k.a. feedback). The engineers have optimized the balance between strength, rigidity and flex. The key goal of this new chassis is faster and easier cornering … one of the keys to winning races. The engineers started with a clean sheet of paper and designed the chassis based on the requirements of a 450cc motocrosser. Note: the YZ450F frame is unique unto itself.

" The rigidity balance of this new frame has been optimized and features high lateral and torsional rigidity with "tuned flex" in the longitudinal direction. The result is a feeling of lightness, agility and traction.

" New, lightweight, tapered, aluminium swingarm is produced using "hydro forming", a special method that uses high pressure liquid to form shapes. The shock is now positioned in-line with the central axis of the bike and there are new linkage mounting locations on the swingram. The rear axle pinching area is thicker and stronger, while the swingarm pivot shaft is now 17mm.

" Lightweight removable rear sub frame is constructed of square-section, lightweight aluminium pipe. The detachable design allows easy access when servicing rear suspension components.

" New cast aluminium upper and forged aluminium lower triple clamps are revised and reduce the fork off set (from 25mm to 22mm) and offer great rigidity and strength.

" As in 2009, there are a total of 4 different handlebar positions available (thanks partly to the offset design of the aluminium handlebar clamps) with an adjustment range of 30mm, to suit a wide variety of riders.

" Pro Taper bars provide excellent strength and durability. Foam handlebar pad is included.

" Revised 48mm, adjustable, inverted, Kayaba cartridge forks offer an additional 10mm of travel for 2010. These forks feature a twin-chamber design which means the damper unit is in a separate structure which prevents aerated fork oil from entering the inner damper assembly and reducing its damping abilities. Since the inner damper is pressurized, it also eliminates bubbles forming in the oil. Front fork adjustments include: 20-way compression damping and 20-way rebound damping. Optional fork springs are available through Genuine Yamaha parts.

" The balance between the inner and outer tubes is optimized, while the Kashima coating on the pressure tank and the piston rod reduce friction for smoother suspension performance. The cylinder diameter is 24mm for excellent primary cushioning.

" The 48mm inverted KYB fork also features a Transfer Control Valve (TCV). The TCV enhances the damping force from mid to full stroke and improves bottoming characteristics. The benefit of TCV is more precise control throughout the full suspension stroke. The TCV is located on the upside of the spring and its function is controlled by piston speed, not piston position … hence the term "Speed Sensitive fork".

" "Kashima coating" has been applied to the fork tubes to reduce friction for smoother suspension performance. Front wheel travel is 310mm (12.2″).

" Revised, large "wrap-around" plastic fork protectors provide excellent lower fork tube protection. The "self-supporting" design reduces friction for smoother fork operation.

" New Monocross link rear suspension system features a revised fully adjustable Kayaba, piggyback shock which provides 315mm (12.4″) of wheel travel and features separate adjusters for high- and low-speed compression damping. The shock is now in-line with the center axis of the bike for excellent control. Adjustments include: spring preload, 20-way rebound damping, 20-way low-speed compression damping and 2 turns of high speed compression damping.

" The revised shock uses an 18mm diameter piston rod. Kashima coating is used in the shock body and sub tank to reduce friction and improve suspension performance during a long moto. The Kayaba shock utilizes a full rebound oil lock system for excellent suspension function and great ride quality. The shock spring location is 30mm lower than last year, reducing the centre of gravity.

" 250mm floating front wave-style disc reduces weight, improves cooling and adds style too. The disc is squeezed by a Nissin twin piston caliper fitted with lightweight aluminium pistons.

" "Shorty style" adjustable front brake lever.

" 245mm rear disc brake features a "wave-type" disc. The rear disc is squeezed by a single Nissin piston caliper.

" Lightweight, compact, integrated Nissin rear master cylinder (fluid reservoir is integrated into the top of the master cylinder) provides strong stopping power with excellent feel and control.

" The rear caliper and the lower portion of the wave disc are protected by heavy duty plastic protectors.

" Newly designed, compact body work includes front number plate, front fender, rad shrouds, fuel tank, side panels and rear fender which enhance the lightweight feel and look of the new YZ450F. This new "minimal" bodywork is a flat design, allowing for fast, easy rider movements. The ergonomics provide a natural and roomy riding position. The body has been designed to maintain it good looks throughout the life of the machine.

" The lightweight, plastic resin 6 litre fuel tank is located under the seat, once again reducing the centre of gravity and centralizes mass for exceptional handling performance.

" New lightweight Sun Star rear sprocket.

" Lightweight, 21″ front and 19″ rear Excel rims provide exceptional durability and help reduce unsprung weight for optimal suspension performance and handling.

" Large 25mm rear axle and a hub design which features a second bearing on the sprocket side for increased rigidity.


Details

" New polypropylene engine and water pump guards reduce weight.

" Lightweight, extra wide foot pegs provide excellent grip and ground clearance.

" Folding shift lever tip helps prevent damage.

" Stainless steel, inner clutch cable provides excellent strength and long life.

" Lightweight chain guide / support helps reduce chance of chain derailment. Also helps protect rear sprocket damage too.

" Heavy duty rubber swingarm protector

" Heavy duty DID 520 drive chain

" Convenient oil level sight glass
2010 Yamaha YZ450F – USA Specifications
MSRP* $8,090 (White/Red) Available from September 2009
$7,990 (Team Yamaha Blue/White) Available from September 2009


Engine
Type 449cc liquid-cooled DOHC 4-stroke; 4 titanium valves

Bore x Stroke 97.0 x 60.8mm

Compression Ratio 12.5:1

Fuel Delivery Yamaha Fuel Injection (YFI), Keihin® 44mm

Ignition CDI

Transmission Constant-mesh 5-speed; multiplate wet clutch

Final Drive Chain Drive


Chassis
Suspension/Front KYB® Speed-Sensitive System, inverted fork: fully adjustable, 12.2-in travel

Suspension/Rear KYB® Fully adjustable single shock; 12.4-in travel

Brakes/Front Hydraulic single disc brake, 250mm

Brakes/Rear Hydraulic single disc brake, 245mm

Tires/Front 80/100-21-Dunlop® D-742FA

Tires/Rear 120/80-19-Dunlop® D-756


Dimensions
Length 86.3 in

Width 32.4 in

Height 51.6 in

Seat Height 39.3 in

Wheelbase 58.7 in

Ground Clearance 15.0 in

Fuel Capacity 1.6 gal

Wet Weight 245 lb


Other
Warranty 30 Day (Limited Factory Warranty)








2010 Yamaha YZ450F – Canada Specifications
MSRP: $9,499 CDN
Engine 4-stroke, liquid-cooled, DOHC, 4-valve, single
Displacement 449.7 cc
Bore and Stroke 97 x 60.8 mm
Compression Ratio 12.5:1
Fuel Delivery Keihin 44mm throttle body F.I.
Lubrication Dry sump
Ignition / Starting TCI / kick
Transmission 5-speed
Final Drive Chain

Suspension (Front) Adj. 48mm, inverted fork / 310mm travel
Suspension (Rear) Fully adj. Monocross / 315mm travel
Brakes (Front) 250 mm, floating disc
Brakes (Rear) 245 mm, disc
Tires (Front) 80/100-21
Tires (Rear) 120/80-19

Length 2,193 mm (86.3″)
Width 825 mm (32.5″)
Height 1311 mm (51.6″)
Wheelbase 1,492 mm (58.7″)
Ground Clearance 383 mm (15.1″)
Seat Height 999 mm (39.3″)
Fuel Capacity 6 litres (1.3 Imp. gal.)
Wet Weight 111.3kg (244.9 lb)

Colour(s)
Yamaha Blue
Purplish White

* Fuel economy estimates are based on US EPA exhaust emission certification data obtained by Yamaha and converted into Canadian measurements. Your actual mileage will vary depending on road condition, how you ride, maintain your vehicle, accessories, cargo and operator/passenger weight.

Specifications, appearance, and price of product are subject to change without notice.
* MSRP does not include freight, PDI (Pre Delivery Inspection), pre-rigging (boats), or taxes. Dealer may sell for less.