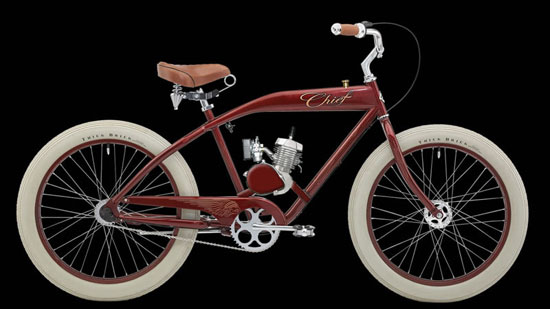 Great looking, big and glossy photos! Less reading, more looking!
There will be no 2010 Ridley Motorcycles.

Total Motorcycle Note: Due to Ridley Motorcycle's going bankrupt in Dec 2009, there will be no 2010 Ridley Motorcycle models this year. Please see the Total Motorcycle 2009 Ridley Motorcycle guide and Total Motorcycle 2011 Ridley Motorcycle guide for current models.

Assets of Ridley Motorcycle Company Acquired

(Okla. City, Okla.-02/22/2010) 2 Wheel Ventures, LLC., a former Ridley Motorcycle Company licensee, today announced that on February 16, 2010, it acquired the significant assets of Ridley Motorcycle Company.

The purchase includes all necessary intellectual property rights, tooling/fixtures, parts inventory, and manufacturing management software/hardware systems. 2 Wheel Ventures has also secured the company's manufacturing plant and former key personel.

In 2007, Ridley Motorcycle Company successfully licensed 2 Wheel Ventures to market the company's brand on apparel and accessories. The license expanded in 2009 to include parts and technical help.

"The Ridley brand stands for non-traditional motorcycle innovation. Not only was Ridley focused on the models it became famous for, but there are also hundreds of innovations that were never introduced to the market. Our intentions are to finalize development on those technologies and bring them to market while continuing to service and support the thousands of Ridley motorcycles already on the road," company president Jay Ridley said about the company he helped co-found in 1995.

"The past two years have been extremely challenging for our industry. With the rapid growth Ridley was experiencing in 2005, 2006, and 2007, the company over leveraged itself in order to meet demand for its products. When the credit market began to crash in 2008 it was almost impossible for the company to overcome its debts."

2 Wheel Ventures is committed to reorganizing the company's assets, providing parts, reconditioning pre-owned Ridley motorcycles and technical support to Ridley Owners, Dealers, and Service Centers. As the market conditions improve, 2 Wheel Ventures will evaluate the option of restarting production of new Ridley motorcycles.

Ridley Motorcycle Company was established in 1995 as the world's first complete line of fully-automatic motorcycles. Ridley's Continuously Variable Transmission (CVT) allows the rider to cruise without manual shifting or clutching.

For more information on Ridley Motorcycle Company visit www.RidleyMotorcycle.com


 

Ridley Motorcycle Models
– 2010 Ridley Auto-Glide Limited Edition
– 2010 Ridley Auto-Glide Standard
– 2010 Ridley Auto-Glide Classic
– 2010 Ridley Auto-Glide TT
– 2010 Ridley Auto-Glide Chopper
– 2010 Ridley Auto-Glide Sport
– 2010 Ridley Auto-Glide Trike TBA
– 2010 Ridley Auto-Glide Old School TBA



Ridley Vintage Motorbike Models
– 2010 Ridley Desert Patrol (MP) Limited Edition: Vintage Military Style
– 2010 Ridley The MP : Vintage Military Style
– 2010 Ridley The Twin : Vintage British Style
– 2010 Ridley The Chief : Vintage Classic Style
– 2010 Ridley The 1903 : Vintage American Style
– 2010 Ridley The Boardwalk : Vintage Beach Style
– 2010 Ridley Vintage 49cc Engine Model 48
– 2010 Ridley Vintage 70cc Engine Model 49




Behind the Scenes
– Industry News, Rumors, Spy Shots and information
– Manufacturer websites worldwide

– Industry News, Rumors, Spy Shots and information
Total Motorcycle is constantly on the look out for new 2011 and beyond motorcycle model information, industry rumors and spy shots. As we hear, conduct interviews and find the latest information we will post it here for you to read, share and enjoy.
Total Motorcycle Community Forums
Motorcycle Rumor Mill & New Model News Forum
Massive Motorcycle Specifications Handbook 1980-1999
Total Motorcycle's Big Book of Concept Bikes
Don't forget to check out our Huge Motorcycle Photo Gallery with thousands of photos for you to enjoy!
– Manufacturer Websites


Ridley