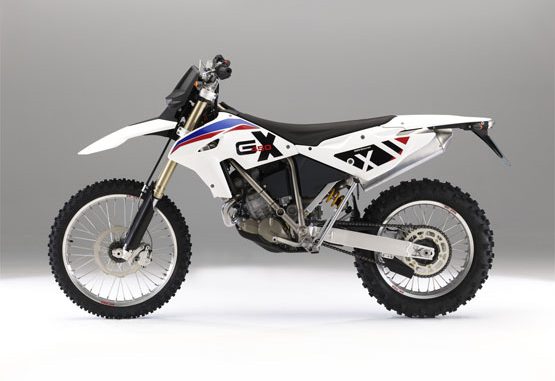 Back to 2011 BMW Motorcycle Index Page
Click photos to enlarge.
They make great desktop images.
– 2011 BMW G450X

2011 BMW G450X
That's what modern high-performance sport is like on this purebred enduro: you sit on it and feel that everything is just right – the seating position, handlebars, footrests, it's simply perfect. Then you look ahead: there's never been a bike with a more streamlined steering head. What geometry! Almost straight frame tubes – made of the finest steel – right down to the swing arm bearing. And there's the next highlight: the swing arm and pinion on one shaft – or coaxial as the experts would say. The effect is a tight chain in every situation on the road, whether the suspension is on full rebound or compression. And that means traction at all times! And then you understand the principle of this unique construction: the distance saved between the pinion and the swing arm bearing fully benefits the swing arm length, which means even more traction! Greater length at the rear allows for a steeper fork at the front – making the machine agile but with excellent directional stability! Then there's the engine: fuel injection, an almost straight intake tract, maximum efficiency with the most compact layout. BMW intelligence is seen here once again: the clutch on the crankshaft, making the engine extremely short in length!
We could go on like this for pages – low centre of gravity due to fuel tank under seat, coloured mounted parts, fine quality components, compliance with EU-3 and street-legal. But why bother – when you can just sit on it, and all you will want to do is ride. And you'll see why our engineers went to so much trouble. Get hold of your start number, because that's what this bike is built for. Simply unstoppable!
What makes the G 450 X so unique? It's the way it's engineered. Quite simply, there is technology on this machine that is totally revolutionary. First off, the countershaft sprocket and swingarm are on the same pivot, which keeps chain tension uniform at all times for better power delivery. The clutch is smaller and mounted directly on the crankshaft which means less heat and stress on the plate. A feisty, fuel injected, easy-starting engine that's mounted forward in a stainless steel, cradle-less frame puts serious, power to the ground, while an extra-long swingarm creates unstoppable traction. Add a gas tank under the seat for a lower center of gravity, no linkage Ohlin's shock, and a forward-mounted airbox, and this is a 450 cc thumper that stands alone as the most original machine to hit the dirt in years.
Colors:
Deep Black
Red
---
2011 BMW G450X – Specifications
USA MSRP: $8,200 – with additional racing silencer: $8,450 USD
Canada MSRP: See Dealer for Current Pricing
Engine

Type Water-cooled, single-cylinder tilted forward, 4-stroke, four Titanium valves, two overhead camshafts, dry sump lubrication

Bore x stroke 98 mm x 59 mm

Capacity 449 cc

Rated output Homologated for road use: 41 hp (30 kW) at 7,000 rpm;
open version (with standard silencer): 52 hp (38 kW)
at 9,000 rpm

Max. torque Homologated for road use: 31.7 ft-lb (43 Nm) at 6,500 rpm;
open version with standard silencer: 32.4 ft-lb
(44 Nm) at 7,800 rpm

Compression ratio 12.0 :1

Mixture control / engine management Electronic intake pipe injection / Keihin digital engine management with overrun fuel cut-off

Emission control Closed-loop 3-way catalytic converter


Performance / fuel consumption

Maximum speed approx. 90 mph (145 km/h)

Fuel type Unleaded Premium

Electrical system

Alternator three-phase alternator 280 W

Battery 12 Volts 7 Amps/hour, maintenance free

Power transmission

Clutch Multiple-disc clutch in oil bath, mechanically operated;
primary clutch (sits directly on the crankshaft)

Gearbox Constant mesh 5-speed gearbox integrated into crankcase

Drive O-ring chain



Chassis / brakes

Frame Bridge-type frame made of stainless steel tubing

Front wheel location / suspension UPSD fork 45 mm

Rear wheel location / suspension Direct Mounted Ohlins Shock

Suspension travel front / rear 11.8 inches / 12.6 inches

Wheelbase 58.0 inches (1475 mm)

Steering head angle 61.8°

Rim, front 1.60 x 21 wire spoke

Rim, rear 2.15 x 18 wire spoke

Tyres, front 90/90 x 21

Tyres, rear 140/80 x 18

Brake, front Brembo 2 piston floating caliper

Brake, rear Brembo single piston floating caliper

Dimensions / weights

Length 86.6 inches (2200 mm)

Width (incl. mirrors) 31.7 inches (806 mm)

Height (excl. mirrors) 58 inches (1475 mm)

Seat height, unladen weight 37.5 inches (955 mm)

Unladen weight, road ready, fully fuelled 1) 267 lbs. (121 kg) excluding accessories

Dry weight 2) 245 lbs. (111 kg) excluding accessories

Permitted total weight 617 lbs. (280 kg) GVWR

Payload (with standard equipment) 351 lbs. (159 kg)

Usable tank volume 1.8 US gallons (8 liters)

Reserve approx. 0.2 gallon (0.75 liter)

Technical data relate to the unladen weight (DIN)

1) According to guideline 93/93/EWG with all fluids, fuelled with at least 90% of usable tank volume
2) Unladen weight without fluids