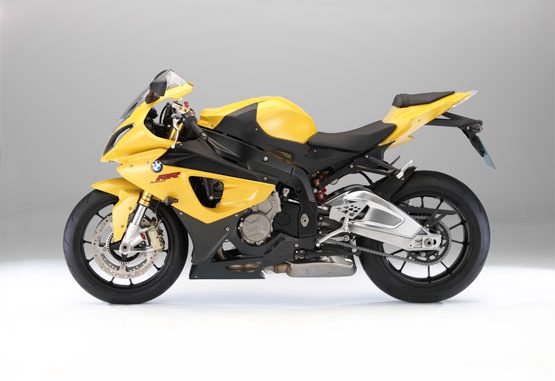 Back to 2011 BMW Motorcycle Index Page
Click photos to enlarge.
They make great desktop images.
– 2011 BMW S1000RR

2011 BMW S1000RR
This is how you build a superbike!

The BMW S 1000 RR.

When we build a superbike, we have no time for second best. We now present the very latest in racing power. With an aluminium bridge, radial brakes, a super sporty tail-up nose-down design, hot colours and the ultimate combination of electronic rider assistance systems: the first genuine racing ABS, whose features include a front-wheel-only mode, dynamic traction control (DTC) which permits varying degrees of slip, depending on the lean angle. Never before was it so easy to keep so much power under control. This is just as true on public roads as it is down on the racetrack. The RR label shows that it is a full-blooded racing bike, even though it can also be ridden with a number plate attached. To top it all off is an engine which is our absolute pride and joy. And our motorsports team agree wholeheartedly.

2011 BMW S1000RR Features
You've gotta have it!
Speed has to be kept under control. And motorcycle control is exactly what we have been constantly reinventing over the last 20 years. The S 1000 RR represents a milestone in electronic rider safety: ultra-lightweight ABS (2.5kg), which can be used in conjunction with the extremely efficient DTC dynamic traction control (available as an optional extra) – quite unique for 2009.
Racing ABS for all conditions
You couldn't wish for a more discreet ABS; it has fine control intervals, is virtually imperceptible in its operation, and is light enough to satisfy fans of low-weight bikes.

DTC – transparent traction control you can rely on.
This dynamic feature reacts reliably and efficiently to speed, lean angle, and operating mode (rain, sport, race, or slick). It was specifically designed to be as effective on the road as it is on the racetrack.

Radially mounted Brembo brake callipers
This is how today's superbikes decelerate. Not only do brake disks mounted directly on the wheel rims look good, they also reduce unsprung mass.

A superlative engine.
An extreme bore/stroke ratio (80×49.7mm) and rocker arm-actuated valves for great stability at high engine speeds, compact construction and lightweight design – a genuine powerhouse which demonstrates its considerably ability at all output levels.

A design that doesn't just look good
Intelligently positioned slits behind the fairing minimise turbulence to allow the rider to maintain a relaxed head position, optimum air-flow around rider and bike ensures stability at top speed, while efficient flow-through makes for maximum cooling. Combined with plenty of eye-catching design features – that's the way to do it.

Sporty seat positioning.
If you want to be fast, you have to adopt a relaxed racing posture. The way you sit must allow you to concentrate on the essential aspects of motorcycling – maximum enjoyment and perfect control. The looser you are on the bike, the easier everything else will be. Gone are the days when you had to bend yourself flat. Today's modern posture means you are actually sitting more in the bike than on it.
From model year 2011 the BMW S 1000 RR is available in the following new paint finishes:
– Shine yellow metallic
– Light grey metallic

The paint finishes Mineral silver metallic and Acid green metallic are no longer available.
---
2011 BMW S1000RR – Specifications
USA MSRP: See Dealer for Current Pricing
Canada MSRP: See Dealer for Current Pricing
Engine
Type Water-cooled 4-stroke in-line four-cylinder-engine, two camshafts, four valves per cylinder
Bore x stroke 80 mm x 49.7 mm
Capacity 999 cc
Rated output 193 hp (142 kW) at 13,000 rpm
Max. torque 83 ft-lb (112 Nm) at 9,750 rpm
Compression ratio 13.0 : 1
Mixture control / engine management Electronic intake pipe injection/digital engine management including knock sensor (BMS-K-P)
Emission control Catalytic- 2 Closed-loop 3-way catalytic converter, emission standard EU-4 ready
Performance / fuel consumption
Maximum speed Over 125 mph (200 km/h)
Fuel consumption per 100 km at constant 90 km/h Euro Rating: 5.7 l
Fuel consumption per 100 km at constant 120 km/h Euro Rating: 5.9 l
Fuel type Unleaded premium, octane number 91-93, automatic knock control

Electrical system
Alternator three-phase alternator 350 W
Battery 14 V / 10 Ah, maintenance-free
Power transmission
Clutch Multiple-disc clutch in oil bath, anti hopping clutch, cable operated
Gearbox Constant mesh 6-speed gearbox
Drive chain

Chassis / brakes
Frame Bridge-type frame, cast aluminum, load-bearing engine
Front wheel location / suspension 46 mm Upside-down fork, rebound and compression adjustable
Rear wheel location / suspension Cast aluminum swing arm, Continuously adjustable rear inbound-rebound damping, high and low speed
Suspension travel front / rear 4.7/5.1 inch (120 mm / 130 mm)
Wheelbase 56 inches (1,432 mm)
Castor 3.7 inches (95.9 mm)
Steering head angle 66,1 °
Wheels Cast aluminum
Rim, front 3.50 x 17″
Rim, rear 6.00 x 17″
Tyres, front 120/70 ZR 17
Tyres, rear 190/55 ZR 17
Brake, front Twin disc, floating brake discs,radial-fixed 4-piston calipers, diameter 320 mm, 5 mm thickness
Brake, rear Single disc brake, one-piston floating caliper, diameter 220 mm, 5 mm thickness
ABS DTC**: DTC 4 mode dynamic traction control adjustment, only avalibale with Race ABS, disengageable
Race-ABS*: 4 mode Race-ABS adjustment, disengageable

Dimensions / weights
Length 80.9 inches (2,056 mm)
Width (incl. mirrors) 32.5 inches (826 mm)
Height (excl. mirrors) 44.8 inches (1,138 mm)
Seat height, unladen weight 32 inches (820 mm)
Inner leg curve, unladen weight 71.2 inches (1,810 mm)
Unladen weight, road ready, fully fuelled 1) 450 lbs (204 kg), 455 lbs (206.5 kg) incl. Race-ABS
Dry weight 2) 403 lbs (183 kg)
Permitted total weight 859 lbs (390 kg)
Payload (with standard equipment) 412 lbs (187 kg)
Usable tank volume 4.5 gln (17.5 l)
Reserve approx. 1 gln (4.0 l)
1) According to guideline 93/93/EWG with all fluids, fuelled with at least 90% of usable tank volume
2) Unladen weight without fluids