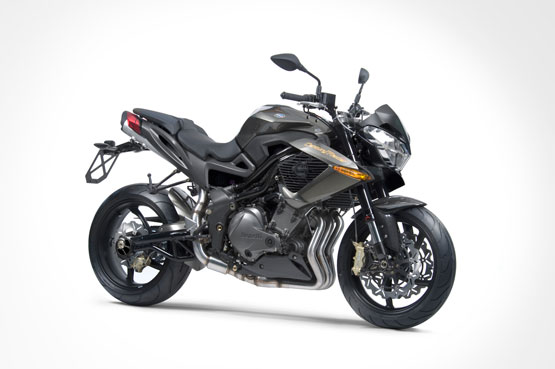 Back to 2011 Benelli Motorcycle Index Page
Click photos to enlarge.
They make great desktop images.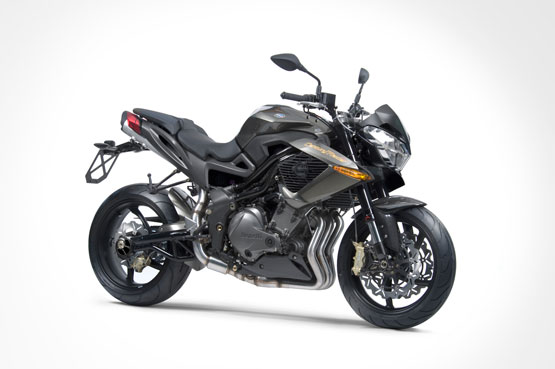 2011 Benelli Century Racer 899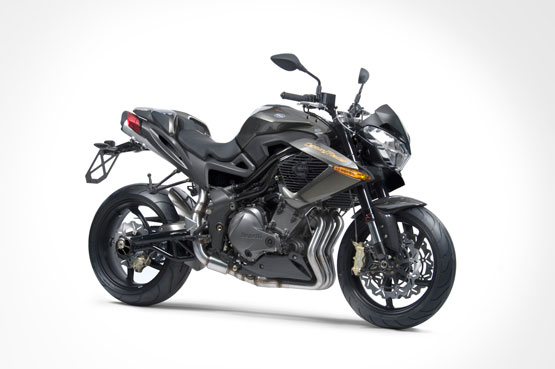 2011 Benelli Century Racer 899
.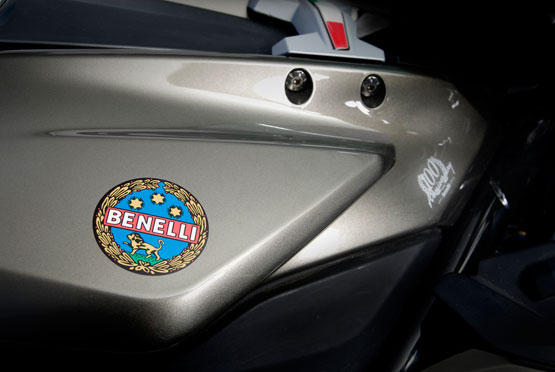 2011 Benelli Century Racer 899


– 2011 Benelli Century Racer 899

2011 Benelli Century Racer 899
The model TNT 899 is reviewed with particular reference to the frame, giving this motorcycle a more sporting attitude: First of all the colour of the "centenary": this is the green of the racing Benelli motorbikes of Pasolini in a modern interpretation; The introduction of the historical brand Benelli of the 60's; The front fork "MARZOCCHI" becomes completely adjustable (DIA 50mm) and the finishing becomes black (black oxydation of the fork sliders); Use of front radial calipers "BREMBO"; Front brake discs (DIA 320mm) / rear (DIA 240mm), type "WAVE" supplied by BRAKING; The seat is enriched thanks to the use of "alcantara" fabric; The "trim and colour" of the model has been renewed; The single-seat rear cowling has been introduced; The map of the engine has been reset; The camshaft cover and the spring of the rear shock absorber is now yellow and characterise the sporting touch of the Century Racer. Availability: March 2011 Colours: Centenary Green

---
2011 Benelli Century Racer 899 – Specifications
American MSRP: See your local Benelli dealer for pricing
Canadian MSRP: See your local Benelli dealer for pricing
MOTORE / ENGINE
TIPO
3 cilindri in linea, 4 tempi, raffreddamento a liquido , 4 valvole per
cilindro doppio asse a cammes in testa, con contralbero di equilibratura
TYPE
In line 3 cylinders, 4-stroke, liquid cooled , 4 valves per cylinder double
overhead camshaft, with balancer shaft

CILINDRATA
898 c.c.
DISPLACEMENT

ALESAGGIO x CORSA
88 x 49,2 mm
BORE x STROKE

RAPPORTO DI COMPRESSIONE
12,5:1
COMPRESSION RATIO

POTENZA MASSIMA
88 kW (120 cv) @ 9500 rpm
RATED OUTPUT

COPPIA MASSIMA
88 Nm (9 kgm) @ 8000 rpm
MAX. TORQUE

LUBRIFICAZIONE A carter umido
LUBRICATION Wet sump

CAPACITA' TOTALE OLIO
4 lt
OIL CAPACITY

ALIMENTAZIONE Iniezione elettronica con tre corpi farfallati ø53 mm
FUEL SUPPLY Electronic injection with three throttle bodies ø53 mm

IMPIANTO DI SCARICO Con catalizzatore e sonda lambda
EXHAUST SYSTEM With catalytic converter and oxigen sensor

OMOLOGAZIONE
Euro 3
CERTIFICATION

FRIZIONE In bagno d'olio
CLUTCH Wet clutch

CAMBIO A 6 rapporti
GEARBOX 6 speeds

RAPPORTO PRIMARIA
44/79
PRIMARY DRIVE

RAPPORTI DEL CAMBIO
1° – 14/39
2° – 18/35
3° – 21/32
4° – 23/30
5° – 24/28
6° – 25/27
GEAR RATIO
TRASMISSIONE FINALE A catena, rapporto 16:41
FINAL DRIVE Chain drive, ratio 16:41

IMPIANTO ELETTRICO / ELECTRIC EQUIPMENT
ACCENSIONE
WALBRO ECUA-1

IGNITION
CANDELA
NGK CR9E
SPARK PLUG

AVVIAMENTO ELETTRICO
STARTING ELECTRIC
CICLISTICA / CHASSIS
TELAIO
Scomponibile, anteriore traliccio in tubi di acciaio, posteriore fusione in
alluminio
FRAME Decomposable, front steel trestle, rear alluminium alloy casting

SOSPENSIONE ANTERIORE
Forcella upside-down con steli ø50 mm con regolazione idraulica in
estensione, compressione e precarico molla
FRONT SUSPENSION
Ø50 mm upside-down fork, with idraulic extension / compression and
spring preload adjustments

ESCURSIONE SOSPENSIONE
ANTERIORE 120 mm
FRONT SUSPENSION STROKE

SOSPENSIONE POSTERIORE
Forcellone oscillante a traliccio di tubi in acciaio, ammortizzatore
regolabile nell'idraulica (estensione, compressione) e precarico molla,
montato su cinematismo progressivo
REAR SUSPENSION
Steel tube trestle swingarm, rear dumper with idraulic adjustment
(extension, compression) and spring preload assembled with
progressive link

ESCURSIONE SOSPENSIONE
POSTERIORE 120 mm
REAR SUSPENSION STROKE

FRENO ANTERIORE Doppio disco Wave flottante ø320 mm con pinze radiali a 4 pistoncini

FRONT BRAKE Twin floating Wave disk ø320 mm with radial 4 piston calipers
FRENO POSTERIORE Disco singolo Wave ø240 mm con pinza a doppio pistoncino

REAR BRAKE Singol Wave disk ø240 mm with double piston caliper
TIPO CERCHIO ANTERIORE In lega di alluminio
FRONT RIM TYPE Alluminium alloy

DIMENSIONI CERCHIO ANTERIORE
17″x3.50″
FRONT RIM DIMENSIONS

TIPO CERCHIO POSTERIORE In lega di alluminio
REAR RIM TYPE Alluminium alloy

DIMENSIONI CERCHIO
POSTERIORE 17″x6.00″
REAR RIM DIMENSIONA

PNEUMATICO ANTERIORE
120/70-ZR17 (120/65-ZR17)
FRONT TYRE

PNEUMATICO POSTERIORE
190/50-ZR17 (180/55-ZR17; 190/55-ZR17; 200/50-ZR17)
REAR TYRE

DIMENSIONI / DIMENSIONS

LUNGHEZZA
2085 mm
LENGHT

LARGHEZZA SENZA SPECCHI
790 mm
WIDHT EXCLUDING MIRRORS

ALTEZZA SENZA SPECCHI
1065 mm
HEIGHT EXCLUDING MIRRORS

ALTEZZA SELLA PILOTA
830 mm
PILOT SEAT HEIGHT

ALTEZZA SELLA PASSEGGERO
975 mm
PASSENGER SEAT HEIGHT

INTERASSE
1435 mm
WHEELBASE

ALTEZZA DA TERRA*
135 mm
GROUND CLEARANCE*

AVANCORSA N.D.

TRAIL
INCLINAZIONE CANNOTTO STERZO
N.D.
STEERING PIPE ANGLE
MASSA A SECCO*
208 kg (ant 52,6% – post 47,4%)
UNLADEN WEIGHT*

MASSA IN ORDINE DI MARCIA**
218 kg
ROAD READY WEIGHT**

MASSA MASSIMA AMMISSIBILE
400 kg
PERMITTED TOTAL WEIGHT

CAPACITA' SERBATOIO
16 lt
USABLE TANK VOLUME

RISERVA
4 lt
RESERVE

* senza i liquidi di esercizio / without fluids
** secondo direttiva 93/93/CEE con serbatoio riempito al 90% / According to guideline 93/93/CEE with all fluids, fuelled with at least 90%
of usable tank volume