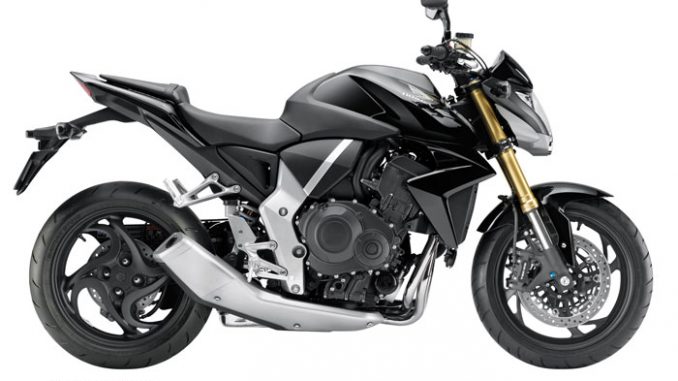 Back to 2011 Honda Motorcycle Index Page
Click photos to enlarge.
They make great desktop images.
– 2011 Honda CB1000R

2011 Honda CB1000R
Superbike Performance. And A Style All Its Own.
Look at the new CB1000R and you see a motorcycle with an enduring correctness of design. Credit its clean, essentials-only styling, a fuel-injected four-cylinder 998cc powerplant tuned for loads of right-now power, single-sided swingarm with single-shock rear suspension, plus a wealth of new features that give it its own unique identity. Whether you choose to call it a "naked bike," or a Superbike in Clark Kent clothing, the 2011 CB1000R is the most modern iteration of a long line of much-respected high-performance unfaired four-cylinder bikes-the classic hot-rod Hondas.
Feast your eyes on the all-new Honda CB1000R. Superbike performance. A comfortable, do-it-all riding position, and style that's off the charts.
The CB1000R is a new take on a timeless concept. A no-nonsense superbike that's not afraid to show off its muscle where everyone can see it. We took a CBR1000RR powerplant—and retuned it for even more midrange power and torque. Then we built a special chassis that puts the engine out front and center, and that also lets you sit more upright. The result is one of the most versatile open-class bikes the world has ever seen. And also one of the best looking.
But don't wait to decide. Let your dealer know you want one, because availability will be limited for this model!
Part high-performance sportbike, part mean and lean boulevard warrior. The outrageous new CB1000RA is the Naked bike that only Honda could build, with its stunning blend of snarling, take-no-prisoners attitude and surprisingly user-friendly everyday rideability. Packing the punch of a litre-class Superbike thanks to its CBR-derived fuel-injected engine, the CB1000RA's enhanced low-to-midrange torque gives it extra oomph in the tight quarters of the city while retaining effortless passing power on the open road. The sturdy aluminum mono-backbone frame is visually hardly even there, but it connects the aluminum Pro-Arm swingarm and fully adjustable 43 mm inverted fork to create a chassis that's stable when you need it to be, and nimble and responsive when you want to let loose on a twisty backroad. Plus, standard Combined Braking System with ABS lets you ride with confidence even when the road surface is less than ideal. The new Honda CB1000RA: it's naked aggression in a fun-to-ride package.

Available Spring 2011.
2011 Honda CB1000R Features and Benefits

Superbike Power.
The new CB1000R is built around a superbike-strong 998cc DOHC inline four engine. Basically, we took a CBR1000RR powerplant and retuned it to deliver a bare-knuckle blast of power that's perfect for street riding, with plenty of torque and power on tap. Since it's a four cylinder, it's plenty smooth for longer rides too.
When You've Got It, Flaunt It.
The new CB1000R has nothing to hide. On the contrary, it'd be a shame to cover up that awesome engine, so we've put it out front and center so you and everyone else can enjoy it. Then our designers gave the CB1000R just enough styling touches (side radiator shrouds, fork-mounted cowl fairing, cast aluminum four-spoke wheels) to really set it apart. Check out the result for yourself. European Model Shown.
Easy to Handle.

The CB1000R offers exceptional handling, thanks to a Gravity Die Cast mono-backbone aluminum chassis that's light and strong, a fully-adjustable inverted fork, and adjustable Pro Link® rear suspension with a single-sided swing arm.
– The CB1000R powerplant features a sport/racing heritage in the form of a compact, lightweight and powerful 998cc liquid-cooled fuel-injected inline four-cylinder engine that has been specifically retuned for a street-savvy ride with impressive amounts of low-end and midrange power.
– The crankshaft, main shaft and countershaft are situated in a triangulated configuration, with the countershaft located below the main shaft, to dramatically shorten the overall engine dimensions from front to back.
– Racing-derived 16-valve cylinder head delivers outstanding flow for optimum combustion characteristics and power production.
– Aluminum composite cylinder sleeves are high-pressure formed from sintered aluminum powder impregnated with ceramic and graphite. The lightweight composite sleeves provide enhanced wear resistance and superior heat dissipation compared to conventional sleeves.
– Programmed Fuel Injection (PGM-FI) continuously monitors several variables to ensure the correct fuel mixture for the existing riding and atmospheric conditions, thereby delivering optimal performance and remarkably crisp throttle response over a wide range of operating conditions.
– Sophisticated Gravity Die-Cast technology creates a mono-backbone aluminum frame that is strong yet features thin-wall construction for light weight. This innovative technology forms the basis of a well-integrated chassis package that yields superb handling.
– Distinctively styled single-sided aluminum swingarm with single HMAS shock featuring spring preload and rebound-damping adjustability provides excellent rear suspension action along with a unique look.
– Up front, a fully adjustable 43mm inverted fork with radial-mount dual 310mm disc brakes sourced from the CBR1000RR offers leading-edge sport bike performance.
– Standard seating position delivers excellent rider comfort and tremendous versatility for long-distance travel and two-up riding.
– Short, compact and lightweight seat and tail cowl are both attractive and functional.
– Compact and stylish three-section LCD instrument panel features a multi-segment LCD tachometer.
– Distinctive triangular multi-reflector headlight, with unique LED position light.
– Distinctive cast aluminum wheels feature a swept four-spoke design.
Honda Genuine Accessories†
– Rear Cowl (Black), 3D Logo, Under Fender Cover, Chain Guide Bracket, Outdoor Cover

Engine/Drivetrain

Compact and lightweight 998cc liquid-cooled inline-four engine with Honda's PGM-FI electronic fuel injection is tuned for dynamic low-to-midrange performance, with a smoothly linear climb up through the powerband to a thrilling top-end rush.

The engine's enhanced low-end torque allows you to pull away from a stop at less than 2,000 rpm without fear of engine stalling.

An impressive power-to-weight ratio gives the CB1000R Superbike-like performance in a user-friendly package.

Magnesium cylinder-head and alternator covers reduce engine weight.

The PGM-FI system incorporates an Idle Air Control Valve (IACV) to smooth responses to small changes in throttle position.

A hydraulically operated clutch ensures smooth clutch operation with an easy pull at the lever.

Low-slung stainless-steel exhaust system produces an exhilarating sound, while also being a key element in the CB1000RA's optimized mass centralization. By concentrating most of its mass directly under the engine, the system promotes quicker steering response and enhanced cornering clearance.

Chassis/Suspension

Angular "mass forward" design positions the rider forward for a sporty yet comfortable ride.Advanced gravity-die-cast aluminum mono-backbone frame contributes to the CB1000RA's agile, sporty handling and highway stability.Wide 17-inch wheels feature an eye-catching swept four-spoke design and carry supersport-class radial tires.The fully adjustable 43 mm inverted front fork and cast-aluminum Pro-Arm swingarm with two-way adjustable HMAS (Honda Multi-Action System) shock are adjustable allowing you to set to your riding preference.Lightweight 310 mm floating front rotors with radial-mount triple-piston calipers combine with a 256 mm dual-piston caliper rear brake to create a powerful stopping force.Combined Braking System with ABS (Anti-lock Braking System) gives you extra peace of mind in all braking situations.The CB1000R looks and feels more like a midsize sportbike, thanks to its compact dimensions and easy reach to both the ground and its controls. Its ergonomics locate the rider closer to the steering head for a riding position that shifts the balance of weight slightly forward onto the front tire, achieving a greater feeling of crisply responsive control.Thick aluminum handlebar adds to the CB1000R's aggressive naked-bike look.Additional
Features

Unique front light array features a triangular multi-reflector headlight integrated into a compact cowl, and a seven-bulb LED position light.Fully digital instrument panel provides three large LCD readouts.
The tachometer features an instant multi-segment readout of engine speed, displayed in a wide, sweeping bar that extends across the top of the display.The short, slim seat and sleek, upswept tail cowl take their design cues from the CBR1000RRA and Honda's RC212V MotoGP race bike. The seat is roomy and tapers towards the front, integrating smoothly with the side covers for a compact profile and a comfortable riding position.The tail cowl is supported by a strong and rigid cast aluminum rail. It provides ample room for a passenger and integrates a distinctive LED taillight.

New for 2011
– New model
2011 Honda CB1000R Technicals
A simple design, packed full of innovation.

The new CB1000R is a perfect example of Honda innovation. Combining power, light weight, and refined, responsive handling with its good looks, it's equally at home on a sportbike ride, a weekend-long getaway, or a boulevard prowl.
998cc DOHC Engine – The CB1000R uses a 998cc inline-four engine based on our CBR1000RR's, but tuned to produce more torque and horsepower in the midrange and bottom end–the perfect combination for a machine like this.
Lowboy-Style Muffler – The CB1000R's lowboy muffler not only looks cool and sounds great, it also offers a handling advantage by moving the silencer lower and closer to the bike's center of mass.
Single-Sided Swingarm – Proven on Honda's endurance racebikes, the CB1000R's single-sided swingarm not only looks awesome, but makes rear-wheel maintenance easier as well.
Pro-Link Rear Suspension – CB1000R's Pro-Link® rear suspension offers spring preload and rebound damping adjustability.
our-Into-One Exhaust – Looks great, sounds great, and helps increase performance: How's that for a win-win-win situation? The four-into-one header with its flowing pipes pays homage to classic Honda inline fours of the 1970s like the CB400 Supersport. Some things just never go out of style.
Gravity Die-Cast Aluminum Mono-Backbone Frame – Gravity Die-Cast technology gives the CB1000R a chassis that's strong, but light. The single backbone architecture links the steering head to the swingarm pivot, but without any frame spars to interrupt the CB1000R's lines.
PGM-FI Fuel Injection – The CB1000R's Programmed Fuel Injection (PGM-FI) ensures crisp throttle response and both low- and high-rpm performance. In addition, there's no choke to mess with, and the CB1000R runs perfectly at all altitudes and temperatures, even on cold mornings.
Radial Front-Brake Calipers – The CB1000R's radial-mounted monoblock front-brake calipers are stiffer, for better brake feel and performance. Each caliper uses four pistons that squeeze lightweight 310mm floating discs for exceptional stopping power.
LED Position Light – Uniquely styled, the LED Position Light is a compelling design feature that shows everyone that this is not any ordinary motorcycle. It's a Honda.
All Digital Instrumentation – CB1000R's high-tech, all-digital instrument display features tachometer, plus LCD readouts for speedometer, coolant temperature, odometer, two tripmeters and a clock, mpg and average fuel consumption.
Fully Adjustable 43mm Inverted Fork – A bike as powerful as the new CB1000R needs top-notch suspension components. That's why we gave it a stout, large-diameter 43mm inverted fork that's fully adjustable. And it's also one of the reasons why the CB1000R handles so well.
Adjustable Brake and Clutch Levers – CB1000R's adjustable brake and clutch levers let you fine tune for the riding environment, and tailor fit the controls to your riding style.
---
2011 Honda CB1000R – United States of America Specifications
USA MSRP – $10,999 USD
ENGINE
ENGINE
Engine Type 998cc liquid-cooled inline four-cylinder
Bore And Stroke 75mm x 56.5mm
Induction PGM-FI Fuel injection with automatic enrichment circuit and 36mm throttle bodies
Ignition Computer-controlled digital transistorized with 3-D mapping
Compression Ratio 11.2:1
Valve Train DOHC; four valves per cylinder
DRIVE TRAIN
DRIVE TRAIN
Transmission Close-ratio six-speed
Final Drive #530 0-ring chain
CHASSIS / SUSPENSION / BRAKES
CHASSIS / SUSPENSION / BRAKES
Front Suspension 43mm inverted HMAS cartridge fork with spring preload, rebound and compression damping adjustability; 4.7 inches travel
Rear Suspension Single gas-charged HMAS shock with spring preload and rebound damping adjustability; 5.0 inches travel
Front Brake Dual radial-mounted four-piston calipers with 310mm discs
Rear Brake Single 256mm disc
Front Tire 120/70ZR-17 radial
Rear Tire 180/55ZR-17 radial
DIMENSIONS
DIMENSIONS
Rake 25.0 degrees (caster angle)
Trail 99mm (3.9 inches)
Wheelbase 56.9 in
Seat Height 32.5 inches
Fuel Capacity 4.5 gallons, including 1.0-gallon reserve
OTHER
OTHER
Model Id CB1000R
Emissions Meets current EPA standards. Models sold in California meet current CARB standards and may differ slightly due to emissions equipment.
Available Colors Pearl Black
Note Specifications subject to change without notice.

---
2011 Honda CB1000R – Canadian Specifications
Canada MSRP – $13,999 CDN
Engine Type Liquid-cooled inline-four

Displacement 998 cc

Bore & Stroke 75 mm x 56.5 mm

Compression ratio 11.2:1

Valve train Chain-driven DOHC, 4 valves per cylinder

Fuel delivery PGM-FI electronic fuel injection

Transmission Six-speed

Final drive #530 O-ring-sealed chain

Front suspension 43 mm inverted HMAS cartridge fork with full adjustability; 120 mm (4.7 in.) travel

Rear suspension Pro-Arm single-sided swingarm with HMAS single shock with preload and rebound damping adjustment; 128 mm (5.0 in.) travel

Tires 120/70ZR – 17 radial front; 180/55ZR-17 radial rear

Brakes Front dual 310 mm discs with radial-mounted triple-piston calipers; rear single 256 mm disc with dual-piston caliper. Combined Braking System with ABS

Seat height 825 mm (32.5 in.)

Wheelbase 1,445 mm (56.9 in.)

Curb weight 222 kg (489 lb) including required fluids and full tank of gas – ready to ride

Fuel capacity 17 litres

Colour Pearl Nightstar Black