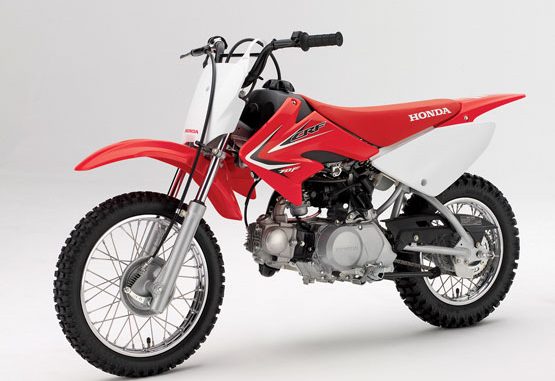 Back to 2011 Honda Motorcycle Index Page
Click photos to enlarge.
They make great desktop images.
– 2011 Honda CRF70F

2011 Honda CRF70F
More Fun Than You Can Imagine
The CRF70F serves as a great introduction to off-road motorcycling, thanks to its automatic clutch, low seat height, three-speed transmission, and low-maintenance 72cc air-cooled single-cylinder four-stroke engine.
You have to consider two things when you choose a motorcycle for your youth rider: Their size and skill. It's built to build confidence, and features the same durable engine design, and smooth power as the CRF50F, so it feels right and rides right. And a very important point: it also uses the same three-speed semi-automatic transmission so there's no clutch to worry about. Just a little bit bigger for bigger riders, the CRF70F is also built to last.
Details that Make a Difference.

The automatic clutch not only makes riding easier, but can handle youth-induced abuse. Other features like its maintenance-free CD ignition, automatic cam-chain tensioner, rugged steel frame and tough bodywork make the CRF70F less hassle for you. And finally, the keyed ignition lets you decide who rides, and when.


Plenty of Four-Stroke Power.

Easy-to-use power and amazing durability—that's what a four-stroke Honda engine brings to the party. It's the best of both worlds for a beginning rider on the CRF70F.
Low=Good.

The CFR70F's low seat height helps build rider confidence. So does the light weight and easy-to-use three-speed semi-automatic transmission.
No Clutch, No Worries.

With our proven semi-automatic transmission, riders can concentrate on shifting gears without worrying about clutch-induced stalling.

Important Safety Information
Due to the lead content requirements established by the Consumer Products Safety Improvement Act, as interpreted by the Consumer Product Safety Commission, this motorcycle is not intended primarily for children 12 years of age and younger. This motorcycle must not be sold to, nor sold for use by, persons under the age of 13. Parents need to consider their youngster's age, size, ability and maturity before allowing them to ride. Designed exclusively for off-road operator-only use. Always wear a helmet, eye protection and protective clothing whenever you ride. Never ride under the influence of drugs or alcohol. Always obtain written permission before riding on private land. Whenever you ride off-road, follow the "Tread Lightly" guidelines, and always keep on established trails in approved riding areas. Use common sense, keep your riding area clean, respect the rights of others when you ride, and never modify your motorcycle's silencer, exhaust system, or spark arrestor.
2011 Honda CRF70F Features
New for 2011

– Bold new graphics.
Features
Four-Stroke Engine – Four-stroke single-cylinder engine offers good fuel economy and a wide powerband. The CRF70F's proven powerplant requires very little maintenance.
Automatic Clutch – There's no clutch for riders to master, and that means no stalling. The smooth transmission offers three gear ratios.
Sturdy Steel Frame – Steel frame is designed for years of dependable service. Built tough to handle the dings and stresses of off-road use.
2011 Honda CRF70F – United States of America Specifications
USA MSRP – $1,899 available in Red beginning October 2010.
Model: CRF70F
Engine Type: 72cc air-cooled single-cylinder four-stroke
Bore and Stroke: 47mm x 41.4mm
Compression ratio: 9.0:1
Valve Train: SOHC; two-valve
Induction: 13mm piston-valve carburetor
Ignition: CD
Transmission: Three-speed with automatic clutch
Final Drive: #420 chain; 15T/36T
Suspension Front: 27mm telescopic fork; 3.2 inches travel
Rear: Single shock; 3.5 inches travel
Brakes Front: Drum
Rear: Drum
Tires Front: 2.50-14
Rear: 3.00-12
Wheelbase: 42.0 inches
Rake (Caster Angle): 27.03°
Trail: 61.5mm (2.4 inches)
Seat Height: 26.1 inches
Ground Clearance: 7.0 inches
Fuel Capacity: 1.3 gallons, including 0.3-gallon reserve
Color: Red
Curb Weight*: 139 pounds
Meets current EPA and CARB off-road emissions standards.
*Includes all standard equipment, required fluids and full tank of fuel–ready to ride.

2011 Honda CRF70F – Canadian Specifications
Canada MSRP – $TBA CDN
TBA
Honda Media Press Release
American Honda Announces 2011 Off-Road Models and ATVs

07/20/2010 – Torrance, CA

American Honda Motor Company's Powersports Division announced to its dealers today an additional release of off-road models and ATVs for the 2011 model year. These Hondas include the CRF450R and CRF250R motocross machines, CRF70F and CRF50F off-road motorcycles, the FourTrax Rancher family of ATVs, and the sporty TRX250X.

"Honda is ramping up its release of 2011 models," said Powersports Press Manager Bill Savino.
"We're proud to unveil our newest race bikes, the CRF450R and CRF250R motocrossers, plus a wide assortment of Honda off-road machines that have remained extremely popular with recreational riders over the years. With these models for 2011 and more to follow, this is certainly going to be a great year for riding enthusiasts."
More detailed information and images of Honda's model line can be found on www.powersports.honda.com or see your local Honda powersports dealer.

– The Class of the Open-Class MX Bikes: Honda CRF450R
Long regarded as the bike of choice in the big-bore motocross division, the 2011 CRF450R incorporates a host of improvements that will help this bike retain its standing as the yardstick by which all others in the class are compared. Various tweaks to the engine tuning broaden the already prodigious powerband-more low-end pull and midrange grunt-while also enhancing throttle response via a new throttle body.

In addition, revised suspension linkage and settings yield improved control, increased ride plushness and enhanced rear-wheel traction. A new Honda Progressive Steering Damper (HPSD) with a larger damper piston (24mm versus 20mm) produces even better tracking traits than before. In addition, the CRF450R now features a newly designed muffler that meets the sound levels of 94 decibels required by some racing organizations in 2011, making it competition-legal right off the showroom floor. All this and more make the 2011 CRF450R a shoo-in to maintain its dominant role among open-class MX bikes. MSRP $8,199. Available in Red beginning October 2010.

– The Award-Winning Honda CRF250R Gets Better Yet in 2011
Despite winning numerous comparison tests and awards in 2010, the CRF250R enters the new season sporting a number of improvements that will help it continue its winning ways. A new Honda Progressive Steering Damper (HPSD) with a larger, 24mm damper piston aids tracking precision, and new suspension settings front and rear help give this stellar-handling machine even better chassis balance for 2011. Changes to engine tuning now give the CRF250R a stronger bottom-end and midrange hit, and this 2011 model features a new muffler that meets sound levels of 94 dB required by some racing organizations. MSRP $7,199. Available in Red beginning October 2010.

– Family-Friendly CRF70F and CRF50F Return in 2011
In a completely different segment within the vast Honda spectrum, the family-friendly CRF70F and CRF50F return to the lineup in 2011. Featuring an automatic clutch, low seat height and a three-speed transmission, the CRF70F has long served as a practically perfect choice for beginning riders. Credit too the torquey 72cc air-cooled single-cylinder four-stroke engine that has grown to near-legendary status for reliability over the years. Likewise, for more than 40 years the CRF50F has introduced legions of riders the world over to the sport of motorcycling. It tips the scales at an unintimidating 110 pounds and the little CRF50F boasts a tough 49cc air-cooled single-cylinder four-stroke engine renown for its durability plus an ultra-low seat height, automatic clutch, three-speed transmission and an inverted fork. Both of these machines represent the fun that turns the dreams of beginning riders into trail-time reality. CRF50F MSRP $1,499; CRF70F $1,899. Both models available in Red beginning October 2010.

– Options, Options and More Options: FourTrax Rancher Family

Year after year, more and more ATV riders come to sing the praises of the ready-and-willing FourTrax® Rancher®-and for good cause. This family of full-sized machines, assembled at Honda's plant in Timmonsville, SC, has proven many times over to be the most dependable partner you could ever hope for, whether the day calls for work or fun. At the heart of each Rancher beats a powerful liquid-cooled, fuel-injected 420cc engine with convenient electric starting and plenty of grunt for getting the toughest jobs done. From there, it's a matter of choosing the features that best fit your riding needs, conditions and desires.
Many Rancher fans swear by the base model FourTrax Rancher with its automatic clutch and manual-shift five-speed transmission with reverse because it's such a workhorse. Other owners are equally enamored of the FourTrax Rancher ES with its remarkable Electric Shift Program (ESP®) that shifts with consummate ease with the touch of a handlebar-mounted button. Others will allow that while these two-wheel-drive Ranchers are great, the addition of the four-wheel-drive option found in the manual-shift FourTrax Rancher 4×4 and the ESP-equipped FourTrax Rancher 4×4 ES with their easy-to use TraxLok® 4WD/2WD selector makes a good thing even better. And then there are those who love to opt for the top-tier models, and in this case that would be the automatic-transmission 4×4 FourTrax Rancher AT and FourTrax Rancher AT with Electric Power Steering. Both of these upscale models feature five-speed auto-shifting or push-button ESP shifting, plus four-wheel disc brakes and independent rear suspension.

That's a lot of variations on one great theme, but no matter which model you select you'll see why Honda's FourTrax Rancher has long remained a favorite. MSRP TBD. Two-wheel drive models available in Red and Olive; available early 2011. 4×4 models available in Red, Olive and Camo; available December 2010.

– The TRX250X Offers Full-Sized Fun
In the sport ATV category, the TRX250X delivers full-sized ergonomics and it's also full of great features including electric starting and Honda's innovative SportClutch™ that enables the rider to experience manual clutch actuation with the advantage of no stalling. That makes it easy to enjoy the plentiful power on tap and the five-speed transmission plus reverse for day-long adventuring. It's no wonder that the sporty and fun-to-ride TRX250X continues to stand out as a favorite among beginners as well as longtime riders, year after year. MSRP TBD. Available in Red and Black beginning September 2010.